It's a project of the people, for the people and by the people, says DC Avny Lavasa in an exclusive interview. #WasteManagement #GreenIndia
Waste management is a serious concern globally, and Ladakh is no exception. The region is getting crushed under the weight of non-biodegradable waste, particularly in the rural areas where there are no proper mechanisms to dispose of garbage.
Responding to this grave civic concern, the Leh district administration under Deputy Commissioner Avny Lavasa, in collaboration with the local Rural Development Department and support from the Leh Autonomous Hill Development Council (LAHDC), started 'Project Tsangda,' an initiative towards sustainable waste management in rural and semi-rural areas of the district, on December 13, 2017.
'Tsangda' or 'Stangda' means cleanliness in the local Bothi (Ladakhi) language. The project began with the establishment of the region's first-ever waste segregation centre in Choglamsar town, where garbage from the households and shops are collected and converted into resources rather than dumped into giant landfills that remain an eyesore.
Earlier this year on December 13, the project celebrated its first anniversary.
"It is worth mentioning that during the first year itself a total of 65,000 kg waste has been collected from the centres across Choglamsar, Nubra, Nimo and Khaltsi. Of this, 27,000 kg has been sold to scrap dealers and 17000 kg reused in making plenty of recyclable products like biofuel bricks from the discarded cardboards, egg trays and other agriculture wastes," said the district administration.
"Similarly, paper and cloth waste were used for making decorative items, curtains, toys, cushion covers, etc. Wine/beer bottles and other broken glasses were also reused in construction of roads and buildings by agencies like [the] Public Works Department, General Reserve Engineer Force (GREF) of the Border Roads Organisation (BRO) and other construction companies thereby, generating a good amount of revenue for the department to run the project, besides playing a big role in health and environmental upgradation with reduction in air and water pollution," it added.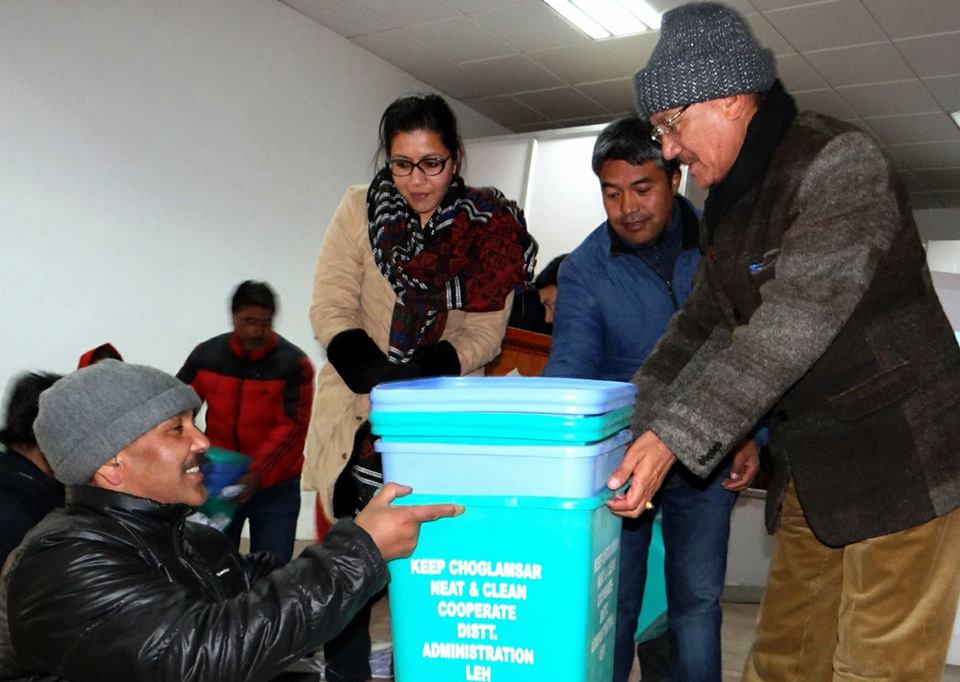 Speaking to The Better India, Deputy Commissioner Avny Lavasa, said that the inspiration for the project came from the sold resource management centre (SRMC) set up in Bishnah, Jammu district.
"There are many waste management models and initiatives established across the country. On reading about the SRMC in Bishnah, I sent the Rural Development Department (RDD) to assess it. However, we modified the model based on local needs. We took our inspiration from there. Unfortunately, the SRMC there is no longer functioning," she says.
Later on, in the article, we will explore why the model in Leh district has succeeded while the SRMC in Bishnah fell apart.
Project Tsangda is essentially for rural and semi-rural areas of Leh district. For urban centres, there is a different system in place. Usually in urban areas, through municipal corporations, committees and councils, there is a lot of money coming in for these projects. These municipal committees have greater resources.
"Naturally, we thought that rural areas are being left out. We started with areas on the fringe of Leh district's urban centres. These areas suffer the same waste problem as urban centres but don't have the necessary resources to manage it," says DC Lavasa.
Why does Leh district desperately need an efficient solid waste management system?
During the tourist season (May-August), Leh city itself collects 16-18 tonnes of waste, while in the lean season (November-February) it comes down drastically to 3-4 tonnes. While Leh city has the means to tackle its own waste emerging from greater tourist footfall, surrounding towns like Choglamsar (the second most populous town after Leh) don't have the necessary resources.
The volume of local waste generation is on the rise. More importantly, the delicate ecology of Ladakh is such that if we don't address this problem today, it will reach the point of no return.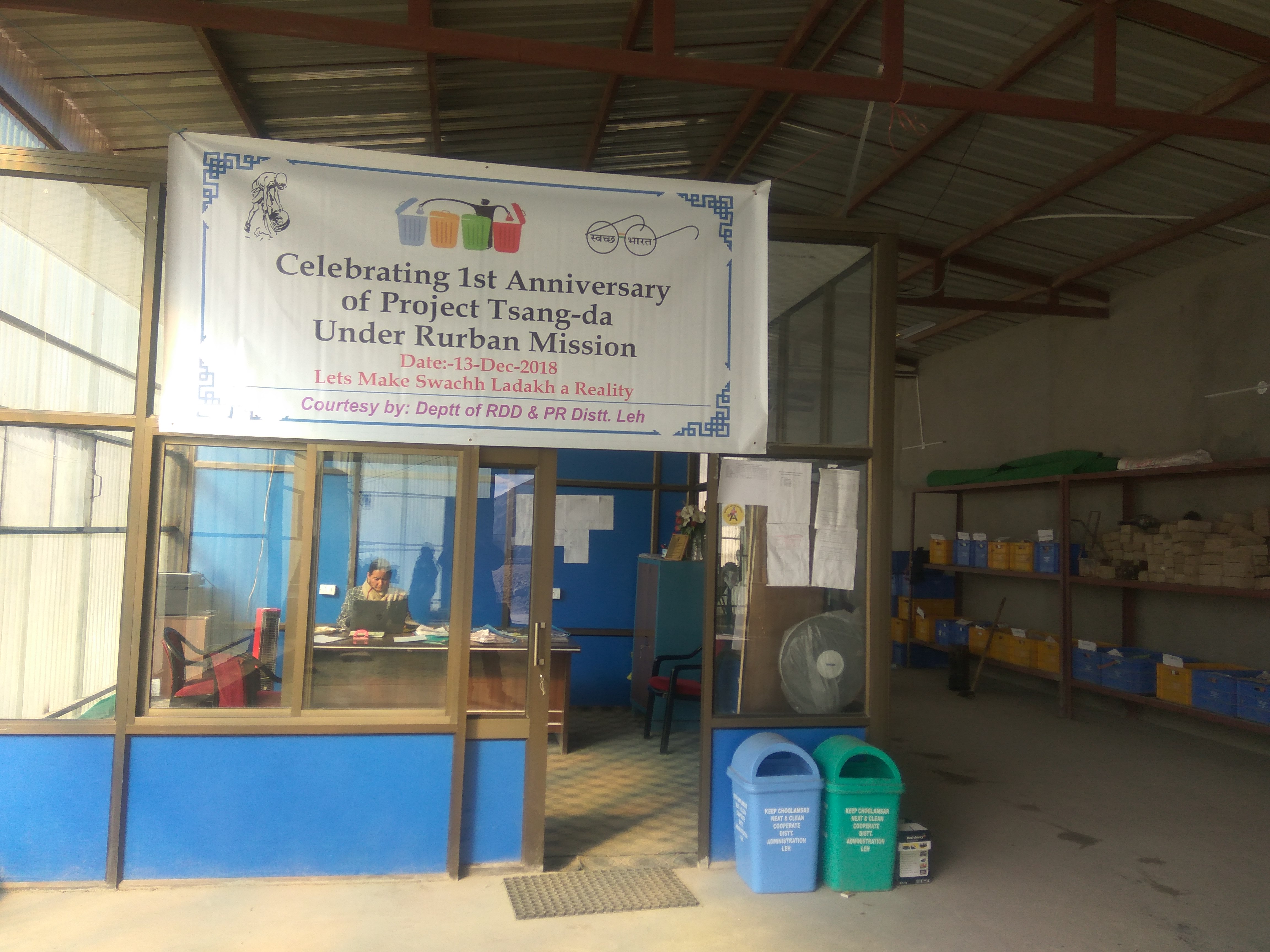 The key agency overseeing this initiative is the RDD. They've done everything from running awareness campaigns, building infrastructure, operating the project, collecting user fees, tying up with NGOs or private citizens to reuse the waste. Having said that, there are certain areas where the district administration needs certain coordination and assistance from other departments.
Like any other basic waste management system, the first stage is primary segregation at the level of household or shopkeeper. It's the standard model of having two dustbins—one for dry waste and other for wet waste. Ladakh, fortunately, does not generate too much wet waste—people traditionally use it for their own household requirements, or they feed it to their cattle.
However, there is a lot of dry waste generated. Once segregation happens at the primary level, the district administration sends out a small truck to collect the waste from a scheduled locality.
"There are days designated for the collection of dry waste and wet waste from particular areas. From the market, the collection takes place every day. The trucks then deliver the dry waste to the collection centres where secondary segregation takes place. At these centres, the dry waste is further segregated into 20-22 categories depending on which area we are talking about. Each category has a different re-use method or means of disposal. The four centres (Choglamsar, Nubra, Nimo and Khaltsi) function independently of each other. Every centre has a different catchment area, and they all adhere to different schedules," says DC Lavasa.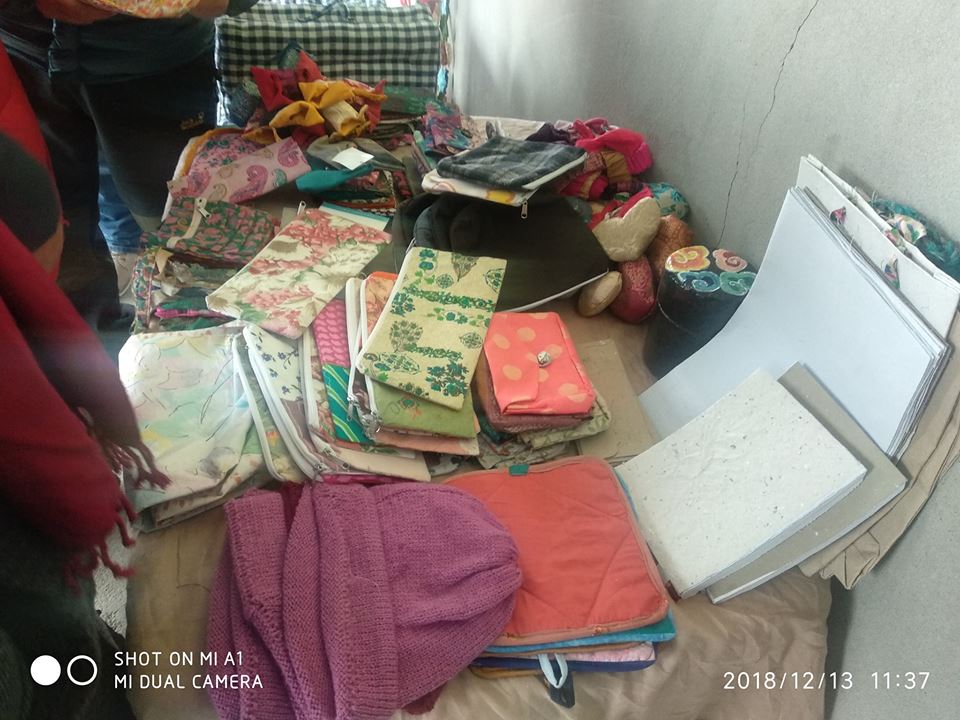 Unlike the SRMC in Bishnah, Jammu, this waste management has succeeded thus far thanks to the intense participation of locals. The reason why the SRMC in Jammu district had to be discontinued because locals were unwilling to pay a user fee.
"When government resources are put into any initiative, it is usually to create an asset. So, you may create infrastructure, but how do you operate and sustain it? In the context of rural areas in Leh district, this project is working because locals are willing to pay a user fee. I give full credit to the local people for understanding what's happening here. Unless they believe in the benefits of a particular project, they will not pay. Locals segregate really well. Usually, we receive dry waste that is barely 10% incorrect or inadvertently mixed with other waste at the primary segregation stage. So, the dry waste collected is 90% correct, which is very commendable," adds DC Lavasa.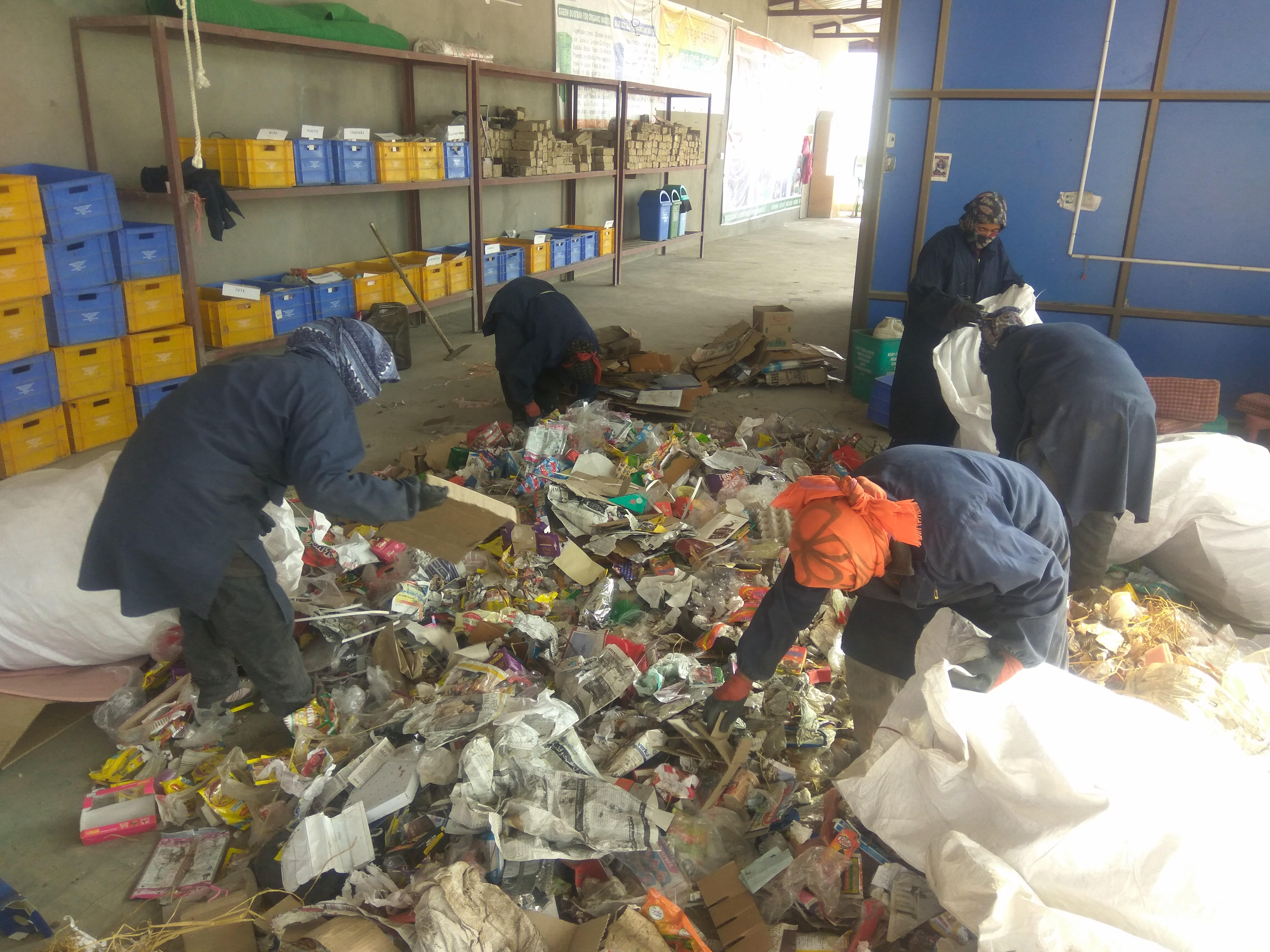 The user fee that locals pay usually goes towards paying the fuel costs for trucks that go out to collect waste. Authorities cannot send people out in rickshaws because of the cold weather. User fee also goes into paying the salary of those working at these segregation centres. Those working at the segregation centres are locals. "The whole model is very decentralised. In a way, everyone is benefitting from it. Households pay Rs 50 per month, while shopkeepers pay Rs 200," she adds.
Also Read: Saw the Viral 'Roof-With-A-Jeep' Pic? It Once Helped Revolutionize Education in Ladakh!
How have locals reacted to this initiative?
"Today, Project Tsangda is a huge success. It's an invaluable gift for the people of Leh district. Now the onus is on all of us to carry forward this dream project of our worthy Deputy Commissioner in making Leh one of the cleanest districts of the country," says Thinless Dorje, a radio operator with the local Jammu and Kashmir Police administration. Meanwhile, Tsewang Paljor, assistant director of the Cultural Academy in Leh claims that the initiative is "working very well" in his village of Nyemo.
"With increasing tourism, waste management has become a critical issue. Thanks to the administration, we finally have a system in place that not only includes locals but also works. Yes, there are improvements that are needed and loopholes that need to be fixed, but this is a well thought out first step," says Rinchen Wangmo, a local shopkeeper and beneficiary of this initiative.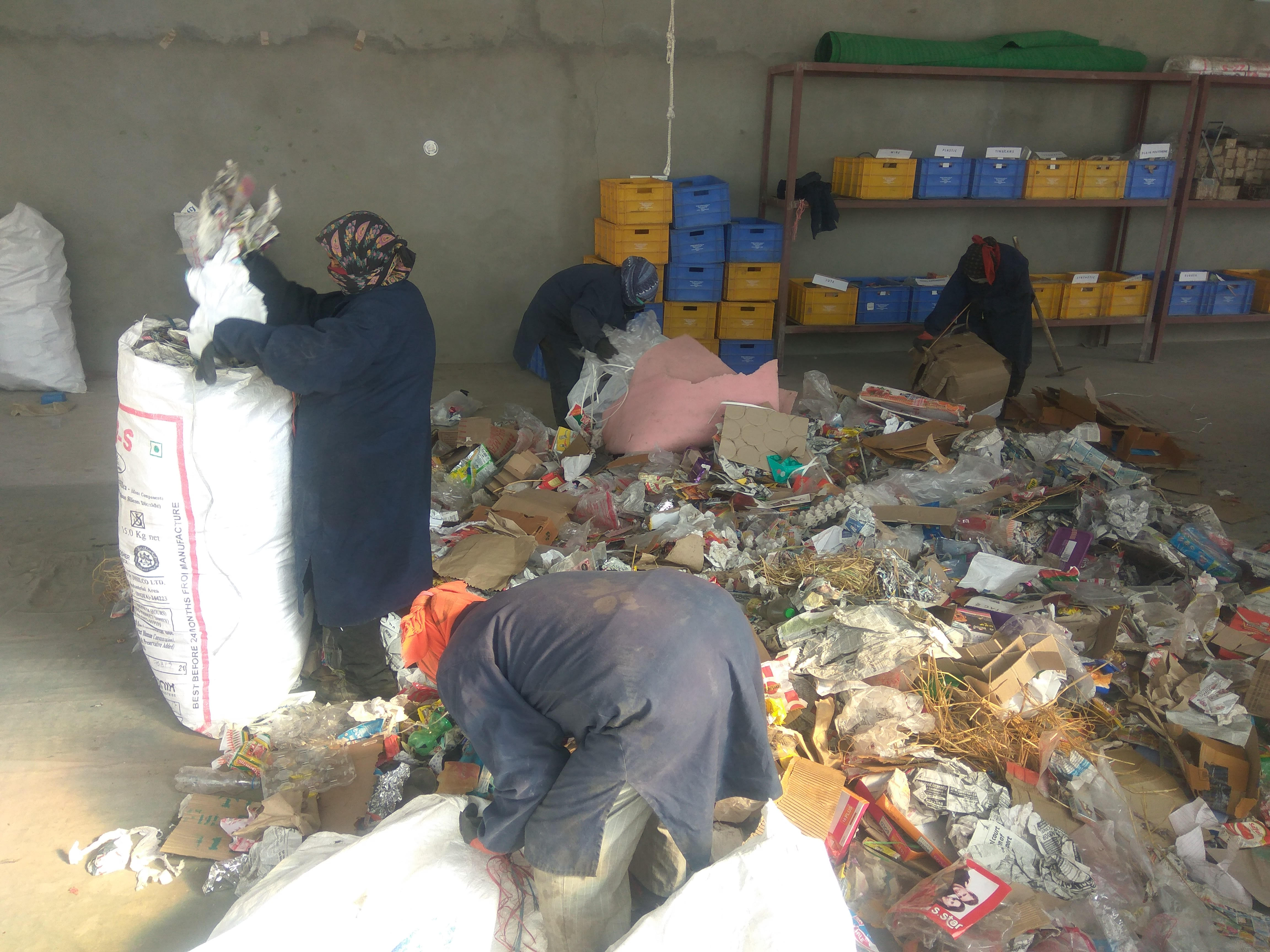 "Yes, I think it's making a difference. At least it's making the people aware of waste segregation and recycling. These are important lessons we need to learn," says local journalist Tsewang Rigzin.
What makes this initiative particularly successful is that locals feel they have a major stake in it. People from the same catchment area of these segregation centres work there. This is rather unusual for the people of Ladakh today because such work isn't usually done by locals. This sort of work isn't looked upon very favourably by locals. But it's another achievement of the district administration that they've broken this mindset of doing work pertaining to waste management.
Where does the administration go from here?
"First, we are expanding the catchment area of each centre. For example, the centre in Nubra Valley was earlier covering just the village of Diskit. We are now expanding to Hunder (sand dunes where tourists take rides on the unique Bactrian camels), the main area where all the tourist camps are stationed. Second, we are spending too much on dustbins. What we are trying to do is use local woven baskets made of straw and turn them into dustbins. Third, include more people in the waste segregation process. Finally, we will use the plastic waste into making roads in the coming working season, an initiative that has been taken up multiple administrations across India," says DC Lavasa.
Also Read: Govt Opens New Routes, Trekking Trails In Ladakh: 5 Things Tourists Must Keep in Mind
Speaking to family, friends and relatives back home, there is a sense that Project Tsangda has brought about visible change to the region. Yes, there are a lot of improvements to made and loopholes fixed. For example, shopkeepers want further control over the process of secondary segregation, while treating something as innocuous as dog excreta remains a problem.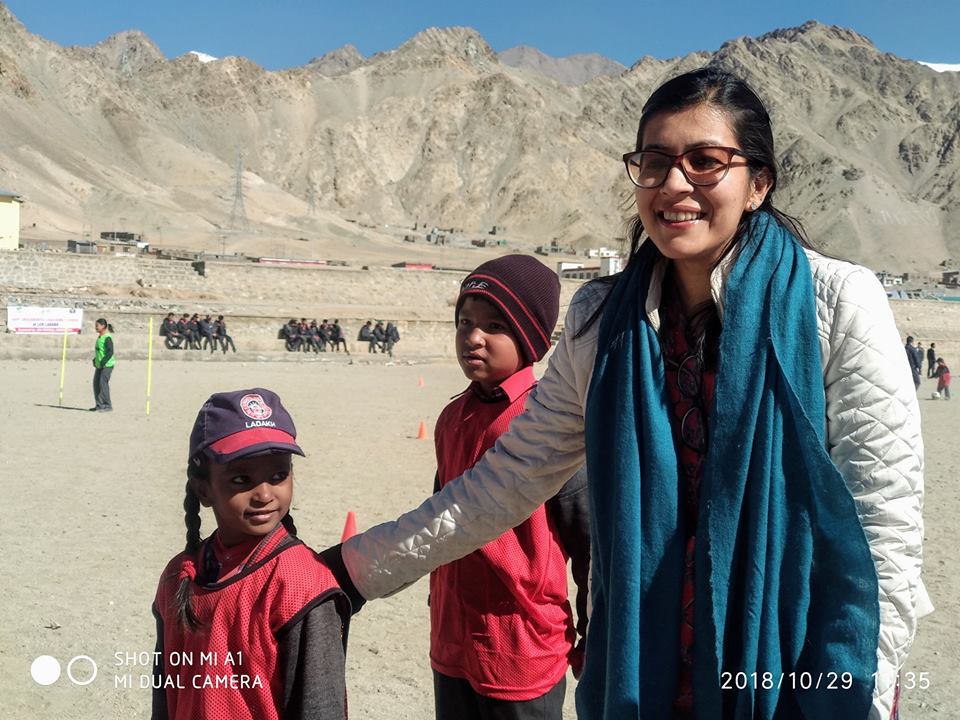 Having said that, this is the first step against the rising tide of ecological disaster in the region brought about by excessive garbage.
(Edited by Gayatri Mishra)
Like this story? Or have something to share? Write to us: contact@thebetterindia.com, or connect with us on Facebook and Twitter.
We bring stories straight from the heart of India, to inspire millions and create a wave of impact. Our positive movement is growing bigger everyday, and we would love for you to join it.
Please contribute whatever you can, every little penny helps our team in bringing you more stories that support dreams and spread hope.
Tell Us More