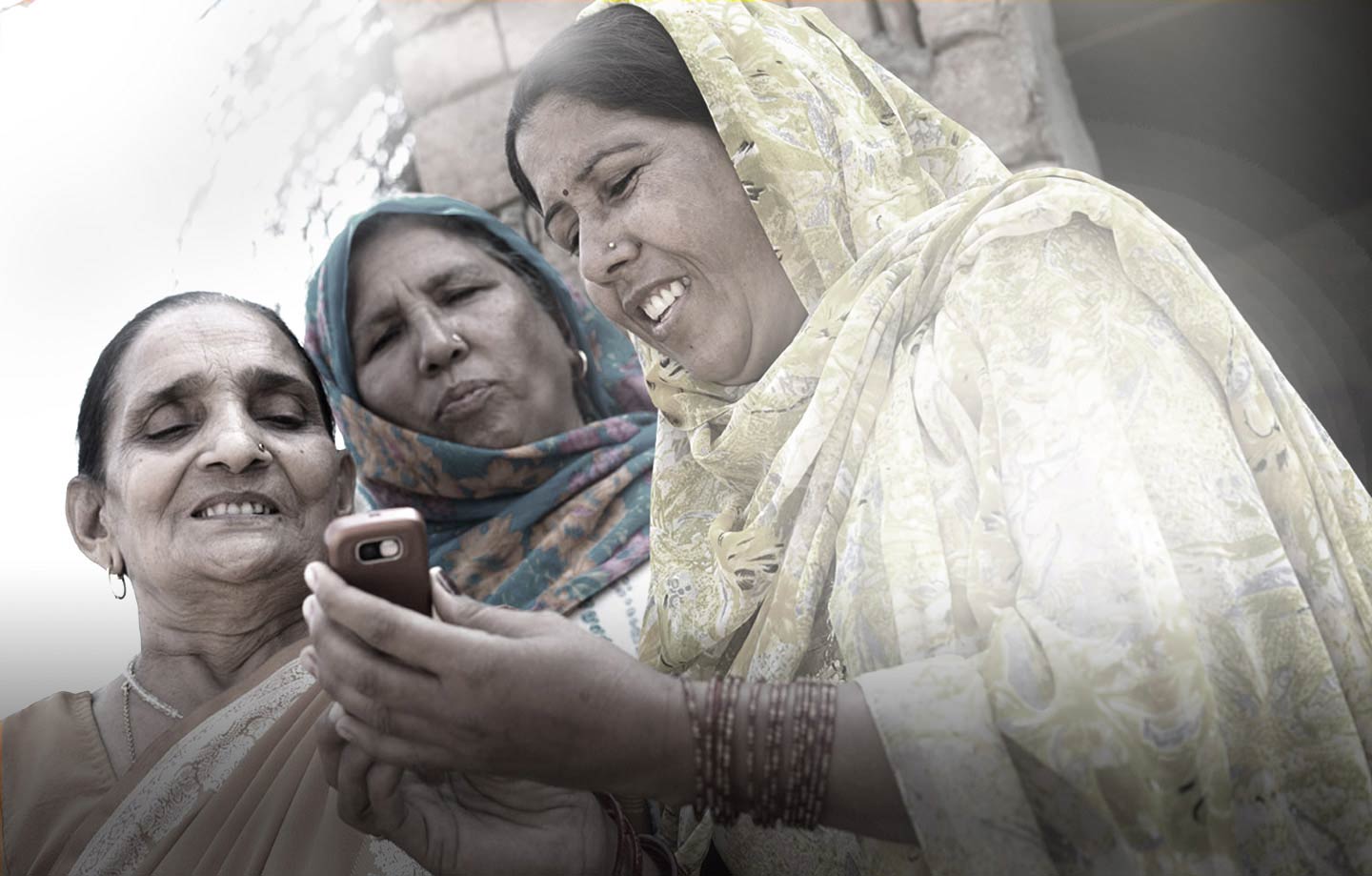 From agriculture to health, a mobile phone is transforming the lives of thousands of people in rural India. Here are 11 simple mobile apps and initiatives that are bringing a positive change.
---
This article on using mobile technology for social good has been made possible by Vodafone Foundation.
---
From agriculture to health, a mobile phone is transforming the lives of thousands of people in rural India. Here are 11 simple mobile apps and initiatives that are bringing a positive change.
Nothing has taken the country by storm as much as the mobile phone. With over 900 million mobile devices in use at present, 377 million of which are in rural India, the mobile industry is posting a staggering growth of 43.23% annually. Newer, cheaper models and competitive rate plans are ensuring that almost 6 million new users are being added every month.
So what better way to make mobile as the medium to deliver solutions to the people who need it at the grassroots. From remote monitoring of crops to reaching out to potential markets, from last mile delivery of government and private services to addressing domestic violence issues ingeniously, mobile phones are being used in a host of ways to uplift and empower rural India.
Here are 11 amazing mobile apps that were recognized at the recently concluded Vodafone Foundation's Mobile for Good Awards 2014. Mobile for Good Awards is an initiative by Vodafone Foundation to recognise mobile applications bringing a positive change in the lives of millions of people across India across various categories like health, governance, education, agriculture and more.
1. Self-Reliant Initiatives through Joint Action (SRIJAN) 
A mobile- based soya crop monitoring system that enables women farmers to increase profitability, productivity and efficiency.
Declining production and lack of suitable market has always been a challenge with agriculture in India. SRIJAN is working to empower the rural poor in various areas to increase their revenues. SRIJAN's Soya Samriddhi project focuses on enhancing the productivity and profitability of the small farmers. Due to SRIJAN's intervention, Soya Samriddhi farmers received 47 percent higher average yield than other farmers in spite of poor rainfall.
And all of this was achieved using a mobile phone. Women farmers' details, crop information and complete profile are registered using a mobile phone at a grassroot level. Later on, the crop area is surveyed and inputs are suggested to optimize the production. The shortlisted profiles are made accessible online globally through geo-tagging. The farmers can insert relevant data and can get important information and advice from the experts. The service also provides harvest forecasts, prices and other important information that comes in handy for the farmers via the mobile phone.  Know more about their work here.
2. Operation ASHA
OpASHA's TB Contact Tracing and Active Case Finding software increases detection rates and diagnosis of potential patients.
OpAsha has been extensively working to provide tuberculosis treatment and spreading awareness regarding the same. Apart from being active in 2,053 slums and villages in nine states of India, OpASHA is engaging with TB patients in Cambodia as well. Their main focus is to enable disadvantaged communities to have access to quality services and products at affordable prices by delivering the services to their doorsteps.
To reach a larger community, OpASHA launched a mobile application in 2013 of its Contact Tracing and Active Case Finding software. The major function of this app is to identify and diagnose a TB patient.  A user is asked a set of questions and depending upon the result, a health worker enters the contact details of the suspected TB patient. After this information is fed into the system, the user is regularly tracked through the diagnosis till it is complete.The app has been successfully used by over 7,000 people at multiple locations. It can be downloaded on an android phone. Know more about their work here.
 3. Swayam ShikshanPrayog (SSP)
ArogyaSakhi, amobile application helping rural women entrepreneurs delivering preventive health care at rural doorsteps.
Swayam Shikshan Prayog (SSP) is empowering rural women and communities at large to become leaders and entrepreneurs by providing skill-building, livelihood,  and health-enhancing opportunities. They help women in setting up social enterprises for delivering preventive health care solutions and enable them to have access to sustainable livelihood options. These women are called Arogya Sakhis, and they form the backbone of SSP's mobile app system  developed by their technology partner Sofomo.(the app is the backbone of the program (not the sakhis) bridging gaps between doctors and rural care-seeker)
The sakhis have tablets and mobile healthcare devices like glucometers, blood pressure checking machine, etc. for visiting door-to-door, conducting tests,collecting data from the village women, and finally feeding it in the cloud server through the tablet. A doctor at any location (presently at Pune) can access that data and provide relevant solutions and advice according to the uploaded data. Persons who need further medical intervention are referred to their local network of hospitals and doctors in the rural areas. The initiative has benefitted over 1,800 women in various districts so far. Know more about their work here.
 4. SNEHA (Society for Nutrition Education and Health Action)
Little Sisters project helping tackle the social issue of domestic violence with mobile phone technology.
This Mumbai-based organization aims at reducing maternal mortality, newborn mortality, malnutrition and domestic violence. Through crisis intervention at the right time, SNEHA helps women identify the most suitable course of action to deal with domestic violence. They collaborate with the police, health and legal systems to provide the appropriate and timely help to women and children in need.
To expand its reach, SNEHA launched the Little Sisters project which is a crowd-sourced reporting system. The community workers, using a smartphone, map domestic violence in real time to identify the offenders and offer necessary support to survivors. They have also launched a toll-free number which is given to the clients who approach SNEHA for their services. They can send a missed call to this number to receive instant help and immediate intervention. Know more about their work here and in an earlier TBI article about them.  (150 Sanginis who help networking in slums. 300 cases have been registered through this technology)
5. Surat Municipal Corporation
Citizen Connect SMS mobile app that empowers citizens with access to information and grievance redressal of local government services.
SMC was launched to provide latest information and facts to people and take the government services to the doorsteps of the citizens. They launched a mobile app 'Citizens Connect' that enables information sharing and service providing through latest technology.  The mobile app, which can be downloaded free of cost on Android phones, provides information regarding elected and administrative wings, registration procedures, recruitment advertisements and even rainfall. Users can also check birth and death certificate details, property tax details, pay water meter bills and share feedback. Having launched in 2013, the app has already received over 18 million service requests and 7400 complaints. You can download this app on Android and iTunes.  Know more about their work here.
6. JayalaxmiAgrotech
A mobile application to provide farmers crop-specific information.
The mobile app launched by Jayalaxmi Agrotech provides crop-specific information to illiterate farmers with the help of various audio visual tools. The app provides various high tech solutions like analytics and can work even without an internet connection once it is transferred to a farmer's Android smart phone. The interesting thing about the app is that itbreaks the language barrier by providing information in regional languages. Know more about their work here.
7. Chinh India
Early education web channel featuring films for children, made by children on mobile phone.
Chinh focuses on empowering children and people from marginalized communities. This mobile app for the children is a unique tool that engages and educates children through various films made by other children. The main focus of this app is to enable children to think critically, communicate effectively and empathize with others. The app also allows children to make their own visuals, storyboards, films, etc. The films are later made available on the channel. The app has reached out to over 5,00,000 children so far. Know more about their work here.
8. Infocrats Web Solutions Pvt Ltd
A mobile application, Citizen COP, that enables citizens to help in policing.
This Madhya Pradesh-based app allows users to help the Police maintain law and order through a mobile phone. The interesting app is called Citizen Cop andhas features like Report an Incident, Help Me (SOS) for Emergency Help, e-Laxman Rekha, Search Towed Vehicle and Vehicle Owner Search, and Auto-Taxi Fare Calculator. Users can feed upto four numbers in the app as emergency contactsfor SOS messages. The SOS message also goes to the local police stations. Currently operational in five cities of MP, the app has reached 46,000 people so far, and the police department is now looking at implementing it across the state. You can download the app on Android here. Know more about the app here.
9. Tech Services India Pvt. Ltd (Smart Shehar)
JumpinJumpout, a unique way to use mobiles to share vehicles and reduce traffic jams.
With increasing traffic and cars in the country, sharing a mode of transport sure seems like a good idea. It not only saves money but also helps in reducing the carbon footprint on the planet. Tech Services India Pvt. Ltd. has launched an interesting mobile app called JumpinJumpout to enable users to share private buses, taxis, autos, cars, etc. going to the same destination. A user can indicate his locations and other users can check that on a real time basis and can go for car pooling. Learn how to use it here.
 10. Dimagi Software Innovations Pvt. Ltd
CommCare for Catholic Relief Services (CRS) ReMiND – Reducing Maternal and Newborn Deaths – programme and helping ASHAs improve quality of home visits.
A majority of people in the country have access to mobile phones. And, Dimagi have planned to use this technology for a better purpose. They have launched a mobile app that works as job-aid tools for ASHAs working to reduce maternal and new born deaths in Uttar Pradesh. The app focuses in increasing and improving the quality of visits of ASHAs to the pregnant women and newborn children in the villages. The app enables the ASHA workers to record the data and provide multimedia-enhanced counselling messages in a more efficient way. The performance of the ASHA workers can also be monitored effectively through this tool. 1.39 million pregnant women and children have profited from it so far. Know more about their work on their websiteand in this TBI article on them.
11. Sri Kanchi Kamakoti Medical Trust
Eye Connect, a customised mobile application to overcome eye care challenges in remote areas.
The Trust has been providing quality eye care facilities to the poor since 1977, through the Sankara Eye Care Institution. Their vision is help people get freedom from curable and preventable blindness at affordable prices. To make this easier, they launched an Android mobile app,Eye-Connect, to automate community eye care. The field workers from the institution use mobile phone to identify people in the villages who need eye care. The identified patients are referred to the medical camps organized at a nearby location using a Decision Support System.  This smart app also provides information about eye-donation, eye-care facilities and various audio-visual tools to make the information more interactive and comprehensive.  The pilot project has benefitted over 700 users so far. Know more about their work here.
This is just a few ways in which the mobile phone is being put to good use. Take a look at previous awards winners here for more ideas changing rural lives using the ubiquitous mobile phone. Has this got you thinking on how you can use that little device in your hand for social good?#Mobile4Good14.
Like this story? Or have something to share? Write to us: contact@thebetterindia.com, or connect with us on Facebook and Twitter (@thebetterindia)
We bring stories straight from the heart of India, to inspire millions and create a wave of impact. Our positive movement is growing bigger everyday, and we would love for you to join it.
Please contribute whatever you can, every little penny helps our team in bringing you more stories that support dreams and spread hope.
Tell Us More