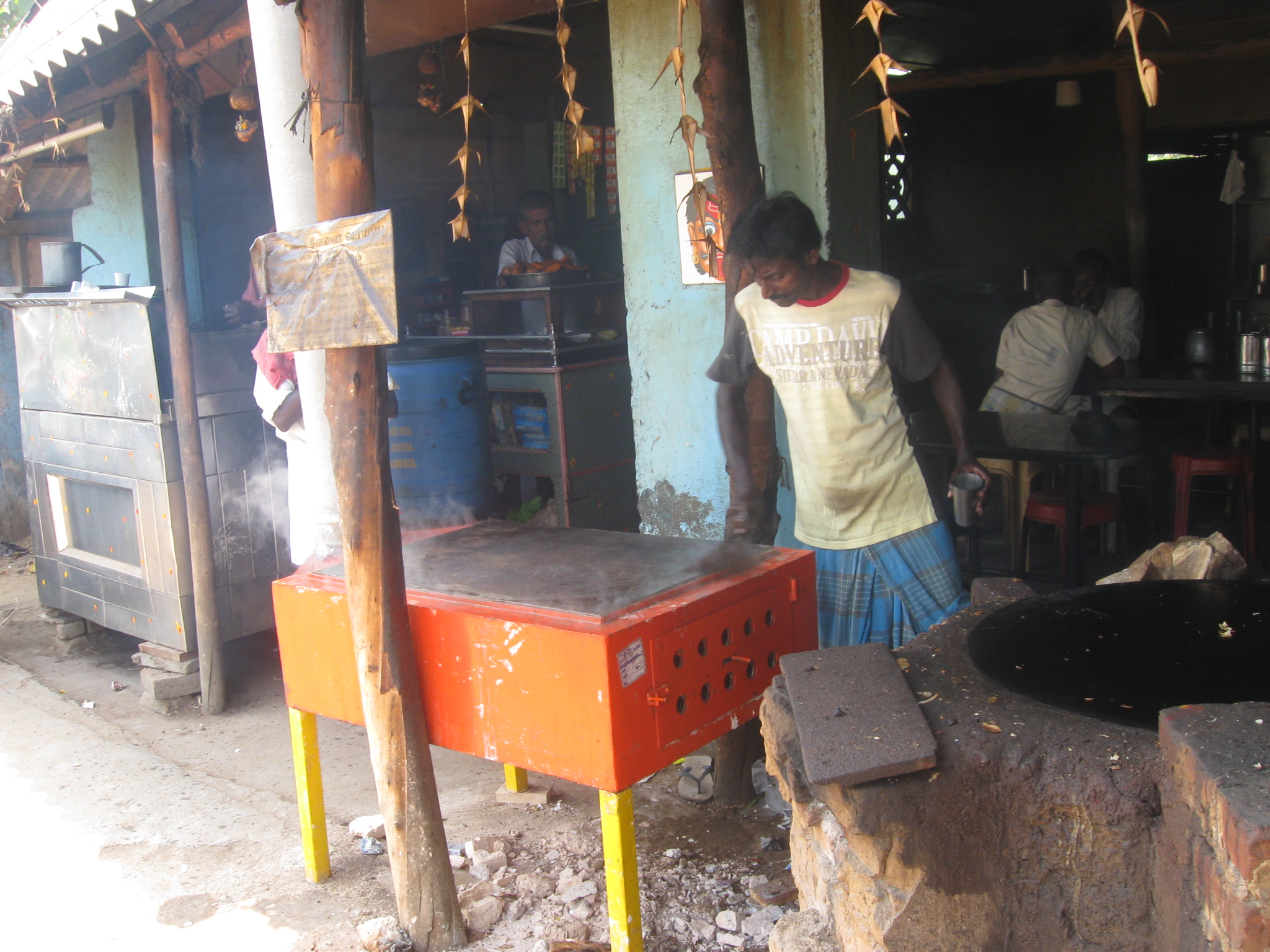 In this article, we write about the Biomass Cooking Stove innovation that is being nurtured by the Villgro foundation. Context and problems with LPG Micro and small establishments that provide
In this article, we write about the Biomass Cooking Stove innovation that is being nurtured by the Villgro foundation.
Context and problems with LPG
Micro and small establishments that provide boarding services to 40 – 100 individuals in rural and semi-rural areas face the three pronged problem of not having the access, both financially and in terms of availability , to LPG, having to incur the costs of large amounts of biomass required to run their relatively inefficient stoves and dealing with the associated health impacts that inefficient, outdated stoves generate.
Unlike small households, micro and small establishments rely on purchasing fire wood and not on collecting biomass. These costs average around 2000 Rs. / ton. As such the inefficiency of stoves used by this category of users has a direct impact on their expenditure and thus on their income and savings. When compared to households these establishments utilize their stoves for much longer (upto 10 hours a day when catering to 100 customers) and thus the impacts on wood consumption and health issues are
exasperated.
Burning wood creates CO2 and other greenhouse gases. Establishments, based on size, generate between 20 – 80 tons of co2 a year. While small when considered at a national or global scale, this contributes to climate change in its own way.
Enter Biomass Cooking Stove, an innovation by Svati Bhogle of SustainTech India Pvt. Ltd.
The Biomass Cooking stove is an application specific high efficiency wood burning stove specifically designed for a range of cooking needs. The innovation offers to the end user: saving in fuel costs, by being up to 50% more efficient than conventional stoves and improved health impacts. The features that make the stoves innovative are, optimum air fuel ratios controlled by efficient vents, well designed combustion chamber volume resulting in high combustion and heat transfer efficiencies, good insulation to prevent losses to the walls and an optimally designed chimney to vent the flue gases away from the breathing zone of the cooks and designed to reduce heat losses to the atmosphere.
Salient Features
High efficiency because of controlled burning, good air fuel ratio
Ability to regulate air supply and hence the fuel burning rate
Use of grate for good combustion
Good insulation and a uniform temperature profile across the plate because of staggered finning of the tava (flat plate). This has been designed so that one side of the tava uses preferentially radiative heat and the other side convective heat obtained by burning of wood on a grate.
Increasing the velocity of the flue gases towards the end of the plate, good insulation and an optimally designed chimney
Who is impacted and how?
Owners of micro and small boarding establishments, including semi-portable food vendors will be impacted. This covers a range of individuals with daily revenues between 500 to 5000 rupees per day. A market survey revealed that the total number of tea shops, small & medium hotels and street food vendors to be 73,650 in the state of Tamil Nadu alone.
On the lower end of the economics scale – this includes street side food vendors who spend considerable amounts of their income on firewood. These individuals were shown to spend upto 30,000 Rs. annually on firewood with monthly take home incomes of around 7000 Rs. On the higher end of the economics scale – this includes proprietors of small size 'hotels' catering to the needs of approximately a 100 customers a day.
Environmental, social and economic benefits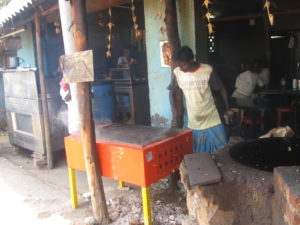 SustainTech India Pvt. Ltd. (SIPL) is reaching out to the needs of a fuel stressed segment of society – initially the street food vendors, who operate on push carts and where cooking is done inside the cart or on railway platforms, roadside shops and small hotels who with a roof and some seating capacity.
A survey conducted shows that these stoves are in operation for about 10 hours every day and each unit caters to about 100 clients every day. The 65,000 fuel efficient wood burning stoves (considering only the tava, frying stoves and tea kettles) that would be sold by SIPL in the first five years would therefore offer a safer, cooler and healthier working environment to at least 65,000 cooks and 6.5 million people who would eat
around these stoves every day. India has a high incidence of respiratory ailments and a smoke free working environment would reduce the medical expenses of the affected people working around wood fires.
The survey data also shows that 38% of the street food vendors and tea shops use kerosene for their cooking needs. Very limited kerosene is available in fair price shops and this is inadequate. Very often the sector uses unfair means to procure kerosene creating stress and tension besides eroding the profitability.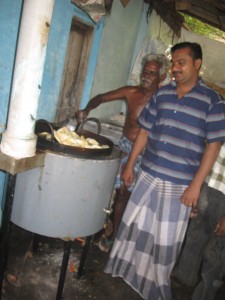 Moving to a biomass stove would reduce the stress associated with procurement of kerosene, improve profitability of the business and show that it is possible to replace a fossil fuel with a renewable energy source.
At the global level the movement to a fuel efficient wood stove would significantly abate CO2 emission. A survey conducted in the project area shows that stoves are in use for about 8 -14 hrs every day and for 300 -350 days in a year. Data has also been collected about fuel consumption patterns in conventional stoves and performance of improved stoves tested and some of them certified. With a projected stove life of 5 years, the carbon abatement potential of the venture through installations in the first 5 year planning period would be 3.7 million tons of CO2. (1 kg of firewood saved = 1.5 kg of CO2).
Firewood is purchased by the end users of SIPL products at Rs 2000 / ton. The saving in fuel costs, because of energy efficiency should enable the end user to payback the cost of the stove without financial stress in 12- 18 months. Each stove purchased would on an average save Rs 20,000 – 30,000 of fuel cost every year.
The enterprise projects that through its intervention and in their life time, the stoves installed in the first
5 years period, it would conserve Rs 4000 million in fuel costs thus creating wealth for a very needy community.
SustainTech is now being incubated by Villgro. Villgro is a not-for-profit company empowering rural development by identifying and incubating innovations that could be translated to market based social enterprise models thus impacting thousands of lives. In efforts to impact rural life, VILLGRO actively promotes social entrepreneurship and works with different stakeholders to create and support an eco-system that empowers social entrepreneurship by means of seed funding, mentoring, networking and recognition. Villgro has impacted over 360,000 rural users with technology & solutions reaching the grassroots. Villgro has identified and activated more than 2000 social innovators.
Tell Us More
We bring stories straight from the heart of India, to inspire millions and create a wave of impact. Our positive movement is growing bigger everyday, and we would love for you to join it.
Please contribute whatever you can, every little penny helps our team in bringing you more stories that support dreams and spread hope.