The farmers who previously earned Rs 25,000 a month, started earning double the amount, almost Rs 5 lakh a year!
He was born to a marginal farmer in Pune's Mulshi taluka. Right after he completed Class 10, Dnyaneshwar Bodke started working on the family farm.
Following traditional farming, the family of eight would toil in the field all day, growing rice. But their meal never went beyond a plate of rice and milk.
When he realised that it was a lost cause, Dnyaneshwar decided to quit farming.
His sister knew a builder who helped him earn the menial job of an office boy in Pune city.
He shares, "I worked from 6 am to 11 pm for ten years, often without realising who it was that I was living for. Somewhere in my mind, I knew I wanted to do something for the farming community."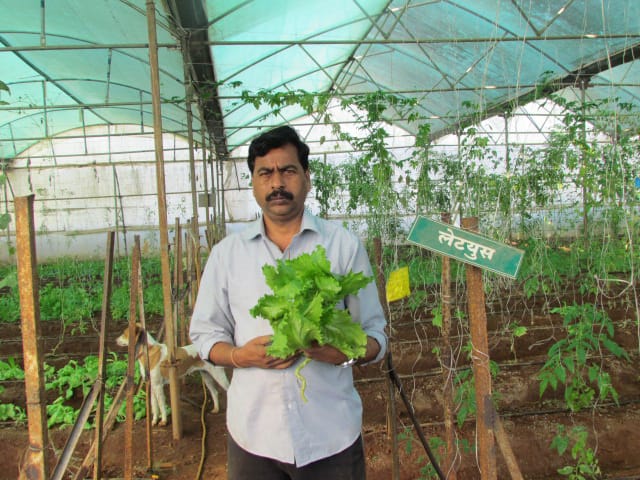 But what could he do, was the question.
The answer came in the form of a newspaper article. It documented the success story of a Sangli-based farmer who practised polyhouse farming in a 1,000 sq ft area and earned Rs 12 lakh a year.
Dnyaneshwar made the impulsive decision to quit his job and return to farming. He attended a two-day workshop on polyhouse farming in the Horticulture Training Centre in Pune.
His father was agitated at his rash decision.
Dnyaneshwar says, "Everything they taught was theoretical, with no practical demonstration. I wasn't highly educated, so it flew right over my head. But I knew I couldn't give up. I got in touch with the authorities and told them that I wanted to work with them and learn."
Over the next year, he travelled 17 km every day on his cycle to reach the centre. Working from 7 am to 7 pm, while he did not earn a penny, he says he earned knowledge "that was worth crores".
Soon after he finished his training, he applied for a loan to set up a polyhouse in a 1,000 sq ft area.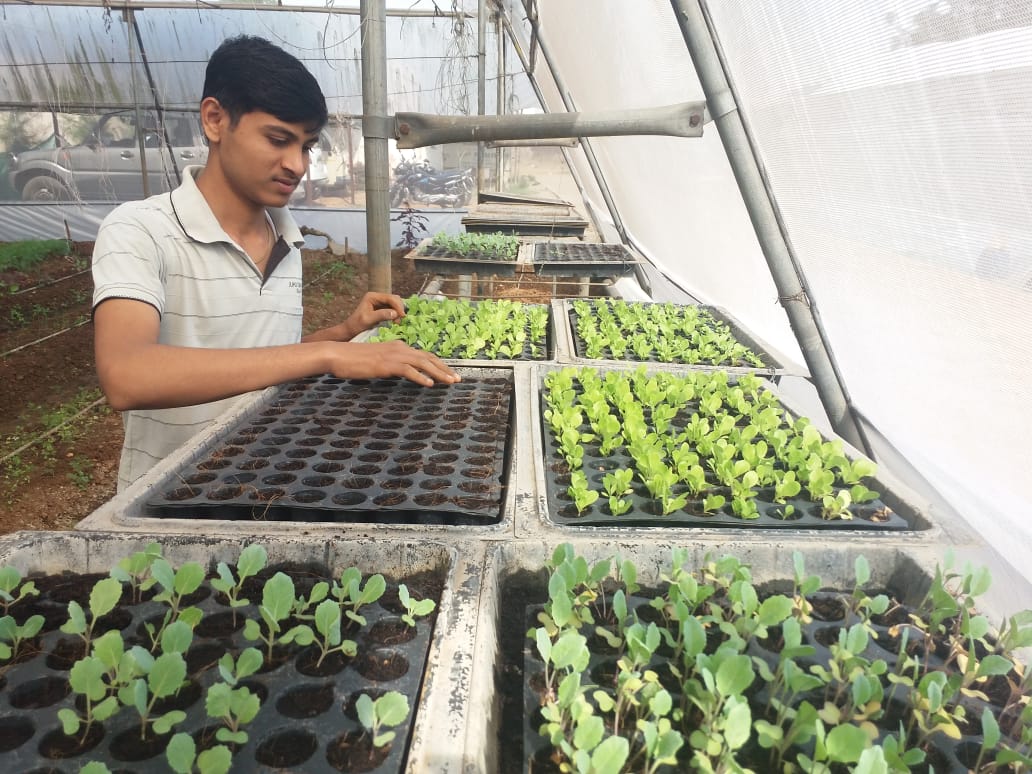 In 1999, he started cultivating decorative flowers like carnations and roses in the polyhouse. When the florists would sell them in the local mandi (market) he tied up with decorators and hotels. Soon, he started exporting flowers to Pune, Mumbai and Delhi.
He shares, "I was once struggling to get a regular income, but now, I was even getting advance orders for my produce. Certainly a first, in my farming journey."
The biggest impact of polyhouse farming reflected in how he was able to repay a loan of Rs 10 lakh within a year!
"When the bank manager first came to our house and asked for my father, he thought we had lost our land in some debt and refused to come out of his room. The bank manager stepped into our home, touched my father's feet, fed him sweets and said, 'Your son has begun a revolution. He is the first farmer to repay a loan of Rs 10 lakh to our bank within a year'!"
Soon, the local news channels covered this success, and many farmers started getting in touch with Dnyaneshwar to understand polyhouse farming and horticulture.
"I helped several of them in the marketing, in applying for and repaying loans. Within two years, my responsibilities had increased. I was travelling to different farms all day and couldn't give my own farm the attention it required. The same bank manager who congratulated us told me that I should make a group, instead of doing everything myself. It would help divide responsibilities and get more work done!"
The year was 2004. With the help of National Bank for Agriculture and Rural Development (NABARD), the farmer got together with 11 others and formed Abhinav Farmers Club. While a few handled marketing, others took charge of transport. The idea was to farm in a group and share profits.
Within no time, the members increased to 305.
The farmers who previously earned Rs 25,000 a month, started earning double the amount, almost Rs 5 lakh a year. The group even bought close to 300 Maruti cars to quicken the delivery process and received a national award by NABARD for their hi-tech farming.
Everything went well for a time, but the end of the year saw a massive drop in the rate of flowers. From Rs 2.5 a piece, they fell to 0.85 paise. They were running into losses and fights erupted within the group. The group narrowed down to 23 members.
It was around the same time that several malls started coming up in Pune. "It is an irony in our country that shoes are sold in a mall and vegetables along the road," he laughs.
Where Indian vegetables were getting a rate of Rs 10/per kg, exotic vegetables were procuring Rs 80-100/kg.
And so, the group decided to tie up with these malls and grow exotic vegetables like broccoli, Chinese cabbage, parsley, cherry tomato, celery, zucchini, among others.
"We had used plenty of chemicals during floriculture. But we were adamant that we wouldn't grow or supply vegetables that required even a drop of chemical fertilisers or pesticides. So we went 100 per cent organic. Each farmer was earning up to Rs 700-800 per day. Within no time, we were able to recover the losses."
But sooner rather than later, competitors did the same, and sustenance became difficult.
Dnyaneshwar decided to use a fool-proof technique that wouldn't ever die out. He came up with a 1-acre hi-tech integrated organic farming project.
The concept was simple. One acre of a plot, 10,000-20,000 litres of water, two hours of electricity and the entire family's labour for just four hours.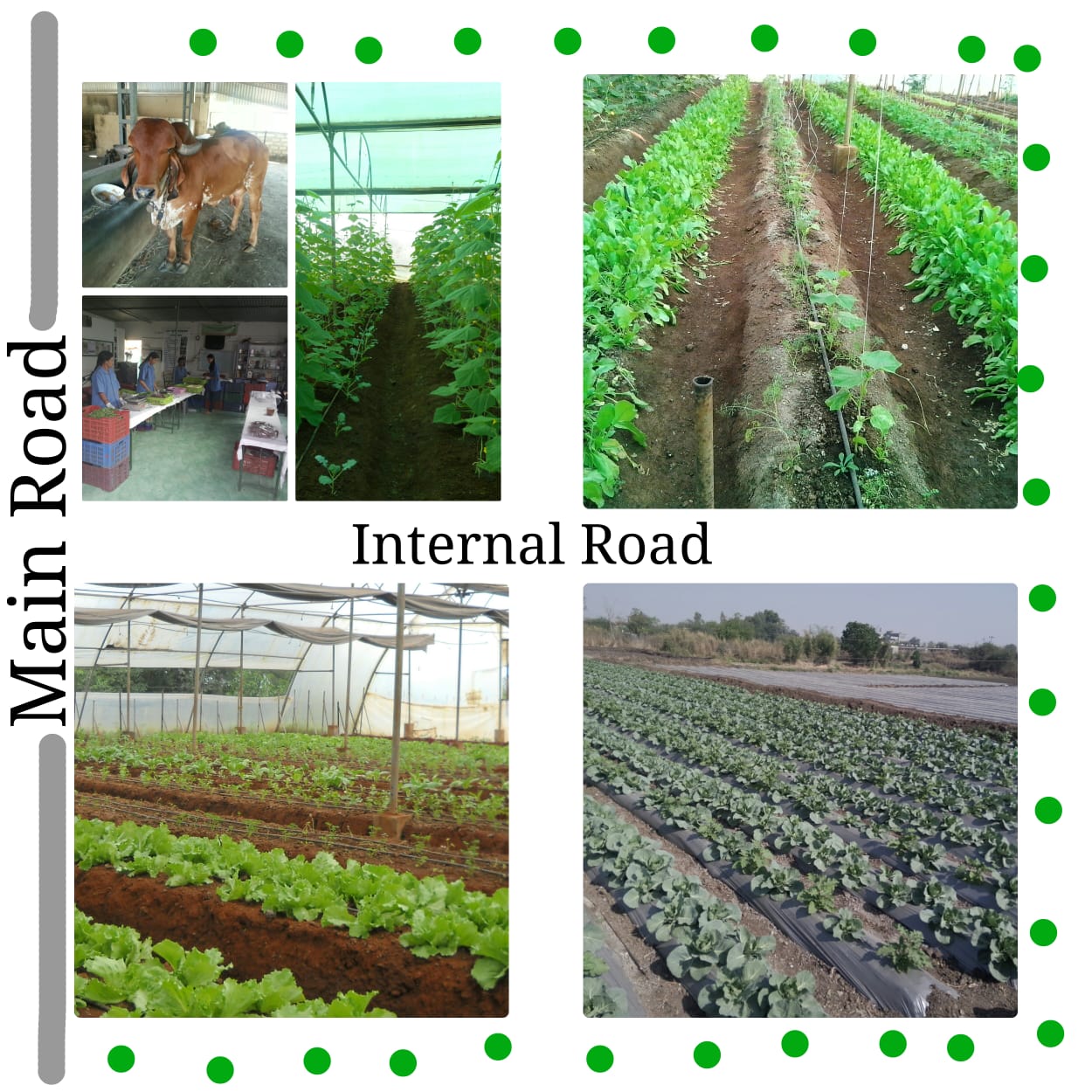 This 1-acre plot was divided into four sub-plots. One area was used to grow 12 types of fruits (native bananas, oranges, mangoes, native papayas, sweet lime, figs and custard apples); another was used to grow exotic vegetables; a third for pulses; and the last for leafy vegetables.
This produce was directly delivered to the doorsteps of customers without any middlemen. From Pune, Mumbai, Goa, Nagpur, Delhi and Kolkata, these were sent in luxury buses and trains.
This farm also had a native cow that would give 10-12 litres of milk a day. While two litres were saved for the household, the rest was sold for Rs 50/litre in the locality. Cow dung was used as manure and also to produce biogas, which was later used for cooking. Even the slurry from the plant was used to fertilise the plot. Gomutra (cow urine) was sold for Rs 10 a bottle.
Just one cow was able to give each farmer additional income!
Where engineers earn Rs 12 lakh a year, a class six farmer in rural Maharashtra was earning the same amount, with integrated farming technique on a 1-acre land.
To avoid the issues of lack of labour for delivery, Abhinav Farmers Group also connected with women self-help groups who packed, graded and delivered the produce in 126 vans.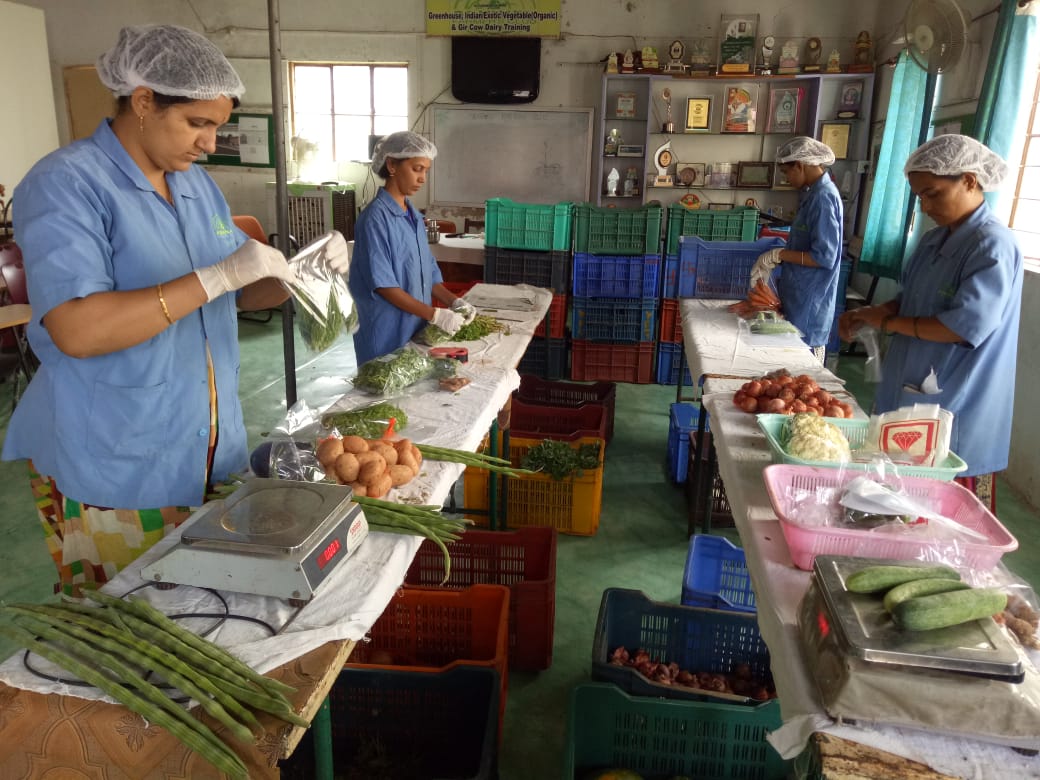 With daily wages ranging from Rs 300-800, a day, these women are now self-sufficient and even sending their children to English-medium schools.
---
Read More: Exclusive: UP's Award-Winning Banana King Earns Rs 48 Lakh/Year, Becomes Idol For Farmers!
---
Today, the impact of Abhinav Farmers Club is spread across six states of Maharashtra, Telangana, Andhra Pradesh, Gujarat, Madhya Pradesh and Karnataka. With over 1.5 lakh farmers and 257 farmer leaders nationwide, the annual turnover of the group is about Rs 400 crore!
The leader farmers meet every three months and also connect via WhatsApp to resolve any issues that their peers face.
The business that retail grocery shops make within 15 days is earned by the farmers within three hours of their sale system.
Dnyaneshwar was also one of the first Indian farmers to be invited as a TEDx speaker, receiving a standing ovation from the audience with his story, wit and sense of humour.
When asked, he says, "Everyone has seen celebrities, entrepreneurs, stand-up comedians and YouTubers being invited to these talks. But for the first time, someone gave the Indian farmer a chance to speak, not about the agrarian crisis, but about the success of farming as a profession, which often doesn't get reported. The media, for a very long time, has always covered farmers in a negative light – whether it is protest marches or farmer suicides. But this platform helped me show them the greener side."
Motivation and a commitment to buy the produce directly, without any middlemen, is what a farmer needs from people, he says.
He continues, "The farmer breaks his back 16 hours a day to feed the 125-crore population. So is asking for the right price for his toil and produce too much?"
The children of these farmers have become agriculture graduates and engineers. Moreover, they aren't leaving the villages but helping their parents increase their profits, by taking up tasks like marketing, packaging and delivery. Several young engineers are also building low-cost machinery to automate their family farms.
"None of them go to the gym. They farm with their parents because that's the best way to stay fit," he smiles.
In his message to farmers, Dnyaneshwar says, "Don't be dependent on the government for subsidies and loan waivers. Try to understand what the customers need and deliver it exactly at their doorsteps."
To people, he pleads, "You can choose to help a farmer by buying his produce directly. Not only will you eat 100 per cent pesticide-free produce but also spend less on your medical bills that burn a hole in your pockets. When you start buying from a farmer directly, not a single one will ever feel the need to kill himself."
Today, his 1-acre plot is valued at Rs 10 crore.
If this story inspired you, get in touch with Dnyaneshwar Bodke on abhinavfarmersclub@gmail.com.
(Edited by Shruti Singhal)
Like this story? Or have something to share?
Write to us: contact@thebetterindia.com
Connect with us on Facebook and Twitter.