Felicitated with 20 awards at the district, state and national levels, including the Jagjivan Ram Kisan Puruskar, his farm in Daulatpur attracts thousands of farmers from within India and abroad.
About 30 km from the capital city of Lucknow, in Uttar Pradesh's Barabanki district, is the village that Ram Saran Verma calls home.
Three generations of the Verma family toiled in their Daulatpur 4-acre field to live a simple and frugal life.
Ram, on the other hand, had different dreams. He wanted to pursue higher studies after Class 10. But the financial situation at home pushed him to trade his education for a plough and take up agriculture.
Now, a little over 50, he has been dubbed UP's "hi-tech farmer", who works on farms spread across 150 acres and also earns Rs 3-4 lakh a month!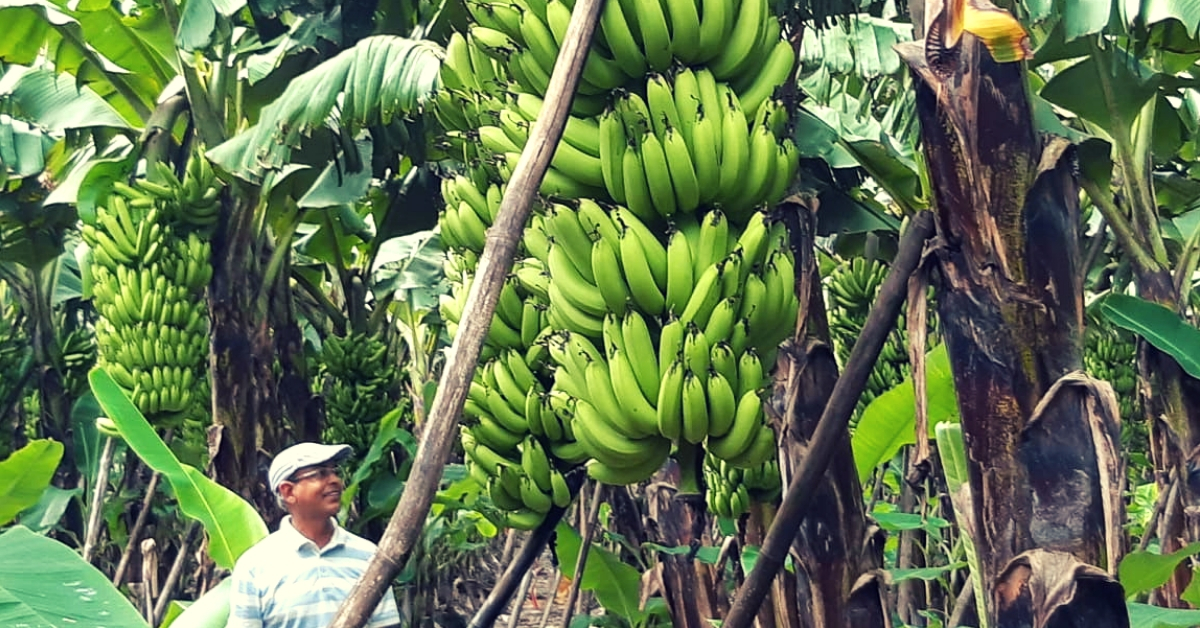 Felicitated with 20 awards at the district, state and national levels, including the Jagjivan Ram Kisan Puruskar, his farm in Daulatpur attracts thousands of farmers from within India and abroad.
The Better India got in touch with the farmer to document his incredible journey over three decades.
When Ram first set foot on his family field as a young farmer, he observed how his father, a traditional farmer, grew staples like wheat and rice, alongside sugarcane and mustard. While the cost of production was high, the labour required was intensive. And the returns hardly earned any profits.
He decided to break away from traditional farming and use innovative techniques to increase the yield.
In 1984, he managed to save up Rs 5,000 and decided to travel to Maharashtra, Gujarat, Punjab and Haryana, where he interacted with successful farmers, agricultural scientists and experts.
After travelling for nearly two years, he returned to Daulatpur. When he spoke to his father about setting up a banana plantation, the older farmer did not approve.
Nevertheless, Ram went ahead and decided to plant bananas on one acre of land.
In the first year itself, he started earning profits. What set him apart after 1988 was the distinction of being one of the first farmers in the state to introduce tissue culture for banana farming.
What is tissue culture?
It's a lab process where tissues of the selected crop are used for cloning. It can be used for the mass production of quality crops which ensures a higher yield in a short period.
Tissue culture ensures that bananas are identical in quality, look and size. And while they have a high demand in the domestic market, farmers can earn additional profits by exporting them too!
The 1-acre plantation yielded 400 quintals of bananas. While the cost of production was about Rs 1 lakh at the end of 14 months, the farmer earned a profit of over Rs 4 lakh, four times higher than his initial investment.
He also started growing red bananas which are known to be rich in protein, fibre and low on sugar. While the variety is popular in the southern states, Verma attempted to grow them in UP.
Reddish-maroon in colour, the fruit has a tangy taste and is slightly smaller, compared to the traditional yellow bananas. He planted 1,000 saplings of the same variety in his farm way back in 2012.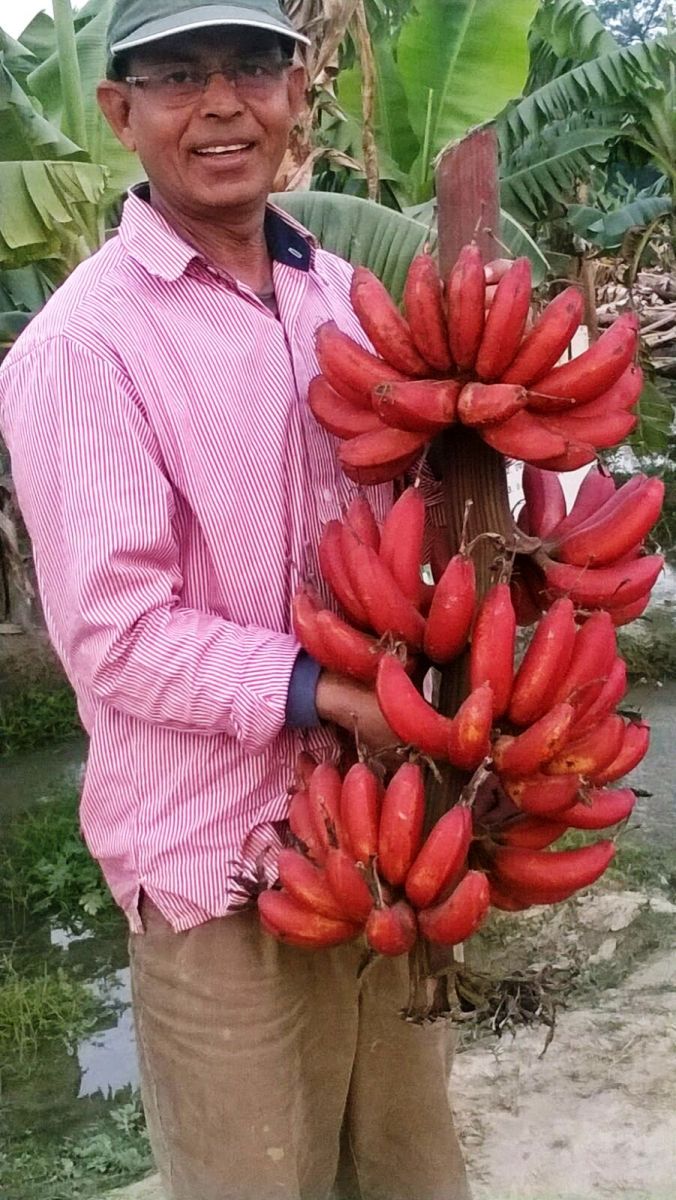 This variety that takes 18 months to grow, is sold at Rs 80-100 per kg. The traditional variety took about 14 months and earned only about Rs 15 per kg. While the yield of Ram's reddish-brown variety was lower, his profit per kilogram far outweighed the returns from the traditional variety.
The young farmer did not stop; he continued his experiments.
If there is one method of profitable farming the man vouches for, it is crop rotation–the technique of growing different types of crops in the same area in sequenced seasons. It not only reduces soil erosion but also increases soil fertility and crop yield.
After harvesting bananas, he grows potatoes for 90 days, followed by hybrid tomatoes for 120 days and later, mentha (mint) for the next 90 days. This cycle continues.
In 1990, he planted 8,000 tomato saplings on a 1-acre plot. The plant grew 6-ft high due to the use of staking. It is the method of providing support to the vine, keeping the fruit off the ground, which improved yield by 30 per cent.
While traditionally-grown tomatoes produced 200 quintals per acre, Verma's variety yielded 400 to 500 quintals, earning him Rs 4 lakh/acre.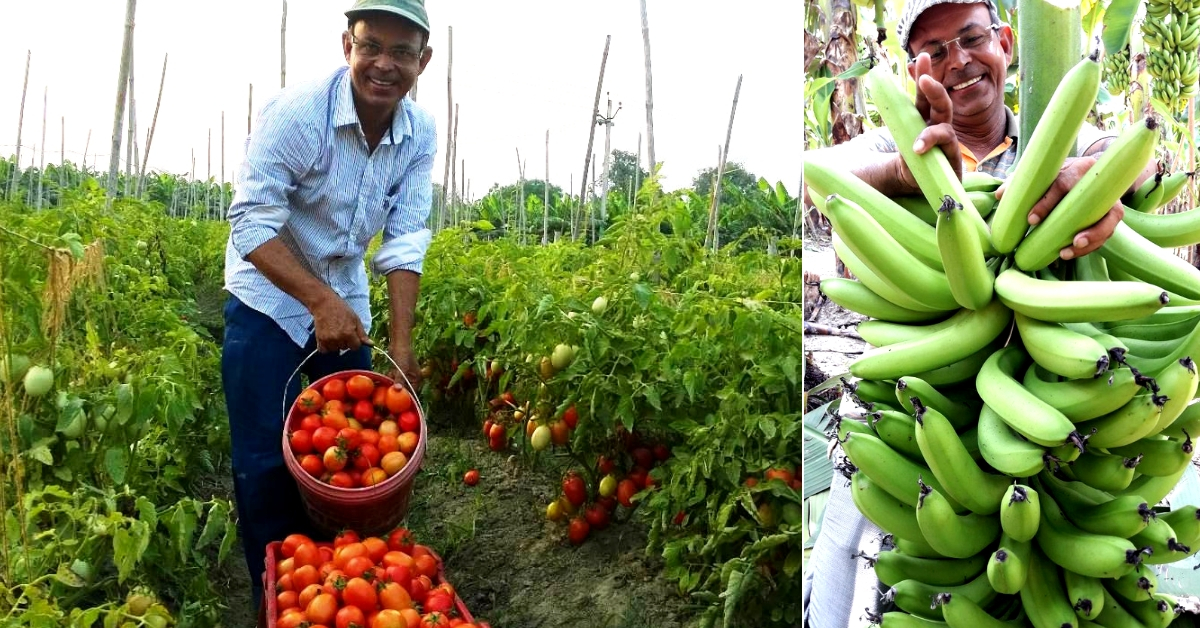 His success attracted the attention of farmers within his village and across 50 districts of the state. So he decided to share his knowledge and techniques with all those who asked for help.
From a 1-acre farm in 1986 to practising agriculture on 150 acres, Ram Saran Verma has come long away. Apart from maintaining an elaborate farm, many other farmers in his village have leased their lands to him, where he helps them benefit from hi-tech farming. The yield and the profits are shared.
About 50,000 farmers in his neighbouring districts have benefited from the methods. He also hosts training sessions and workshops for farmers from within and outside the country.
"Over 10 lakh farmers have visited my farm till date. But my biggest pride continues to be that people in our village are not migrating to cities in search of jobs. Instead, people from the cities come to our village for employment. We have over 20,000 men and women working on 150 acres, earning good wages daily. In addition to this, most of the farmers who are using our techniques, are earning profits."
To allow his peers to connect to him, this tech-savvy farmer also launched a website: http://www.vermaagri.com/, which has information about the various methods and tips. The site has 1.5 lakh visitors each day.
The farmer has also travelled to over 30 countries and held annual farmer fairs where he conducts demonstrations to help the community benefit.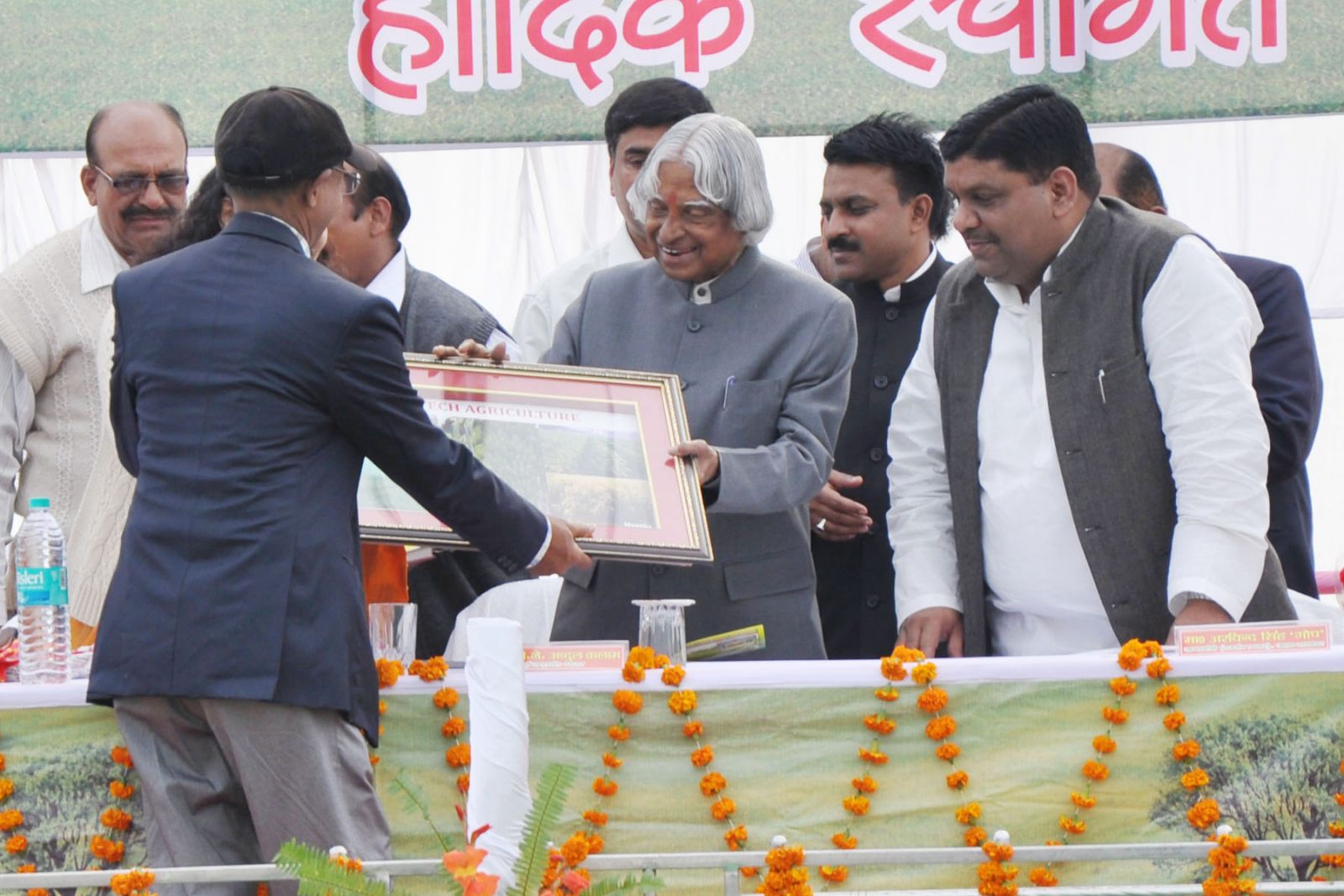 ---
Read More: Brilliant! Desi Jugaad Helps 21-YO MP Farmer Earn a Profit of Rs 96 Lakh
---
He aims to change the way the world looks at farmers, he says, and how it perceives farming as a profession. He suggests, "Don't shy away from getting your hands dirty. It is only when we toil that we reap the benefits. Maintaining soil quality through crop rotation is the key. Understand your climate and use good quality or native varieties of seeds. If you are willing to experiment and give your 100 per cent, farming will only earn you profits."
If this story inspired you, get in touch with Ram Saran Verma at vermaagri@gmail.com or contact him on +91-9839376028/+91-9415142408.
Visit his website here.
(Edited by Shruti Singhal)
Like this story? Or have something to share?
Write to us: contact@thebetterindia.com
Connect with us on Facebook and Twitter.