Amusing yet impactful, the #FootpathBeku ("We want a footpath") campaign is all set to begin their phase. Bengalureans, are you ready to be inspired?
Late in October, members of the Malleswaram Social citizen group posted a video on YouTube.
The video depicted the difficulties pedestrians have to endure on a daily basis while navigating footpaths of the posh Bengaluru locality, as part of their #footpathbeku (we want footpaths) campaign.
Despite the comic tone of this video, which shows people performing Bharatanatyam to navigate the boulders, construction debris and trash on the footpath, the message it sent across was serious.
And the impact was almost immediate.
Shortly after the video was aired, municipal authorities cleared up the footpath along that segment of 16th Cross Road in Malleswaram, where the video was shot, says Sriram Aravamudan, who organised the screenplay and music for it, speaking to The Better India.
"It wasn't like the world's best footpath, but it was walkable. More than anything, it shed light on a problem and later, other citizen groups in the city approached Malleswaram Social for inspiration and ideas to tackle similar civic issues," says Sriram.
The creator of the viral video 'Shit Bangaloreans Say,' a comedic take on the city's stereotypes, Sriram was approached by members of Malleswaram Social earlier this year.
"This is a posh locality, full of senior citizens, but today, vast segments of the footpaths here are suffering increasing neglect. Concerned citizens tried many things to resolve this problem. They even approached local corporators, who said they'd fix it, but later informed them that they had to fix this internally," says Sriram.
Unfortunately, some locals weren't too enthused by this initiative, arguing that the entrance gate to their house might get submerged. Even their door-to-door campaign elicited little response.
That's when the members of Malleswaram Social decided to draw people's attention towards this problem through a set of comic videos.
"I grew up in Malleswaram, and this area is the centre of classical dance and music in Bengaluru. No video on Malleswaram would be complete without showcasing these elements. There is junk, boulders and dancers, so why don't we make them dance through the difficult terrain. I also have a background in classical music, so I composed the music and sang the vocals," says Sriram.
Following the success of this video, members of Malleswaram Social will now undertake the next phase of their #footpathbeku campaign for better footpaths on December 2. On that day, 30 senior citizens will gather on the footpath along the 15th Cross Road for a short silent walk.
The walk aims to highlight the difficulties faced by Bengaluru's senior citizens while navigating these uneven footpaths that often result in serious injuries and accidents.
"We have invited senior citizens who are not necessarily part of the Malleswaram Social group to take part in a walk of about 100-150 metres. We selected the 15th Cross stretch leading towards the Chitrapur Math Circle, as it is not a uniform pavement. Senior citizens prefer walking on the main road, as they cannot climb up and down repeatedly," said Dhanush N, one of the organisers, speaking to The New Indian Express.
During this walk, volunteers will conduct interviews with senior citizens, record videos and essentially offer a platform for them to voice their concerns.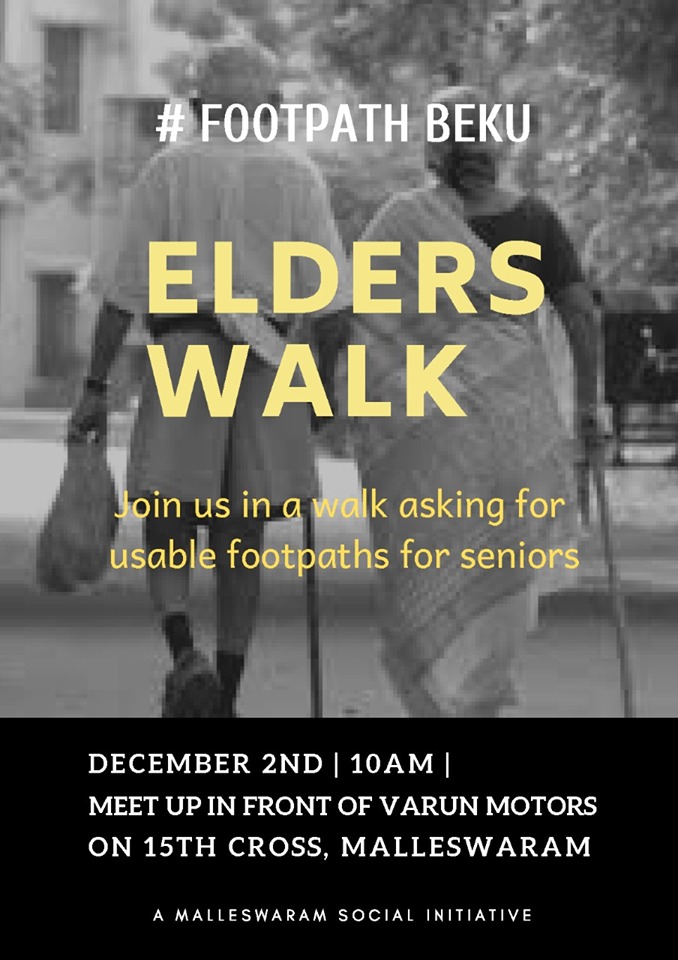 Starting from Canara Union, the walk will also include an open discussion with Manjunath Raju, the corporator for the Kadu Malleswaram area.
"For both our campaigns, the goal is the same—that is to create awareness about the state of footpaths. It is not just to point fingers at authorities, but to see what we can do as citizens. There are a lot of homeowners who dump construction debris on sidewalks and change the level of footpaths outside their gates to make it convenient to take their cars out. We want people to stop normalising these things and feel the problem by taking part in the walk," said Anushya Badrinath, the director the Bharatanatyam video, in a conversation with The New Indian Express.
Speaking to The Better India, Sriram expects the event to be "quite the spectacle."
"People have forgotten that footpaths are for walking. They don't think twice before dumping home construction debris, and that is not right—they have no business dumping it there. It is not just the government bodies who have to clean it up; it is up to us citizens to also maintain it," he says.
Besides the apathy of municipal authorities and residents, another concern that emerges is of street vendors making a living. With the emphasis on expanding roads that eat into these footpaths, there are also street vendors who also set up shop on them. This leaves pedestrians with little walking space. Working out an arrangement with street vendors will be a real challenge.
Having said that, unlike many cities in India, Bengaluru has a seemingly higher percentage of citizen participation when it comes to resolving civic-related issues. Not so long ago, the USP of this city was its beauty and pleasant weather. Long-time residents are particularly concerned about the city losing its charm, and thus, are willing to invest greater attention to civic-related issues.
Also Read: #BYOC Challenge is Helping Bengalureans Give Up Single-Use Plastic. Are You Up For It?
A street with adequate space for walking and other activities is safer for pedestrians and allows for smoother motor vehicle movement, according to this study. More space for pedestrians leads to a marked improvement in the environmental and economic viability of a city.
More importantly, its citizens are healthier and happier, with not just adequate exercise, but fewer vehicles surrounding them.
You can follow Malleswaram Social here.
(Edited by Gayatri Mishra)
Like this story? Or have something to share? Write to us: contact@thebetterindia.com, or connect with us on Facebook and Twitter.