The 'Kiss of Love' campaign took the country by storm. From outright supporters to obvious detractors, the incident has enabled people across India to respond to what is largely considered the unjust control of the moral police. With nationwide heated debates going on regarding the 'rightness' and 'wrongness' of this form of protest, we bring to you all sides of the argument, so you can decide for yourself where you stand.
In this country "you can piss in public but not kiss in public". Right? Well, earlier in November, a group of college-goers in Kochi, Kerala, thought why ever not? So they went ahead and kissed one another in broad daylight, during peak hour traffic at the city's most popular hangout, Marine Drive.
If only things had remained at that. Instead, the day after this incident took place everyone woke up to screaming headlines and risqué photographs splashed in various leading dailies: 'Love in the Time of Bigotry'; "'Kiss of Love' Campaign Meets Wall of Cops"; "Mass 'kissing' Protests in Kerala cities against Moral Policing"…
Okay, so this was just good entertainment that would lose its thrill in a few days, right? Well, wrong again. The concept of kissing and hugging in public spaces as a way to defy those who frown on such "western behaviour", spread like wild fire. It was repeated at a Kochi college and then across several other cities in India – all within a week's time. And to think it all started in 'conservative' Kerala.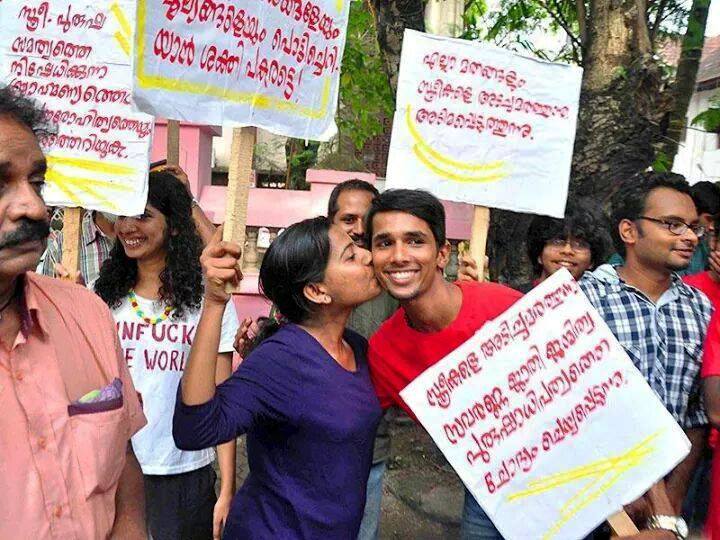 What triggered this sudden, rather uncharacteristic upheaval among the quiet youth of Kerala? Pent up frustration against repeated incidents of violence and bullying against those who 'dared' to be 'liberal'. Sample this.
In April 2013, an artist from Kochi was harassed by two policewomen when she went for a stroll on Marine Drive with a male friend.
In July 2013, the police arrested a couple from a beach in Alappuzha for suspected "immoral activity" as the woman was not wearing any accessories to suggest that she was married.
In June 2014, a female theatre artist and her male co-artist were detained in Kollam for travelling together at night.
And, of course, the latest instance of vandalism unleashed at a café in Kozhikode simply because the right wingers perceived it to be a dating spot.
Time to shake up the system, finally!
"We are certainly not what we used to be," remarks Jessy John, Head of Department-Sociology at K.E. College in Kottayam. In fact, she feels that the exposure of the youth in Kerala today is incomparable to what it was just a decade ago.
"They have seen how their counterparts in Delhi reacted to the gruesome rape of a young woman in 2012 and the overwhelming results their concerted protests yielded. They have been witnessing the various attempts taking place worldwide to overthrow despotic governments. Then there are the frequent social good campaigns, like the ice bucket challenge, the run-for-a-cause marathons, the flash mobs for awareness… all the various avenues available nowadays to put another point of view in the public domain. What these youngsters have done is to tap into this vast pool to find their own voice and brand of triggering change," she elaborates.
According to John, one of the key reasons behind this heightened sense of awareness around the idea of seeking social and moral justice is an exposure to multicultural influences. "Most families in the state have at least one relative living abroad. Moreover, many children decide to pursue their higher studies outside. Ideas like the kissing protest germinate from a fusion of cultures. Change, therefore, is inevitable," she points out.
A sudden upheaval among the quiet youth of Kerala has been triggered by pent up frustration against repeated incidents of violence and bullying against those who 'dared' to be 'liberal'. (Credit: KOL Campaign)
While John's assessment is bang on, can this one act of revolt be indicative of a total attitudinal shift? Not yet. Thomas's response to the protest is sceptical. Says this Master's in Social Work (MSW) graduate from Kottayam, "This protest was a direct response to the vandalising and destruction of a café by a few right wing political party workers who alleged that couples were often seen kissing there. Ideally, the miscreants should have been arrested. But police inaction as well as public apathy triggered this reaction."
Whereas Thomas understands and supports the call for action he is not quite comfortable with the approach. "I wouldn't like it if my sister or best friend took part in it. There are so many other ways to protest," he says.
Then there are some who are convinced that such protests are only effective till there is sufficient media attention and hype. Vysakh Mohan, an MSW faculty member of K.E. College, wonders why the newspapers and channels can't seem to give such dedicated space or air time to the humanitarian violations that occur almost on a daily basis in the country's dark rural areas and instead go in for sensationalist "easy" coverage. And although Kiara, 22, "feels that the rationale behind Kiss of Love is okay, it's after all a free country", she does admit that she would never take part in it because her family would be hurt.
There is a deep sense of control that still exists in Kerala, one that is especially exerted by parents and educational institutions. In fact, colleges in the state are practically functioning like schools these days. Gone are the days of impromptu strikes by student unions, bunking classes and loitering around in the canteen. Attendance is checked every hour, parent-teacher meetings occur frequently even in professional colleges.
Confirms Alphonsa Cherian, a professor of sociology, "In my college, we have the contact numbers of all our students. Most parents check with us directly about their ward's educational progress and behaviour." Personally, she doesn't really approve of Kiss of Love. "I don't believe in pulling off such gimmicks whatever the cause."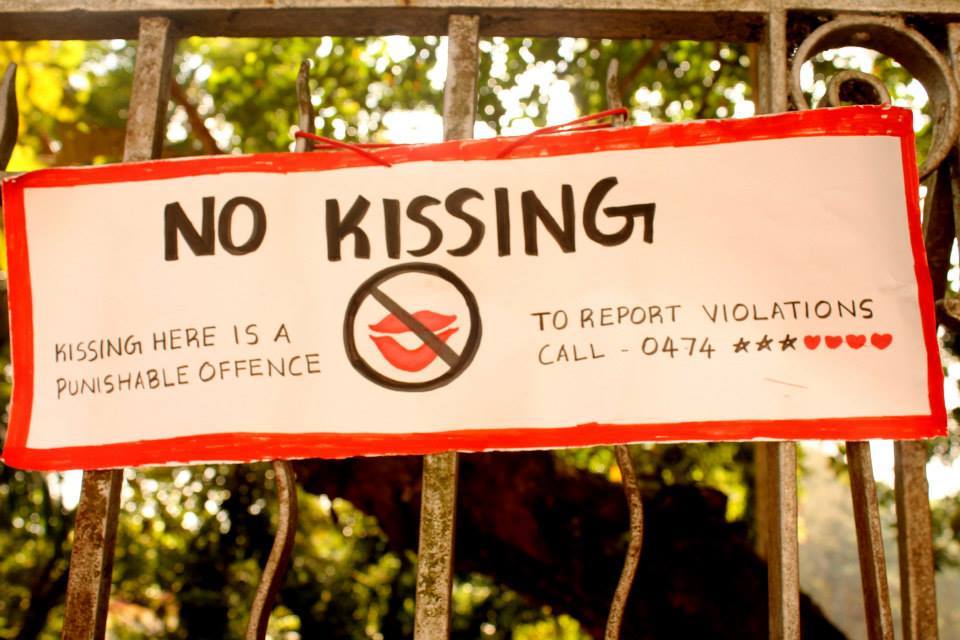 Clearly, the Kiss of Love protests have stirred up mixed emotions and reactions. A post on the official Kiss of Love Facebook page, from where the entire campaign rolled out, reads:
"We believe, public place is a space owned by families, lovers and individuals and each one of us should respect that. There isn't anything wrong or obscene in showing affection by holding hands, hugging and kissing each other above the neck as stated by the Honorable Supreme Court of India, but it shouldn't be taken as [an opportunity for] groping…or performing any kind of sexual act in public place…"
There are obvious supporters and outright detractors – and then there are those moderates who are sitting on the fence. John speaks for this group when she says, "As the mother of an 11-year-old I am not easy with the idea of such a demonstration. But as a sociology professor I know that once the youth decides to take their fight to the streets, no one can stop them. Controlling them is never the option."
Right or wrong… Kiss of Love has certainly sparked a much needed debate for change.
Like this story? Or have something to share? Write to us: contact@thebetterindia.com, or connect with us on Facebook and Twitter (@thebetterindia).