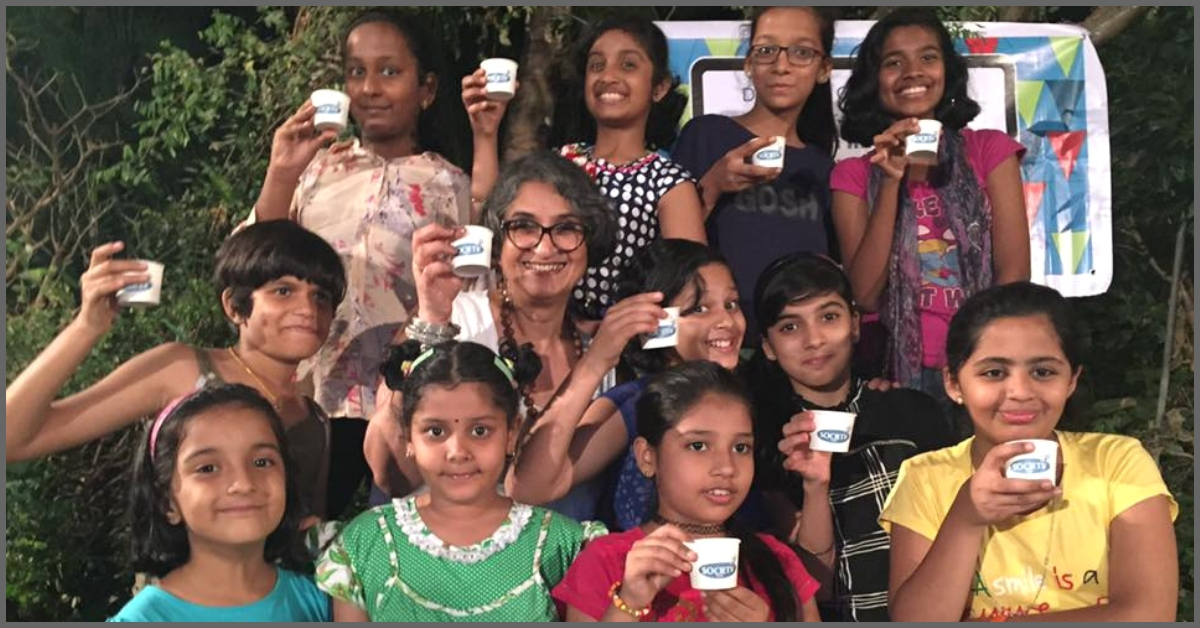 What began four years ago, has reached over 66 cities in the country today, with 150 plus addas and over 72,000 cups of chai added to the list.
"Our slogan is 'Drink for a cause' and the reason we hold a Chai for Cancer (CFC) adda," says a young woman, smiling.
She serves hot chai to the assembled motley of people who are of different ages, localities, and backgrounds, in a small alley in Chunabhatti, a suburb on the Central Lines in Mumbai.
The group has assembled for fundraising in support of patients who are coping with the big C.
'Chai for Cancer' (CFC) adda, an offshoot of Friends of Max, is supported by the global non-profit, Max Foundation.
Friends of Max, India, works for patients of two rare types of cancers, namely CML (Chronic Myeloid Leukaemia) and GIST (Gastrointestinal Stromal Tumour), both requiring lifelong treatment.
The motto of the meet is to have a cup of chai, make new friends, learn all about cancer and donate a minimum of Rs 100. Cheques are accepted too, with the donor getting the 80G tax benefit.
What began four years ago, has reached over 66 cities in the country today, with 150 plus addas and over 72,000 cups of chai added to the list.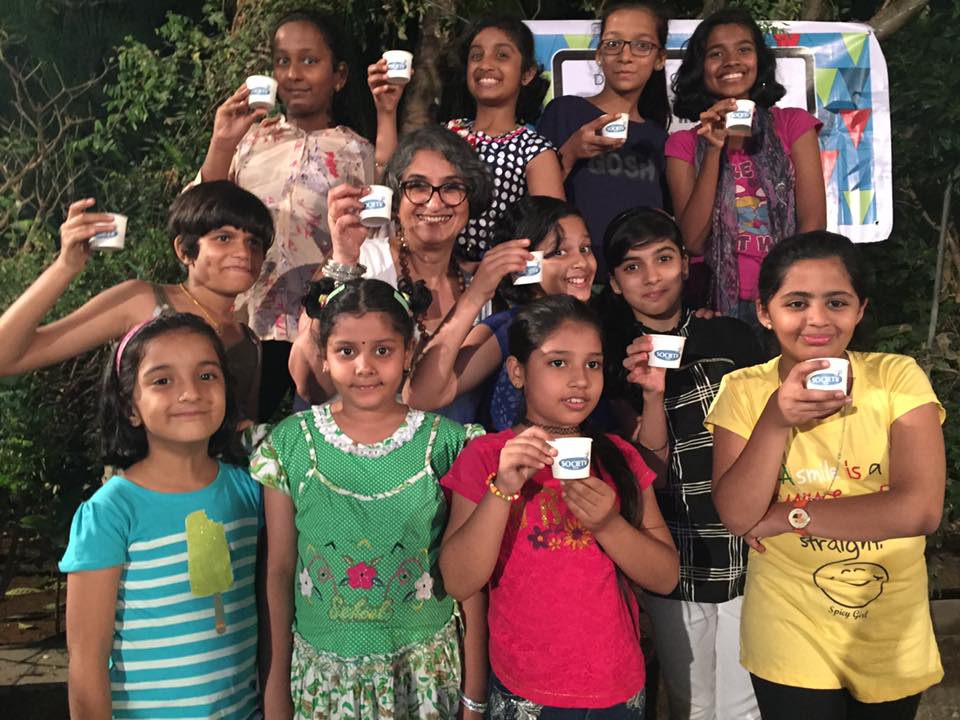 Through these addas, the group has managed to collect nearly Rs 25 lakh per year, which is used for the treatment of patients.
CFC addas are informal hangouts that work from anywhere–homes, offices, parks, hospitals etc. A 'host' who is a well-wisher or a volunteer, organises the adda at any venue of his or her choice. They are supported by a CFC Kit which contains tea (donated by Society Tea), paper cups, banners, posters, flyers, 'thank you' cards and 80G forms for donations. If the host wants, they can provide some snacks too.
Holding their attention and keeping the atmosphere light and peppy, is the lady behind the CFC adda—Vijayalaksmi Venkatesh, better known as Viji and fondly addressed as Amma.
The regional head of Max Foundation in India and South Asia, she says, "In India, a cup of chai is the best tool to break the ice between people, irrespective of the region, faith, economic strata and age group they belong to. And this is the reason I thought of CFC addas to spread awareness about cancer!"
Viji continues, "As a patient-support group, we want people to know that cancer isn't the end of life. There shouldn't be any stigma attached to this disease."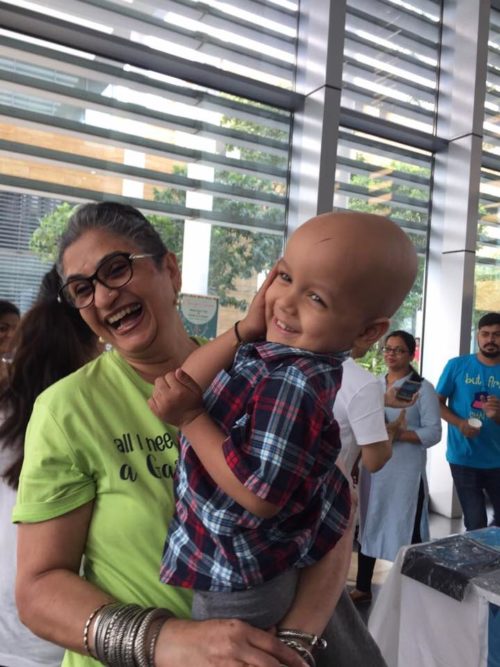 In most South Asian homes, a cancer patient and his/her family feel isolated. The disease and the patient are discussed in a hushed voice. In fact, many family members don't even reveal the problem with the patient.
"When family members of a cancer victim come to meet us, the first thing they ask us is to hide the ailment from the patient. Our work begins from there. We have realised that most are sullied by misinformation, heresy and superstition. We believe that an exchange of experiences and the right knowledge between patients, caregivers, and physicians is an utmost necessity," says Viji.
According to her, a patient is encouraged to fight the disease once they know what ails them. "Besides the medical treatment, all they need is support, encouragement and a congenial atmosphere at home!"
Remember the dialogue from the Hrishikesh Mukherjee's iconic film Anand where actor Rajesh Khanna, a cancer patient, urges his friend Amitabh Bachchan, to be happy and make him happy too. A famous dialogue from the film goes, "Main marne se pehle marna nahin chahta. Tumhari aankhen mujhe roz yeh yaad dilati hai…(I don't want to die before my death. Your eyes remind me of this every day.)"
Dr Siddhartha Mukherjee, Indian-born American physician and oncologist wrote the book The Emperor of all Maladies, a non-fiction book on cancer, which won the Pulitzer Prize. He said that the book was a response to the demands made by two of his patients: "I am willing to go on fighting, but I need to know what it is that I am battling."
This is what cancer patients need–encouragement, the knowledge of exactly is wrong with them and what the treatment will do for them.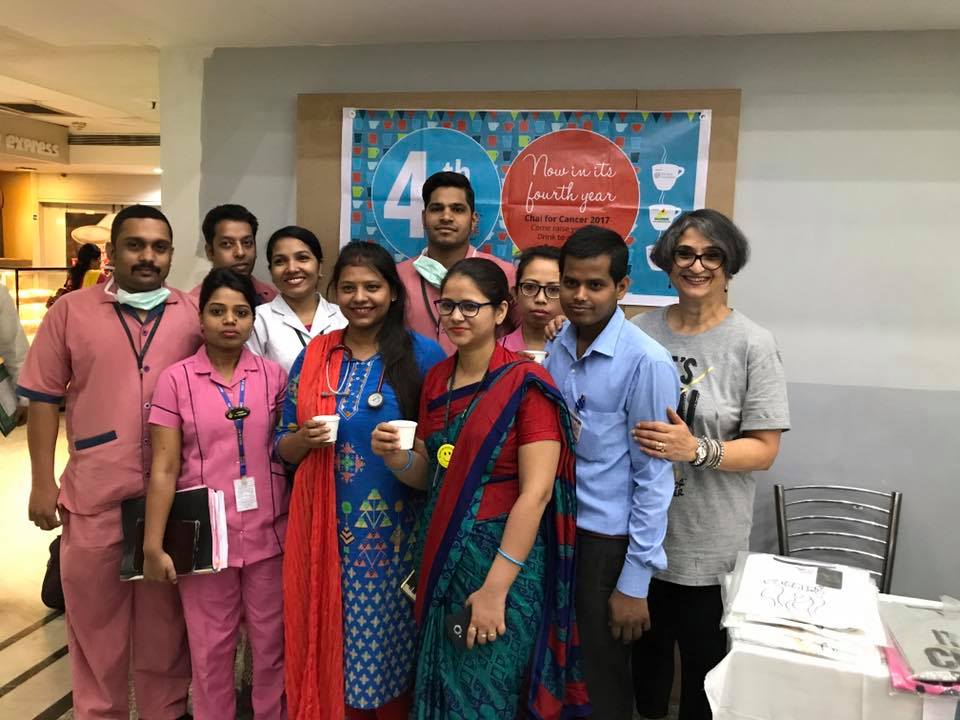 This is the sphere of activity for the Max Foundation. Moreover, even the doctors today insist on the patient's participation in the treatment.
"Our collaboration with patient organisations enables patients and caregivers to overcome the stress of a cancer diagnosis and find comfort in the community. We try to help them navigate the path from diagnosis to treatment. Many times, patients stop treatment or the follow-up for some reason or the other. We gently remind and urge them to continue with the treatment. The best part of Friends of Max is that the survivors, who are living with CML for more than 15 years, make it a point to interact with new patients and help them overcome their fears," explains Viji.
Cancer Aid Foundation, Indian Cancer Society, V Care Foundation, Yoddhas–Indians Fighting Against Cancer, The Pink Initiative are some of the other organisations working for cancer patients.
Moreover, Viji makes the effort to know the details of each of the 16,000 patients with Max Foundation India.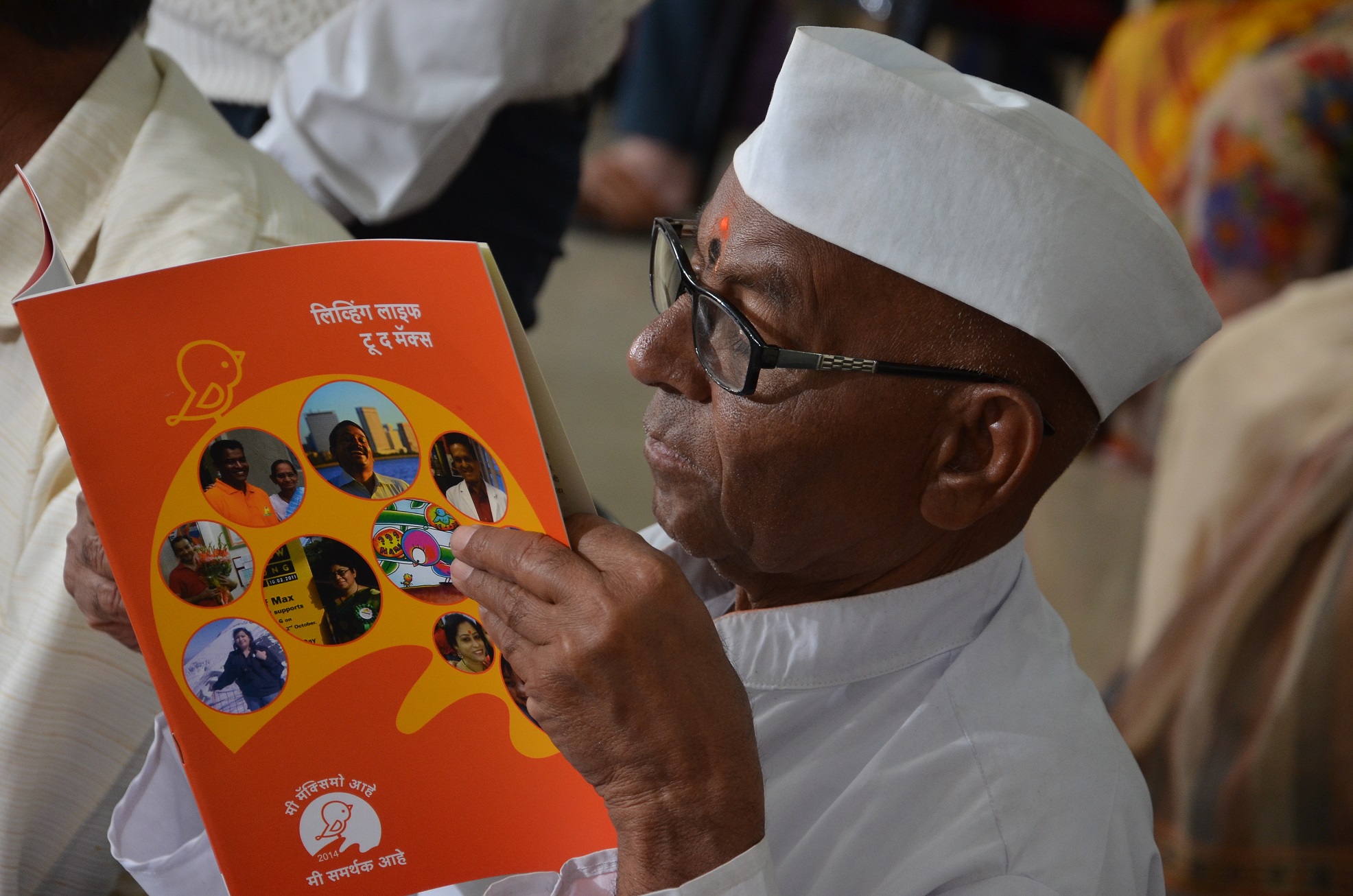 Mumbai resident Pramod George, employed at the marketing department of Indian Express, was diagnosed with CML way back in 2003. Speaking to him is such a delight that one forgets that he is a cancer patient. He shares, "Never did I think to ask 'why me?' I realised that CML was, in fact, a boon in my life. It helped me connect with so many 'blood relatives' all over the country and make new friends. When I enrolled for treatment at Max Foundation, along with a few like-minded people, we formed 'Friends of Max', an NGO which has more than 16,000 CML patient-members spread all over the country."
Stating that he is one of the trustee members of Friends of Max, he continues, "I make it a point to interact with new patients regularly. The moment they realise that they are talking to a 15-year-old survivor, their approach to the disease changes and they develop hope. I'm not cured, but I am a survivor."
Besides the usual chemotherapy and radiation, cancer medicines too are quite expensive. In this regard, Max Foundation has been helping scores of patients by providing free medicines.
After proper scrutiny of the patient's medical records and their income details, CML patients are adopted by the Foundation.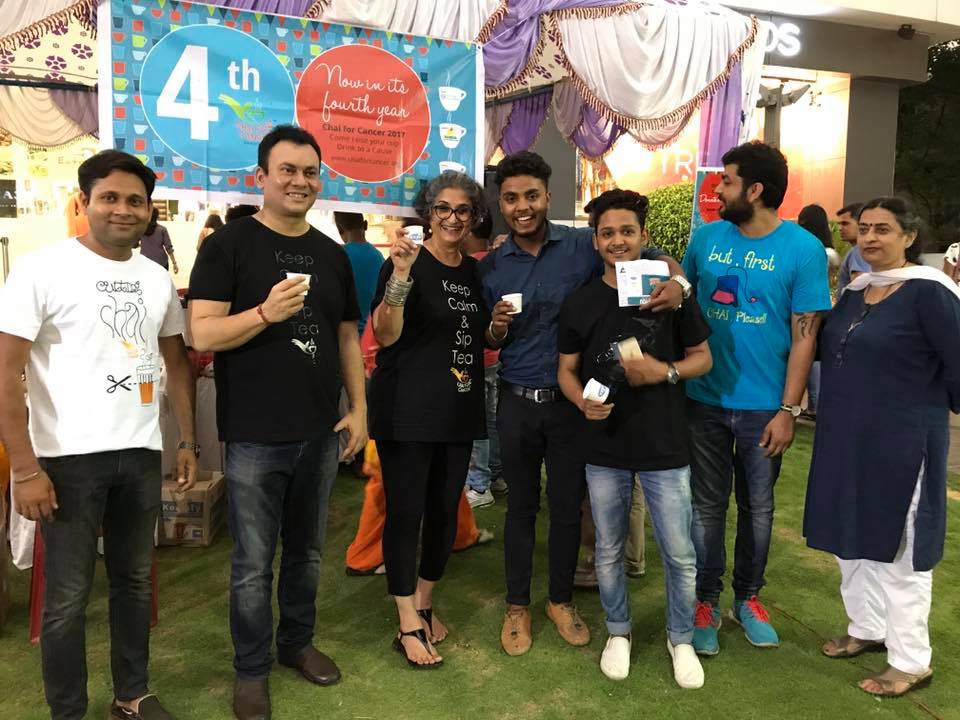 "The first thought that came to my mind when I was diagnosed with CML was how I would afford the medicines. Our society has stigmatised the disease and many times, patients try to hide it, with the result that they deprive themselves of the support system that this disease needs. The first time I approached Viji Amma, she quietly held my hands and assured me, 'Don't worry beta, we will fight it together', and that, along with the free Novartis tablets, has helped me fight the battle for more than 13 years," says Suresh Pawar. He works as deputy manager (Low-Tension Maintenance) at Reliance Energy, Mumbai. According to the new government rules, the supply of free medicine continues only to existing patients.
As Viji Amma concludes, "We are all, in a sense, travellers on a journey called 'life'. Alas, some of us are struggling to make sense of some twist of fate."
Cancer can affect anyone but there are many people and organisations ready to help. To know more about the addas, look them up on their Facebook page or write to them on friendsofmax@gmail.com.
(Edited by Shruti Singhal)
Tell Us More
We bring stories straight from the heart of India, to inspire millions and create a wave of impact. Our positive movement is growing bigger everyday, and we would love for you to join it.
Please contribute whatever you can, every little penny helps our team in bringing you more stories that support dreams and spread hope.