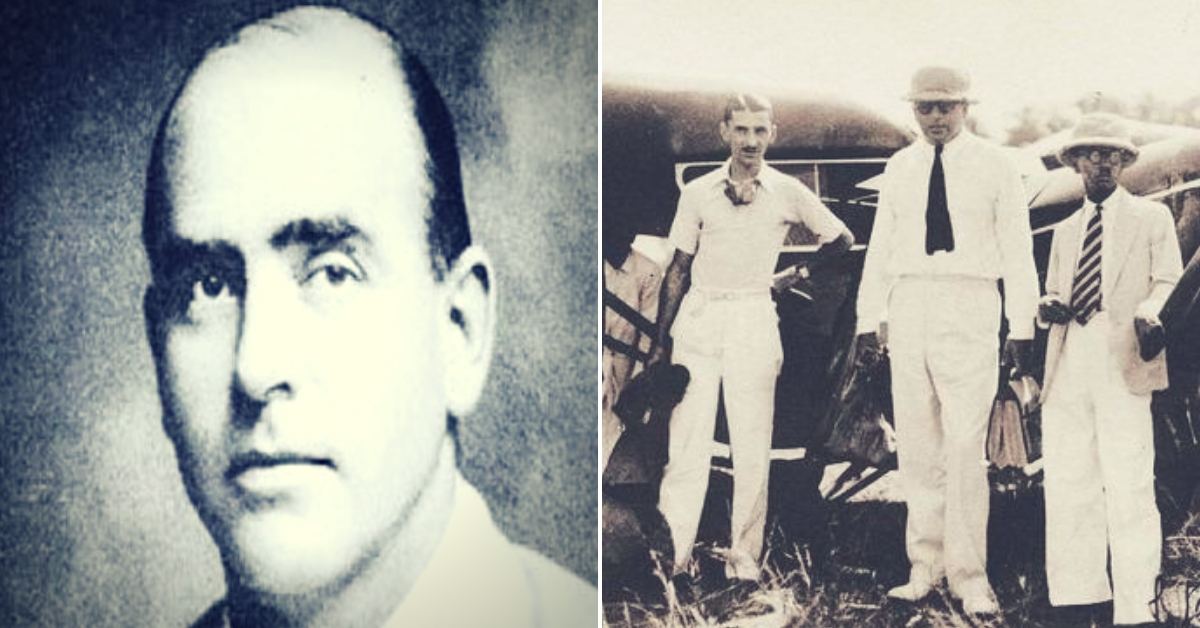 Considering the financial dire straits the airline finds itself in today, Vintcent's words in 1931 were prophetic. Here's what he did and said. #AirIndia
When we think of commercial aviation in India, the first name that pops up is the legendary industrialist JRD Tata. His Tata Air Services, started in 1932, was the first commercial carrier to transport mail and passengers across the country and was the precursor to Air India.
JRD's pivotal contributions aside, there is another personality whose name often does not come up in discussions surrounding India's early tryst with commercial aviation.
His name is Nevill Vintcent, a former prizefighter and British Royal Air Force pilot, who first came up with the idea for Air India and whom JRD referred to as "undoubtedly the founder of Indian air transport", according to this Mint profile.
By some accounts, he had served in the RAF during World War I, while there are others who argue that he was commissioned into it a little under four years after the Great War.
Having said that, he served in the British Empire's eastern front across locations like Egypt, Kurdistan, Jordan and Iraq until 1926, when he decided that better economic opportunities lay in civil aviation, particularly in South Asia.
For his service in the RAF, the British government honoured him with the Distinguished Flying Cross and the Order of the British Empire (OBE).
Vintcent, however, was a man of adventure. Soon after leaving the RAF, he began engaging in air survey work across India, Burma and vast swathes of South-East Asia, besides flying the first airmail from Borneo island in Indonesia to the British Strait Settlements, a cluster of four individual settlements that includes – among others – Malacca and Singapore.
In 1928, he undertook one of humanity's first long-distance flights alongside Captain JS Newall from the United Kingdom to India. Both Vintcent and Newall flew two de Havilland DH 9 aeroplanes into India, where the former decided to settle down on seeing the potential for commercial aviation.
The same year Vintcent undertook that flight, he also received news that could open real business opportunities in the Indian commercial aviation space.
He had heard that the British Imperial Airways (precursor to British Airways) was starting an international mail and passenger service across Asia to Australia, while Dutch carrier KLM and Air France were in the process of starting their services to Indonesia and Vietnam.
Bound for India, these airlines would drop off passengers and mail at Karachi, both of whom would then be subsequently transported across British India via rail—a process that took days.
This is where Vintcent initially envisioned a business opportunity comprising of a domestic airmail service that would pick up mail unloaded at Karachi and deliver it to destinations across the Indian subcontinent within 24 hours.
Since Vintcent did not possess the financial means, he reached out to significant industrialists in India, starting with the Parsi tycoon Sir Homi Mehta. Although Mehta did not elicit interest in the idea, he suggested that Vintcent ought to talk to the Tatas. JRD's uncle, Sir Dorabji Tata, who was then chairman of the Tata Group, wasn't very keen on the idea as well.
But his 24-year-old nephew JRD, who by then had become a massive aviation enthusiast and obtained a pilot's licence, helped Vintcent convince Sir Dorabji into supporting the venture.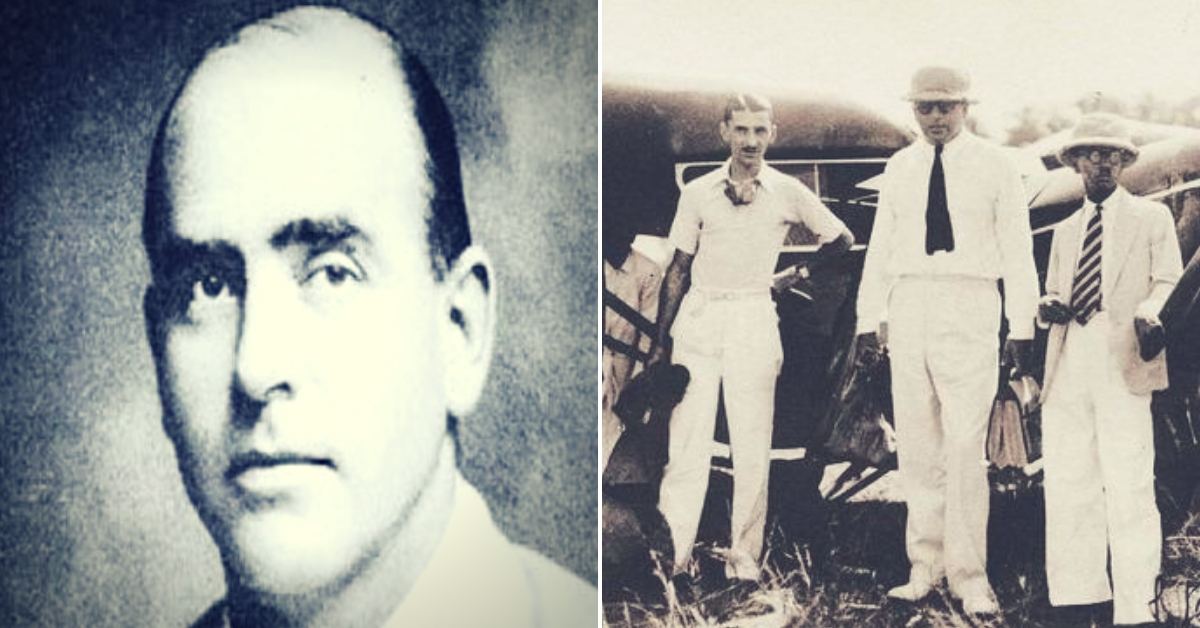 Thus, with an initial investment of Rs 2 lakh in 1932, Tata Aviation Services came into existence. It bought two Puss Moth aircraft with an average speed of 80 km per hour and the ability to ferry mail (and if required one passenger) from Karachi to Mumbai, and then onwards to Madras.
In April of that year, Tata Aviation Services signed a 10-year contract with the British government to haul mail from Karachi after long and protracted negotiations.
Speaking to The Strait Times in Singapore in July 1932, JRD Tata said, "although to start with the service will be a losing concern, within a short period the commercial community … will appreciate the service and begin to use it, and thus enable the company to make it a paying proposition."
Pilots would navigate this route by following the rail line, and in moments of confusion would employ a slide rule that he carried with him.
Vintcent was named the chief pilot of this new commercial aviation venture. However, there were challenges as The Strait Times reported "with which the new service will start, namely, there will be no wireless equipment in the machines, as it is very costly and the promoters of the scheme cannot afford it, and there will be no night flying, as night flying ground facilities are not yet available in India."
JRD's biographer RM Lala had recorded a series of conversations between the two in a book titled "The Joy of Achievement". In the book, JRD is quoted as saying, "He (Vintcent) was remarkable. A very fine man … He knew, the man that he was, that the Imperial Airways Airline was coming to India, to Karachi, as the first step towards Australia … but they would also go across to Delhi and Calcutta. The whole of south India would be blank and unserviced, and that's how he worked out a proposal to have a flight from Karachi to Ahmedabad to Bombay to Madras."
Heavy showers through the course of mid-September compelled the Tatas to delay the date of their initial flight by a month.
"Poor mid-September weather forced Mr Tata to push his inaugural flight to Oct. 15, when he took off, with more than 100 pounds of mail, in a single-engined De Havilland Puss Moth, from the Drigh Road aerodrome in Karachi. (Mr Vintcent would fly the second leg, from Bombay via Bellary to Madras.)
By train, the Karachi-Bombay route needed 45 hours to complete; Mr Tata touched down on the mud flats of Juhu in less than eight hours, having stopped off in Ahmedabad to refuel his plane from four-gallon Burmah-Shell petrol cans transported to the runway on a bullock cart," according to this profile in the New York Times chronicling the flight.
The American publication goes onto report how the postmaster in Bombay (Mumbai) came to collect the mail from JRD himself in Juhu.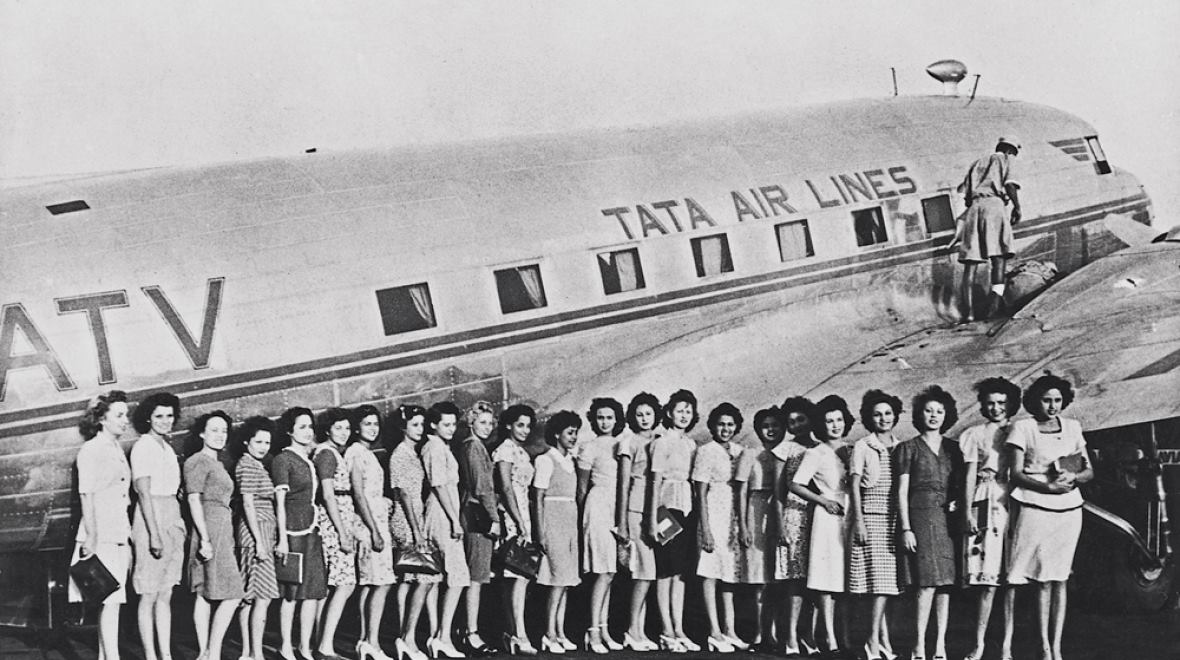 The airline's motto read, "Mail may be lost but never delayed; passengers may be delayed but never lost."
In its first year, the air mail service made a profit of Rs 60,000 transporting approximately 10 tonnes of mail besides 155 passengers. It's no surprise that the venture got off to a great start considering the quality service that was on offer.
It was particularly known for its punctuality irrespective of weather conditions. In fact, the Directorate of Civil Aviation noted in 1933 that the British Imperial Airways "might send its staff to Tatas to see how it's done"
In the following years, the airline service extended its operations to Delhi (with stops at Indore, Bhopal and Gwalior on the way), Goa, Hyderabad and Colombo.
With better business also came an expansion and upgraded services including the ferrying of more passengers. Eventually the owners decided to change the name to Tata Airlines.
JRD took over from his uncle in 1934 as chairman of the Tata Group, but that did not lessen his interest in the airline business.
However, everything changed for Tata Airlines following the outbreak of World War II. The British government requisitioned its aircraft for the transport of troops and military supplies.
But even here Tata and Vintcent saw another opportunity.
Also Read: The Little-Known Story of the First Air India Flight in 1932, and the Legendary Man Piloting It
Instead of buying aircraft, both decided that the best course of action would be to manufacture them. With the war in full swing, they approached the British government in 1942 with a proposal to manufacture bomber aircraft at the Tata Group's plant in Pune.
Despite receiving approval from the British, the British RAF no longer required bombers, but needed gliders for their upcoming invasion of Europe, an episode which tore a massive hole in the Tata's pockets. To rework their proposal, Vintcent flew to England to meet with British Prime Minister Winston Churchill's Minister of Aircraft Production, Lord Beaverbrook.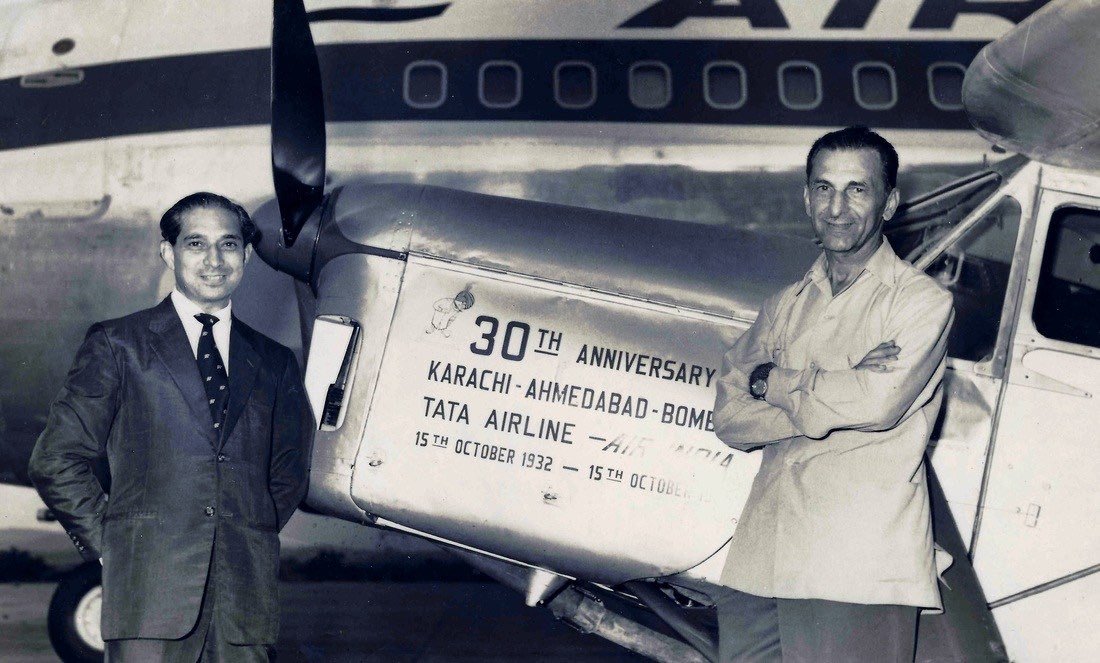 After the meeting, Vintcent was supposed to fly back on the Imperial Airways, which was back then forced to take a long-winded route to India because of the war in mainland Europe.
But Vintcent was not a man willing to wait. Instead he hoped into an RAF bomber, which would transport him to India at a faster pelt.
Tragically, however, the RAF bomber was shot down over the French coast. This came as a massive blow to JRD. Both had envisioned great things for the future of civil aviation after the war.
More importantly, both men had developed a close personal bond.
Vintcent was a true visionary, whose vision for civil aviation in India, flying experience and unbridled energy helped JRD make the first moves in the Indian commercial aviation space.
Moreover, Vintcent saw the future of Indian aviation and pitfalls that would come with state control.
"If the route is state operated, I maintain that it will effectively put a stop to any further efforts by private firms to develop other routes, as they will argue that after the spade work has been done, the state reaps the benefit," Vintcent wrote for the Air & Space magazine in 1931.
"I also maintain that private enterprise will develop flying far more quickly than the state can hope to do, and will consequently provide more openings for Indians in this profession."
Following World War II, Tata Airlines became a public limited company on July 19, 1946, and changed its name to Air India. Seven years later, the Government of India undertook a process of nationalising Air India, and took the burgeoning airline away from the Tata Group.
Considering the financial dire straits the airline finds itself in today, Vintcent's words in 1931 were prophetic.
He was a real visionary, and without his foresight, Indian commercial aviation may not have developed as soon as it did. It's time we remember his contributions.
(Edited by Vinayak Hegde)
Like this story? Or have something to share? Write to us: contact@thebetterindia.com, or connect with us on Facebook and Twitter.
We bring stories straight from the heart of India, to inspire millions and create a wave of impact. Our positive movement is growing bigger everyday, and we would love for you to join it.
Please contribute whatever you can, every little penny helps our team in bringing you more stories that support dreams and spread hope.