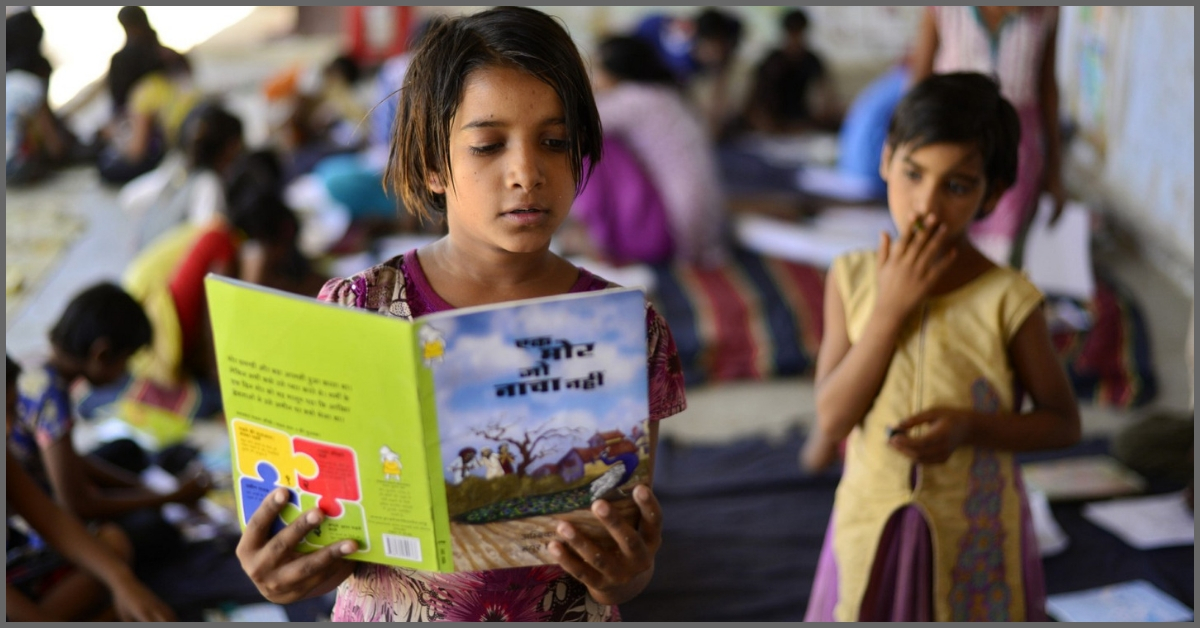 Adharshila Balika Shivir is a residential learning centre for girls from disadvantaged communities and underprivileged backgrounds.
Rinku is a 10-year-old from the Bhil tribe. She says, "I was too little when I was married."
Her parents work as bonded labour at a farmhouse, where they clean cattle waste. She says, "I still do it when I visit them during the holidays."
She was brought to the Adharshila Balika Shivir by its co-founder Khemraj Choudhary a year ago. He is 68-years-old and is referred to as Basa (old man) by the girls at the centre.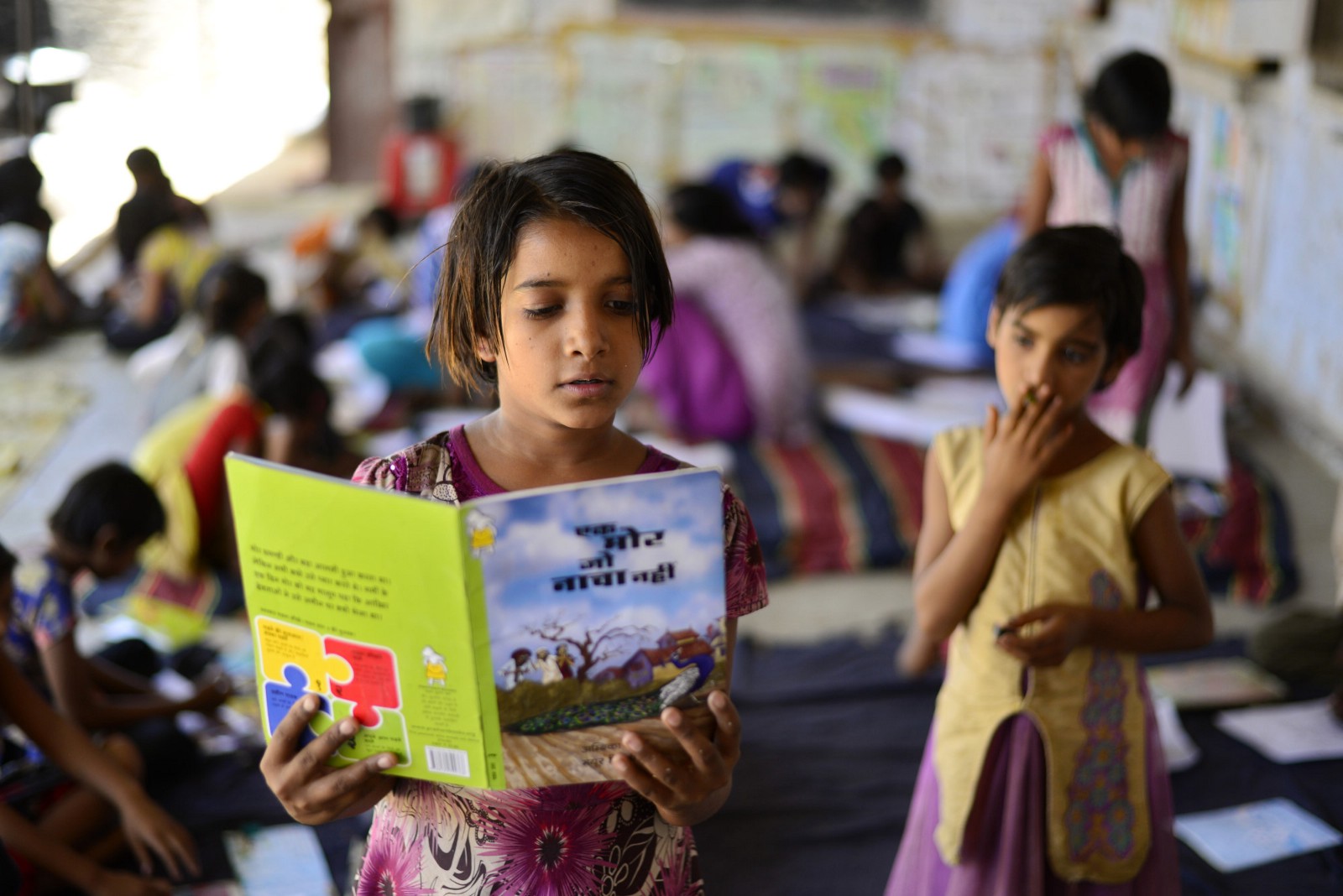 They wish to chirp and fly like the birds! But how can they when there is darkness in their sky?
However, the sky glows with sunshine where they sing, frolic, learn reading, writing and dancing, and live a life of hope and joy.
This is the Adharshila Balika Shivir, a residential learning centre for girls from disadvantaged communities and underprivileged backgrounds.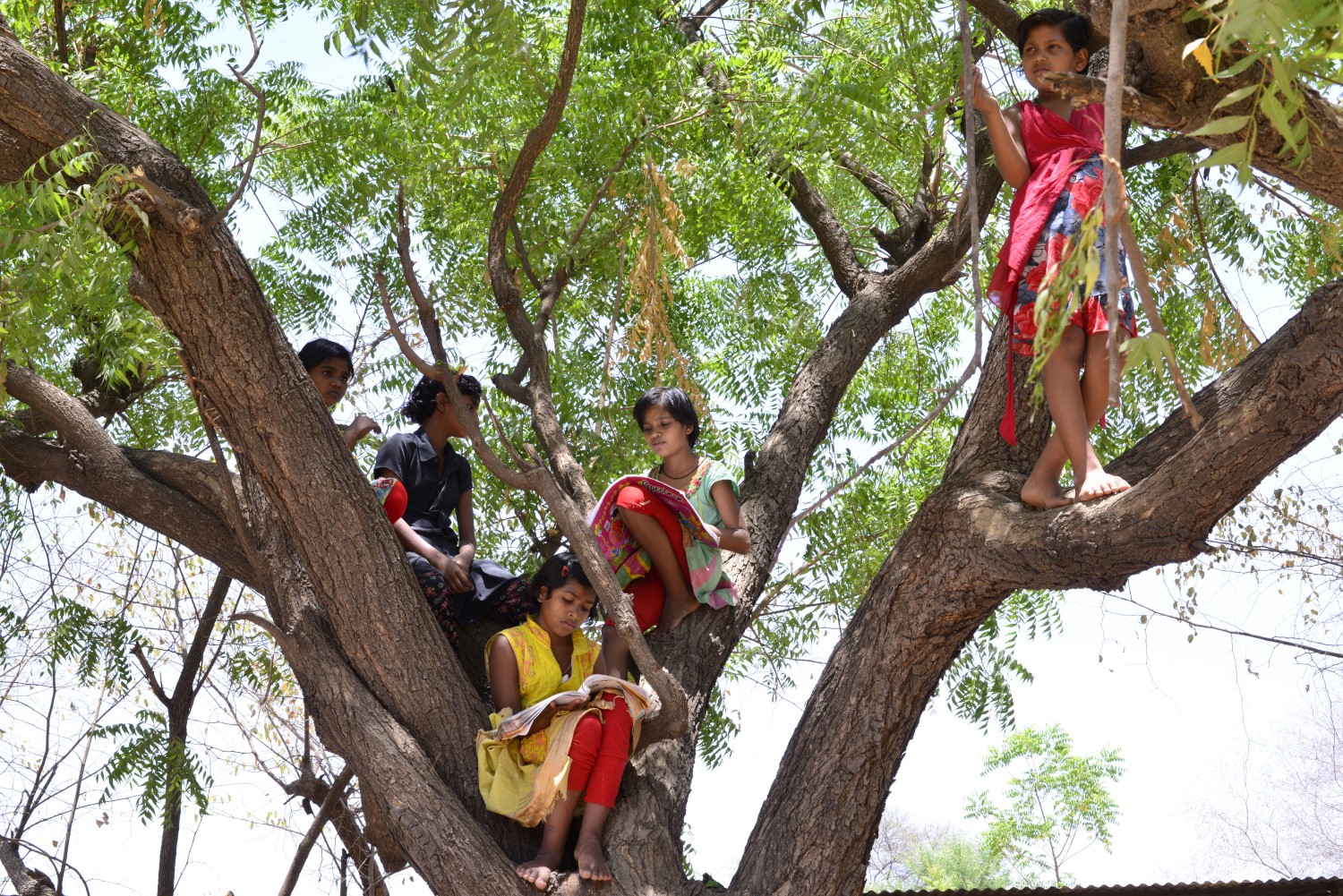 It was founded by the aged couple Khemraj Choudhary and Suman Chouhan in 2008, in Amarpura, one of the smaller villages of Rajasthan's Chittorgarh district.
For secondary education, girls are enrolled to government residential schools like the Kasturba Gandhi Balika Vidyalaya as part of a scheme by the Government of India, which provides residential educational facilities to girls belonging to the scheduled tribes, scheduled castes, other backward classes, minority communities and those below the poverty line.
Saagar's mother passed away when she was seven. Her father left her and two of her siblings to live by themselves. That's when their maternal grandfather took them in.
However, he is too weak now to afford regular meals for them. Saagar is now 10-years-old. With tears in her eyes, she says, "Once my younger sister went to stay with our father and stepmother, but she was forced to do chores and was beaten till my grandfather brought her back."
She likes to read English stories. She wishes to be an English teacher, and look after her siblings.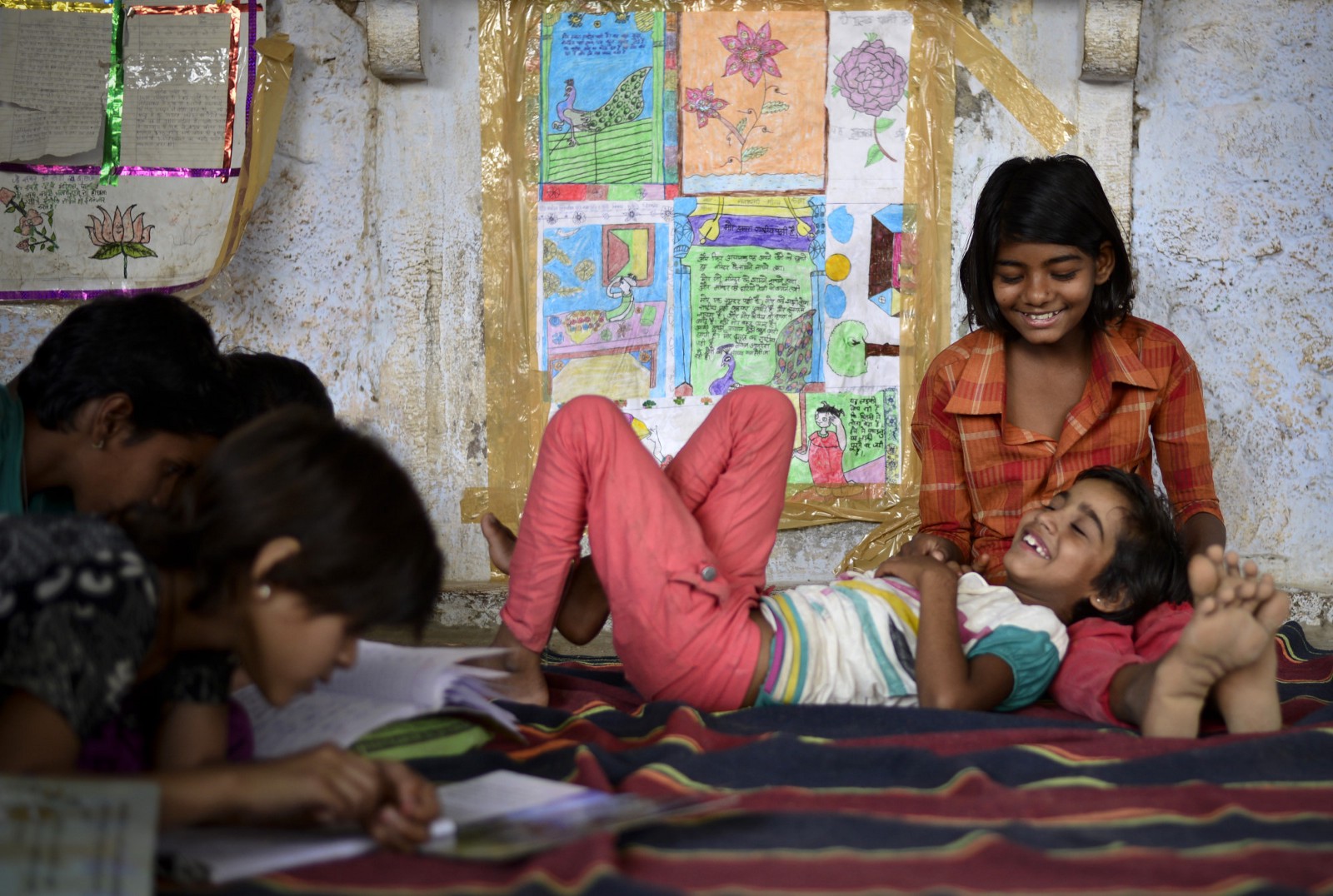 In the Bhadesar block area, girls hardly go to school. Even if some do, they drop out after primary or high school. It because of severe poverty and child marriage. Although Adharshila provides primary education, a safe accommodation and counselling to girls based on their economic and social needs, they do drop out. 
The initiative started with a summer camp of young boys and girls from underprivileged communities to connect them to school and get benefits from the government's education schemes.
Suman Chouhan shares, "We noticed that there was hardly any girl in the camp. We studied the whole situation and found that girls don't get a chance to go to school from these communities, especially a scheduled tribe like Bhil."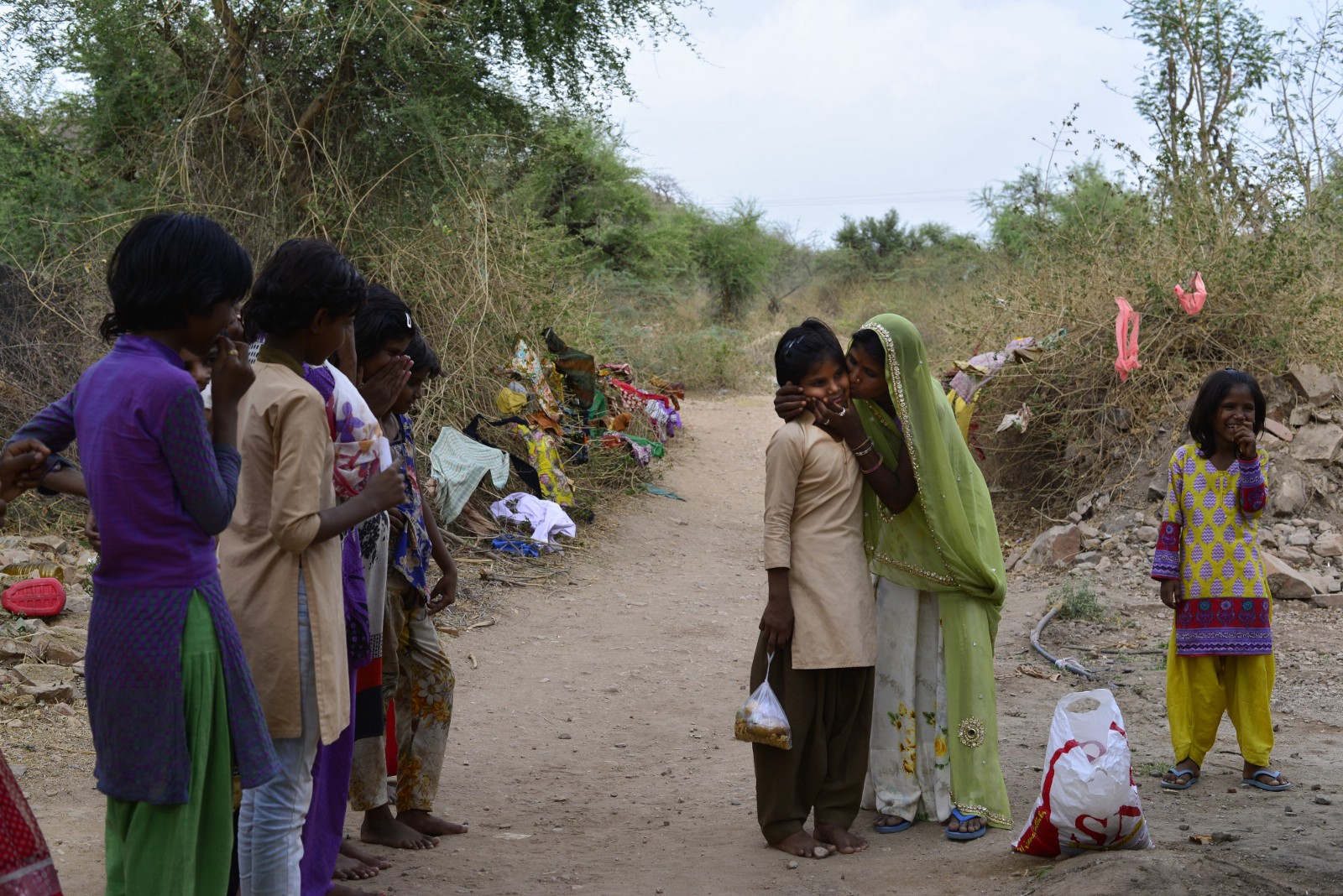 The Bhil tribe makes up 39% of the tribal population in Rajasthan's Chittorgarh's district. Tribal villagers in the district had no economic stability, healthcare or even education, with some often being forced to take up bonded wage labour, with monthly incomes as low as USD 7, and sometimes even nothing.
At Adarshila, children manage to do their work by themselves. In the case of younger girls, senior girls help and guide them.
Anti and Babli are two sisters who were looked after by their mother, as their father had passed away. They are nine siblings, including two brothers. Anti doesn't like if anyone asks her 'how many siblings you are?'
She says, "My mother always gets angry." In a choked voice, she adds, "It is good here (Adharshila) as we get breakfast, lunch, fruits and dinner." Her family has an income of Rs 1,000/month.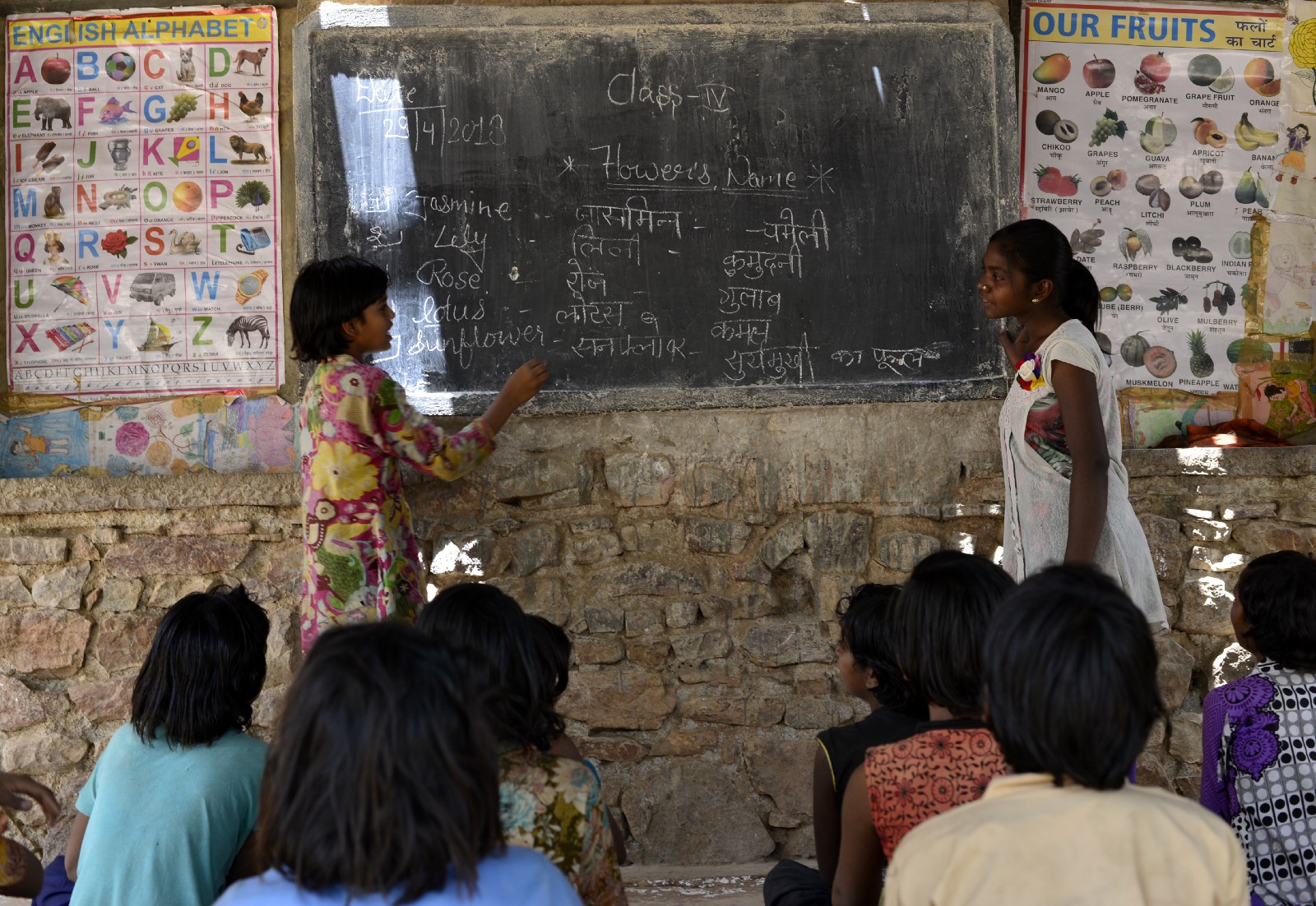 The children seemed quite excited and emotional when Raveena's mother, who works as daily wage labour on construction sites, came to meet her. They have been abandoned by her father.
After they've spent some time together, the mother gets ready to leave. But before she left, she asked Raveena if she needed any money. The young girl shook her head in the affirmative and pocketed the 50 Rupees her mother gave her.
Peer teaching is one of the teaching models at the centre. There are girls from far-off villages of Pratapgarh district, apart from Chittorgarh; such is the popularity of Adharshila.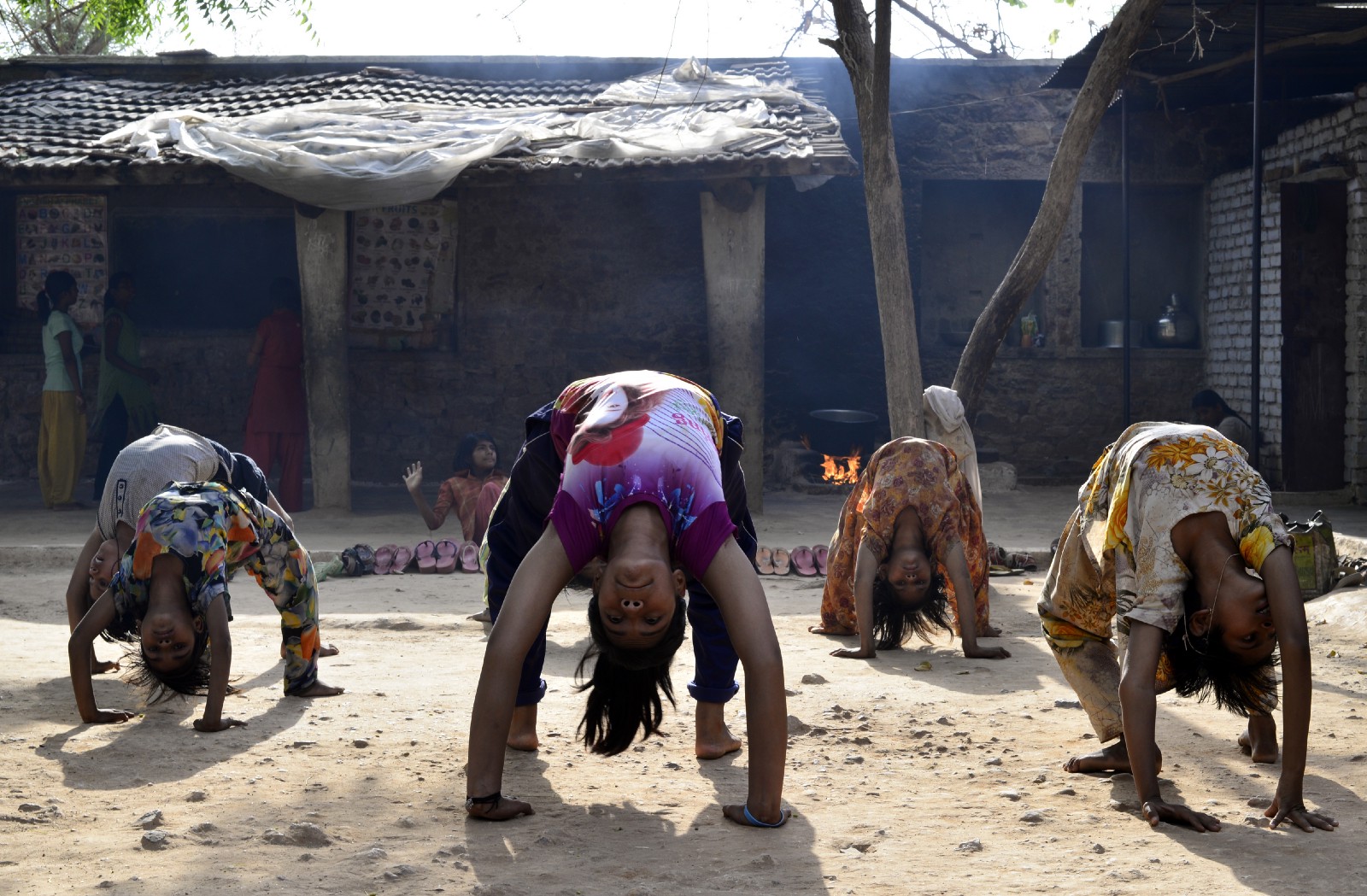 In fact, sometimes even parents from well-off backgrounds come to Adharshila to enroll their girls. However, since resources are scarce, Adharshila only takes in girls only from the weaker sections.
Sonu studies in 10th class in a private boarding school. She doesn't have her biological family. Since childhood, she has been looked after by Khemraj and Suman.
Adharshila Learning Center is currently functioning from a rented space where the landlord asks the couple to vacate half of it. This resulted in a crisis of space. The couple has their own land nearby but not the funds to begin the construction on it.
Chouhan says, "We manage to do most things by ourselves. It helps us to sustain through our limited resources."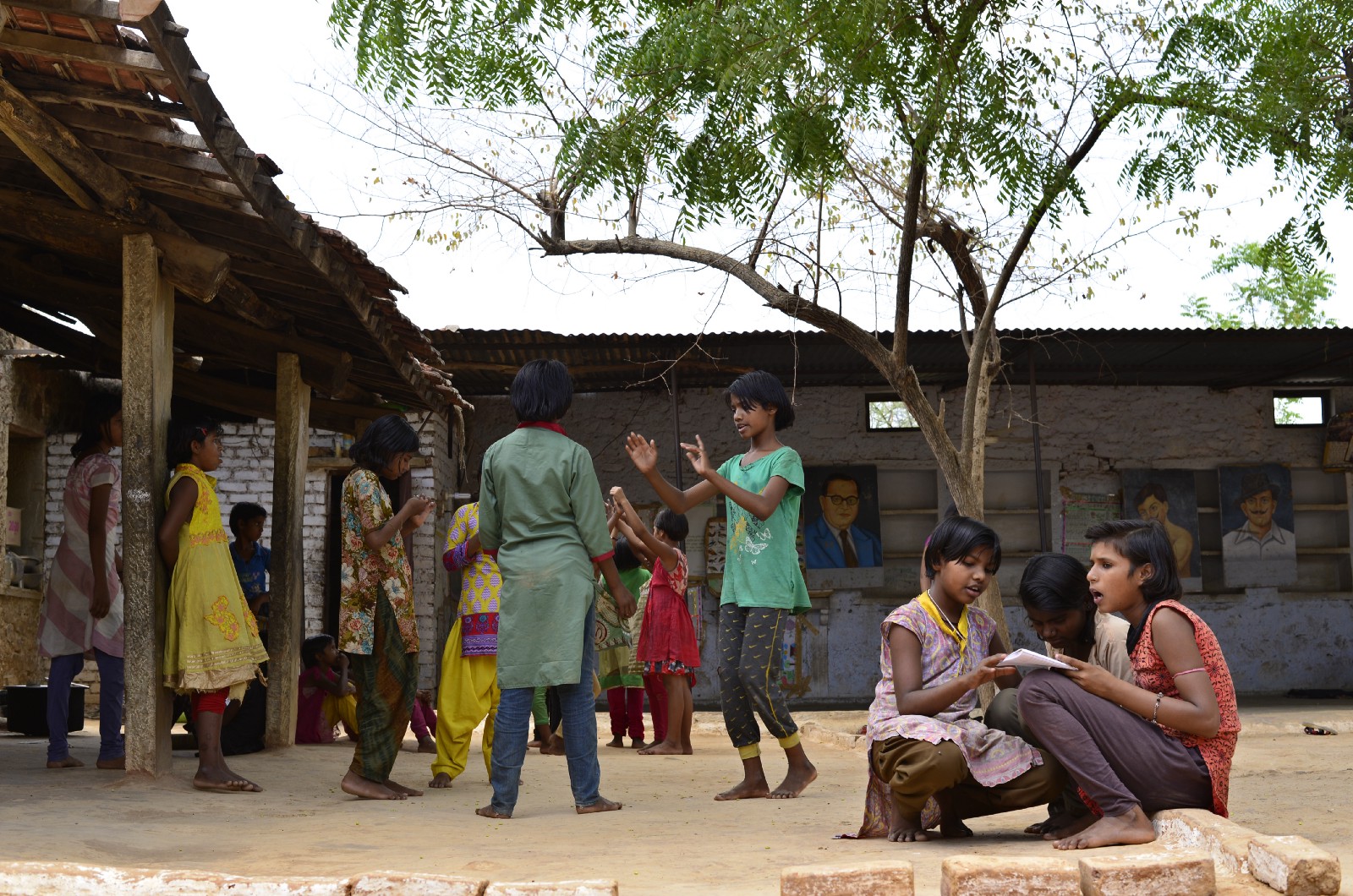 Many students are even provided with clothes by Adharshila. Premlata, one of the two teachers, says, "We stitch or alter clothes for the students from discarded or donated clothes."
I visited Raju's home in village Jeeta Was when her mother was cooking. It was around 8:45 am, but it was dark in the 10'x15' home, which also included the kitchen.
She didn't complain about the lack of light in her kitchen. In fact, she said, "It's enough. What more daylight I can ask for?"
Every day, she makes rotis and a sabji for which her family of two adults and three children consume 500 ml of cooking oil and around 40 kg of flour in a month. Her children usually don't ask for any special dishes, but when they do, she has to say, "No… when we have money, we will cook it."
Kavita was sobbing after she returned from collecting her final report card of 6th grade. She passed with 84% marks. She is sad because she will now be moved to Kasturba Hostel for her further education.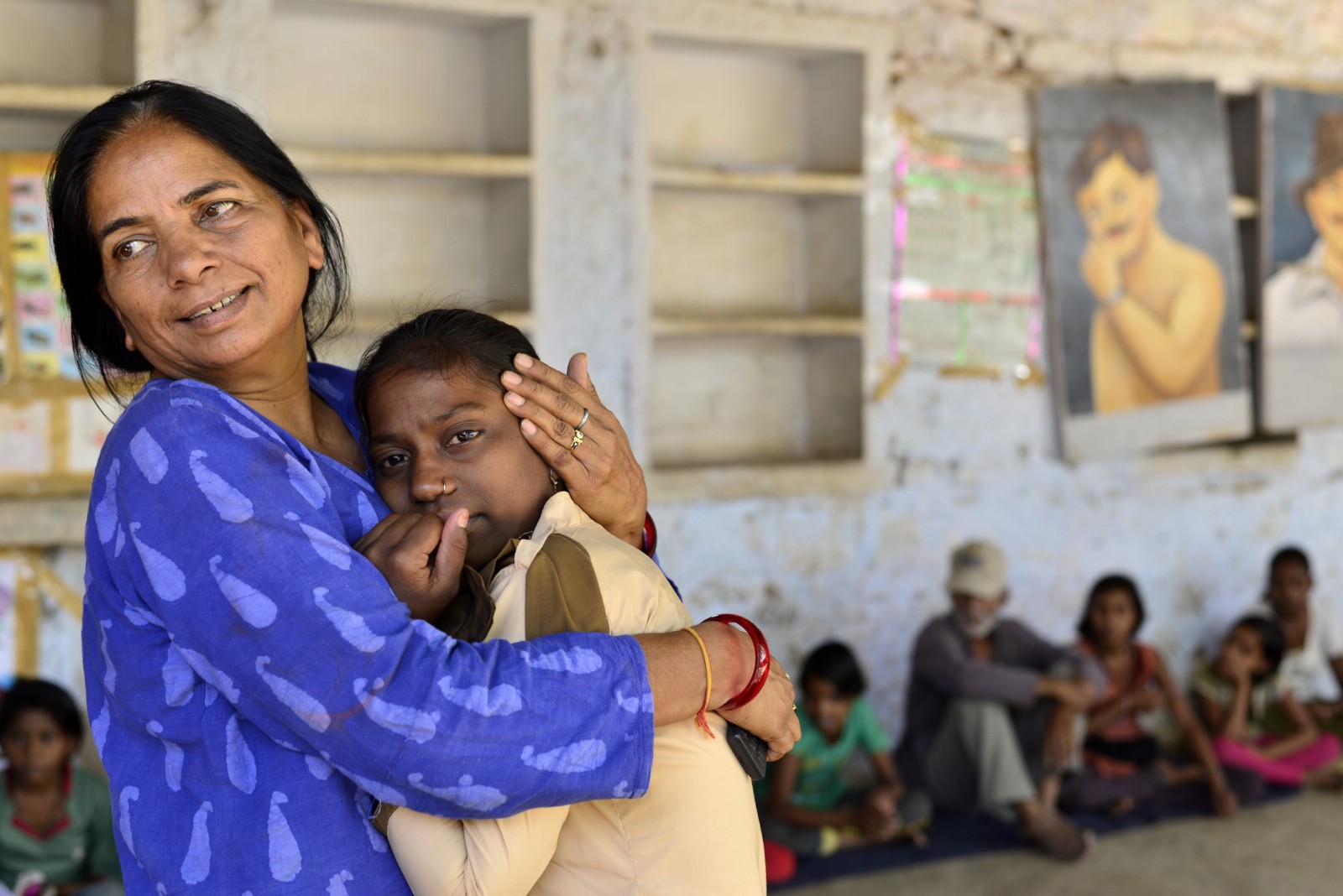 Most of the girls never went to school before they came to Adharshila. But as the study is regular, they are able to pick up pace soon. For example when Kavita came to the centre, she was already 10-years-old but never went to school. She covered classes 1-3 in a year. 
Madhu is one of the bright students at Adharshila. She passed her 6th grade with 85% marks this year and took the responsibility to manage all the younger girls. Abandoned by their father, her mother went to her parental home, grazing a herd of goats while sometimes working as a labourer.
Seema studies in class 11 at a private residential school in Rajasthan's Nagaur district. She was married when she was quite young but Khemraj spotted her talent. She completed class 5 at Adharshila, after which she was sent to Kasturba. After completing class 8, she was admitted to a private school. All her education expenses are borne by the centre. Fond of English literature, Seema likes to read William Shakespeare.
Khemraj says, "We want to create equal opportunities for the children of economically and socially disadvantaged communities."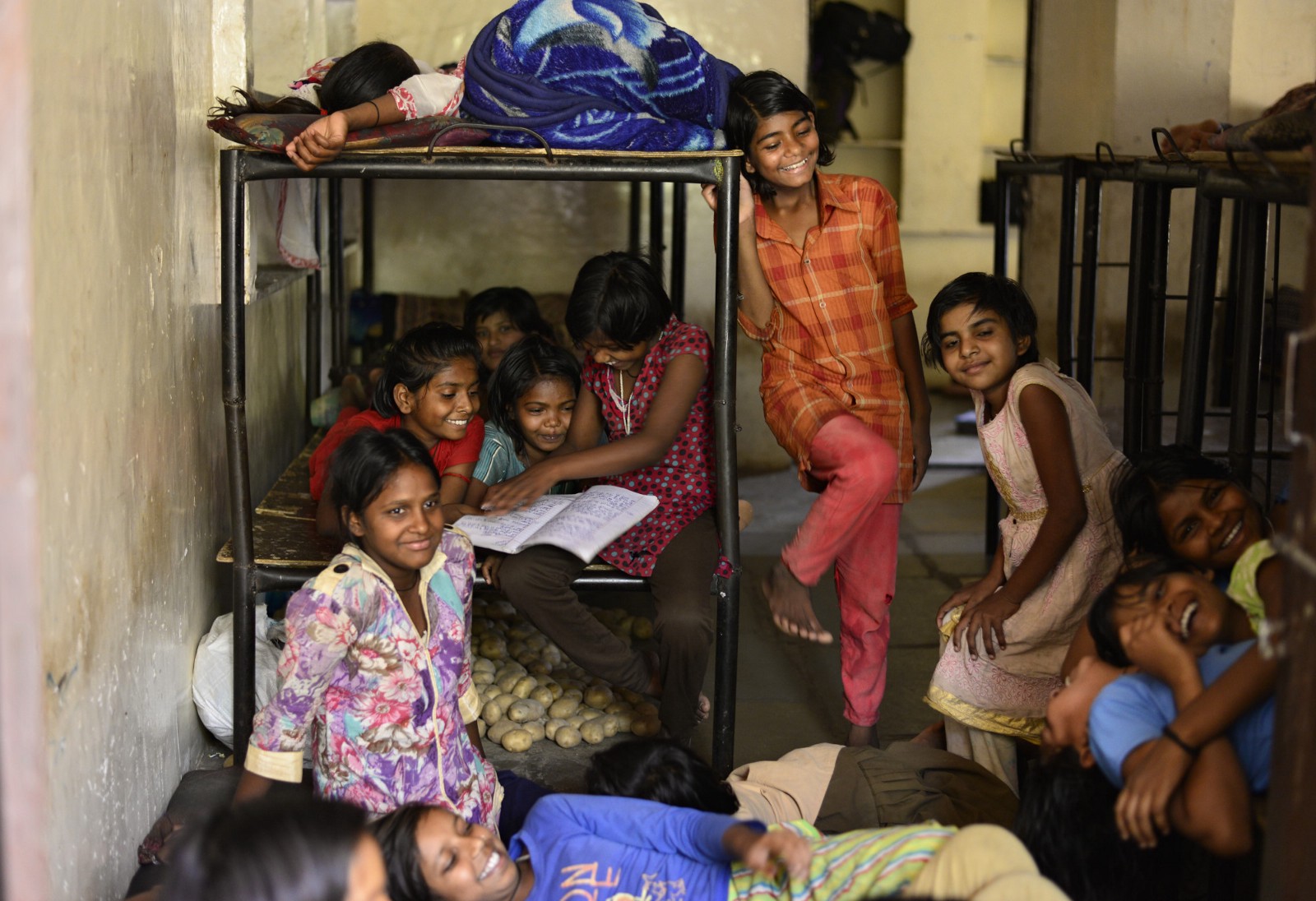 He continues, "Until children get a proper education, their communities will be oppressed by the privileged strata as it is quite the norm in this area. Feudalism and bonded labour have still handcuffed the freedom and the value of the lives of the scheduled tribes and scheduled castes here. Education is a way for these children to live a life of their rights," said Khemraj Choudhary.
Suman adds, "Earlier, we used to visit villages and counsel parents to send their girls to the centre.  There was hardly any tradition of education of girls in these villages. However, when some parents did send their girls, they became homesick and ran away. Gradually, things settled down. Now the parents come to us and admit their girls here."
Despite a high dropout rate, some of the girls named Meera, Geeta, Guddi and Jamuna are studying Bachelor of Arts. Girls likes Manisha and Meera received Gargi Awards for securing 76% marks in 10th class and 84% marks in 12th class, respectively.
"We are still sad that girls drop out after they leave Adharshila. We try to keep in touch with them but once they go to their homes, they seem be to unmotivated for higher education," Suman shares.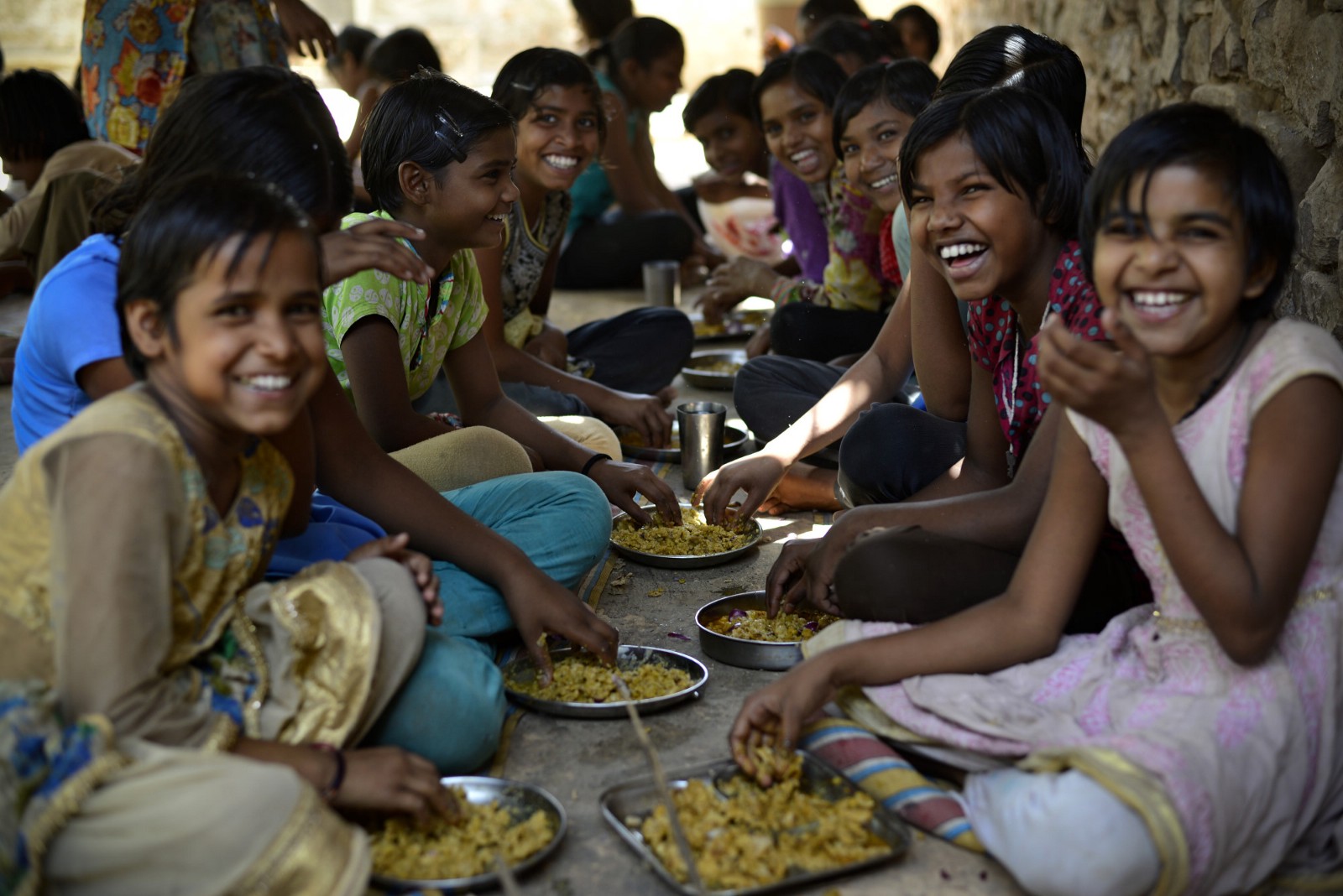 Currently, there are 58 girls at the centre against their capacity of 50. There are two residential teachers who teach basic subjects, including environmental education. They counsel students, and organise cultural programmes. The first session of school runs from 9 am to 1 pm, beginning with the girls reciting poems and couplets. The second session is from 3 pm to 6 pm. Later, teachers take tuitions for girls who need special attention.
You can extend volunteer support or donations to Adharshila Balika Shivir. Get in touch with Mrs Suman Chouhan at suman.pratirodh@gmail.com and 9079961560.
(Edited by Shruti Singhal)
We bring stories straight from the heart of India, to inspire millions and create a wave of impact. Our positive movement is growing bigger everyday, and we would love for you to join it.
Please contribute whatever you can, every little penny helps our team in bringing you more stories that support dreams and spread hope.