Diagnosis of breast cancer at an early stage is crucial for reducing mortality rate.
According to a study titled "The Epidemiology of Breast Cancer in Indian Women," which was published in the Asia-Pacific Journal of Clinical Oncology, breast cancer is now the most common cancer among Indian women and has overtaken cervical cancer in this regard. The age-adjusted rates stand at 25.8 per 100,000 women and mortality of 12.7 per 100,000 women.
There might be a false notion that India has a lower incidence of breast cancer than Western countries, so things are under control. However, you must remember there is a lack of proper screening here, as many do not get a proper diagnosis.
Well, a bright-pink, fully-equipped mobile breast and cervical cancer screening bus, which is the brainchild of the Shadi Ganz Foundation Mammomobile Charitable Trust, is set to change all that.
Run by Shadi Ganz, a breast cancer survivor, philanthropist, artist and a cognitive psychotherapist, the bus is equipped with separate compartments outfitted with equipment like a mammography machine, a control room where the mammography results are collected, and another section where women are examined for cervical cancer, reports The New Indian Express.
A German national, she first arrived in Bengaluru in 2011, when her husband's job transferred him here. When her husband left the country after his assignment, Shadi stayed back, to help the society that had hosted her.
Speaking to TNIE, she said, "I started this foundation because in India, by the time a woman is diagnosed, it might be too late to help her. This bus currently travels through the rural areas of Tamil Nadu, where we conduct awareness programmes and convince women to come to get screened at the mammomobile."
As of now, the foundation possesses one bus, operational since 2016, which has toured around 92 villages in Tamil Nadu, conducting approximately 500 mammograms a month.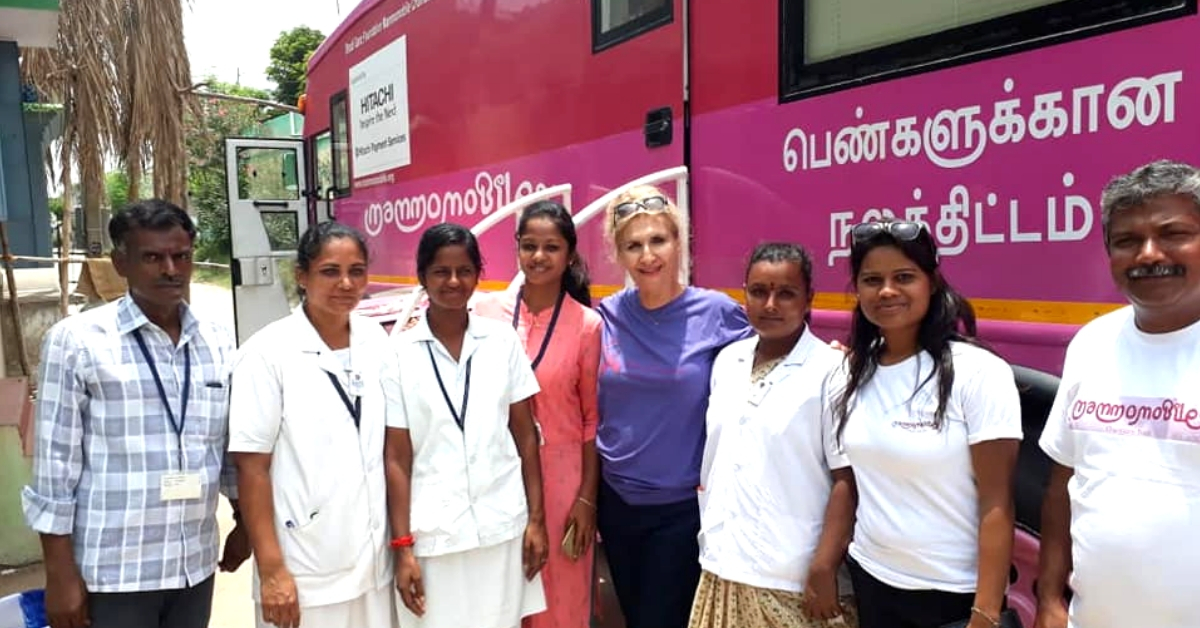 This is the nation's first and only mammomobile, has taken two years and about Rs 2 crore to make, and is mostly self-funded. The machinery has been imported from the USA.
Digital machinery cannot be used, because instruments are sensitive, and will be disturbed because our roads are bumpy, and the readings will get skewed. Which is why the machines are analogue, and the results are burnt on a CD and sent to the Cancer Institute in Chennai.
Post results, if a woman has been diagnosed, the trust takes care of the treatment.
---
You may also like:- Tahira Kashyap Diagnosed With Breast Cancer: Why It's a Wake Up Call for Women of Every Age
---
"This is also self-funded. I have tried applying for funding, but I either get rejected, or I'm made promises that don't get fulfilled. I am, however, glad that through the awareness programmes we conduct in cities, some women do come ahead and pitch in with resources that can help others get the treatment they need," she concludes.
(Edited by Gayatri Mishra)
Like this story? Or have something to share? Write to us: contact@thebetterindia.com, or connect with us on Facebook and Twitter</