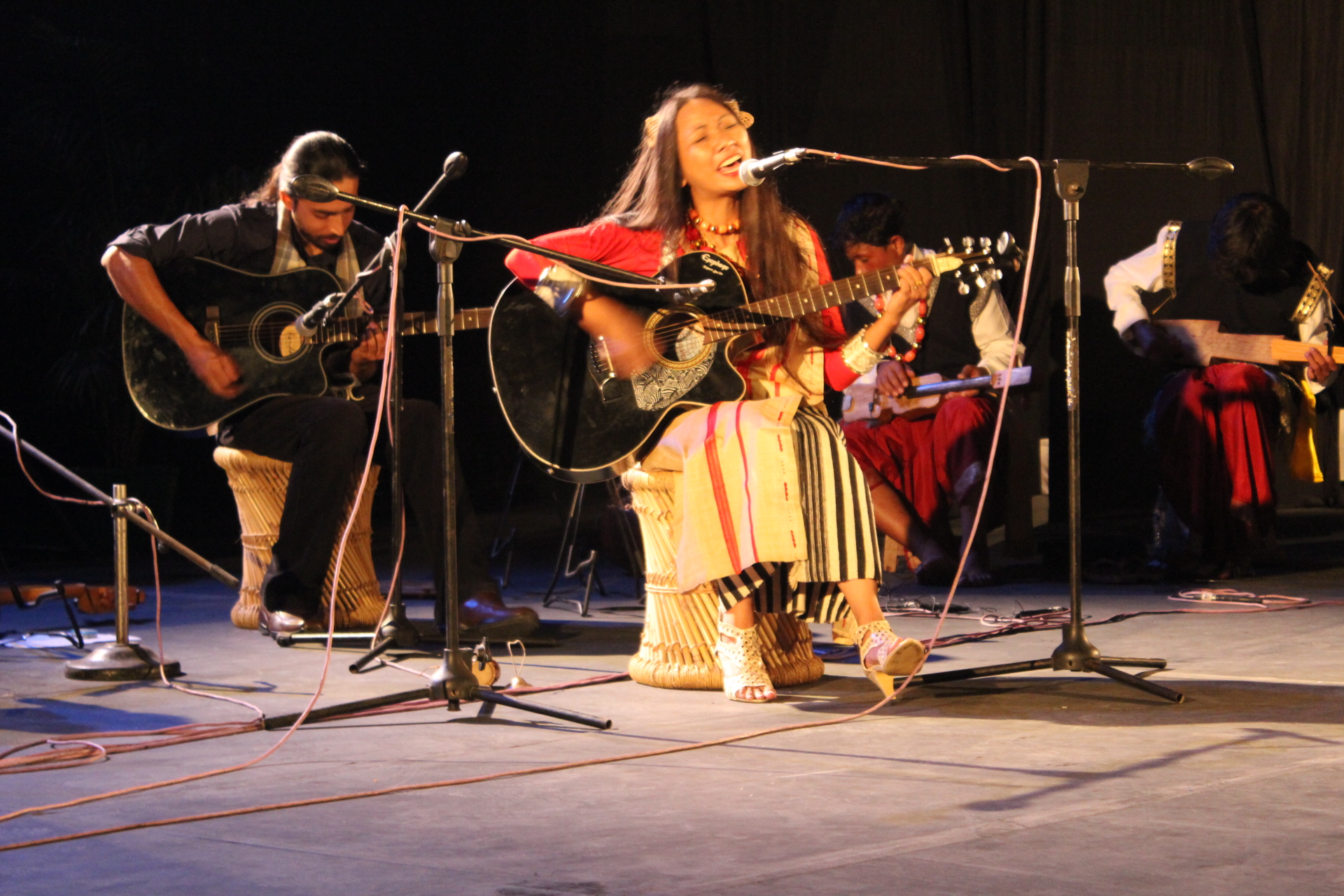 Meet Rida Gatphoh, founder, songwriter and lead singer of 'The Musical Folks', a unique band inspired by nature and wildlife, with most band members in their 50s and 60s! Together they put up traditional Khasi shows and motivate people to think about their actions towards the environment.
Meet Rida Gatphoh, founder, songwriter and lead singer of 'The Musical Folks', a unique band inspired by nature and wildlife, with most band members in their 50s and 60s! Together they put up traditional Khasi shows and motivate people to think about their actions towards the environment.
She is only in her 30s but her music is ancient. Inspired by nature and wildlife, she composes tunes along with her band of gifted folk artistes from her home state Meghalaya, many of who are in their 50s and 60s. Meet Rida Gatphoh, founder, songwriter and lead singer of 'The Musical Folks', who tries to reach out to her people by studying and documenting their work while writing and composing songs.
"Even though most youngsters in my state are into high voltage music, like rock, pop, hip-hop and reggae, I have always preferred traditional music. It's been an intrinsic part of my life ever since I was a little girl, as my mother, Preciously, is a folk singer. I grew up listening to folk instruments, poetry and song and started singing early in local bands. This continued even when I went to Mumbai to pursue a degree in fashion designing," shares Gatphoh.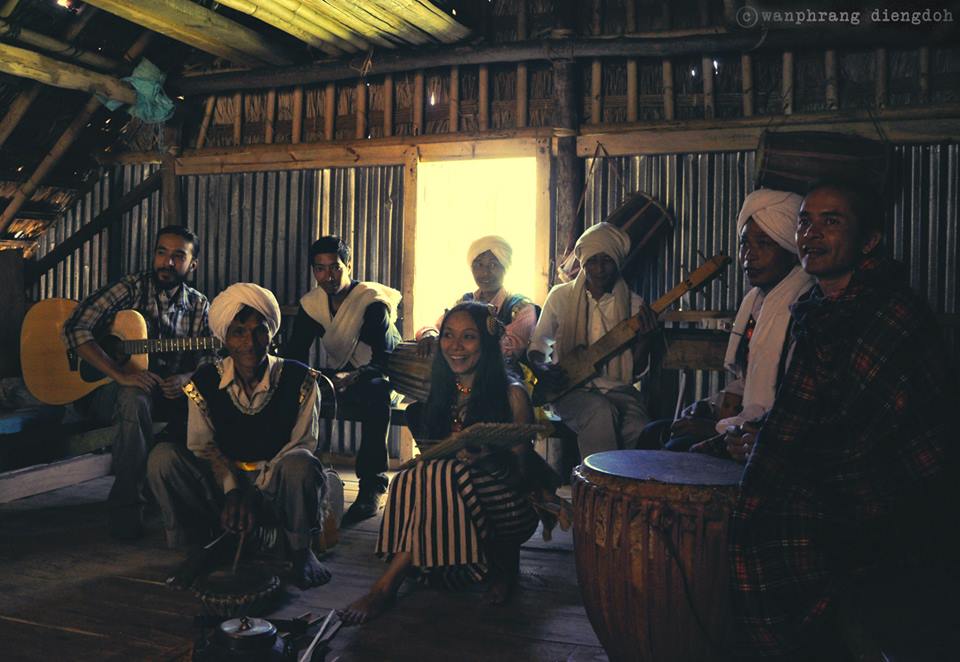 After she finished her studies, she did stick on for a few years in the Maximum City designing clothes, but as she says, "I was not happy. I longed to get back to my original passion, music." And she did. Bag and baggage she went back to Shillong. But instead of staying put there, Gatphoh embarked up on a journey of the tranquil and lush Meghalaya countryside.
"I travelled across different villages in a bid to better understand my roots and connect with nature. I soaked in the sounds of birds and other wild animals, and heard countless folk tales and poems. All these inputs served as inspiration and I began composing and writing songs," she recalls.
Along the way, Gatphoh made many friends, many of whom are now a part of the band, The Musical Folks, which she put together in 2010. Her motley crew of musicians includes Bah Rojet Buhphang, a recipient of the Ustad Bismallah Khan Yuva Pushkar in 2007 for his contribution to traditional music of Meghalaya; Bah S. Malngiang, co-founder of Sieng Riti Institute for folk music in Wahkhen, East Khasi Hills; Peter Marbaniang, a ceramic artist and a duitara and guitar player; composer and guitarist Amarnath Hazarika; Sean Menzies Nongrum, who plays bom and brass; bamboo flautist Benedict Skhemlang Hynniewta; Risingbor Kurkalang, who plays the duitara maryngoh; and Shaun Nonghuloo Morehead, the drummer and Ksing player.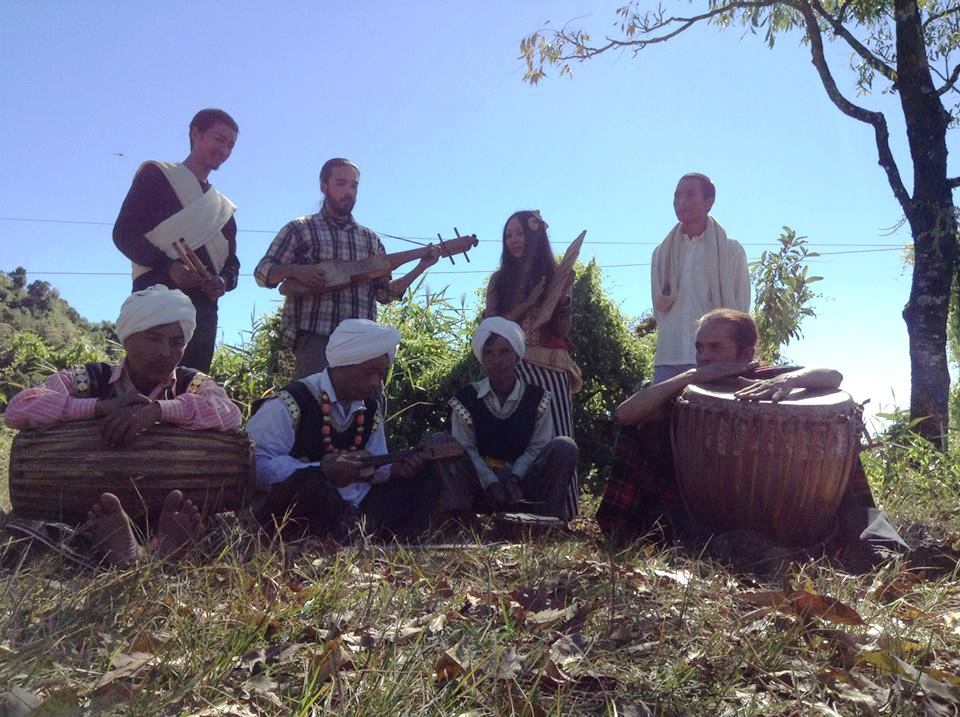 The crew combines their creative energies and talent to put up an authentic Khasi show, complete with a Pyrta Shnong, or traditional announcer, who kicks off the proceedings that include a Phawar Mei Mariang (fable for mother nature), Kshaid Nohsngithiang (song), U Sier Lapaing (a musical story-telling session) U PhiangJyrngam (poetry recitation), Ka Sohlyngem (ballad), Leitphaishaiing (children's song), Shad (Khasi dance) and Kyntanglawai (farewell poem) – all of which are set to the tune of traditional instruments.
Gatphoh feels fortunate to have found so many traditional music practioners for her group although convincing them to join her in her efforts to revive the forgotten styles was not easy. Usually, village music groups are quite informal and non commercial, which was how they were all used to playing. Moreover, many of them are old and hail from remote locations so getting them to open up to the idea of transforming their approach took time. "Some of my team members are around 60 years old. It took some time for them to wrap their heads around the concept of a formal band that would travel and showcase our local fare to the outside world," she reveals.
According to Gatphoh, The Musical Folks is always searching for "the ideal way to create a meaningful experience for the new listener while retaining a high degree of artistic integrity". She says, "The stories we share are open-ended making our interaction spontaneous and giving us an infinite range of expression. They are an intimate exploration designed to reveal the natural communication of music and art and highlight a specific form of nature as a subject of celebration and inquiry."
The artiste's works are weaved around nature and the environment. "I strongly believe that mankind must take its cue from nature. Through our music, we are attempting to encourage people to think of the world in which we live today and see how our collective actions are affecting planet earth." She feels that everyone must take time out from their extremely busy schedules to connect with nature.
"Have you ever heard the sound of frogs? Noticed that every bird has its own distinct chirp? If you observe intently, there are many different sounds and tunes in nature. And they all vary from place to place and depending upon the time of day. Music is there and will always be there in all things natural," she adds, thoughtfully.
Folk music truly captures the essence of the bond between man and nature and while many may call this style raw and lacking in sophistication, Gatphoh argues that there is "purity, originality and beauty in its complex notes". She elaborates, "What we present through our shows is just the tip of the iceberg. Our repertoire of indigenous musical practices is vast. There are many aspects that simply cannot be performed on stage and we haven't tried to do that."
Unlike many of her peers, Gatphoh has delved into the realm of history to spark a revival. "In a sense, I am going backwards," she laughs, "I insist on bringing the old and forgotten musical trends back into vogue. Sadly, today's generation is hung up on newer, more western styles, which is not bad but one does need to preserve one's past as well," she days.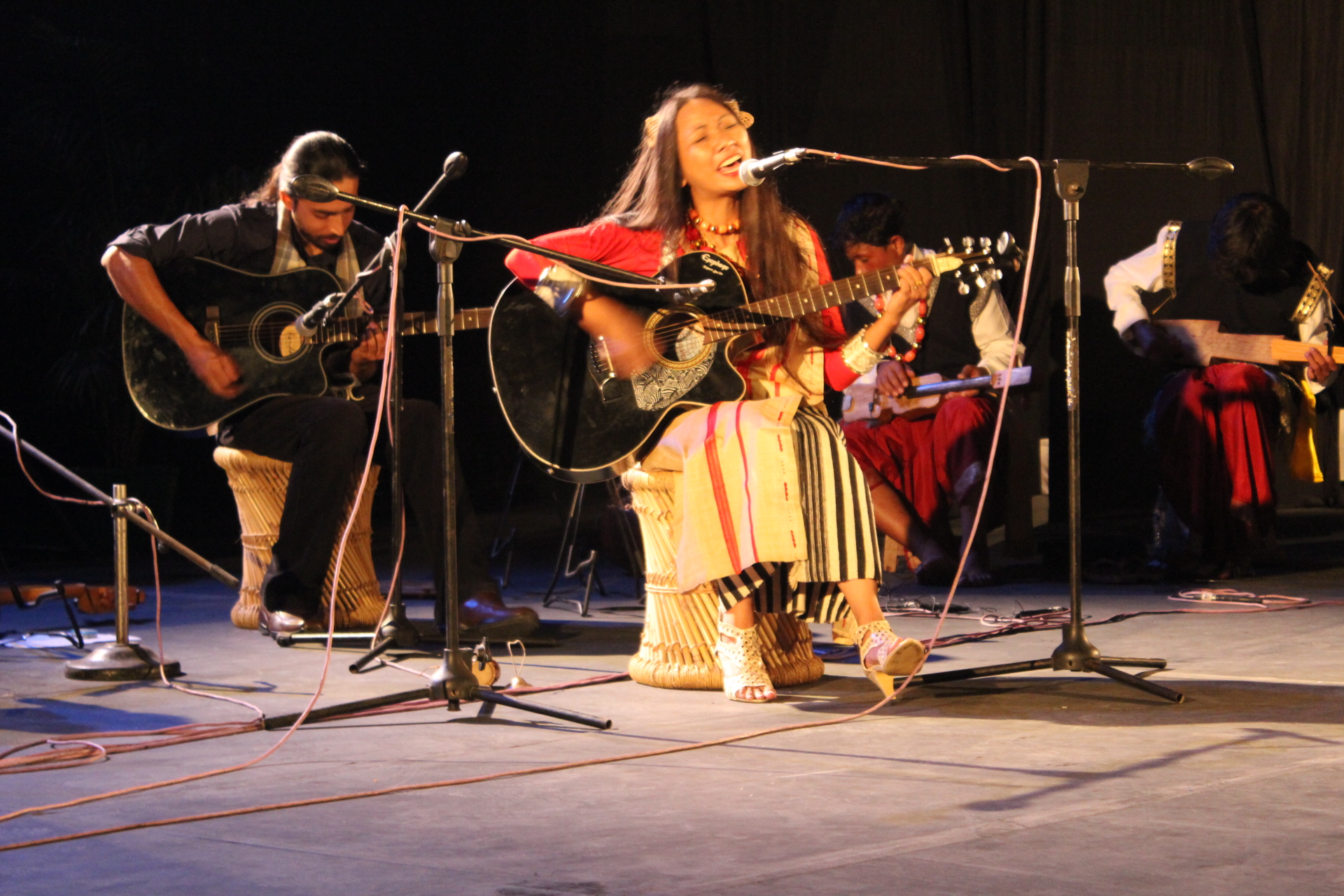 Gatphoh admits that there are no huge crowds at her shows, rather a loyal group of followers. But that in no way deters her from pursuing her goal. On their part, however, the band and she make a conscious effort to remain relevant. "Though we do not have much monetary support," she says, "our works have become popular through word of mouth, and we have performed in several cities in India. I have understood the fact that we don't belong to the commercial world. The team's instruments are handmade, our music is not digitised or polished, which is a statement in itself."
Ultimately, for Gatphoh, her music is very personal; "it's a feeling, a journey and a connection with my audiences and, of course, with nature". Here's her ode to Mother Nature:
"Let's have a meaningful interaction,
And reason out with balance
Have a natural healing
Healing for the human, non human
Healing for the soul
The ocean and the sky
The mountains and the valleys…
Sample her music here:
Like this story? Or have something to share? Write to us: contact@thebetterindia.com, or connect with us on Facebook and Twitter (@thebetterindia).
We bring stories straight from the heart of India, to inspire millions and create a wave of impact. Our positive movement is growing bigger everyday, and we would love for you to join it.
Please contribute whatever you can, every little penny helps our team in bringing you more stories that support dreams and spread hope.