With various innovative techniques, farmers in Jharkhand have transformed their lives and some of them have even managed to double their yield. From incorporating Sustainable Integrated Farming Systems to learning to prepare vermi-compost at home and engaging with other farmers, agriculture is benefiting these families much more than it ever did before. Learn about some of these techniques here.
Savitri Devi from Jhanji village in Jharkhand's Deoghar district is a model farmer today. She has been able to successfully incorporate Sustainable Integrated Farming Systems (SIFS) techniques on her 60 decimals (one decimal=1/100 acre) of farmland to produce bumper crops of maize, paddy, chickpea, millets and potatoes.
Of course, just three years back, she and her husband used to struggle day and night to cultivate their land but all their hard work was to no good as crop failure was common. To feed their family of eight, Ghanshyam, Savitri's husband would have to migrate every few months to work as a labourer in nearby Deoghar town. What changed her fortunes was the creation of a farmer's club in the village, under a unique food security initiative, where unskilled tillers like her were taught different ways to maximise their yields.
According to Anirudh Das, a field activist with Pravaah, the non-government organisation that is implementing the Fight Hunger First Initiative (FHFI), which began in 2011 and focuses on mobilising the community to access rights and entitlements for specific government services, such as child nutrition, food supplies and primary education in the region, "As part of the FHFI, we have successfully introduced SIFS, under which local unskilled farmers have been taught innovative techniques to improve output as well as earnings. The programme has definitely made farming profitable and brought women and men back to their fields. Earlier, migration was a common phenomenon but things have changed tremendously – and for the better."
The SIFS approach moves away from individual crop performance to increased system productivity. Based on agro-ecological zones, a combination of crops, horticulture, agro-forestry, livestock and aquaculture are integrated to create an ideal self-sustaining farm.
Use of capital intensive external inputs is minimised by enhancing the recycling of materials. Nutrition is an integral component of SIFS and farm planning also includes designing homesteads, gardens, pathways and water bodies to ensure year round healthy organic food for the household. Additionally, it links the smallholder farmer with the market by building up capacities of value chain analysis and business development.
Savitri has increased the fertility of her land exponentially by using the bio compost that she learnt to make once she joined her local farmers club. By substituting the expensive chemical fertilisers for the cheap and homemade cowdung compost she has been producing more than 40 per cent of her usual yield of paddy, maize and other foods. In fact, not only is she now able to alternate between Rabi (spring harvest) and Kharif (winter harvest) crops, the paddy and kharif crops she is using need much lesser water than the traditional varieties.
Says Ghanshyam, "Life has truly changed for us. Till a few year back, we were not making enough to even feed our children but these days we are successfully managing our field, cultivating a flourishing kitchen garden and have learnt superior techniques of growing food. Also, making our own cow dung compost has proved to be a real boon." Savitri makes her own vermi-compost, which she uses on her farmland and sells the excess at the weekly local haat (bazaar) for a nominal Rs 5 per kilogram.
Although the family doesn't own any livestock they collect the cow dung from their friends and neighbours. Says Ganesh, 17, Savitri's eldest son, who enthusiastically helps her out, "Whereas in the past we were only making cow dung cakes that we dried out in the sun to use as fuel for cooking, we are now earning a tidy sum from it, too. What is more, with the organic manure we have increased our yearly harvest from 9.3 quintals to 13 quintals."
It's really simple to prepare the compost. Explains the enterprising cultivator, "We have dug a 6ft /3ft/3ft pit that is filled with dung, dead plants and fallen leaves. Into this mix we add earthworms. Within a month's time the compost is ready for use." Savitri and farmers like her, who had earlier been using chemical fertilisers and urea, have come to the conclusion that with the organic vermi-compost they can maintain the fertility of their fields without spending a sizeable sum of money.
More than 300 farmers in the region have been trained in SIFS. Jaimala Devi, 36, from Pinderbad village in the Sonayrathadi block is one of them. She had left tilling in her one-acre land due to severe irrigation problems but after she was persuaded to become part of her village's farmers club she decided to get back to cultivation and apply the new methods she had learnt, such as System of Wheat Intensification (SWI) and Kharif Paddy Stabilization (KPS). Becoming part of the farmers club opens up a whole world of new knowledge to these otherwise hapless people. They get to know about mixed cropping and inter-cropping to boost production and discover different ways to create a perfect kitchen garden – in whatever little space they have in and around their homes – to grow food for domestic consumption.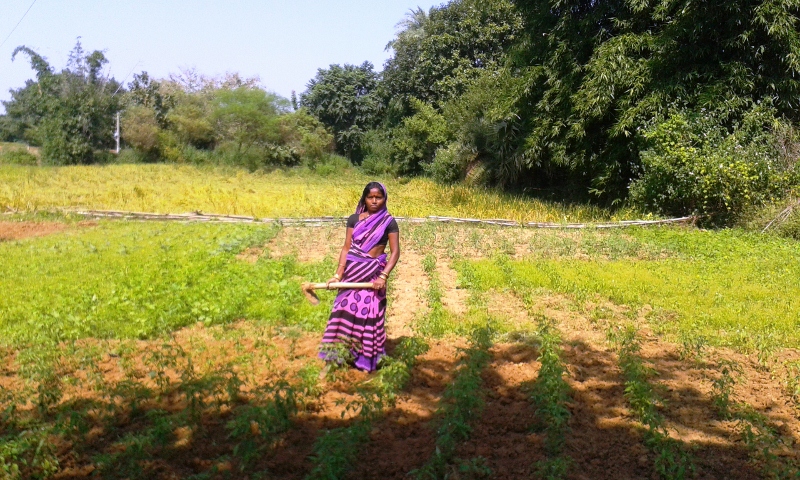 A mother-of-five, Jaimala admits, "My field was lying barren before 2012, which is when I decided to take the advice of the farmers club and go in for mixed cropping and use organic compost. Then in 2013, I used the KPS method to grow paddy in my own 40 decimals as well as a one acre plot I had taken on lease. My yield doubled." At present, on a small 10 decimal plot she is growing maize and kundrum (a local variety of gourd) for domestic consumption.
Shakuntala Devi, another farmer from the nearby Digambarpur village, is enjoying the benefits of the List Irrigation System (LIS) that channelises water from the local streams into her fields. This year, she has cultivated wheat through the SWI method and used the vermi-compost she made at home.
On her homestead plot, she has grown potato, methi (fenugreek) and french beans for their family meals. All this happened after her farmers club helped install a LIS irrigation channel in the village last year to ensure irrigation for the Rabi crops. Before the LIS irrigation channel was built, 50 per cent of the land used to remain fallow after harvest of the kharif crop due to the scarcity of water.
"We finally have regular nutritious food at home," shares Kaushalya Devi of Dhanwepurana village. "It is true that we have seen times when we just had rice or roti to eat with a little salt. I have spent years like that. But my children are eating vegetables that we are growing. I am sure those hungry, desperate days will never return again," she concludes confidently.
Like this story? Or have something to share? Write to us: contact@thebetterindia.com, or connect with us on Facebook and Twitter (@thebetterindia).