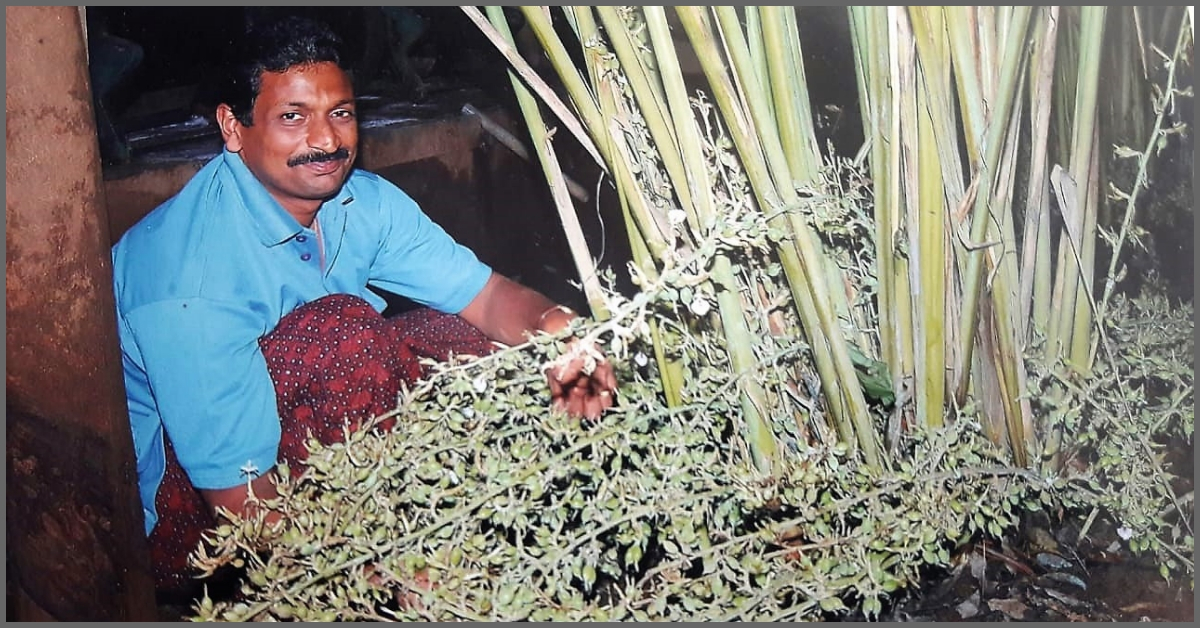 Innovation is a term which is rarely associated with vegetables, fruits or spices. Interestingly, there are scores of unlettered farmers who have been ingenious enough to develop crop varieties, which besides being high-yielding, are pest-resistant and can be grown in a non-traditional environment.
Sitting on his haunches amidst the cauliflowers growing on the field bed on a September afternoon, Jagdish Prasad Parikh talks proudly about his crop, which has given him an entry into the Limca Book of Records.
One day, he plans to enter the Guinness Book of World Records.
A farmer since 1970, he mainly grows cauliflower as an intercrop on his 2-hectare plot, among fruit trees like pomegranate, lemon, wood apple, karonda (Bengal Currant) and rose—using self-made organic fertilisers and pesticides.
As his cauliflowers are very big, they are preferred by hotels and restaurants. Last year, he sold one quintal of cauliflower seeds.
Named after his village, Ajitgarh, the variety he has developed is unlike the regular cauliflowers you see with the vegetable vendor or purchase from your neighbourhood mall. Unaffected by warm temperatures, the variety is disease-resistant as well as tolerant to insect attacks. It can also be grown thrice in a year.
"According to the Guinness Book, the present record of growing the biggest cauliflower is 27.5 kg, while my achievement has been 25.5 kg," says the septuagenarian farmer-innovator from Rajasthan's Sikar district.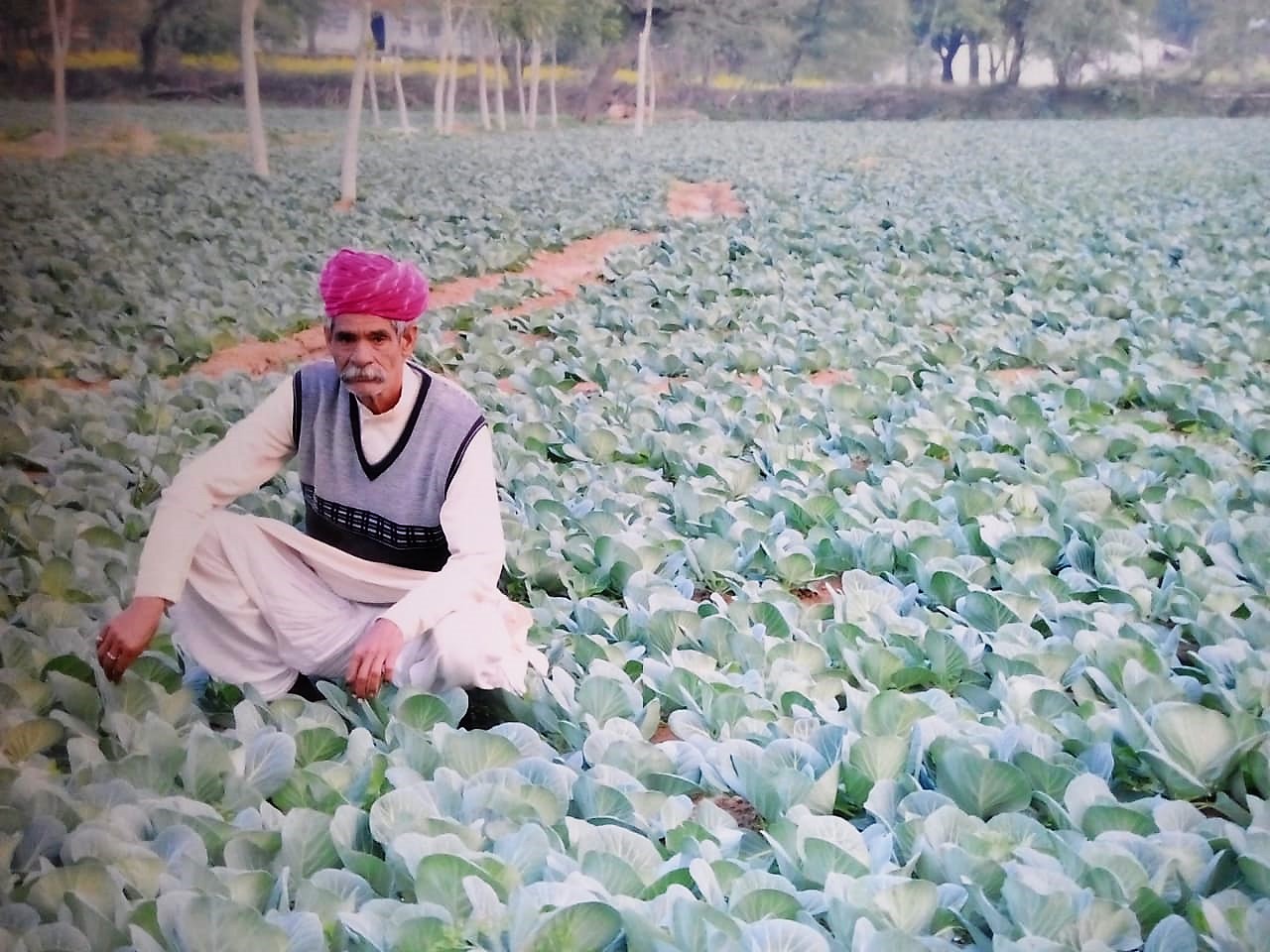 Growing cauliflowers since 1990, his variety received the Grassroots Innovation Award in 2001, also making him the recipient of an IPR (Intellectual Property Rights) in 2017.
Innovation is a term which is rarely associated with vegetables, fruits or spices. Interestingly, there are scores of unlettered farmers who have been ingenious enough to develop crop varieties, which besides being high-yielding, are pest-resistant and can be grown in a non-traditional environment.
These innovations by farmer-innovators, who hold IPRs for their innovations, are shining examples of livelihood security leading to crop improvement, assuring food and nutritional security, enhancing production technologies and also providing environment security.
All this, at the grassroots level.
Sabu Varghese of Pampadumpara village in Kerala's Idukki district sells around 10,000 saplings of his 'wonder cardamom' each year. It is a drought-resistant variety which yields around 3 kg of fruit per plant and can be grown in rubber plantations. The variety can be grown in high-temperature surroundings, requiring shade and humidity for a good harvest.
Owner of a 4-acre plot, 49-year-old Sabu grows black pepper, nutmeg, clove, vanilla, banana, ginger and cardamom. He received an IPR for his variety in 2015 and has not looked back since.
Plant breeders, researchers and farmers like Jagdish and Sabu have been granted IPR under the Protection of Plant Varieties and Farmers' Rights Act (PPV & FR) of 2001. Exclusive rights to produce, sell, market, distribute, import and export a crop variety are granted to farmers under this Act. They are also exempt from the payment of any fee.
---
Also Read: This 95-Year-Old Won an Innovation Award for Introducing Carrots to Gujarat in 1943
---
50-year-old Santosh Pachar is among a handful of women farmer-innovators whose carrot seeds are in great demand in nearly ten states in the country. Adapted to high temperatures, the improved carrot variety which achieves a length of 3 ft when harvested is resistant to diseases and pest attacks. Moreover, the crop is ready for harvest within 75-120 days.
With relatively less white "hair" or small roots, it yields almost 630 quintal per hectare. Due to its sweet taste, it also fetches a better price in the market. Its length, reaching around 1.5 ft, the percentage of forked roots is quite low.
The class 8 dropout was married at 13 and came to Jigar Badi village in Rajasthan's Sikar district as a child bride. For the next two decades, she worked on her 5-acre family farm and was awarded for her innovative variety in 2013.
In 2017, she sold seeds worth five quintal and planned to do better this year.
The confident farmer-innovator says, "I always had the urge to do something new, but it was the market demand for a better carrot variety that made me seek new improvements."
---
Also Read: MP Woman Turns Organic Farmer, Helps Village Go Chemical-Free & Now Earns Lakhs!
---
The world would never have known about India's farmer-innovators had it not been for the NIF (National Innovation Foundation). Earlier known as the Honey Bee Network, the NIF was set up by the Department of Science and Technology. It has documented, added value, protected the IPR of the contemporary unaided technological innovators and traditional knowledge-holders, disseminating their innovations on a commercial and non-commercial basis.
According to Hardev Choudhary, Innovation Officer, NIF, it is the volunteers spread across districts in the country who identify the prospective farmer-innovators and validate their achievements.
NIF scouts, supports and spawns grassroots innovations developed by individuals and local communities in any technological field that aids human survival without help from the formal sector. It helps grassroots innovators and outstanding traditional knowledge holders get due recognition, respect and rewards for their innovations.
It also ensures that such innovations diffuse widely through commercial and/or non-commercial channels, generating material or non-material incentives for them and others involved in the value chain.
The Biennial Grassroots Innovation and Outstanding Traditional Knowledge Awards being held since 2001 help in this regard. So far, the NIF has filed for 71 registrations under the plant variety, of which only nine have been granted.
"After proper verification, documentation, evaluation and validation by local agriculture universities or the Indian Council of Agriculture Research (ICAR) which involves the work of several years, we assist the innovators in acquiring registrations," says Choudhary.
Among the unique fruit variety developed by the NIF's farmer-innovators is an apple that can be successfully grown in plains in temperatures between 40-45 ºC, called HRMN-99.
Developed by Hariman Sharma of Paniala village in Himachal Pradesh's Bilaspur district, the variety is scab disease-resistant and can be grown in tropical and subtropical regions in the country. In 2017, he was awarded the 9th National Biennial Grassroots Innovation Award by erstwhile President Pranab Mukherjee.
Called the 'Apple Man of Bilaspur', 60-year-old Hariman owns a 1.75-hectare orchard, in which he also grows mango, pomegranate, kiwi, plum, apricot and peach, along with coffee.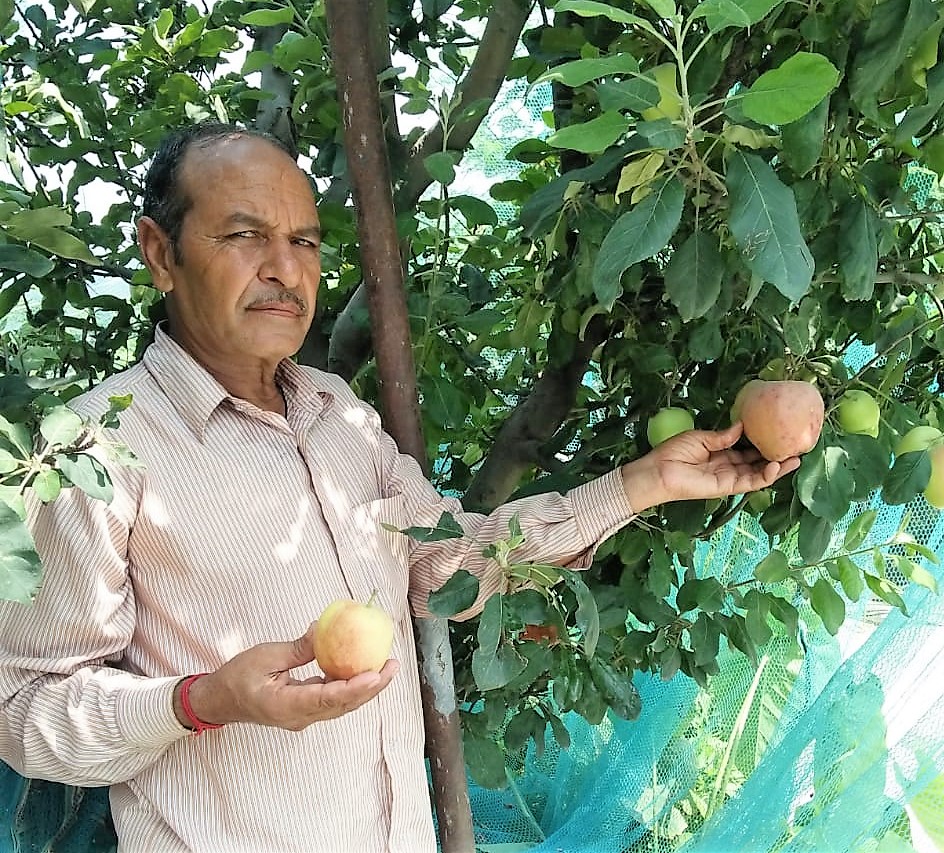 With major contributions from the volunteers of the Honey Bee Network, the NIF has pooled a database of over 2,25,000 technological ideas, innovations and traditional knowledge practices (not all unique, not all distinct) from over 585 districts of the country.
Till date, the NIF has recognised 816 grassroots innovators and school students at the national level in its various award functions.
There have been reports of successful fruiting of the HRMN-99 apple variety in Manipur, Madhya Pradesh, Uttar Pradesh, Maharashtra, Gujarat, Karnataka, Haryana, Rajasthan, Jammu, Kerala, Uttarakhand, Telangana, Himachal Pradesh, Delhi and even Dadra & Nagar Haveli.
With this, the demand for saplings of the yellow-red apple variety, which begins fruiting after the third year of plantation, has witnessed an upsurge.
---
You May Also Like: This Kerala Engineer-Turned-Farmer NRI Made It to the Guinness Book of World Records!
---
Visit his farm, and you're likely to see apples growing along with mangoes. "Till 2005, no one would have believed that apples could be grown along with pomegranates and mangoes in the plains, 700 m above sea level in warm temperatures. But HRMN-99 has made this possible and is presently being grown in 29 states of the country," Hariman concludes.
(Written by Hiren Kumar Bose and Edited by Shruti Singhal)
We bring stories straight from the heart of India, to inspire millions and create a wave of impact. Our positive movement is growing bigger everyday, and we would love for you to join it.
Please contribute whatever you can, every little penny helps our team in bringing you more stories that support dreams and spread hope.