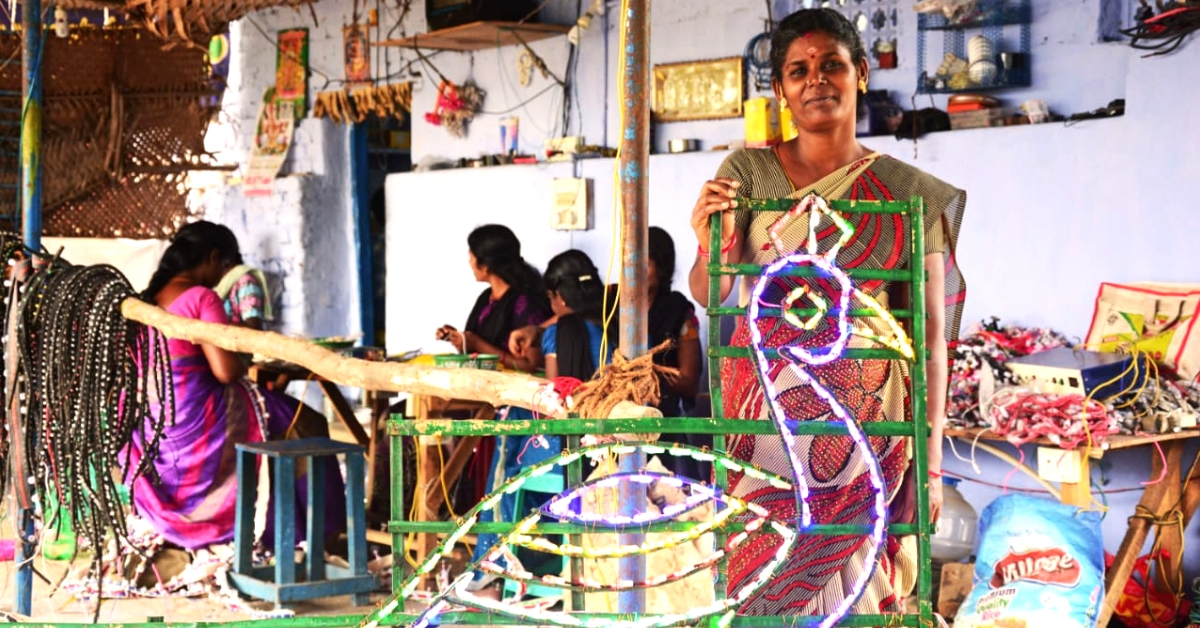 Since its inception in 1997, Srinivasan Services Trust's presence has been central in aiding rural communities in areas ranging from economic development and infrastructure to healthcare and education.
"Most of us barely even had an identity beyond the peripheries of our households. Forget using a mobile phone, things like bank transactions, government schemes or even using an ATM were things that we couldn't comprehend," says Mohammed Peer Banu, the leader of Bismi, a self-help group in Eruvadi hamlet in Thirukkurungudi.
Bismi is just one example amongst thousands of SHGs and income generation groups (IGGs) supported by Srinivasan Services Trust (SST), the social arm of TVS Motor Company and Sundaram Clayton, where they work with communities and governments in tandem to empower India's rural poor through awareness, skills and training programs.
What had started out as an in-house tailoring outlet by Banu in 2010 soon paved the way for other women in the community to join hands. Today, Bismi has a workforce of 14 tailors – each one of whom is no longer financially dependent on their fathers or husbands.
Even more, they now make optimal utilisation of their earnings, thanks to bank-related interventions by SST.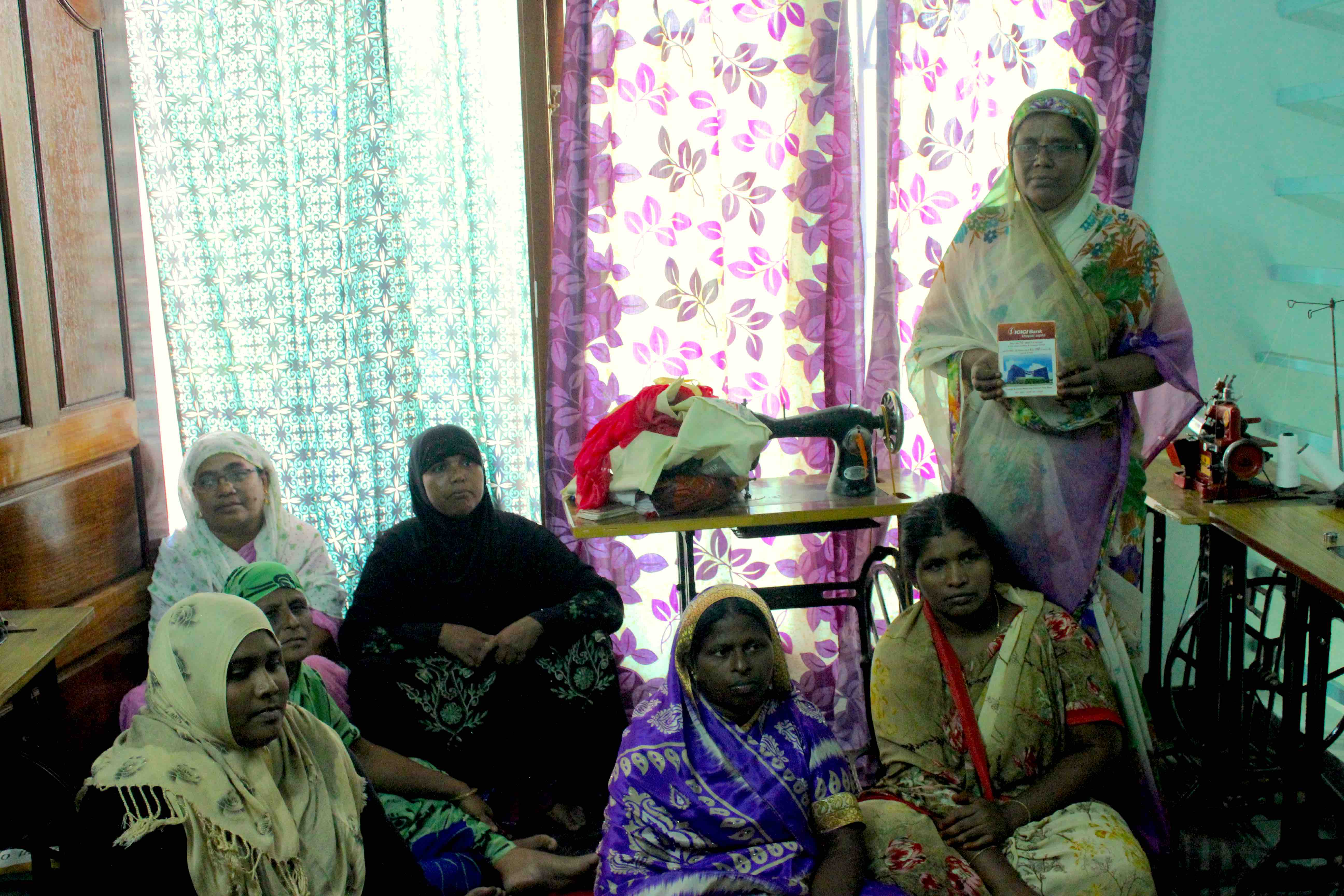 "Following mentoring and guidance from SST officials, we are now equipped with basic banking and ATM literacy and have maintained a joint account under Bismi to deposit our savings. We also regularly take loans for our personal requirements that have speedy procurement, thanks to SST. Today, we feel proud of ourselves for not only being able to contribute to our households but also stand on our own feet through our hard work and skills," adds Banu.
Thirukkurungudi is just one amongst the thousands of rural sites identified across the states of Tamil Nadu, Karnataka, Maharashtra, Andhra Pradesh and Himachal Pradesh by SST.
Since its inception in 1997, the organisation's presence has been central in aiding rural communities in areas ranging from economic development and infrastructure to healthcare and education. It finds solutions that are sustainable by mobilising the necessary resources and encouraging residents to take ownership of the changes that bring about lasting development.
Another example of such change is Dhanalakshmi Fireworks, run by the women of Gandhinagar colony in Arasanarkulam village in Thirunelveli district, where serial bulb setting business is run by 15 functionaries.
Teaming up to form their own SHG, Gandhi, they got financial aid and assistance through SST's intervention to establish a fully fledged business (year). Today, they get orders from not just Tamil Nadu, but from Kerala and Karnataka as well.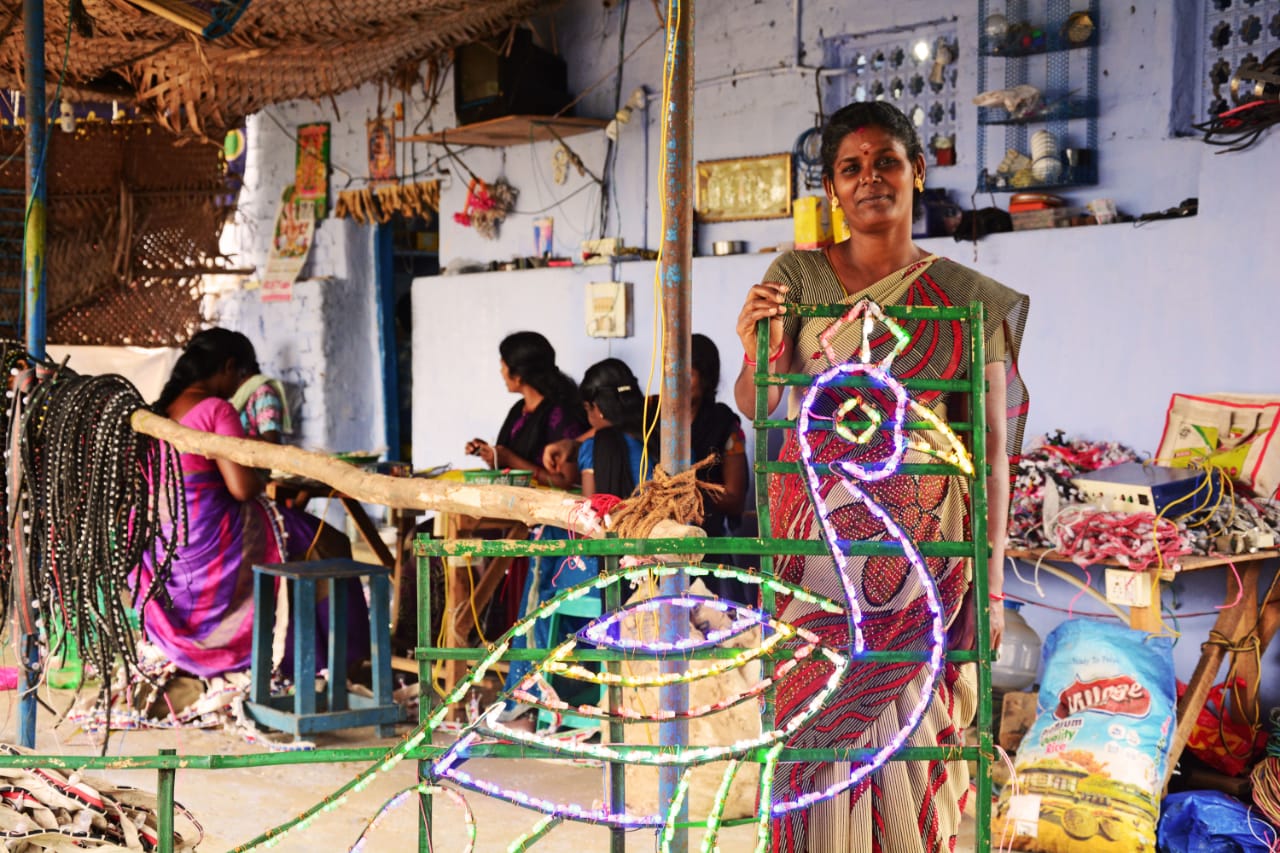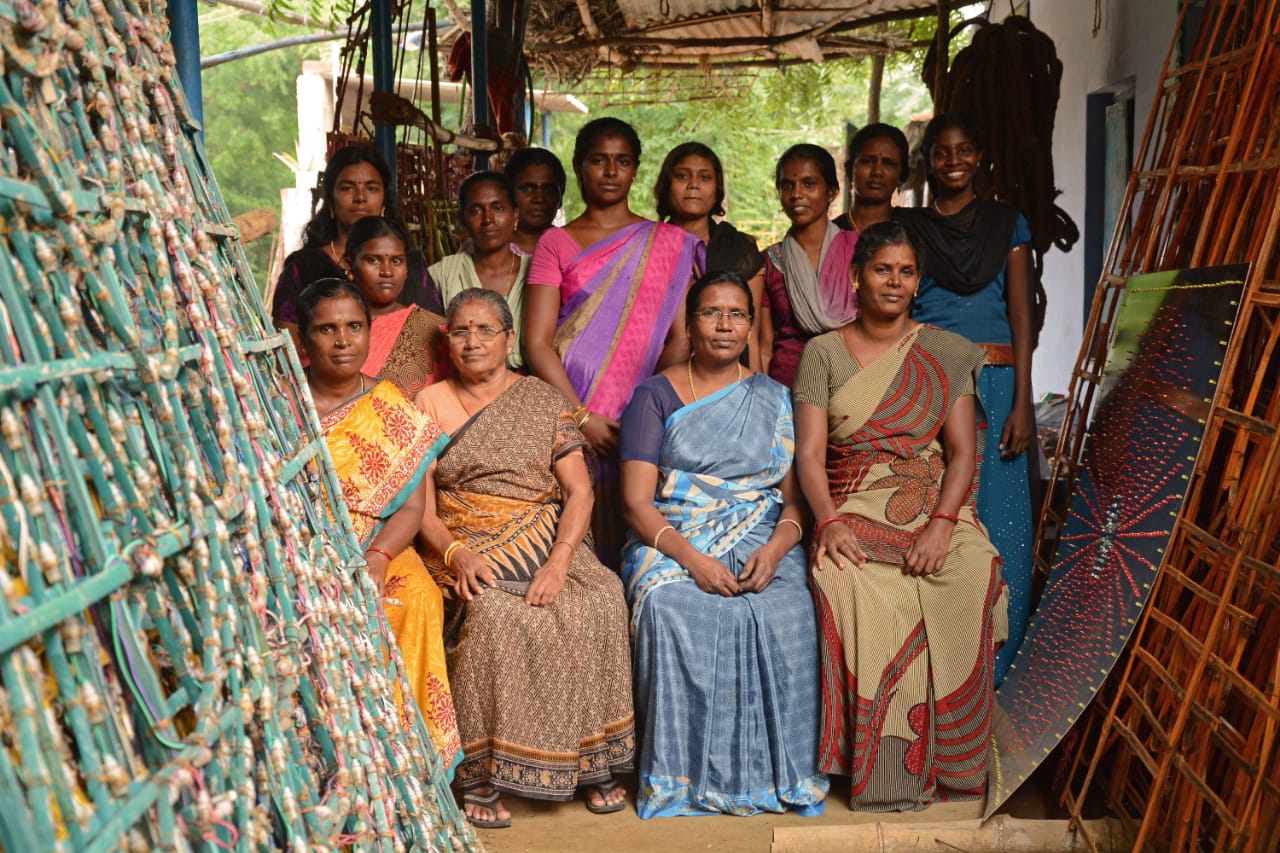 "Initially, we were able to make monthly earnings of ₹15,000-20,000 since we could only supply in and around Thirukkurungudi or Thirunelveli at most. After being sanctioned an initial loan of ₹3 lakh through SST, which we invested in materials and transportation, and another loan of ₹5 lakh for setting up the business, today we earn close to ₹50,000 every month and have been able to send our kids to schools and colleges," says Dhanalakshmi, the co-owner of the serial light company.
The organisation's social impact driven initiatives aren't just limited to empowering SHGs or IGGs only. A large part of their on-field interventions focus on rural education and particularly, mobilising sanitary facilities to government schools.
The best example amongst these initiatives is that of the government girls higher secondary school in Eruvadi village, Tamil Nadu, which until recently just had one toilet.
To understand the scale of the issue, consider that the school has roughly 1020 wards and that toilets breaks were only possible during the recess. "Not only were the girls suffering from a lack of toilets they also end up missing their meals by spending the entire break in queues to the toilet," says Ida, a teacher at the school.
Once the issue came under the notice of SST, Ida was identified as an Education Development Facilitator (EDF) by the organisation, whose responsibilities require her being an interface between the school authorities and the former. To resolve this grave issue of sanitation, SST decided to intervene in three ways: collate public support, accumulate funding and lobby with concerned government officials to put in place proper sanitary facilities in the school premises.
After raising public awareness and finding support from local citizens, raising funds wasn't a problem. A total of ₹15 lakh was subsequently pooled through individual donations as well as funding from SST.
Today, girls no longer line up for toilet breaks or miss their lunch as a well-maintained sanitary complex with 12 toilets stand in the school's premises.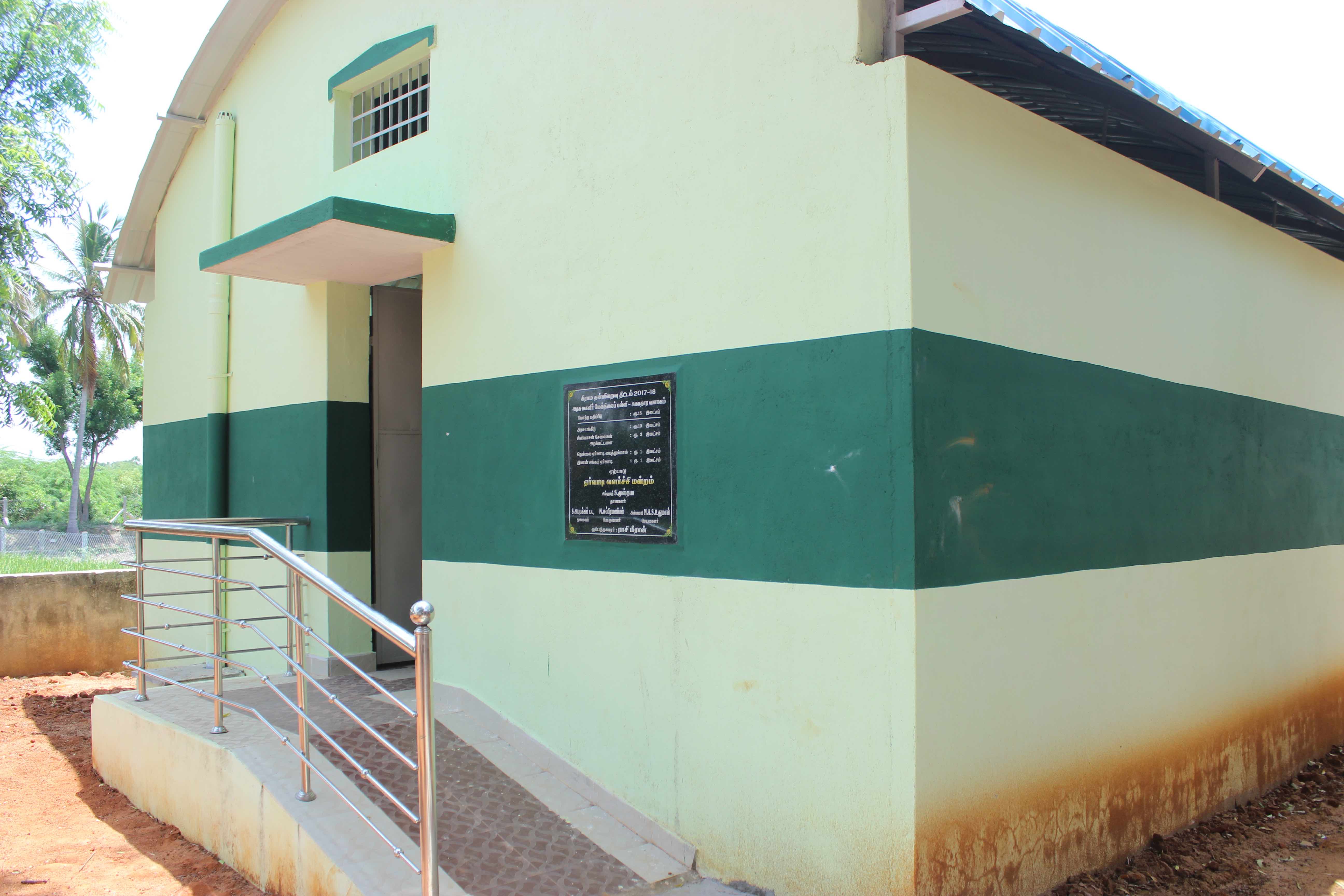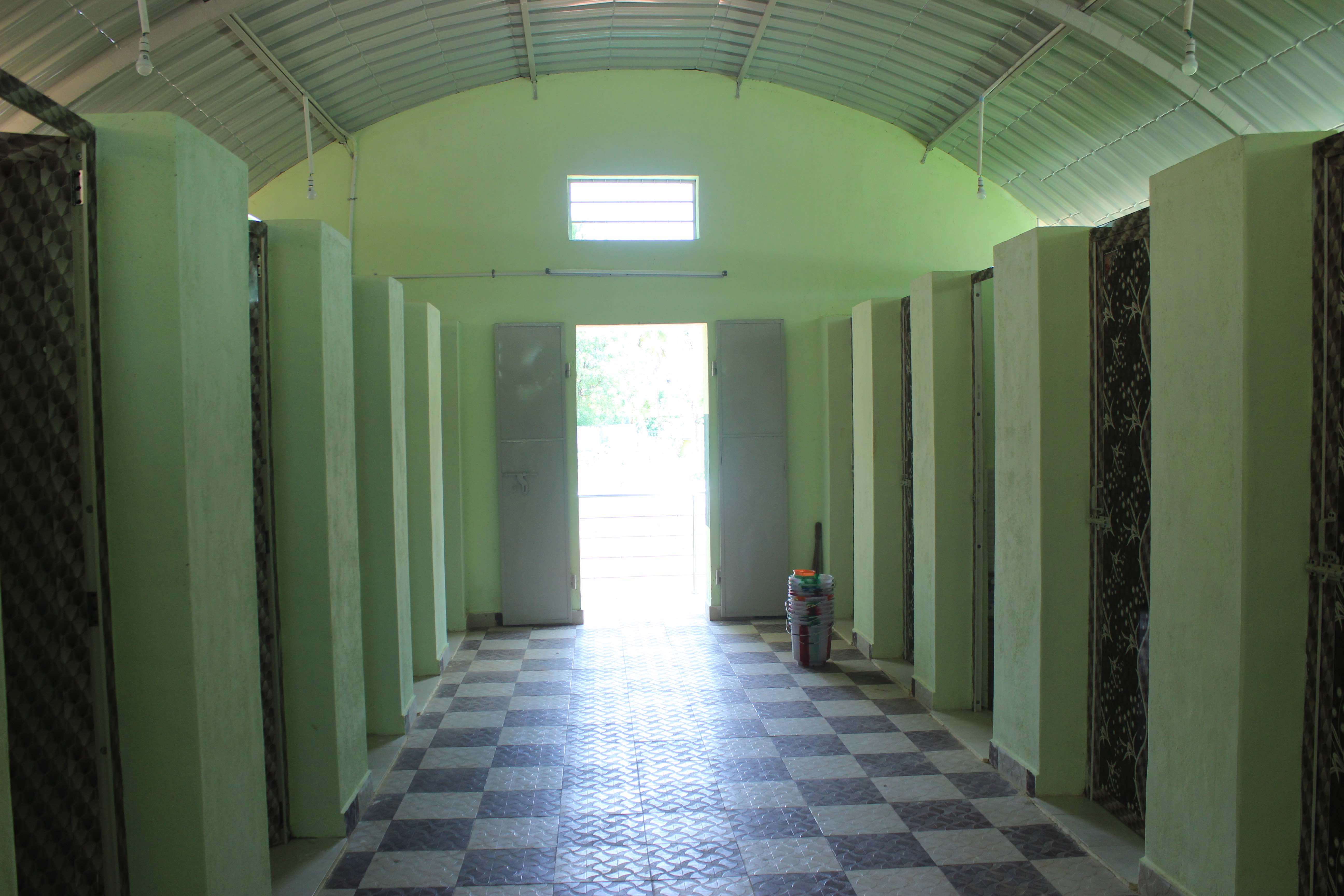 Also, two educational institutions under SST's ambit of operations proudly flaunt the distinction of having ISO certification—a rare feat for government schools across the country. One is a model Anganwadi located in Moolakaraipatti village, which is amongst only four ISO certified rural childcare centres in Tamil Nadu. The other establishment is a higher secondary school in Kariyandi.
Whether it was adopting a local crèche or providing monetary support to equipping a school with smart facilities to provide holistic learning growth for students, SST has dedicatedly invested and allocated its functionaries and resources to such institutions with the goal of helping children from rural areas not miss out on learning opportunities.
This coupled with sincere efforts of the local teaching staff has helped make these schools model examples for even private schools.
---
You may also like: Ragpickers to Entrepreneurs: How Women in This Maha Village Are Empowering Themselves!
---
SST has also worked extensively towards empowering farmers in areas under its focus and Thirukkurungudi is no exception. An exceptional project has been its de-silting initiatives across many villages in the region. Let's focus on Veppankulam as our example.
Many ponds surround vast stretches of farmlands here, but they dry up entirely during the summers – only replenished during the monsoons.
Recent years had seen an acute shortage of water, that was pulling down the already burdened shoulders of farmers in the area.
Following many deliberations with SST, a comprehensive plan to de-silt these water bodies and build localised bunds using the same de-silted soil was chalked up by experienced engineers.
The ingenuity behind this simple scheme also increased the water capacity of the ponds, allowing the to irrigate farms even in peak summer, while the bunds would ensure there was no displacement of soil.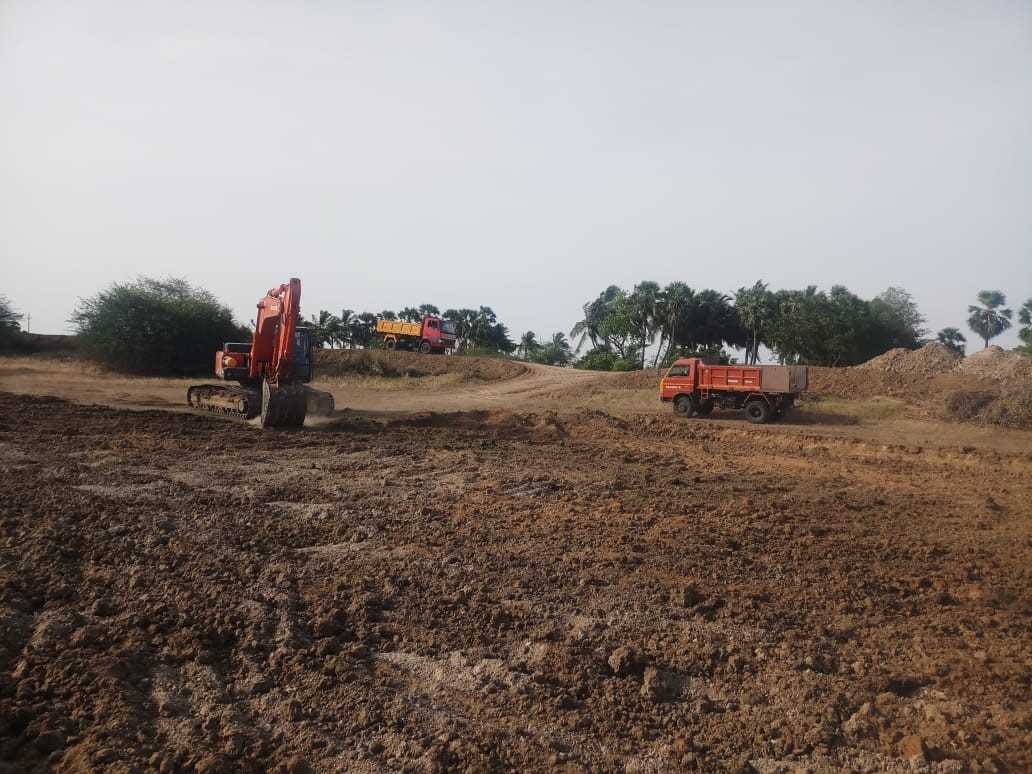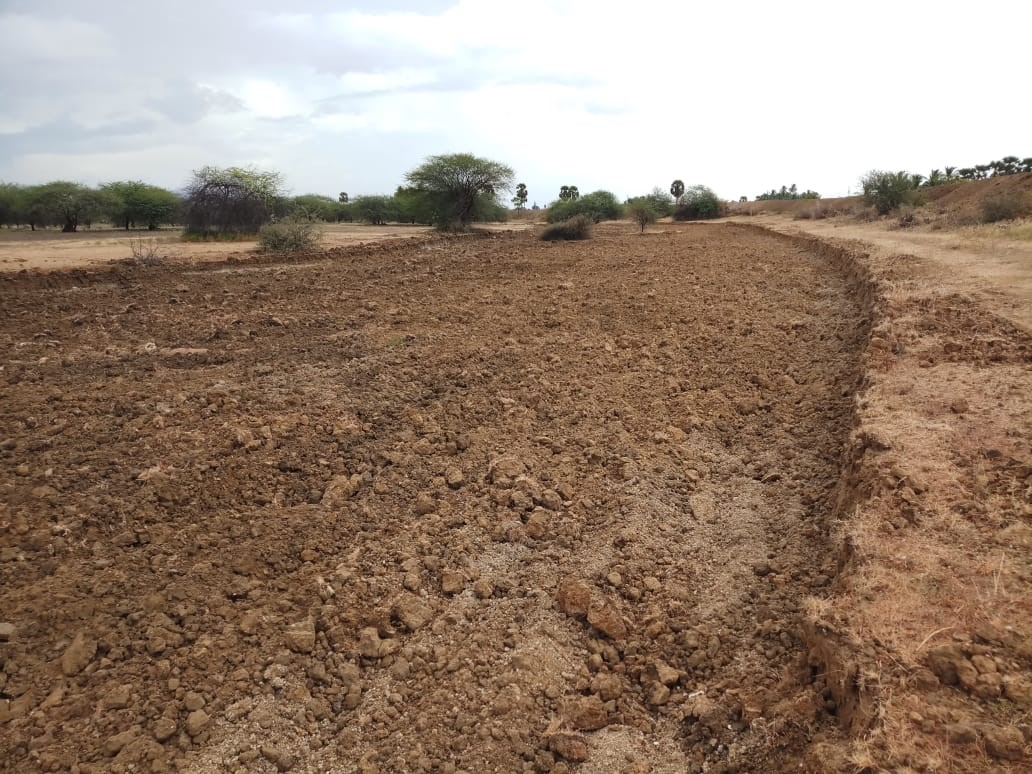 From a capacity of 2.79 Million Cubic feet, the identified water body, which is the only irrigation source in Veppankulam site, now has an increased capacity of 3.04 Million Cubic feet after de-silting. The pond collects rainwater from the Northwest monsoon lashing in the village from October to November and has benefitted about 200 farmers from Muthulapuram, Puthukulam, Retti Veppankulam and Meenatchinathapuam villages.
"Though the area once only catered to plantain farming, the increasing irrigation capacity has given us farmers the opportunity to try a hand at paddy, cotton and black gram cultivation as well," says Rani, one of the woman farmers from Veppankulam.
Venturing further into agriculture and especially towards sustainability, SST has also helped various farmer groups to embrace organic ways of farming in order to bring down the damage that harmful fertilisers and pesticides were inflicting on the environment.
This was easier said than done though. It took a lot of involvement and convincing on Samudra Lingam's part, who is the Village Development Officer (VDO) instated by SST, to bring the paddy farmers in and around Melasevval village on board.
Most farmers in the region were used to normal modes of farming – powered by chemical fertilisers and pesticides. This changed with SST's intervention about four years ago. Starting with educating them about the hazards of chemical usage to the perks of organic farming, the farmers were also told that the shift to organic was a gradual process with results emerging at a slower pace and one had to be patient.
These farmers were intensively trained on making their own organic fertilisers like Panchagavya and Jeevamrutham and pest repellent sprays that were made out of natural ingredients such as ginger, garlic and green chillies.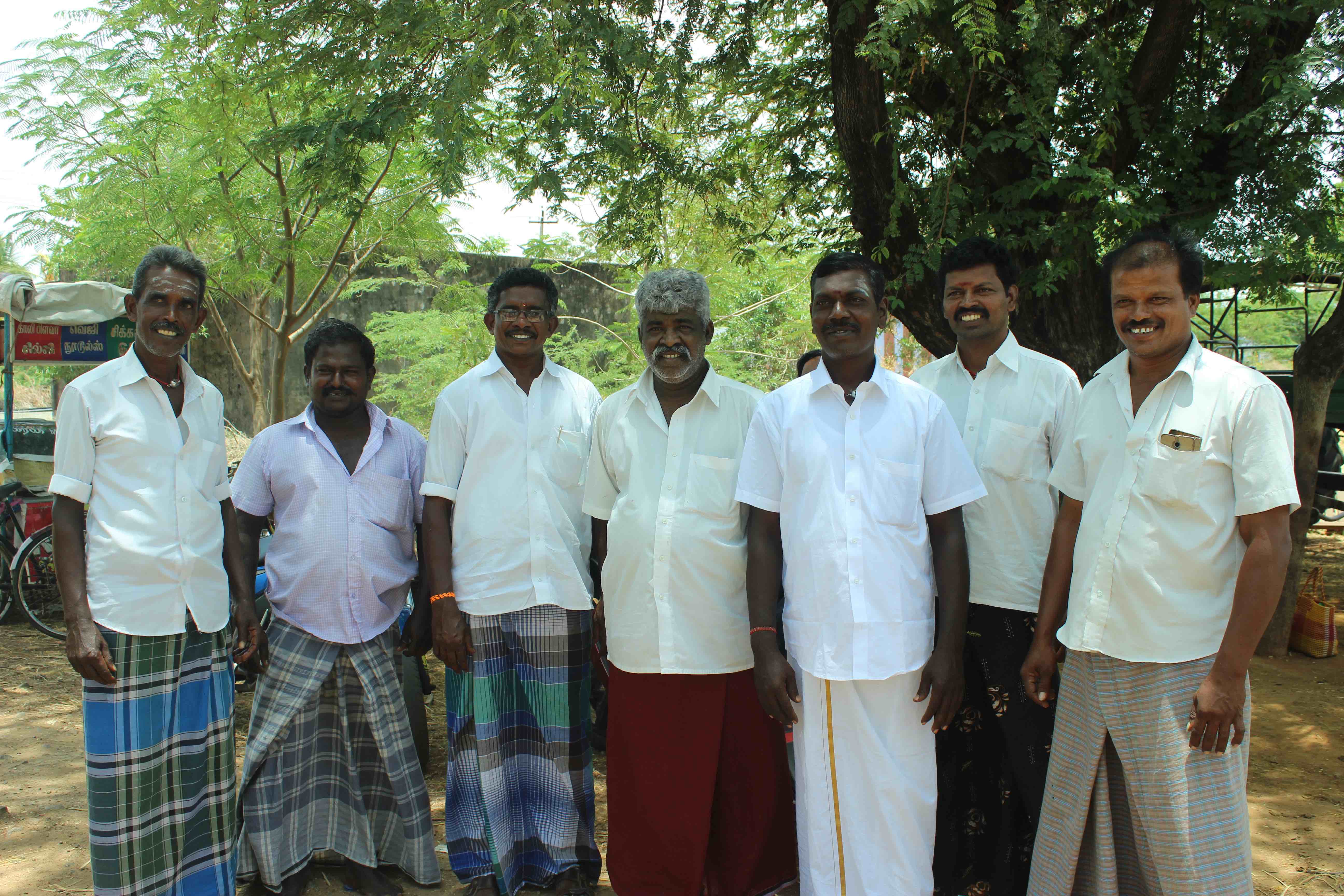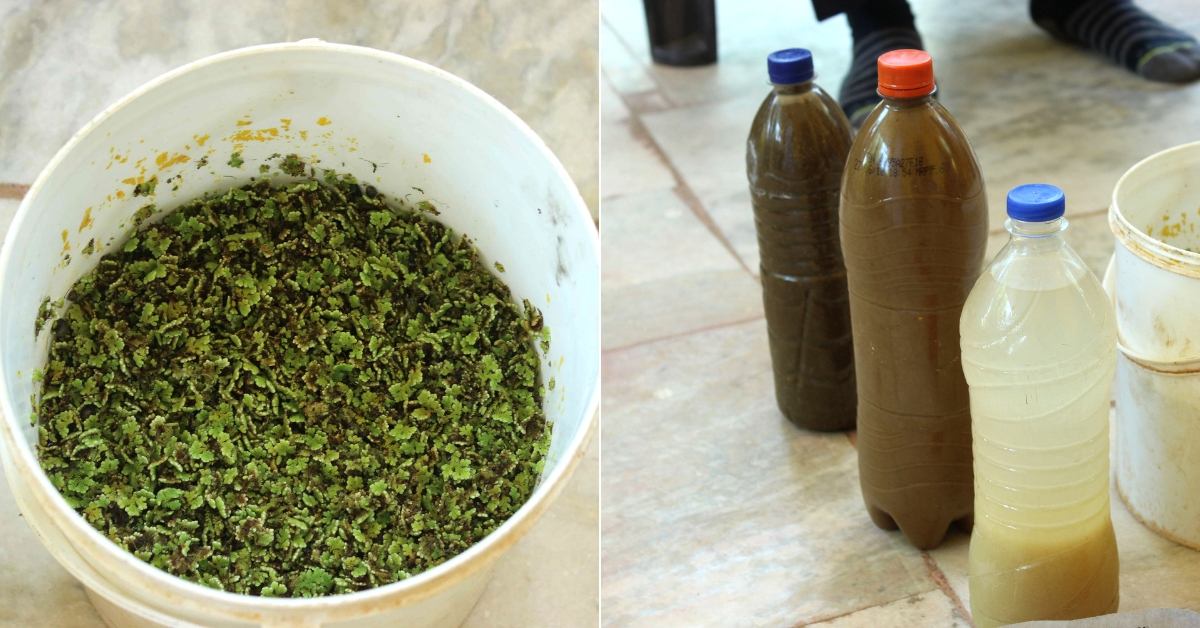 "The initial two years were hard but the farmers could slowly see a significant transformation in their crop quality as well as soil fertility. Making their own natural fertilisers and pesticides has saved the farmers from routing huge amounts of money to procure their chemical equivalents, leaving them with better savings for their family. Today, they are able to earn about ₹8-10,000 per acre with an increased yield of about 50 per cent in comparison with their earlier days," says Samudra Lingam, who is physically disabled. But that doesn't slow him down!
Also, a drastic improvement in their expenditure came with the inclusion of the wonder weed, Azolla—an aquatic fern – as fodder for livestock. Something that can be easily grown with seed procurement being the only initial investment, Azolla is quite nutritious for cattle in comparison to hay and worked wonders for both parties.
---
You may also like: Poverty & Struggle to Independence & Empowerment – Inspiring Stories of Change From Across India
---
The organisation also helped needy farmers easily avail equipment support like mechanized planters and power tillers that were supplied by the government at subsidised rates.
Over the last 21 years, SST has made it possible for the common people to dream and turn these into reality. From two villages in Tamil Nadu to 5000 villages covering 31.4 lakh people across five states in India today, the organisation is carrying forward the torch of hope for underprivileged people with better livelihoods and whose children are now able to avail better education and employment opportunities.
To know more about Srinivasan Services Trust and their initiatives, you can check out their website here.
(Edited by Vinayak Hegde)
Like this story? Or have something to share?
Write to us: contact@thebetterindia.com
Connect with us on Facebook and Twitter.
We bring stories straight from the heart of India, to inspire millions and create a wave of impact. Our positive movement is growing bigger everyday, and we would love for you to join it.
Please contribute whatever you can, every little penny helps our team in bringing you more stories that support dreams and spread hope.
Tell Us More