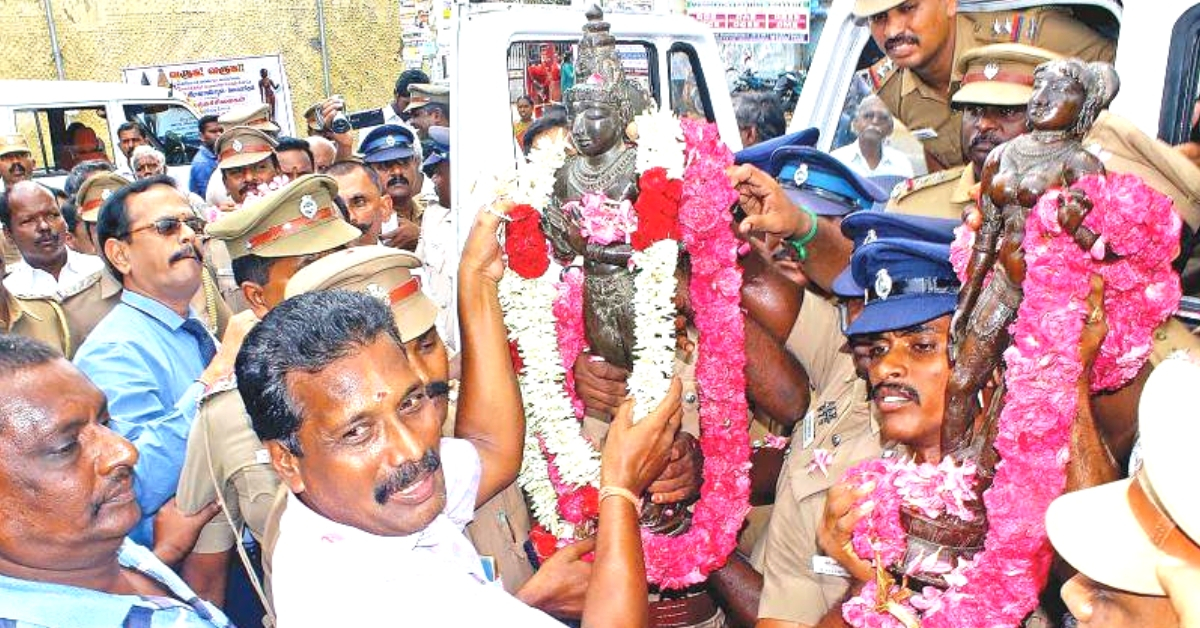 In a major raid, over 122 artifacts have just been recovered from the farmhouse of Chennai-based businessman Ranvir Shah.
Late last month, the Idol Wing of the Tamil Nadu Police's Economic Offences Wing, conducted a raid on the properties of Chennai-based businessman and art connoisseur Ranvir Shah retrieving (or seizing) 91 valuable antiques worth approximately Rs 100 crore, which law enforcement officers believe were first smuggled and eventually procured illegally.
Among the items recovered from his property were statues of Nandi (Lord Shiva's vahanam), panchaloha idols and pillars with intricate carvings, among others. According to law enforcement officers and the state Archaeological Department, these artefacts are over a hundred years old.
There is still much uncertainty about whether these particular idols and artefacts are illegal or not, but it does bring to the forefront a little-known division of the Tamil Nadu state government – one dedicated to stem the torrential idol and artefact smuggling in the state.
Until 1980, all cases of theft of ancient antiques, artefacts and other such items came under the jurisdiction of a small team of law enforcement officers under the Crime Branch–Criminal Investigation (CB-CID) Department of the Tamil Nadu Police.
In 1980, however, there was a sudden spurt in such thefts, particularly of panchaloha (five metals) idols or Chola period sculptures—crafted using five metals including gold, silver, copper, iron and lead, or in certain cases zinc or tin.
These thefts hurt the sentiments of many local devotees and responding to their anger the then Director General of Police issued a restructuring of the department and set up the Idol Wing CID to investigate idol theft cases in 1983, according to this Wall Street Journal article.
After the bifurcation of the CB-CID unit, the Idol Wing came under the Economic Offences Wing of the Tamil Nadu Police. As per Tamil Nadu Police website, the primary functions of the Idol Wing are:
-To investigate cases of theft of idols and antiques exceeding a value of Rs.5 Lakhs.
-To investigate idol theft cases referred to it by the State Government.
-To co-ordinate in the investigation of important idol theft cases handled by the District Police
-Collection of intelligence on nefarious activities of antique dealers and art collectors.
Although many have long known about the rampant smuggling of statues, pillars and other precious antiquities from Hindu temples across Tamil Nadu, it was only after the 2016 arrest of Chennai-based art connoisseur Govindaraj Deenadayalan that the issue emerged out of the shadows.
Smugglers would steal artefacts from temples across Tamil Nadu, present it to Deendayalan, who would then either sell them to wealthy businessmen or work with writers and scholars, offering pictures of these stolen antiques that they would use on the cover of their books.
Following last month's raid, however, IG Pon Manickavel has stepped up the ante and has given buyers a 15-day deadline to return any antique or artefact purchased without the necessary documentation to the police or face legal action.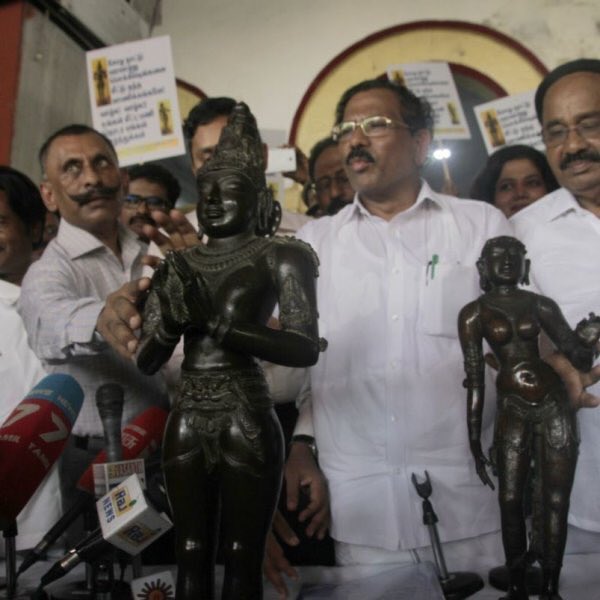 Will it hasten the process of high net-worth individuals declaring these smuggled properties? Hard to say, considering the Idol Wing's recent track record, but with the spotlight on them now some real action seems forthcoming.
One of the Idol Wing's major victories came in 2014 when the Australian government returned two ancient Hindu artefacts allegedly stolen from temples in Tamil Nadu.
Thanks to their meticulous work, they managed to trace and retrieve the sculptures of Ardhanariswara and Nataraja (avatars of the Hindu god Shiva) from two Australian art galleries—National Gallery of Australia in Canberra and the Art Gallery of New South Wales.
At the centre of these thefts was New York-based art dealer Subhash Chandra Kapoor, a smuggler with strong business ties to Deendayalan. It was Kapoor's arrest which led investigators to nab Deendayalan. Kapoor is still lodged in a Tamil Nadu prison.
Nonetheless, the sight of the then Australian Prime Minister Tony Abbott presenting the stolen artefacts back to Prime Minister Narendra Modi during the former's visit to Delhi left an indelible mark on those struggling to retrieve these treasures.
According to police officials, the biggest challenge "is to convince authorities by presenting impeccable evidence" that a particular artefact been stolen and needs to be returned.
There are no shortcuts when it comes to retrieving stolen items from abroad.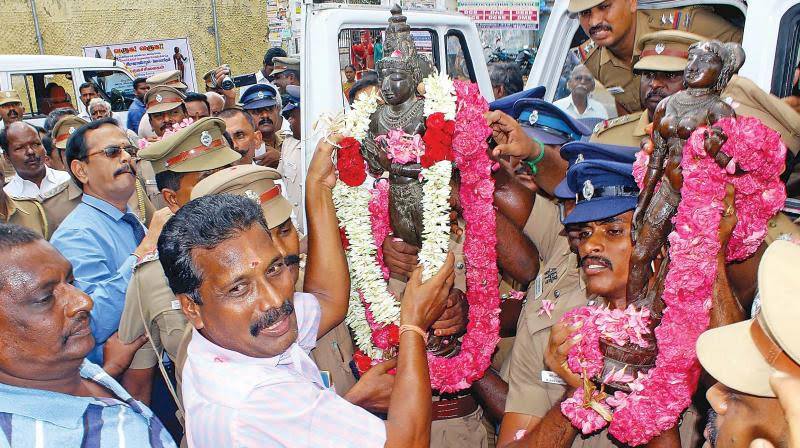 Although it's the police's job to retrieve and recover these precious items, the ASI and the Hindu Religious and Charitable Endowments (HR&CE) Department under the Tamil Nadu government, which manages and controls the temple administration within the state, haven't really covered themselves in glory either.
As per a recent report by the Comptroller and Auditor General of India (CAG), "security lapses" have resulted in the theft or loss of 37 art objects from site museums under the ASI and 131 antiquities from monuments and sites under their care in the past five decades.
"We noticed several examples of antiquities of national importance being sold and displayed abroad," the CAG report said.
There is definitely something amiss in government-run agencies mandated to protect and preserve these precious antiques and artefacts in Hindu temples across the State.
Smugglers probably cannot act with such impunity without some collusion. Or it could just be rank incompetence, which some would argue is worse.
Having said that, there are some institutional challenges before agencies like the HR & CE Department and ASI, which curtails their ability to do an efficient job.
For starters, one must note that not enough money is allocated to the maintenance and preservation of monuments and museums in Tamil Nadu. According to this Times of India report, the ASI only allocated Rs 5 crore for the maintenance of 413 monuments in Tamil Nadu compared to the Rs 22 crore Karnataka receives for 506 monuments this year.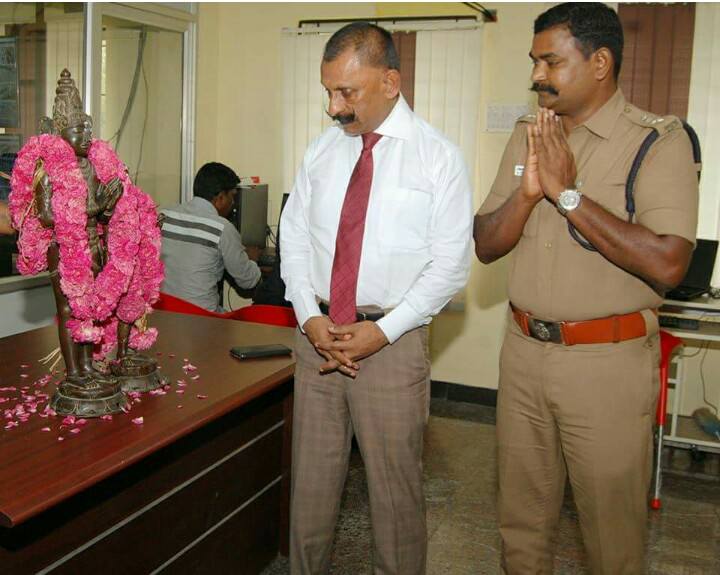 This disproportionate allocation of funds has hurt conservation efforts in Tamil Nadu. Speaking to the publication, officials at ASI say that they need Rs 10 crore at least to do their work with a semblance of efficiency, besides additional funds.
Since the HR & CE Department also oversees many Hindu temples and structures, the amount allocated to Tamil Nadu is less. Strangely enough, the revenue ASI generates from ticket sales cannot be used for its maintenance work. Instead, that money comes from the annual budget allocated each year.
It's a strange practice, and if the ASI does not have enough funds to maintain temples and other structures, the Tamil Nadu government must take over.
However, there is another problem here as The Hindu reported last year that the HR & CE Department suffered from a severe cash crunch. The state must spend more to maintain, preserve and protect these monuments or else smugglers will continue to sell the state's heritage to the highest bidder.
The state can begin with an expansion of the Idol Wing, which is severely understaffed and lacks the necessary resources. Initially, it was supposed to have 100 police officers working on these cases, but the state has only sanctioned 29 personnel for this wing, of which nine positions remain vacant, according to this Scroll report.
Despite these constraints, the Idol Wing continues to recover artefacts and antiquities using informants on the street to ascertain where a particular sale of smuggled items is happening, besides depending on volunteer groups.
Also Read: Who Were The Real 'Thugs of Hindostan'? Here's What History Says
According to HR & CE Department report published last year, approximately 1200 ancient idols were stolen from the temples of Tamil Nadu from 1992-2007, of which 350 are untraceable while 18 have been retrieved and 50 located.
In this context, the recent recovery by the Idol Wing does augur well for the future. Moreover, the HR & CE Department said last year that of the 36,595 temples under its jurisdiction, 11,500 have developed strong rooms that they believe will prevent future thefts.
The department, meanwhile, is looking to collect data on the security features of these temples further, and finding ways to enhance them, while the Idol Wing remains in the hunt of stolen items.
(Edited By Vinayak Hegde)
Like this story? Or have something to share? Write to us: contact@thebetterindia.com, or connect with us on Facebook and Twitter.
We bring stories straight from the heart of India, to inspire millions and create a wave of impact. Our positive movement is growing bigger everyday, and we would love for you to join it.
Please contribute whatever you can, every little penny helps our team in bringing you more stories that support dreams and spread hope.