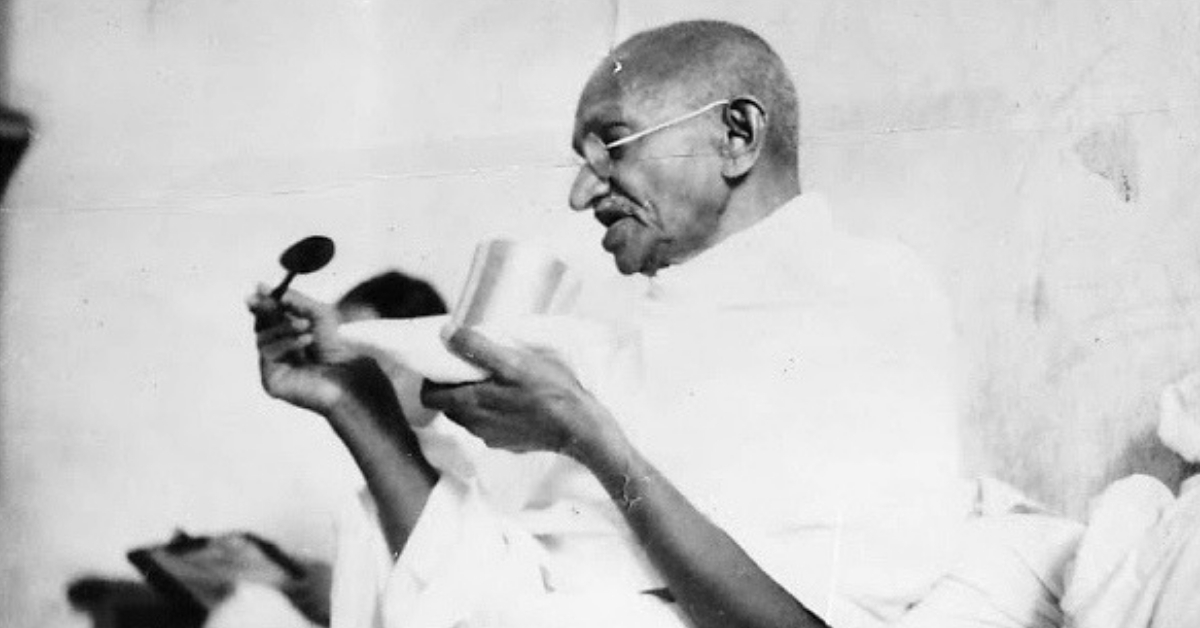 In his long struggle for Indian independence which lasted 31 years, Bapu fascinated several historians with his 'experiments with the truth'. But only a few ever explored the topic of his dietary habits.
Mohandas Karamchand Gandhi wore many hats–lawyer, civil rights activist, freedom fighter, even 'father of the nation'. How the petite man, with a loincloth and a walking stick, led the nation to freedom is a story retold endlessly.
But did you know that he undertook over 17 fasts during the freedom struggle? The longest of which lasted for 21 days!
From fighting in support of mill workers to advocating Hindu-Muslim unity, the man who earned the moniker of 'Mahatma' (Great Soul) and 'Bapu' (Father) used fasting as a weapon, as part of his philosophy of Ahimsa (non-violence) and Satyagraha (passive political resistance).
Bapu's fascinated many historians with his 'Experiments with the Truth' and the politics of his long struggle for independence. But only a few ever explored his dietary habits.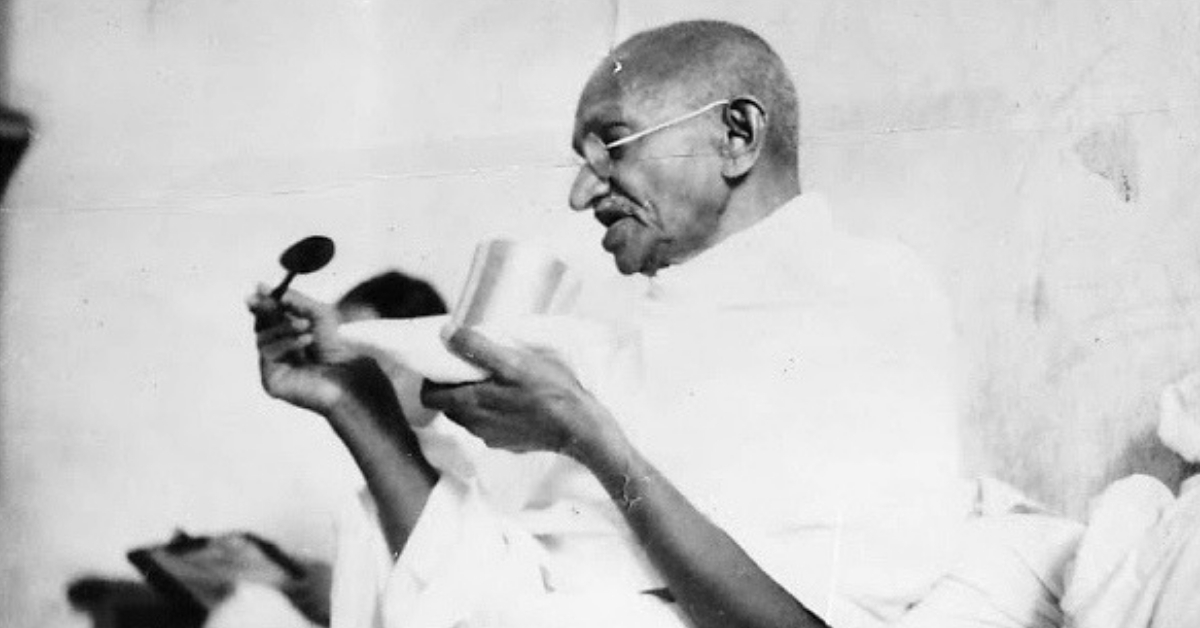 Bapu referred to his eating habits as "…a hobby of a lifetime…they are to me as important as many of the most important activities which have engrossed me from time to time."
This is a small attempt to decode the Mahatma's experiments with food.
He was born into a Vaishnav family, which forbade eating meat and eggs. As a child, he did consume them a few times during a rebellious stint. But the guilt he felt over his actions eventually made him give it up wholly.
Until Gandhiji moved to London to study law, he was 'a vegetarian due to custom and tradition'. In his book, Gandhi Before India, historian Ramachandra Guha writes how a slim copy of Henry Salt's Plea for Vegetarianism played a role in helping turn the young Bapu into 'a vegetarian by choice'.
He also discovered the London Vegetarian Society through his London roommate Josiah Oldfield. When he started attending their meetings with Oldfield, he was astonished to discover India had inspired people across the globe to turn 'vegetarian'.
Society members shared their surprise at how white soldiers found it difficult to survive without beer or beef – but Indians fought tooth and nail on a simple diet of rice and lentils.
Interestingly, the duo also threw parties at their 52 St Stephen's Gardens, Bayswater home, where guests were served lentil soup, boiled rice and large raisins!
Gandhiji also wrote books on food and health like 'Diet and Diet Reforms', 'The Moral Basis of Vegetarianism' and the 'Key to Health'.
In his later years, Gandhiji followed several dietary restrictions – he gave up all spices and ate boiled vegetables. His sensitivity to the treatment of animals in the dairy business made him choose goat milk over cow or buffalo milk.
Naturally, things weren't easy for the rest of his family at Sabarmati Ashram. In an article for The Times of India, Vikram Doctor writes about how it was difficult for Kasturba and other women in the family.
Sushila, who married Gandhi's second son, Manilal, was among those who had to follow the austere diet at Sabarmati Ashram. Speaking to her granddaughter, Uma Dhupelia-Mesthrie, who wrote Manilal's biography, Gandhi's Prisoner, Sushila says "I still remember that food – the boiled brinjal, boiled beetroot, some boiled mix in one curry, dry bread without butter, without ghee… I ate it like medicine."
Sushila's younger daughter, Ela, on her visit to Sevagram, told Bapu to rename the place to Kolagram or 'Pumpkin Village'. She was five at the time and evidently tired of eating the same boiled pumpkin dish.
In a conversation with Vikram years later, Ela let the food writer in on a secret. Even though the communal kitchen at Sevagram cooked the frugal food Gandhiji and his disciples followed, 'Ba' as Kasturba was fondly known, had a private kitchen where she made sweets for her grandchildren.
The evidence of this is a letter from 1942, which Bapu wrote to one of the ashram managers. "Mill sugar should not be bought. But so long as Ba is there, it will have to continue."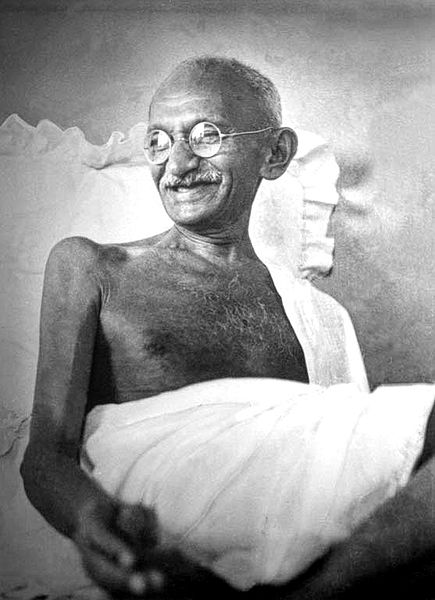 Apart from his followers, Gandhi often advised others on what to eat. Pramod Kapoor, in his book Gandhi: An Illustrated Biography, uses a series of 300 photographs to describe the more human side of the Mahatma. One photograph that truly piques the reader's curiosity is that of the diet plan Gandhi charted for his contemporary and fiercest political opponent Netaji Subhash Chandra Bose in 1936.
---
Read More: The 5 Attempts on Mahatma Gandhi's Life: Who, Why and When
---
In this diet plan, he writes, "Garlic and onion in a raw state are strongly recommended in the West. I take raw garlic regularly for blood pressure. It is the best antitoxin for internal use. It is also recommended for tubercular patients."
He continues, "I think the prejudice against these two harmless vegetables is due to the odour which is the essence of them and it arose with the rise of Vaishnavism. Ayurveda sings the praise of both unstintingly. Garlic is called the poor man's musk and so it is. I do not know what villagers would do without garlic and onion."
Bapu used a minimalist approach for his diet. His taste buds were simple, and his food–frugal. Almost like a reflection of his life. The expression 'you are what you eat', might be true after all!
(Edited by Vinayak Hegde)
Like this story? Or have something to share?
Write to us: contact@thebetterindia.com
Connect with us o n Facebook and Twitter.
We bring stories straight from the heart of India, to inspire millions and create a wave of impact. Our positive movement is growing bigger everyday, and we would love for you to join it.
Please contribute whatever you can, every little penny helps our team in bringing you more stories that support dreams and spread hope.