My early exposure to India's unfair obsession with fairness was when I saw a friend's grandmother rub scented chandan and gram flour rigorously on her 3-year-old sibling. "It'll make her look cleaner," the old woman exclaimed.
And through my formative years, all the ads that I came across–whether on television or billboards, in magazines or even in 'matrimonial sections' of newspapers, they only reiterated the stereotype that fair skin was superior to dark skin.
It was until the turn of the century that campaigns around 'dark is beautiful' gained momentum, with women challenging unreal beauty standards, moving to grace ramps, magazine covers, and TV commercials.
It gave me hope.
But even today, would it be fair to say India's obsession with fairness has toned down? Well, no.
An example of one such satirical post that attempts to challenge the country's fixation on 'fairness' and 'fairness creams' is going viral.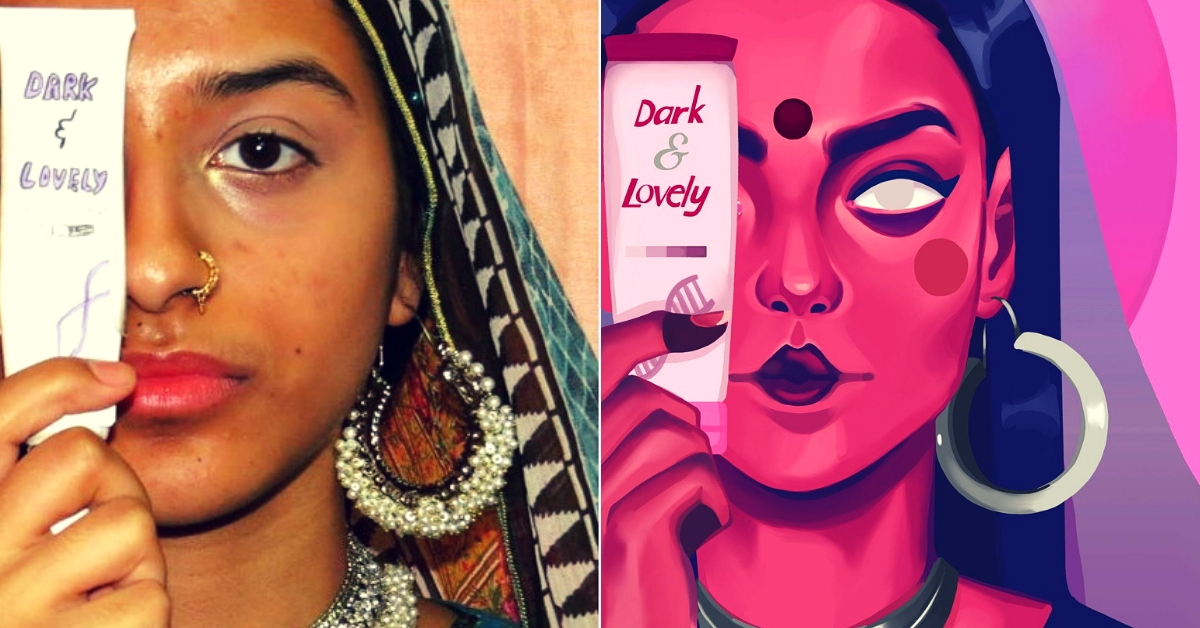 Log into Facebook, and you'll know exactly what we mean. An illustration by Bangladesh-based artist Waseka Nahar shows a woman holding a tube of a face cream called 'Dark and Lovely'. The tube also shows a 'daily darkness scale'.
Check the post below:
https://www.facebook.com/TriorylII/photos/a.548765428489702/2156800214352874/?type=3&theater
It may be captionless, but the powerful illustration, nonetheless makes you sit up and take notice. It helps us reflect on everyday instances that revolve around colourism and unrealistic global beauty standards.
It is also important to note that the digital illustration was inspired by a picture originally clicked by Pakistani artist Zainab Anwar, who is based in Canada.
https://www.instagram.com/p/Bn4F-_qnUnI/?taken-by=zainabxanwar
25-year-old Waseka spoke to NDTV about her art. She said, "Discrimination based on your skin colour is still prevalent. And fairness creams add fuel to the fire. Through my artwork, I want to address colourism. Zainab's picture symbolises that there is a certain 'stigma' – for lack of a better word – surrounding dark skin. The picture boldly says that dark skin is as beautiful as its counterpart."
---
Read More: This Mumbai Mom's Poem Will Make You Rethink Society's Obsession With Fair Skin
---
Zainab added how she took the photograph in her bedroom by self-timing her camera.
"The social message behind this is specifically directed to the Indian subcontinent which is why I am in traditional attire. Growing up, I had faced scrutiny for being 'dark', and my relatives would give me fairness creams. Thus, I thought of creating a tube with the opposite idea to make people question this whole industry which is promoting so much negativity and ultimately leads to greater issues such as racism," said Zainab.
While the photograph has garnered over 700 likes on Instagram, the illustration has over 5,000 likes, 200 comments, and 3,600 shares.
"I am truly speechless. I'm glad this has gone viral because now we can open up a conversation about acceptance and loving yourself as you are," Waseka signs off.
We hope that the two continue to inspire social change through art and that women across the globe feel beautiful in their own skin, no matter what its colour.
(Edited by Shruti Singhal)
Like this story? Or have something to share?
Write to us: contact@thebetterindia.com
Connect with us o n Facebook and Twitter.