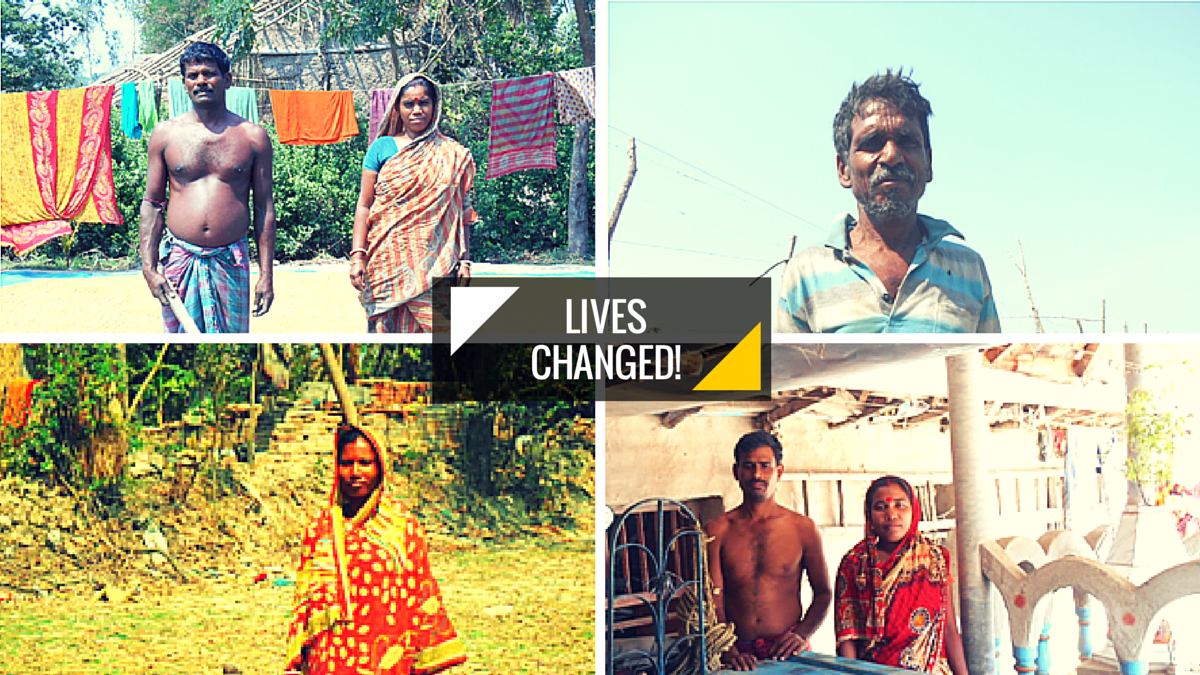 The biggest problem that people in rural areas face is the lack of livelihood options. The Mukti organization, through its Mukti Community Development Fund, is changing the lives of the villagers in a simple way. Here is the big impact these small loans have been creating in the lives of people in the Sunderbans.
An ideal village is one where women have a significant role to play in decision making
Mukti in the Sunderban area of West Bengal has been creating quite a bit of impact in the lives of people there (read our previous article on Mukti here). One of their initiatives that is creating entrepreneurs out of women is the Mukti Community Development Fund (MCDF) program. MCDF is targeted at women empowerment as it strongly believes that an ideal village is one where women have a significant role to play in decision making. And to make sure that women are not economically idle, MCDF was launched which enables women to pursue their own small businesses.
Working in one of the poorest districts of India has huge challenges
Currently, MCDF is working in 10 villages at Raidhighi in Sunderban, West Bengal. This area belongs to one of the poorest districts of India, lacking basic amenities and infrastructure.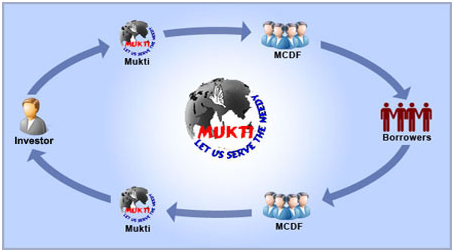 People here face a lot of financial troubles as microcredit tends to have high interest rates here as the microfinance institutions (MFIs) that fund these loans borrow from banks at high interest rates. Apart from this, loans for basic necessities like sanitation, drinking water and vocational training are not easily available as they need to be at low interest rates. Hence, there is an urgent need for availing low-cost loans.
A unique solution was easily implemented that helped these rural women a lot!
MCDF came up with an interesting solution by asking individuals to become social investors instead of donors. Firstly, by sourcing funds from all over the world, MCDF can provide cheaper credit (half of the existing interest rate) to  rural women. Secondly, the money they get as a form of loan does not hurt their dignity – as it is not a donation. Lastly, they tend to become more serious and passionate for their business as they have to repay the loan – which sometimes lacks in the case of donations. You can read more on the model of MCDF here.
Impact has been felt across various sectors of the rural economy – food, textile, poultry, agriculture & more!
Till date, more than 120 families have benefited from these low cost loans and training from Mukti's MCDF programme which touches various sectors like:
Food Business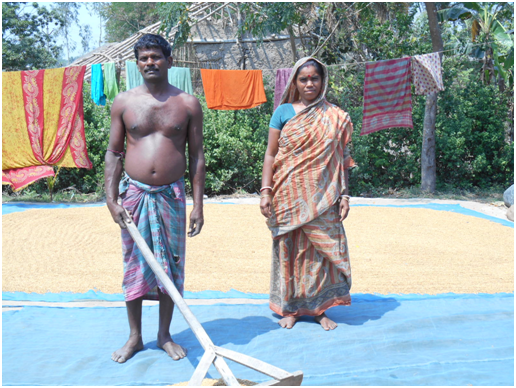 Brihaspati and Sannyasi Bag took a Rs. 10,000 loan through Mukti's MCDF programme for making rice out of rice grain. The entire process is done at home instead of going to a rice mill. In local language, the process is known as 'Bhanakuto'. At first, rice grain is bought from the market and boiled in huge earthen pots. Then it is dried and removed from the shaft. This business requires space, labour and a non-rainy weather.
The Sunderban being a rice-consuming belt, Mrs. Bag's average weekly turnover is close Rs. 11,000. Advised by Mukti's field officers, they have stocked rice grains at a lower price for the monsoon. Thus, with the seed capital, this couple booked nearly 100 percent gains in six months. As a next step, the Bag duo is planning to open a motor garage for their son from the business profit.
Transport Business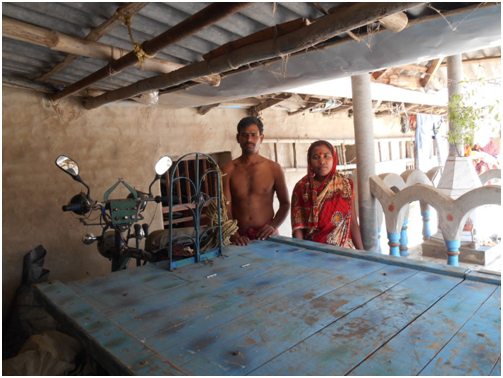 The Sunderban is a difficult terrain. The government does not provide transport facilities into the interiors of this area. From the nearest bus stand, one has to travel another 12 to 15 kms to reach their village. Hence, to tap the demand for local transport, Mrs. Pratima Dey and Uttam Dey took a loan of Rs. 10,000 from the MCDF project. With the money, they have bought a motor driven van. This van carries villagers of Purba Sridharpur village to and from Raidighi bus stand. After incurring expenses, their monthly savings h as been nearly Rs. 6,000 for the last 18 months.
Poultry Business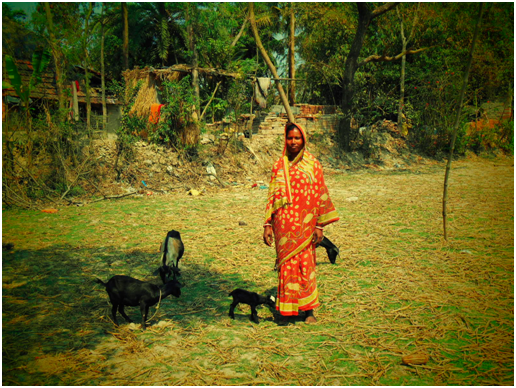 Mrs. Mira Bhandari took up cattle rearing and fishery business with the help of MCDF. She took training from the self-help group organised by Mukti. With the borrowed amount of Rs. 8,000 she purchased six goats and spent on their up-keep. This business did not just break even in six months but she also made Rs. 4,000 profit by selling the older goats. There is zero investment in the second cycle other than the food for the goats. In the fishery business, ably helped by her husband and children, she is making Rs. 40,000 to Rs. 45,000 profit each year. MCDF is really turning out to be an 'angel investor' for these villagers.
Agriculture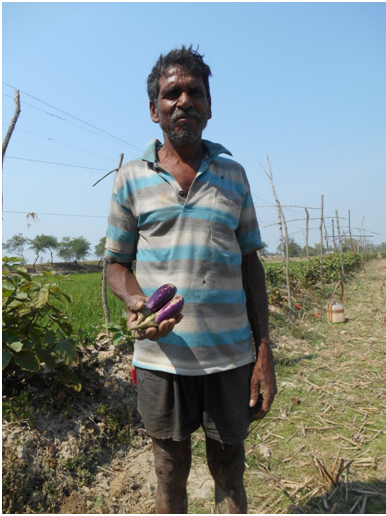 For MCDF, giving out money is dependent on the strategic and long-term benefits to the community. This is why it lent money to Mr. Biswanath Mondal for organic farming. By using cow-dung, jaggery and besan (Bengal gram flour) as the inputs to the soil, he is growing organic brinjal and rice in his fields. He might not be getting the same margins he was enjoying earlier by using pesticides – but it gives him satisfaction. He is working on the shortcomings of the agricultural products but is happy producing natural things. He is earning Rs. 5,000 to Rs. 5,500 every month with the seed capital from MCDF. Now, this organic farmer is planning to take more loans from MCDF in order to scale up.
Textile Business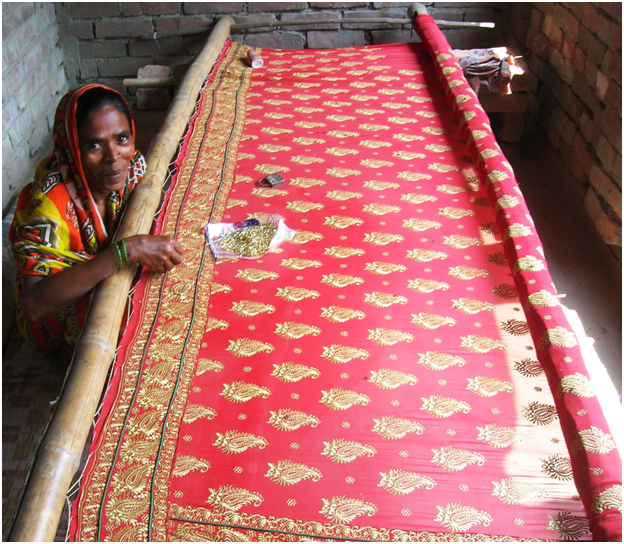 Sahida Seikh took a loan of Rs. 5,000 for creating Zari work on sarees. For processing, a wooden frame with some accessories needs to be procured and that costs about Rs.5000. The sarees, zari and stitching materials are supplied by the vendors/shop-keepers. The labour charges vary from Rs.800 to Rs.1500 depending on workmanship, and 4-6 sarees can be completed in a month. In the second year itself Ms. Seikh no longer requires external funding.
So, it can be seen that MCDF has guided profitable ventures across sectors. However, not all businesses were profitable. A couple of women who took loans for poultry business suffered a loss. The reason being night attacks by foxes and hyenas and the extreme temperatures in the Sunderban belt. This event has been a learning for the Self-Help Group. The poultry business requires scale. As a solution, MCDF is now imparting loans in the poultry business to groups and not to individuals.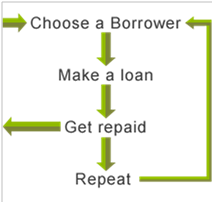 Wondering how does all this really work on the ground? Here are some insights
Under this program, 100% of the lending amount goes to the borrower. The principal is used by the borrower and the interest is used by the Self Help Group to meet the administration costs. Once the tenure is over, the social investor gets back the principal amount. If one wishes to keep the principal invested, the same amount can be repeatedly used to fund more borrowers. That's how a small amount of money goes a long, long way.
Various economic studies have revealed that these cheaper credits have helped families and villages come out of the poverty trap. Successful borrowers brimming with confidence are approaching MCDF for higher denomination loans, even amounting to Rs. 1 lakh!
The MCDF program officers state that this is satisfying, but not something they encourage. Mukti wishes to partner with these poor families till the time they come out of poverty. Once they stand on their feet, for expansion and commercialization, they can contact government agencies and banks. MCDF funds projects to the magnitude of Rs. 15,000 for a year. Rather than giving a loan of Rs. 1 lakh to single individual or group, they would rather touch 10 different families by distributing Rs. 10,000 each to them.
After being unemployed for over 30 years, his life has now completely changed thanks to a small loan.
Mukti, through its MCDF project, has brought together the right areas of economics, risk management, environmental sustainability, sociology and social media to change hundreds of poor lives in the Sunderban area. Sankar Halder, the President of Mukti, recounts having sugarcane juice at a roadside stall during a visit to one of the villages served by Mukti. The shop-keeper divulged to him that he had spent the first 30 years of his life being unemployed and doing menial jobs occasionally. Now, with an MCDF loan and technical help from them, he grows sugarcane, sells the juice and above all, can stay with his family in the village. For Mr Halder, the juice became sweeter.
Like this story? Or have something to share? Write to us: contact@thebetterindia.com, or connect with us on Facebook and Twitter (@thebetterindia)
About the author: Saunak resides in Chennai and is a business consultant with an IT company. He has around 7 years experience of volunteering work with rural orphanages, down-syndrome NGO's and corporate volunteering teams. Saunak is also a happy social investor with various community development funds aimed at poor women entrepreneurs. Lastly, he is a student of development economics who likes to learn the psychology, finance, risks, policies & use of technology associated with the lives of the poor and marginalized of the society.
We bring stories straight from the heart of India, to inspire millions and create a wave of impact. Our positive movement is growing bigger everyday, and we would love for you to join it.
Please contribute whatever you can, every little penny helps our team in bringing you more stories that support dreams and spread hope.