Potholes have become an inescapable part of Indian roads. Citizen complaints and campaigns for better and safer road have become commonplace with the onset of monsoon each year.
Tired of the ever-prevalent excuses thrown out in defence of pothole-ridden roads, an engineer had come up with a solution way back in the early 1980s!
Prithvi Singh Kandhal is a civil engineer who has contributed immensely towards the asphalt road construction technology. He was the Chief Asphalt Engineer for 17 years in the Pennsylvania Department of Transportation (PennDOT) and was later the Assistant Director for National Center for Asphalt Technology (NCAT) at Auburn University for 30 years.
It was at PennDOT that Kandhal came up with a cold patching mix that could fix potholes in a simple and seamless manner.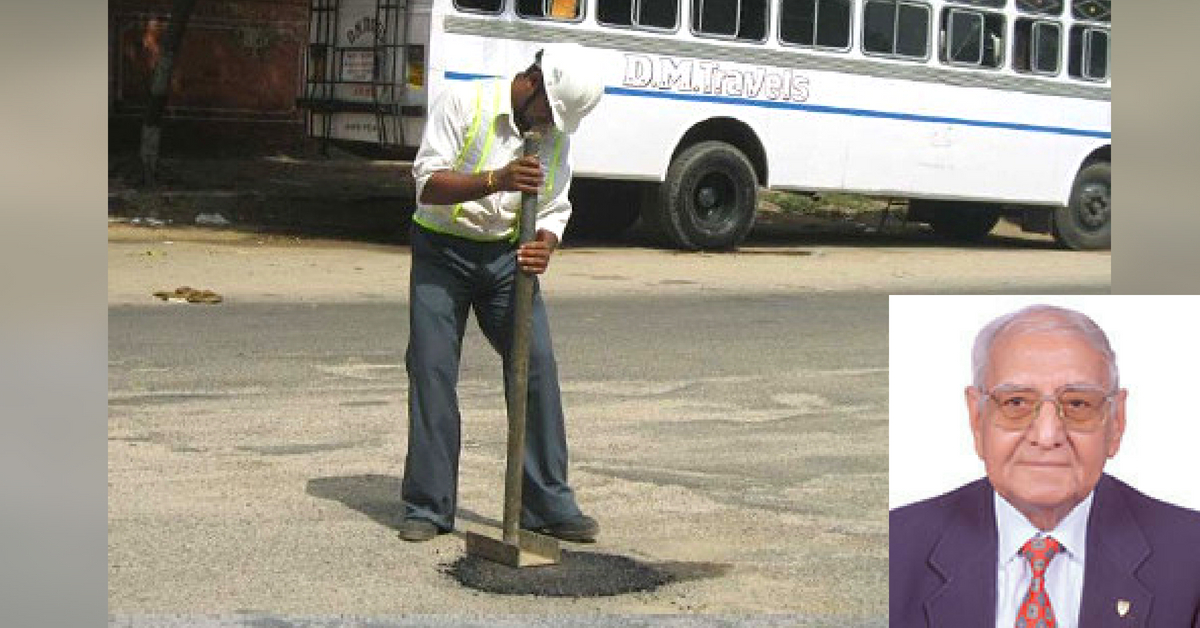 Formally dubbed as the 'Kandhal Mix', the ready-to-use cold asphalt mix, can be poured into the pothole directly, unlike the traditionally used hot asphalt mix. Once poured, the mixture is set by using a hand rammer, upon which a layer of sand or dry leaves is spattered, and vehicles are ready to go.
And what's more, the versatility of the mix has been tested out in Jaipur, where the mix has been in use since 2010. Now, the mix is set to be used by Bengaluru's Bruhat Bengaluru Mahanagara Palike (BBMP) free of cost.
Kandhal firmly believes that pothole roads are an archaic problem for today's modern times. For the public to have a safer road experience, the engineer has not even patented his mix! You can read about his research here.
The Kandhal mix is a cost-effective replacement for conventional methods, with a production cost of Rs 6 per kilo, it could be an effective solution not only for Bengaluru's road.
Previously, the conventional method involved cutting around the potholes to avoid the previous faults on the road and then filling it up with hot mix asphalt. The process can take at least two days, while vehicles and commuters remain at risk; while the production and the labour costs too are not constant.
In Construction Week Online, Kandhal scoffs at the slow pace at which India is adopting the new technology. He says, "With the availability of this mix, there is no excuse to use 19th-century technology for filling potholes. We have the specifications; cost analyses; success story of this mix in Jaipur — essentially, everything you need for calling tenders. Do we still have an excuse?"
Kandhal was inducted on the "Wall of Honor" established at the National Center for Asphalt Technology (NCAT), USA, in August 2011, the largest asphalt road research centre in the world. Though the Kandhal mix has been approved by the Indian Road Congress in 2014, the adaptation of the mix has been sluggish.
(Edited by Shruti Singhal)
---
---
Like this story? Or have something to share?
Write to us: contact@thebetterindia.com
Connect with us on Facebook and Twitter.