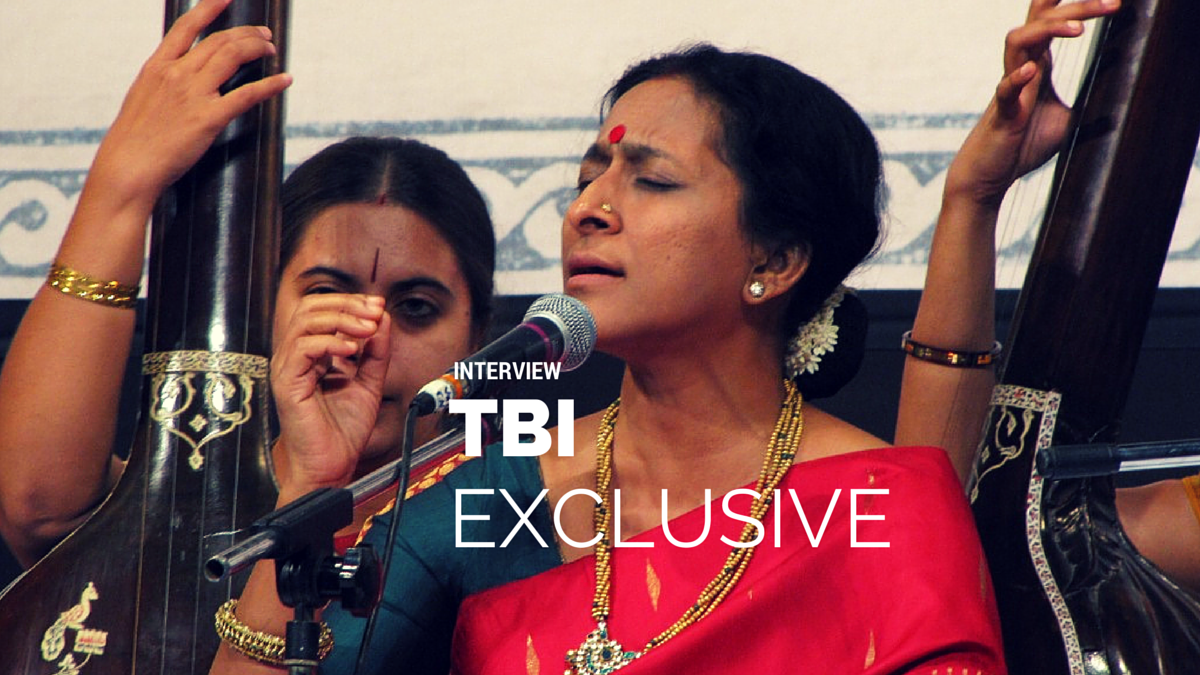 Bombay Jayashri ramnath needs no introduction, apart from working with several international and national artists, this Academy award nominee is doing some amazing work by sharing her art with children with special needs. Know more about her various initiatives in this exclusive interview with TBI and how she is changing lives of many autistic kids.
Bombay Jayashri Ramnath needs no introduction. Apart from working with several international and national artists, this Academy Award Nominee is doing some amazing work by sharing her music with children with special needs. Know more about her various initiatives in this exclusive interview with The Better India and how she is changing lives of many autistic kids.
We arrived at Sampoorna Music Therapy Center and found ourselves amidst a beautiful ambience, a small green garden, the soothing sound of wind chimes and a serene environment. It was a perfect place to meet one of India's best classical singers and the Academy Award Nominee Bombay Jayashri Ramnath.
Autistic children and music – the genesis of an idea
Sampoorna Music Therapy Center was started a few years ago thanks to the joint efforts of Ganesh Anantharaman, his wife Kavita, Bombay Jayashri and many other volunteers along with the wonderful team at India Inclusion Summit who has been pushing forward the cause of inclusiveness in our mainstream society.
I could feel the passion and emotion in her voice when Jayashri talked about her work with autistic kids. After 15 minutes into the interview, the quiet atmosphere was suddenly broken when a bunch of children who were eagerly waiting for her performance, entered our room and started playing around with the things there. Diagnosed with ADS (Autism Spectrum Disorder), these children were very lively and eager to interact. Not wanting to distract the interview, the teacher took them down for a music session. And as I heard the melodious sound of music, the children stopped being loud. They suddenly became calm and started enjoying the music.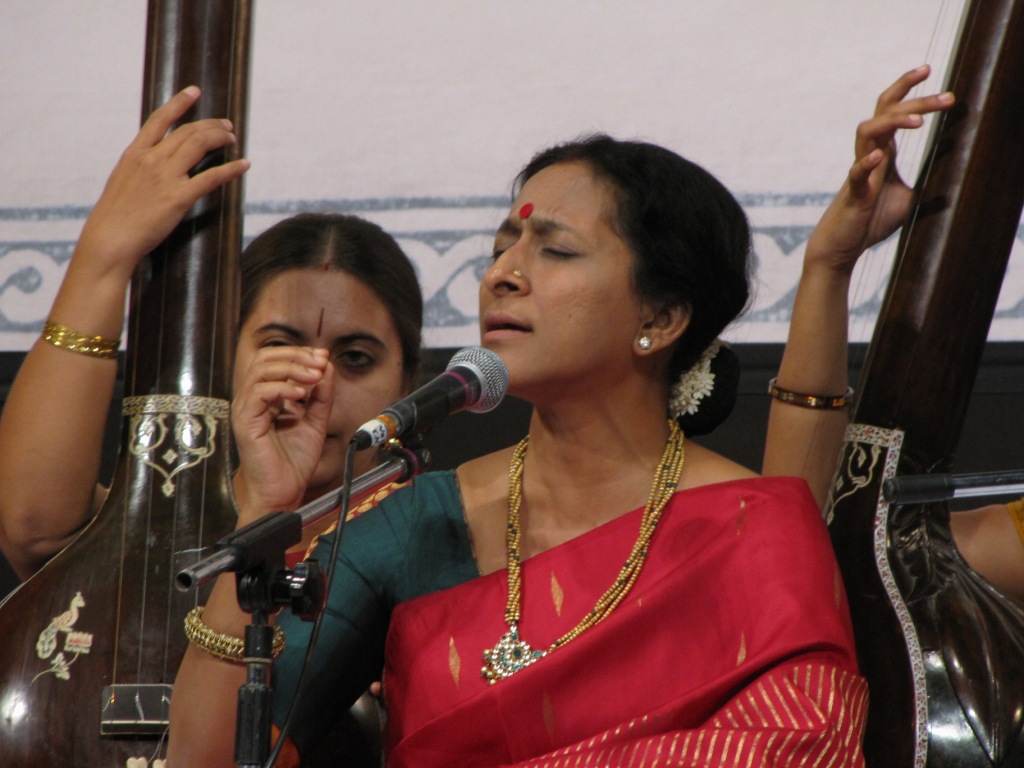 I personally saw how music was impacting the lives of these kids with special needs. We witnessed it ourselves and we couldn't help falling in love with the work Jayashri and the entire Sampoorna team was doing!
A great singer, and an even greater human being
We all know about Jayashri's great music career and her performances with well known national and international artists. And of course we cannot be proud enough for her Academy award nomination in 2013 for writing and performing "Pi's Lullaby" in the motion picture "Life of Pi". However, her awesomeness does not end there!
Apart from being an amazing artist, she has been working extensively with autistic kids and is an important part of Sampoorna Music Therapy Center where she shares her art with kids with special needs.
From her tryst with music for kids with special needs to changing patterns in the music industry, Jayashri touched many grounds in her exclusive interview with The Better India:
When did you first realize that music could be used to bring a change in the lives of children with special needs?
A few incidents and experiences in my life have made a great impact on me. I was in a concert in Dubai some years ago. After the concert a child aged around 10 years came up to me and fiercely kept repeating, "you sang everything wrong". I was taken aback and then his mother quickly ushered him away. The next day at a dinner related to that concert, his mother apologized to me and explained that her son is autistic and listens to my music regularly. She mentioned that perhaps what I sang on stage was different from the recorded CD that her son listened to daily.
I was touched and when I re-checked my performance I figured out that I had made some mistakes on the stage which this small kid found out! I was so inspired by this boy. He has listened to my music so passionately and he attended my concert with the same concentration and most importantly he had the courage to come up to me and tell me that I was wrong. I felt he wanted to tell me that you can do better and why didn't you give your best! That was really my first insight where my music was being listened to by someone with such needs.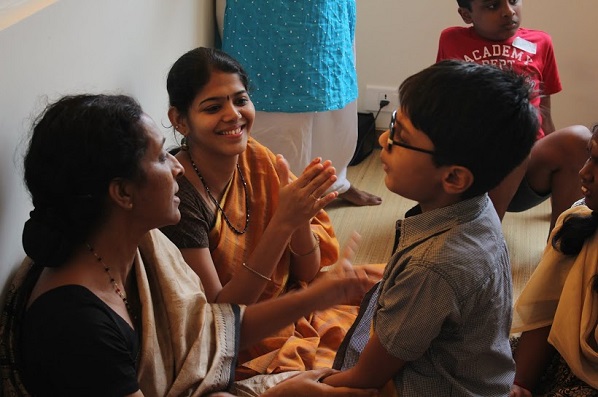 What made me pursue this field was Kavita's (who is one of Sampoorna's founder) son. When I met him he was three and half years old and he was singing a line which is actually quite difficult to sing for an untrained person and takes years of practice to master. His voice had that kind of purity – I am not talking about perfection of the tone – but the purity was there to feel in his voice and face. He would listen to a song repeatedly and would catch exactly that part of the song that he liked. It was amazing to see his concentration. For most of us it is hard to pay such detailed attention to anything but this child's concentration was very unique. Since then, I have had numerous experiences which have validated our thought that music can indeed help these children.
Is there a particular method that you follow while sharing your music with children with autism?
Autistic kids are usually tend to follow routines, time based routines or place based routines. With music we don't do something like that. We just place the music around them and let them immerse into it. And let each child take as much as he wants and the way he wants to. Music has always brought a sense of calmness, happiness – in fact words really can't put together this experience. The songs I try to sing – I won't call them Carnatic music – employ more of alliteration and is the kind of music that instantly pleases the ear.
Over various sessions, we create many songs to suit the moods and interests of the kids. Songs that they can sing and relate to.
What is the kind of change you see in a child through these music sessions? And at the same time what impact did it have on you?
In a period of about 6 months, I have seen the changes in these children and how calm they have gradually become. I cannot quantify the impact but I can feel the change and difference in their attitude and behaviour. I can see the change in the parents' eyes and their behaviour too. Often when the parents enter the room for the sessions, their posture changes, they sit in a relaxed mood with shoulders down, eyes closed and a feeling that nobody is going to disturb me for next 45 minutes. Kids are letting their parents relax and enjoy the music and they become calm too. We have met some parents who said that we have always been told what our child "cannot" do, it is for the first time here that someone is showing us what our child can do.
By seeing the way these children take to music and then embrace the singers, there is little else we could ask for. This love of the children is really pure love, with no strings attached!
You are an artist and at the same time you share your art with these kids. Which role do you enjoy more – performing or sharing?
It is a very difficult question to answer. Both are close to my heart. But if I had to choose one then I think sharing is a place where I feel free. I feel when I share my music it is going beyond the people who have come to attend the concert because they have bought the ticket. It is beyond the threshold of judgement and critique. Here nobody is expecting perfection. They are here simply because they've begun to love music.
Any interesting or touching experience you've had with these children that you'd like to share?
There is a very popular song Manasa Sancharare and I have also sung it numerous times. Now, there was a child named Manas who would listen to my version of that song daily as he believed that I had sung that song for him. He even used to keep the cassette cover under his pillow before he slept every day. I had never met this child ever in my life. And when one time I happened to be in a gathering where he was too, he suddenly heard my voice, came upto me and hugged my knees tightly. Apparently he had recognized my speaking voice and figured out that I was the same person singing to him every day! Though autistic children are reluctant to communicate with strangers but this child had not thought twice before hugging me. I can still feel what I felt then. I still remember the warmth of that hug and the purity in his emotions. And music had brought us together.
You have also started the Hitham Trust that focuses on kids in rural areas and children with disabilities. How hard it is to teach music in those areas where even basic necessities are hard to access?
It is in fact much easier! In rural areas, the mind is not distracted. Here in cities the children have a hundred other things to do – sports classes, then some birthday party and then some social gathering etc. In villages the children look forward to our visit and give us their undivided attention. Because of this they pick up the teachings really fast. It is a rewarding experience for all of us.
You have been practising music for over two decades now. What is the change you see in the music industry today?
Music is constantly changing. Rapid changes have especially happened in the last 3-4 years. We have started using technology extensively too. Earlier we had just one spot light for the entire duration of the concert. Today, there is a lights person, stage set-up, props and many other things. I guess the audience is also getting used to this change and they expect various elements to enjoy the show more.
In my initial days, when I was learning, we were not allowed to record or take notes in the class. It all had to be stored in my mind. Today, the students record everything and this way, unfortunately they are postponing learning. Also, audience back then was much more patient, it would wait for an artist to improve and reach perfection. Today the audience doesn't have that much patience and time. Of course, at the same time kids learn things early and quickly. Kids as young as 17 have travelled the entire world and sing much better than how I used to sing when I started my career at that age.
To know more about Bombay Jayashri's work, check out her website.
Sampoorna Music Therapy Center has been supported by India Inclusion Summit. To know more about IIS and to register for their 2014 event, click here.
Like this story? Or have something to share? Write to us: contact@thebetterindia.com, or connect with us on Facebook and Twitter (@thebetterindia)
We bring stories straight from the heart of India, to inspire millions and create a wave of impact. Our positive movement is growing bigger everyday, and we would love for you to join it.
Please contribute whatever you can, every little penny helps our team in bringing you more stories that support dreams and spread hope.