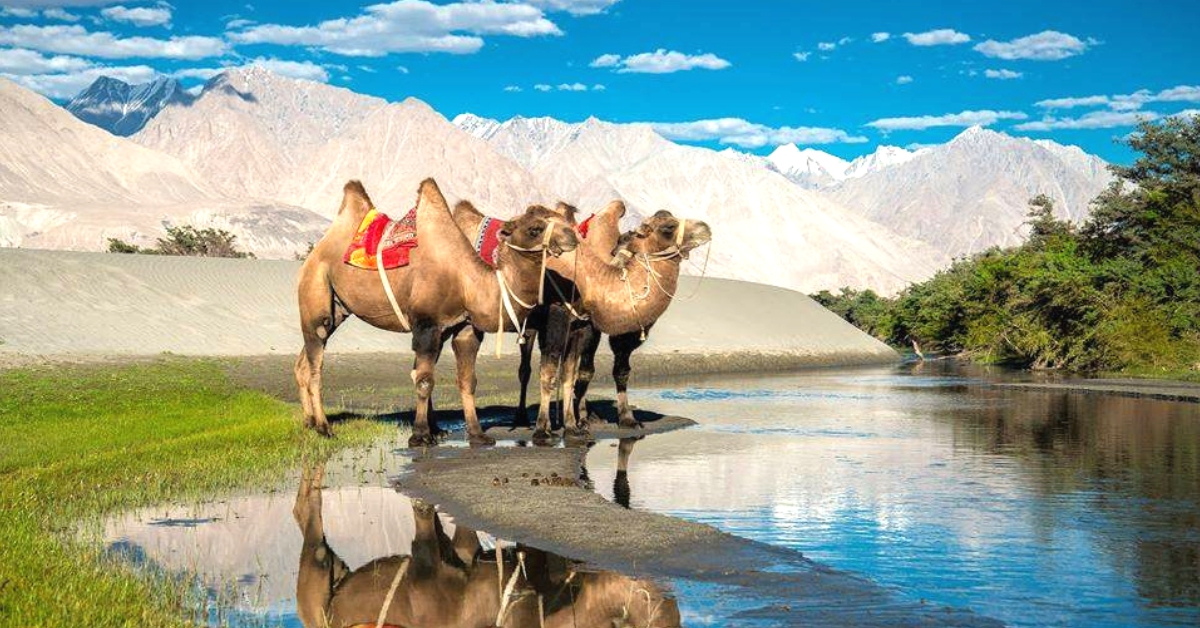 Once on the verge of extinction, they are now making a comeback. Considering how cute they are, this is definitely a reason to celebrate!
Once an important transit point along the ancient Silk Road, Ladakh today is an isolated border region of India. For centuries, traders from Central Asia, West Asia and Europe would traverse these international trade routes passing through Ladakh with their salt, grain, pashmina wool, cannabis resin, silk yarn, cotton and indigo, among other products.
Traders from the Central Asian steppes would make that journey along with the Bactrian or the double-humped camel, which would carry with them heavy loads of fruits, spices and silk, among other goods across the rugged terrain.
With the ability to carry loads up to one quintal and work for six to eight hours per day, these camels were important players in the great trade game.
According to local historian Haji Abdul Razzaq Jamsheed in his book 'The Tale of Nubra Valley', the Bactrian camel first appeared in Ladakh in the 1870s. These camels were brought along by travellers and traders from Yarkand in Xinjiang province of modern-day China. Once this route shut down in 1950, some of these camels were left with local traders, while the injured were sold.
Unfortunately for the Bactrian Camel, new nation-states came up, bringing with them a realignment of international borders and leaving them stranded and abandoned in Ladakh's Nubra Valley. With modern vehicles making their way, these camels were of little use. Overlooked, these camels barely managed to survive. By the turn of this century, they were nearly extinct.
Fortunately, since the early years of the 21st century, things have begun to drastically improve for the camels, thanks to the residents and merchants of Nubra Valley.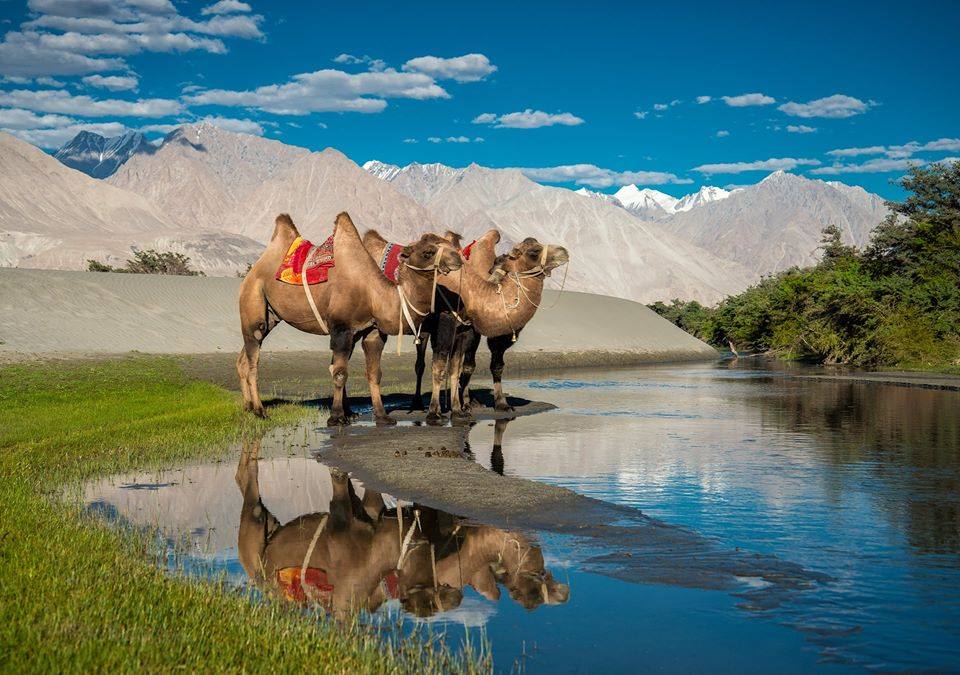 So, what is the Bactrian Camel? According to this paper in Current Science, a scientific journal, it is "a large even-toed ungulate native to the steppes of central Asia". Unlike the single-humped Dromedary camel found in the Thar desert, Rajasthan, these camels have two humps on their backs.
In a column for The Hindu Business Line, Sudhirendar Sharma, founder of the Eco-logical Foundation, New Delhi, writes: "This camel is of immense interest to researchers as it can withstand temperatures as low as minus-40 degrees Celsius; has high disease resistance; and very high feed conversion efficiency. What is more, the double-hump camel can propagate naturally, roaming and grazing in the range-land all year round, without any supplementary feed."
Akin to their Arabian cousins, these camels barely sweat, which allows them to conserve fluids over extended periods of time. When they do refill, they can soak up water like a sponge. According to National Geographic, a "very thirsty animal can drink 30 gallons of water in only 13 minutes".
From the early 1980s, when a mere dozen of these double-humped camels were sighted and suggestions about their extinction grew louder, their numbers have gone up to nearly 220 today, "including 21 calves below the age of one year. The camel population is largest in Hunder village (encompassed by picturesque sand dunes), followed by Sumoor, Diskit and Tigger," according to the academic paper published in Current Science.
Some residents even believe that the number of camels today has gone up to 250, although there is no official verification yet.
So, what changed? For starters, residents of Hunder village began conducting camel safaris in 2003, and as the initiative grew in popularity both among locals and tourists, greater efforts were made to preserve these beasts of burden.
Locals at Hunder came together to establish a registered cooperative society in 2009 called the Central Asia Camel Safari. Other villages followed suit with their own support groups. However, ultimately, it's the village administrative body (VAB), a local institution headed by a 'Goba' or village headman, which has made camel preservation possible.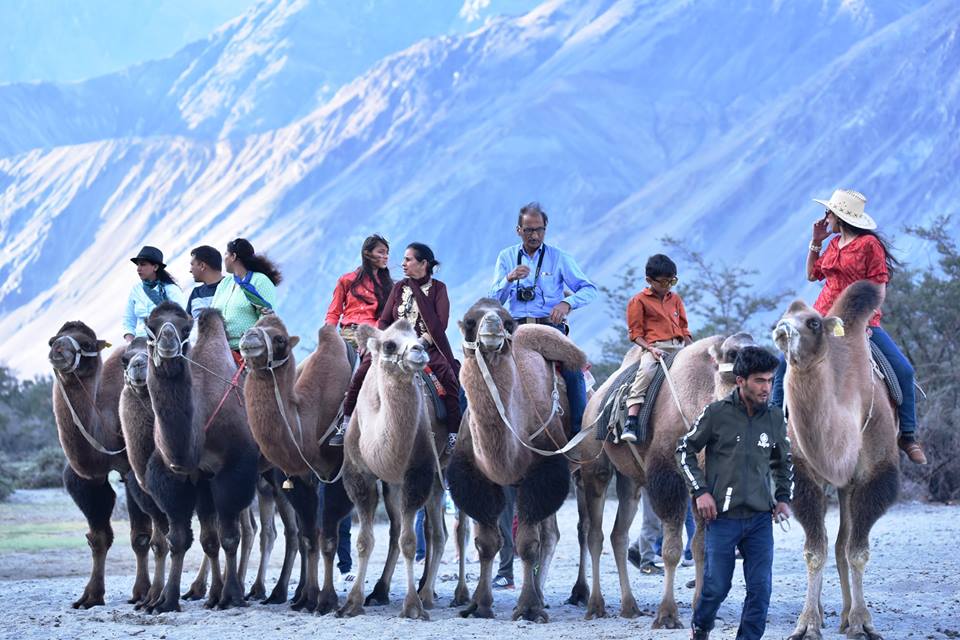 "In the case of the Bactrian camels, VAB is the custodian of the community grazing land, which is the major source of feed for these animals. This resource comes under the property regime of the common property resource (CPR), for which there are norms enacted by VAB regarding who, when and how to extract from CPR. The camels are owned and managed by the owning households themselves," says another research paper in Current Science.
State departments only come into play in the provision of medical assistance to camels, besides drawing out larger roadmaps for their conservation and study.
Anyhow, thanks to the efforts of the local community and tourism industry, you can enjoy a safari ride that will offer you sights of the mesmerisingly stunning Shyok River or areas close the Siachen Glacier base camp.
Having said that, animal rights activists are none too pleased by the apparent abuse these camels suffer. Controlled through ropes piercing their nose, these camels are at the mercy of caretakers, who often leave them bleeding, activists claim.
Also Read: What You Probably Didn't Know About Ladakh's History With the Pashmina
There are even accusations that these caretakes lash these creatures if they don't behave. Moreover, during the peak tourist season (July-September) hundreds of people ride them hour after hour with little respite.
Locals who run these safaris, however, refute these claims. Some admit to causing slight bleeding in their noses, but they say it's only because of a need to rein them in. They reject entirely allegations that these camels suffer lashings. These camels are a critical source of livelihood, so why should they ill-treat them, safari organisers argue.
Reports indicate that an average camel owner (who tend own up to five camels) earns about Rs 4 lakh per season, says this Scroll.in report. Tourist operators believe that if the tourist season (End of May to early October) extended beyond its stipulated period, then families could earn more.
An hour's ride can cost around Rs 600. Meanwhile, a single camel can cost anywhere up to Rs 80,000. In Hunder itself, approximately 45 families are conducting these rides.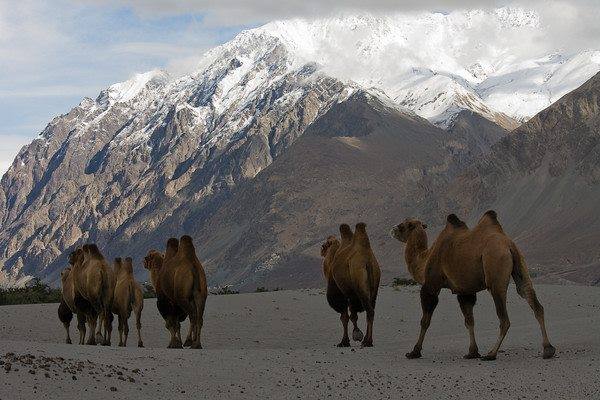 What both safari operators and animal rights activists can agree upon, however, is the lack of any healthcare facility for these camels, a responsibility of the animal husbandry department. Another major concern is that these camels often wander onto private land and damage their crops and other property.
There have been instances where locals have hurt these camels in their bid to get them off their property. How the authorities deal with this problem remains to be seen.
Nonetheless, these creatures, left behind in Ladakh as an unintended consequence of redrawn borders, are growing once again – which is a good sight to see.
(Edited By Vinayak Hegde)
Like this story? Or have something to share? Write to us: contact@thebetterindia.com, or connect with us on Facebook and Twitter.
We bring stories straight from the heart of India, to inspire millions and create a wave of impact. Our positive movement is growing bigger everyday, and we would love for you to join it.
Please contribute whatever you can, every little penny helps our team in bringing you more stories that support dreams and spread hope.