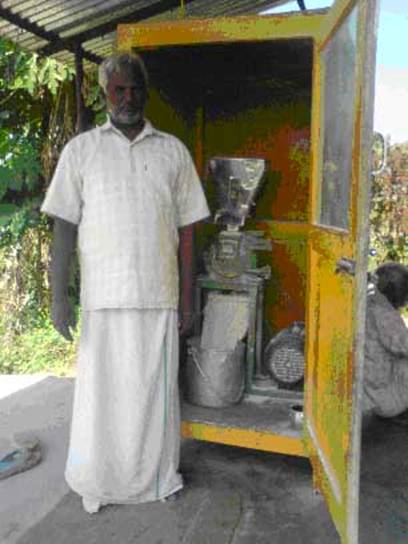 In this article we bring to you an interesting invention by Mr. Vivekanandan, who is now being mentored and assisted by the Villgro foundation. Going by the good old adage
In this article we bring to you an interesting invention by Mr. Vivekanandan, who is now being mentored and assisted by the Villgro foundation. Going by the good old adage 'necessity is the mother of invention', the device was invented by Mr. Vivekandan because of a real-world problem that his fellow villagers faced.
The Problem
Chili and coriander powder are so central to South Indian cuisine, that village residents will travel 25 km by bus to get it ground. They are forced to do this because the existing machines to grind chili and coriander are usually very large, have high installation costs, and use too much power to be suitable for rural areas.
Mr. Vivekanandan's Solution
Mr. Vivekanandan's innovative solution was a pin pulverizer that was modified for small capacities, yet could still grind chili and coriander. The material is centrally fed into the pin pulverizer's milling chamber, which consists of two discs with pins: one is stationary and the other is rotary. The material that passes through the space between the stationary and rotary pins gets scissored, and converted into a fine powder. The perforated screen at the bottom filters the powder, and it is discharged through it.
When Mr. Vivekanandan applied to Villgro, pin pulverizers that could grind spices were already being manufactured with a capacity of 150 to 4000 kg/hr. A pin pulverizer that had a capacity of 30 kg/hr was also available, but it was only able to grind cereals.
Mr. Vivekanandan's journey with Villgro literally began with a journey. He came to know about Villgro and its activities when he accidentally met an employee of Villgro on a train. At this point Mr. Vivekanandan had already invested Rs. 8 lakhs (approximately US$ 18,700) of his own money, and had created a 3 HP pin pulverizer without any external help. He thought he had solved 90% of the problems in grinding chili and coriander, and had manufactured 100 machines. But of these only 20 were sold. Even worse, three quarters of these machines were returned because the chili and coriander did not pass through the screen, and because they created too much dust. The work came to a standstill, and did not resume until almost a year later, when he was introduced to Villgro.
Villgro tapped several different resources to work on this problem. These were the technical expertise of their own staff, the assistance of a consultant from TANSTIA-FNF, Mr. Ashok Iyengar, and InnoCentive, an "open innovation" company that opens up research and development problems for anyone to solve. The solution arrived at was to increase the speed of the rotor to 6600 rpm.
While increasing the speed of the rotor is a seemingly simple solution, for Mr. Vivekanandan the key realization was that the chili and coriander were getting stuck in the screen not because of their high fiber content, but because of the speed of the rotor. In addition, Mr. Vivekanandan was concerned that to run the rotor at higher speeds, he would need much more expensive bearings. Consequently, if the cost of the machine increased, then grinding chili and coriander could not become a viable income generating activity for rural women. Mr. Vivekanandan is quick to emphasize that the main assistance that Mr. Iyengar provided to him was in giving him greater confidence, and in allaying his fears.
Mr. Iyengar first assisted Mr. Vivekanandan in producing a 5 HP, 3-phase machine, because his machine could not initially be run at the increased speed on 3 HP. However as in rural areas the preference is for a 1 HP, single-phase machine, Mr. Vivekanandan subsequently reduced his machine's weight, wall thickness, size and diameter of the stator and rotor so that it is suitable for rural areas. Mr. Vivekanandan has also attempted to bring the cost of the machine down to cater to rural needs by focusing on the types and amount of materials used. However he has maintained the quality of the essential components such as the bearings and blades.
Below is a picture of a villager using the pin pulverizer. Fantastic innovation which is sure to benefit hundreds of villagers!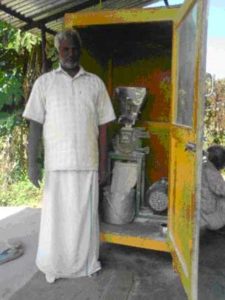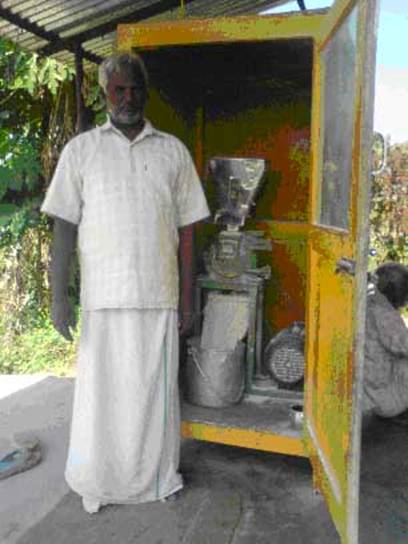 Note about the Villgro Foundation: Villgro is a not-for-profit company empowering rural development by identifying and incubating innovations that could be translated to market based social enterprise models thus impacting thousands of lives. In efforts to impact rural life, VILLGRO actively promotes social entrepreneurship and works with different stakeholders to create and support an eco-system that empowers social entrepreneurship by means of seed funding, mentoring, networking and recognition. Villgro has impacted over 360,000 rural users with technology & solutions reaching the grassroots. Villgro has identified and activated more than 2000 social innovators.
We bring stories straight from the heart of India, to inspire millions and create a wave of impact. Our positive movement is growing bigger everyday, and we would love for you to join it.
Please contribute whatever you can, every little penny helps our team in bringing you more stories that support dreams and spread hope.