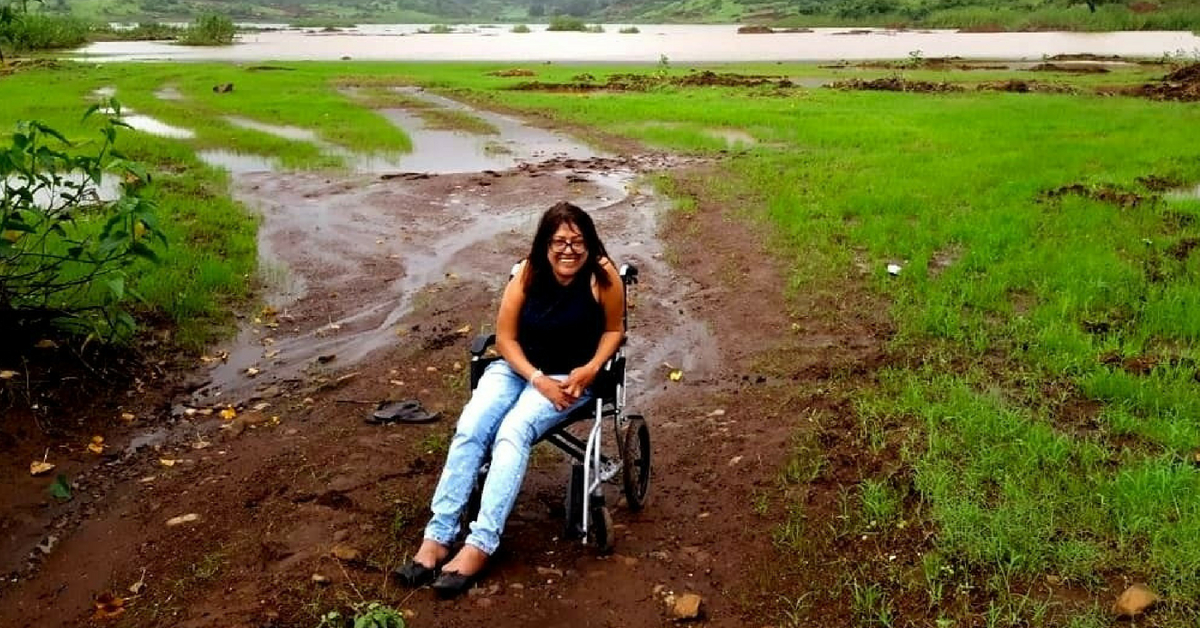 From paragliding in Taiwan to zip-lining in Ecuador and even fighting the challenges of travelling in not very wheelchair-friendly China, she has done it all.
She has travelled to 23 countries across six continents. Her latest trip was a solo backpacking trip across Europe with no planned itinerary or advance booked accommodations!
If one word sums up the life of Mumbai's Parvinder Chawla, it is an adventurous globetrotter.
And in case you are wondering what is so unique about a 48-year-old travelling across the globe, let us tell you that Pammu, as she is fondly known as, is breaking stereotypes by travelling the world solo on her wheelchair!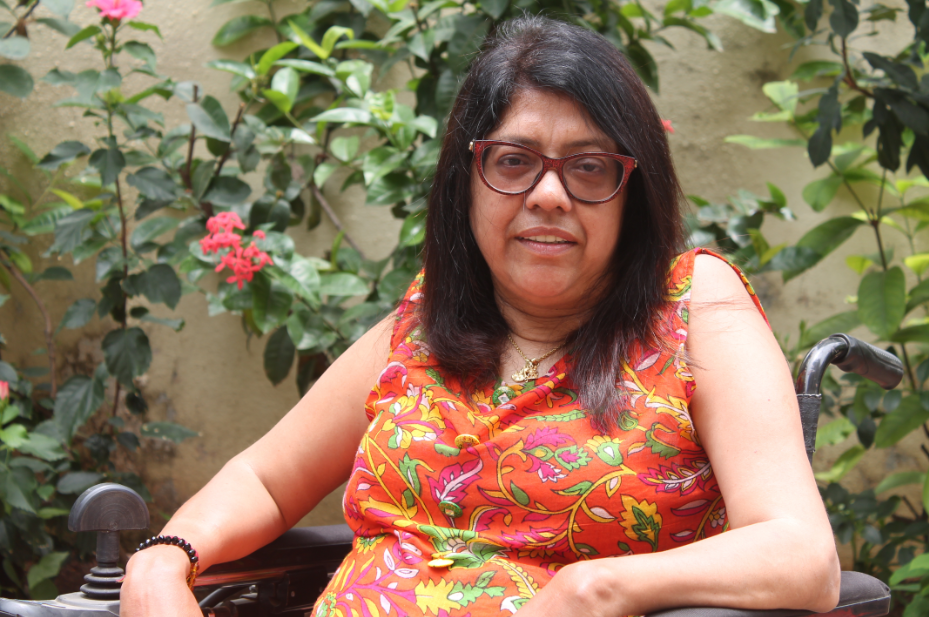 From paragliding in Taiwan to zip-lining in Ecuador and even fighting the challenges of travelling in not very wheelchair-friendly China, she has done it all.
The Better India visited her Bandra home in an attempt to chronicle her adventures.
Born in Ludhiana to a hotelier and a homemaker, Pammu was diagnosed with rheumatoid arthritis at the age of 15.
They shifted to Mumbai when she was in class six, where her late father's legacy continues in the restaurants the family runs in Vashi and Bandra.
The youngest of four siblings, she recalls the first instance, her mother sensed trouble with her growth.
"I was really pampered. So I would love for my mother to feed me. She would keep yelling that I couldn't open my mouth fully. And I kept reiterating that it was all I could open. She took me to an aged homoeopath who told her that as I grew older, the condition would worsen and it could even reach my heart," she says.
But Pammu remained carefree. She took the tiny bottles of medications the man gave her but eventually stopped when she thought she was better. The gravity of her condition only hit her until she started going to college.
"I refused to take medications for the following years. The first instance of my worsening condition was in Class 12 when there was an inflammatory pain in my wrists and knees. I even went to an acupuncturist, because I did not want to pop painkillers. During my exams when the pain got unbearable, I went to a doctor who injected me with steroids. I wasn't aware of it then. But the last straw was in my final year when I wanted to dance for my sister's wedding in our ancestral home in Punjab."
The song they practised was Sri Devi's 'Mere Haathon Mein Nau Nau Chudiya'. Despite being in pain, Pammu put on a brave face and practised. On D-day when they had to squat and get up, she just moved off stage.
"I couldn't squat. That was the time, I knew, this was serious. Being the party lover that I am, when I would call everyone home for gatherings, they would all dance. But I would be sitting in a corner, steaming my wrists. I would sometimes think if I had stuck to the medications, instead of relying on alternative therapies, maybe my limbs wouldn't be deformed. But what has to happen, happens I guess."
For almost two years, Pammu was bedridden. She relied on her mother even to go to the washroom. She would lie on her bed, watch the ceiling. If a child passed by her bed, she would scream, assuming that they would touch her and the pain would be back.
"I knew life wasn't all rosy. It has its share of ups and downs. So I would tell myself, this was my not-so-good time. I would tell God, 'Take as much time as you want. Maybe you can heal me, but keep one of my fingers different to remember my struggles. But with time, I slowly learned to accept my condition. It helped lighten the emotional baggage, " she confesses.
But she never let her health become a barrier to her independence. From working at a call centre to babysitting, running a catering service and even putting a room up for Airbnb, Pammu has funded her trips on her own.
The travel bug bit her when she travelled with her friends to Gulmarg, a hill station in Jammu & Kashmir. By the time their queue reached the cable car to reach the highest point, the workers said they were closing. But her persistence made them yield. They were the last ones to reach there.
To avoid troubling her friends, she hired a local to help her manoeuvre her automated wheelchair in the snow
"We had reached the highest point when the man put my chair into the snow. It was paradise I was witnessing in all its beauty. The connection I had formed with nature told me, the world is beautiful and I have to see it. That's how my journey began," she adds.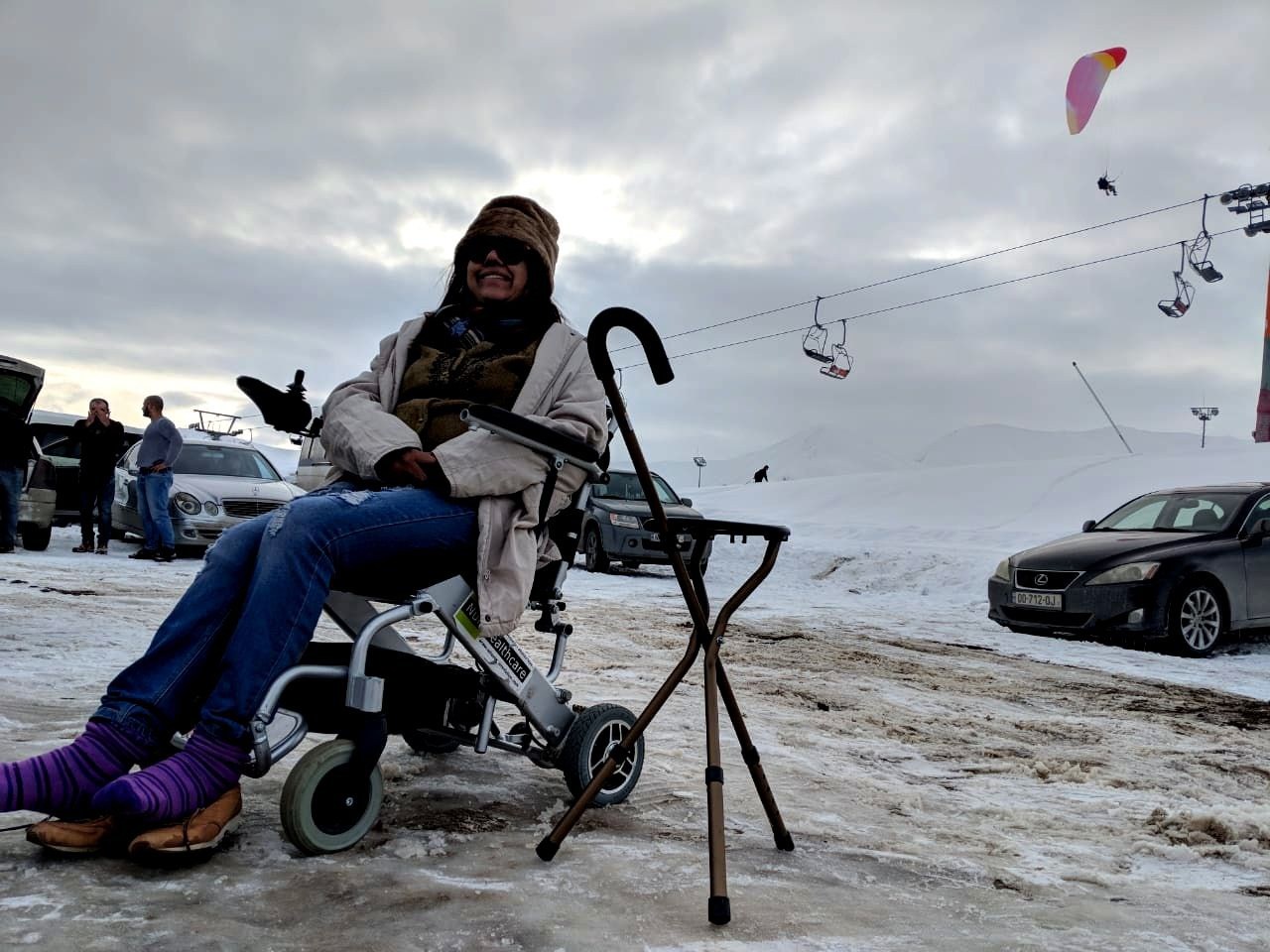 When she returned home, she started making more travel plans. She spoke to several travel companies about travelling solo. They refused to help her – saying she could only come if she was travelling with a companion. But that did not dishearten her.
"I told myself – just because there is nobody to take me, doesn't mean I can't travel. When I travelled to Malaysia with my friends, I decided to take two days off for a solo-trip. I travelled with the low lying airline AirAsia with the least baggage. Staying in low-budget hotels with no room-service or intercom and taking public transport helped me build the confidence that I could travel alone."
Her motto in life is to get the stamp of every country on her passport. Whether it is the United States or countries in the Europe or Asia, Pammu believes in travelling to places twice or thrice to cover different cities, to engage with people and cultures to mark any location off her bucket list.
More than the places, it is the people within these spaces that make her trips special, she adds,
Like most wanderlust lovers, Pammu has had her share of great and not-so-great experiences during her travails.
One that stands out was China, where she travelled with a travel company,
"The language was a barrier, and much like our own country, I felt China wasn't as accessible for persons on a wheelchair. I decided not to take a tour package, because I couldn't afford it."
When she reached the location of her booked hotel in a cab, she realised the hotel had been demolished. It was 11 PM at night at the time.
But a local turned her saviour and asked the cab to follow him to a modest hotel. The weather change had caused a fever. But she couldn't communicate with the receptionist as Google is banned there. So she went to sleep.
"My condition kept worsening, and I had to return home. But there was a transit in between, and the flight was delayed. When I tried to use my stick (which transforms into a chair tripod when I get tired) to walk a few steps, I fell down and had a concussion. That trip could have stopped me from travelling, but it didn't," she says with a smile.
She was even robbed of 400 euros in Rome by her dorm partner but couldn't do anything. And so every trip comes with its shares of challenges and helping angels.
---
Read More: This Retired Major General Just Cycled Across 29 States in India to Honour Fallen Soldiers
---
"You just have to throw yourself in! Have faith and God or whatever is the higher power you believe in. It will help you through. We will all die one day, so why let fears hold us back from living our lives from the fullest? If you are scared, start off with a few friends, travel to wheelchair-friendly locations like Australia or Dubai. Once you are confident, start alone."
To those yet to embark on the trip of their lives, she gives a few tips: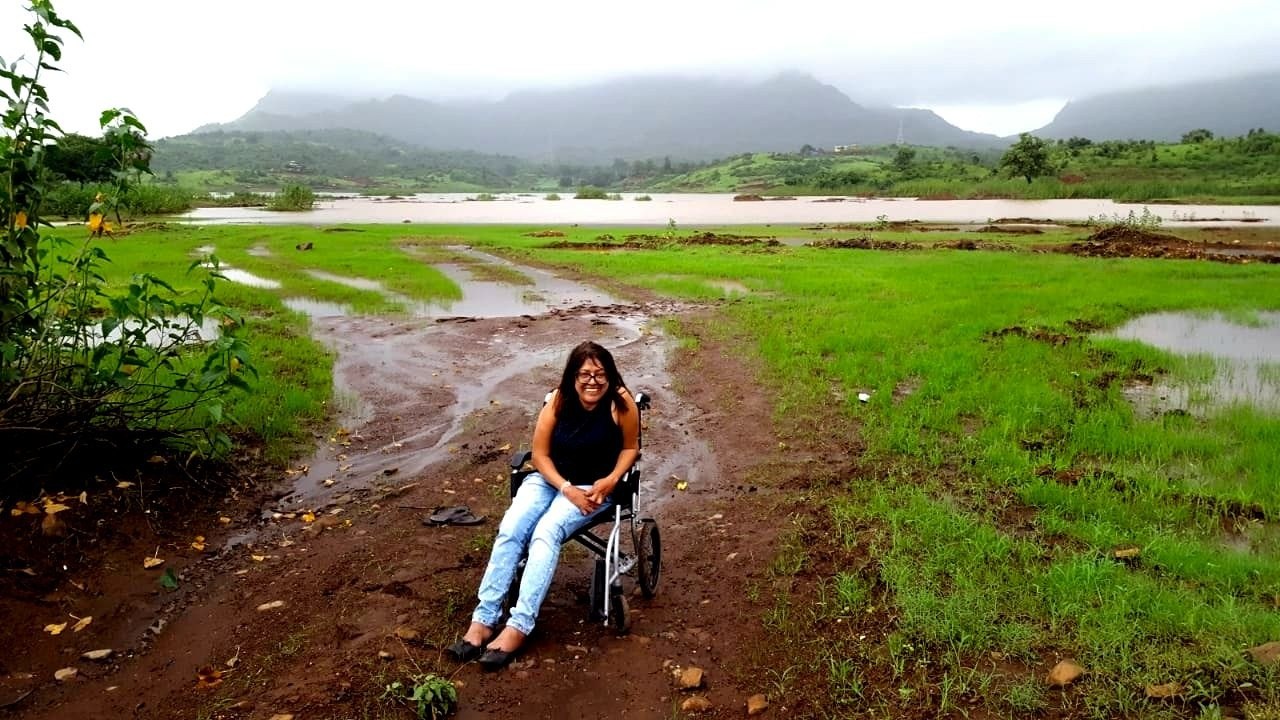 "Travelling solo in a foreign country with a language barrier? Buy a matrix sim card of the country with unlimited data connection and calling. Download translation apps, apps that give you information on public transport and keep emergency contacts handy including the contacts of wheelchair repair persons in the locations you are in. Carry a power bank at all times. Carry cards, than cash. Last but certainly not the least, enjoy yourself," she signs off.
To help travellers, differently-abled or not, Pammu is now in the process of starting a travel blog, 'wheelchairandeye.com'. She feels her experiences could help many others fulfil their travel goals economically and confidently.
(Edited By Vinayak Hegde)
Like this story? Or have something to share?
Write to us: contact@thebetterindia.com
Connect with us on Facebook and Twitter.
We bring stories straight from the heart of India, to inspire millions and create a wave of impact. Our positive movement is growing bigger everyday, and we would love for you to join it.
Please contribute whatever you can, every little penny helps our team in bringing you more stories that support dreams and spread hope.