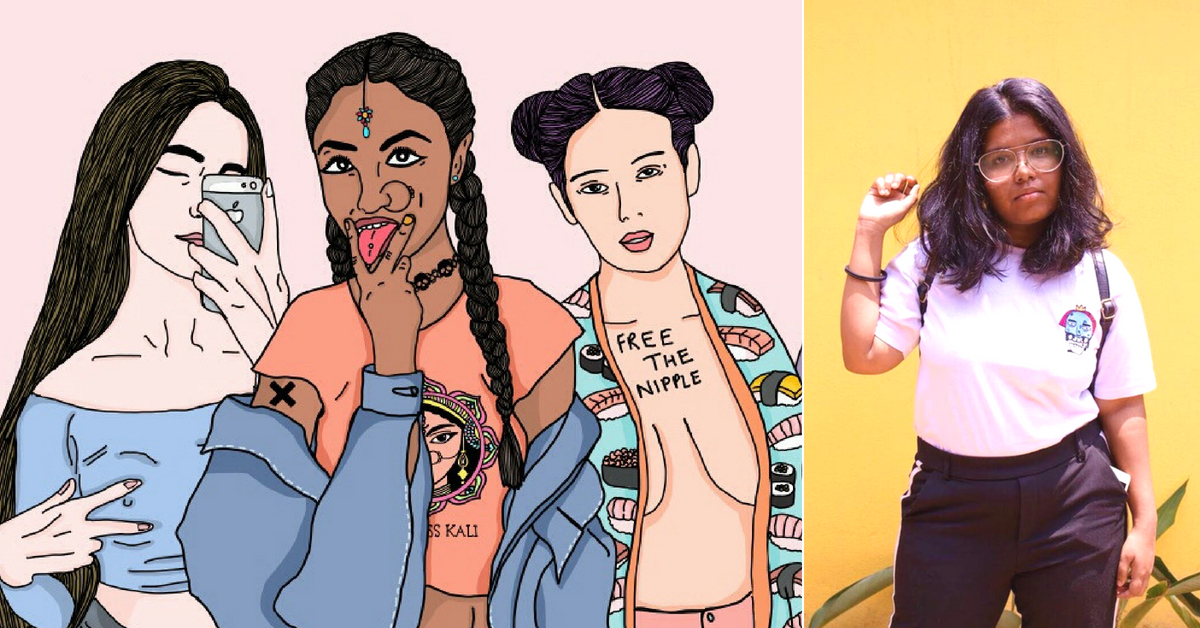 With that one series, Priyanka Paul became an overnight star on the social media platform. Today she has over 25,000 people following her handle - artwhoring.
---
This article has been sponsored by Viacom 18
---
Goddesses of fertility, knowledge, luck, wealth and prosperity – most households have symbols or idols of them in their prayer rooms. They are held in utmost reverence and given attribution for all successes and riches that come along their devotees' way.
But have you ever imagined these very goddesses in avatars that stand up to discrimination and crimes against women or as epitomes of feminist liberation?
Like Kali as a 'badass brown girl', who staunchly stands against misogyny and sexism or the Shinto deity Amaterasu as a supporter of the "Free the Nipple" movement, or even the Biblical Eve – portrayed as a medical student who fights against the gender pay gap?
Such a unique conceptualisation must have occurred to very few of us, and many will take offence at the suggestion, blasting it as blasphemous!
After all, these are goddesses are divine manifestations and must be worshipped with utmost respect and dignity.
But how does standing up to oppression against women and embracing one's femininity get classified as being impudent or even profane?
This is exactly what a 19-year-old artist from Mumbai tried to portray when she shared a series of highly expressive sketches of goddesses on Instagram two years ago. She gave us all a very different perspective of these mythical figures while broaching some very serious topics. These 'rebellious' works of art were inspired by Harnidh Kaur's poem 'Pantheon'.
With that one series, Priyanka Paul became an overnight star on the social media platform. Today she has over 25,000 people following her handle – artwhoring.
Priyanka's objective had been to portray women, across levels and regions of oppression, rising above it all, while embracing their own femininity without it being broken down, commoditised, fetishized or constantly tampered with.
How Priyanka amplified the crux of Kaur's poem through her illustrations were by putting the divine goddess into the shoes of today's women as embodiments of strength and non-conformity—as goddesses aware of the power their bodies held and were unashamed of their sexualities.
From Eve and Amaterasu to Kali and Hera, what makes Priyanka's illustrations unlike any previous torchbearer of women's rights is how each one of them have been centred on social justice agendas—female empowerment, misogyny, sexism, body shaming, Free the Nipple movement, gender-based wage gaps, choices regarding children and family, etc.
Doesn't standing up to wrong make one a rebel for some and a hero for others?
Through the ages, women have been subjected to different degrees of sexist policing set by societies across various cultures in the world.
While some have evolved in time to give women better and near-equivalent status, there are many other communities that still practice an archaic and extremely sexist way of living that doesn't consider women as humans, let alone equals.
Priyanka had been only 17 when she had chosen goddesses across the globe as her muses to highlight a very pertinent issue that a large percentage of people, sadly including women, across the world continue to ignore.
This blatant and bold depiction of goddesses by Priyanka is an impressive act of rebellion against sexism and discrimination against women that has been inflicted upon them since time immemorial.
The young artist is unapologetic about pointing out what is wrong with the society about how it treats its women.
This makes her a true champion of women's rights and a real-life heroine who is making ancient goddesses relatable for the contemporary women and look up to them as a fierce and unapologetic embodiment of womanhood.
Priyanka's creative rendition of goddesses bears a rebellious spirit quite similar to the writings of the legendary iconoclast, Saadat Hasan Manto or simply Manto, who bore no inhibitions when it came to showcasing society in its truest colours during the 1940s.
The man's weapon had been his pen through which flowed the words of defiance and rebellion against various norms and hypocrisies set in place the society in a time where such acts were not only deemed insolent but also, blasphemous.
The life and legacy of Manto is soon going to make its way to the silver screen in form of a biographical film that we are eagerly awaiting and just the way Manto epitomised in life what it meant to rebel through words, we hope that the film too captures this very essence of non-conformity and dereliction of societal constructs.
Check out Manto's trailer below:
(Edited by Vinayak Hegde)
Like this story? Or have something to share? Write to us: contact@thebetterindia.com, or connect with us on Facebook and Twitter.
NEW: Click here to get positive news on WhatsApp!