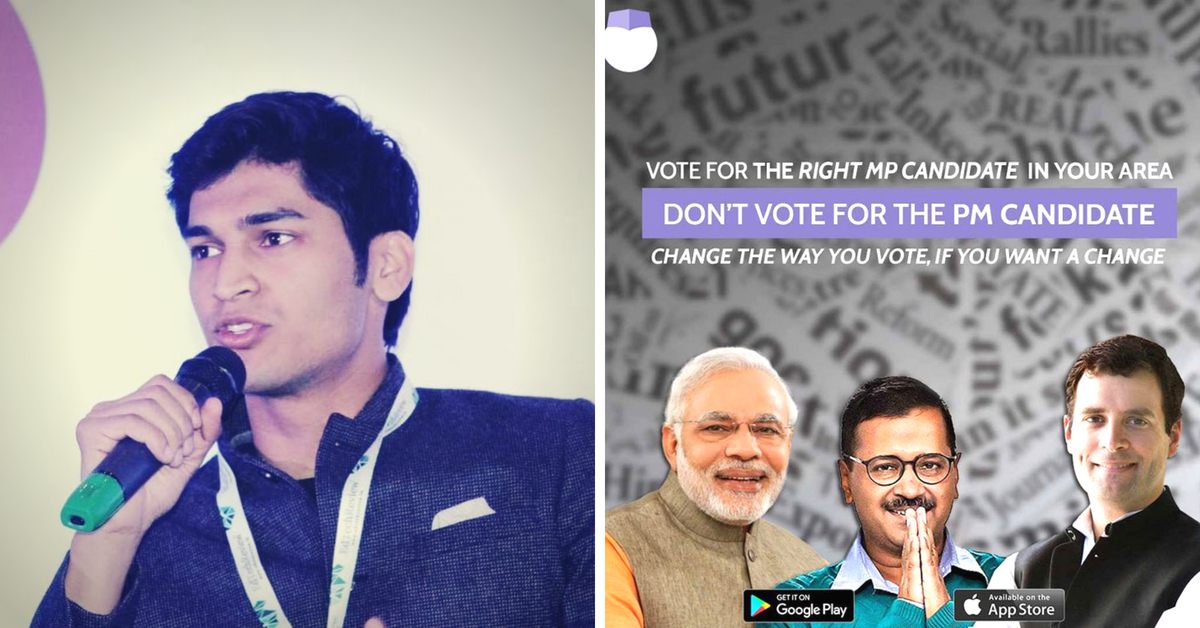 Are your MPs/MLAs forgetting their pre-poll commitments? Pratham Mittal may have found a way to hold them accountable!
In journalist Snigdha Poonam's remarkable book on the seething psyche of India's aspirational youth called "Dreamers: How Young Indians Are Changing Their World", there is a portion where a popular radio jockey from a small city speaks about how he would run the country like a company.
"There should be a meeting every three months for elected representatives where they prove themselves fit for the job, show what they have achieved. There should be a rating system for them, the public should score them on the basis of term-based performance," he tells the author.
'The country should be run like a company' is a common refrain you'll hear from young voters in India's small towns and cities, who want politicians to be scrutinised for their work – not just every five years at the polling booth, but every day.
In a time when everything from Uber drivers to restaurants can be graded on the internet, 27-year-old entrepreneur Pratham Mittal has developed the Neta App, which allows voters to rate their elected representatives at the State and Central level.
If they are unsatisfied with their current leader, they can decide to take away their vote and give it to someone else whenever they want. For political leaders, the app acts as a feedback mechanism, helping them gauge the impact of their actions or inaction on a day to day basis.
Available on Android and iOS platforms, voters can also cast or change their vote from their website as well. The 27-year-old wants to build an enterprise along the line of Gallup in the United States, which introduced approval ratings—a popular and up-to-date political indicator to measure changes in political preferences.
"Honestly what triggered me to start Neta App was the frustration with politics in the country. After elections, the leaders tend to forget their commitments. There is no way we can hold them accountable. That's when I thought that just as we rate Uber drivers, and restaurants, we should be able to rate leaders as well, so they can also be held accountable for their actions.
Not only would these ratings keep leaders accountable, they will also help voters decide who they want to vote for. If elections happen every day, and a leaderboard is created daily, there is a need to be on top each day. That naturally translates into leaders going to work every day," says Mittal, speaking to The Better India.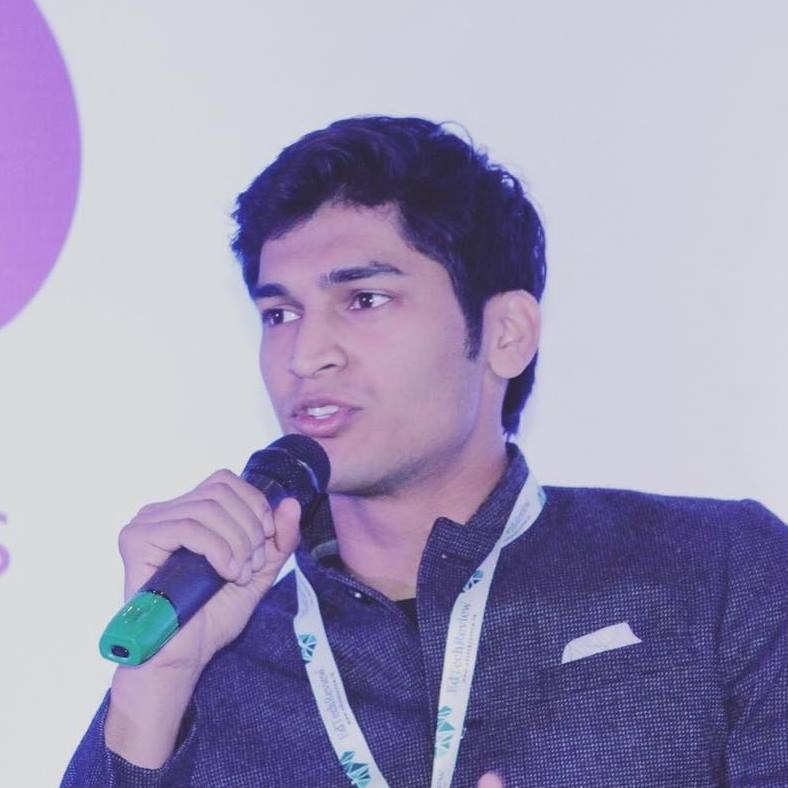 To ensure a pertinent sample size, Neta App uses multiple mediums like the app, interactive voice response (IVR) calls and SMS to gather data on evolving political inclinations. The app acts as the single point scorecard that displays results collected across all these mediums, besides also enabling people to share their opinion and conduct polls on matters of national and local importance.
Despite coming from privilege, he seemingly understands the frustration of India's impatient youth. Born and raised in Jalandhar, Mittal comes from a family that founded the famous Lovely Sweets shop. His parents also run Lovely Professional University, a prominent private institution of higher education. After studying in Doon School, Mittal attended college at the University of Pennsylvania where he studied Systems Engineering and Political Science.
During his third year of college, Mittal started Outgrow, which he claims has become the largest polling technology company in the world with over 4000 publications like The New York Times, The Guardian, etc, as clients.
The path towards developing the Neta App becomes apparent here.
"In fact, while running Outgrow polls, there were many instances where political leaders would suddenly become very responsible while a mass public poll was going on online. At times, they would even try to influence such polls. This shows the power of polls/ratings," he says.
Despite Outgrow's remarkable success, Mittal's heart was still in India and more importantly, its politics. The subject has always fascinated him. So, in September 2017, Mittal and his team began working on Neta out of his Shanti Informatics office in New Delhi, which was set up for the purposes of developing the app. He tells The Better India that funding comes from his personal stake in Outgrow and his family. Even though this is a for-profit venture, "we are also not looking to monetize the platform for as of now". The idea is to first focus on building credibility.
Neta App held its beta launch at the start of this year with the Lok Sabha by-polls in Alwar and Ajmer, Rajasthan. However, it was during the recent Karnataka elections when Neta App really took off. Besides relying on IVR, SMS and their website to gauge the mood, they also did a massive Facebook campaign for the app. They polled around 2.5 million votes with over 100,000 using the app.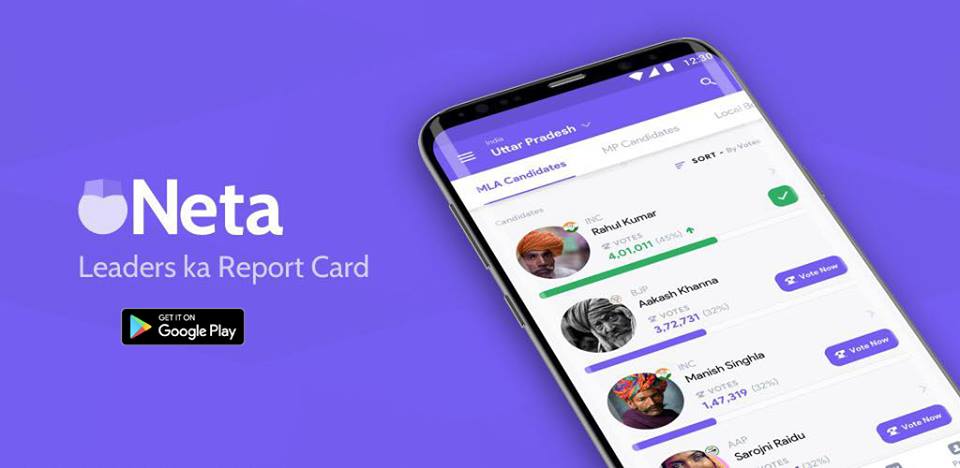 "We predicted 93% constituencies correctly, proving that the app accurately showcases public sentiments," Mittal tells The Better India, which is seemingly a very high strike rate.
Shanti Informatics is formally launching the app on August 24, 2018, in the national capital with Former President of India Pranab Mukherjee as chief guest, and former chief election commissioners SY Quraishi and Nasim Zaidi in attendance.
How does the app work? Here are seven steps to follow:
1. Download the app or open their website.
2. Select your constituency
3. See all MP and MLA candidates
4. Assess their ranking, ratings and reviews
5. Vote for your favourite candidate
6. If you are unsatisfied, either change your vote or give a lower rating to them
7. See the results of your or any state and ascertain whose rating is going up or down.
This process allows the app to gauge voter mood at a time when there are no elections. If voters believe that their MLA or MP is not performing say months into their term, they can either downgrade their rating or change preferences, which is reflected on a dashboard accessible to the public. For both politicians and voters, the dashboard helps ascertain who is leading and falling behind.
Data, meanwhile, is gathered online through Facebook, Twitter and other social media platforms, besides radio and television. Offline, however, data is generated through party campaigning for votes on the app, word of mouth, IVR calls, SMS campaigns, partnerships on the ground with local self-help organisations, non-profits, AASHA and anganwadi workers, etc.
"Unlike with [food aggregator] Zomato, we think, politicians don't really care about their grade. What they care about is the number of votes they have received. So, we are following that model now. Voting is representative of the rating the politician will get," said Mittal, in an interview with Forbes.
Collecting all that data, however, comes with its own set of responsibilities. Speaking to The Better India, Mittal talks about how his firm manages to ensure data security on the platform.
Also Read: How Can India Rid Our Politics of Money, Muscle Power?  
"We have a specific algorithm in place, OTP-based authentication to prevent fraud and ensure the user is genuine, besides applying the principle of one phone one vote. In case people have multiple phones and try to vote more than once, we invalidate their second vote using Aadhaar API. To ensure you are voting for the correct constituency, we check your name in your constituency's digitized voter rolls and finally verify with publicly available datasets like the one in the hands of Truecaller, etc," he says.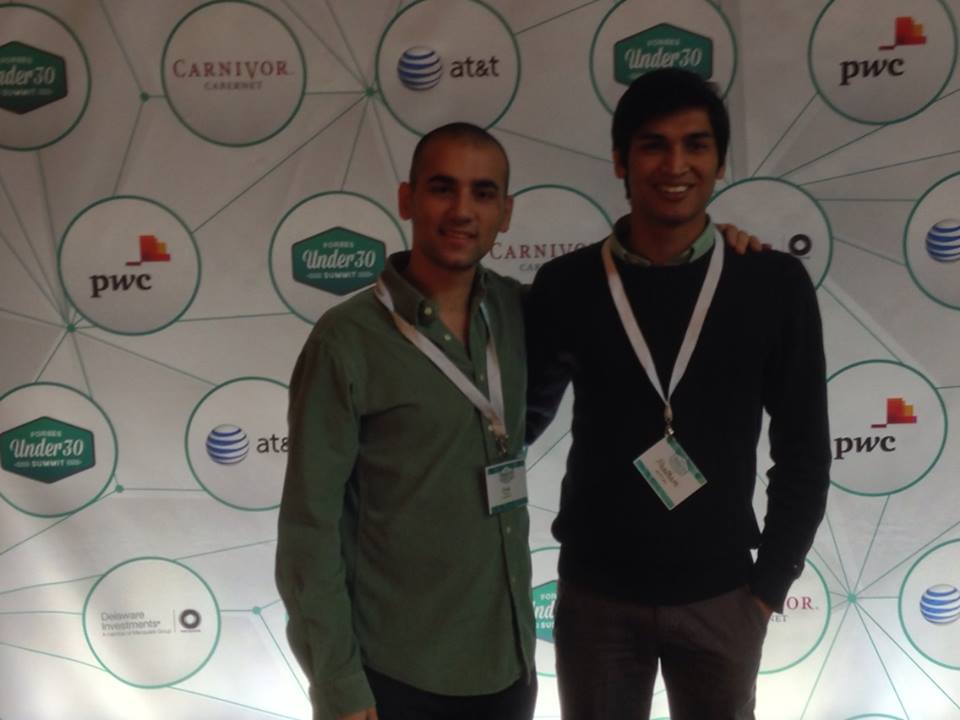 Nonetheless, Mittal does concede that there may be 3-5% margin of error.
Besides voters, it also helps political parties pick the right candidate for the ticket. His team have established a database of constituencies across India, and political figures who usually stand for election from these parts. Each constituency has a list of top five contenders and voters can cast their ballot online based on their perception of their performances, thus allowing parties to distribute tickets more efficiently.
Thus far the Neta App and its associated website and bot interface have gathered 15 million users across a few states. "We are eyeing 100 million before 2019 elections," Mittal says.
Will that figure be enough to gauge the nation's mood?
"For a country of 100 crore, I don't need a sample size of more than 1 crore if I do the right statistical sampling, which is what we are doing on the app," he told Forbes, earlier this year, in an interview.
Also Read: Our Democracy Needs to Be Better. Fixing This Law Might Make the Difference
His team has even spoken to various party high commands and local leaders with over 300,000 of them using it currently. "They (politicians) are very excited about the prospect of being able to get direct feedback from the public, at the same time, they are jittery about having transparency and how that might change their incentives and behaviour," he tells The Better India.
Nonetheless, challenges remain, especially on the technical front. Fortunately for Mittal, he has some heavy hitters on his team like Robbin Sharma, co-founder of Citizens for Accountable Governance with the famous pollster Prashant Kishor, Angad Kingra, former Design Lead at Zomato and Madhu Sudhan, former Engineering Lead at Swiggy, helping him scale the app effectively to millions of users.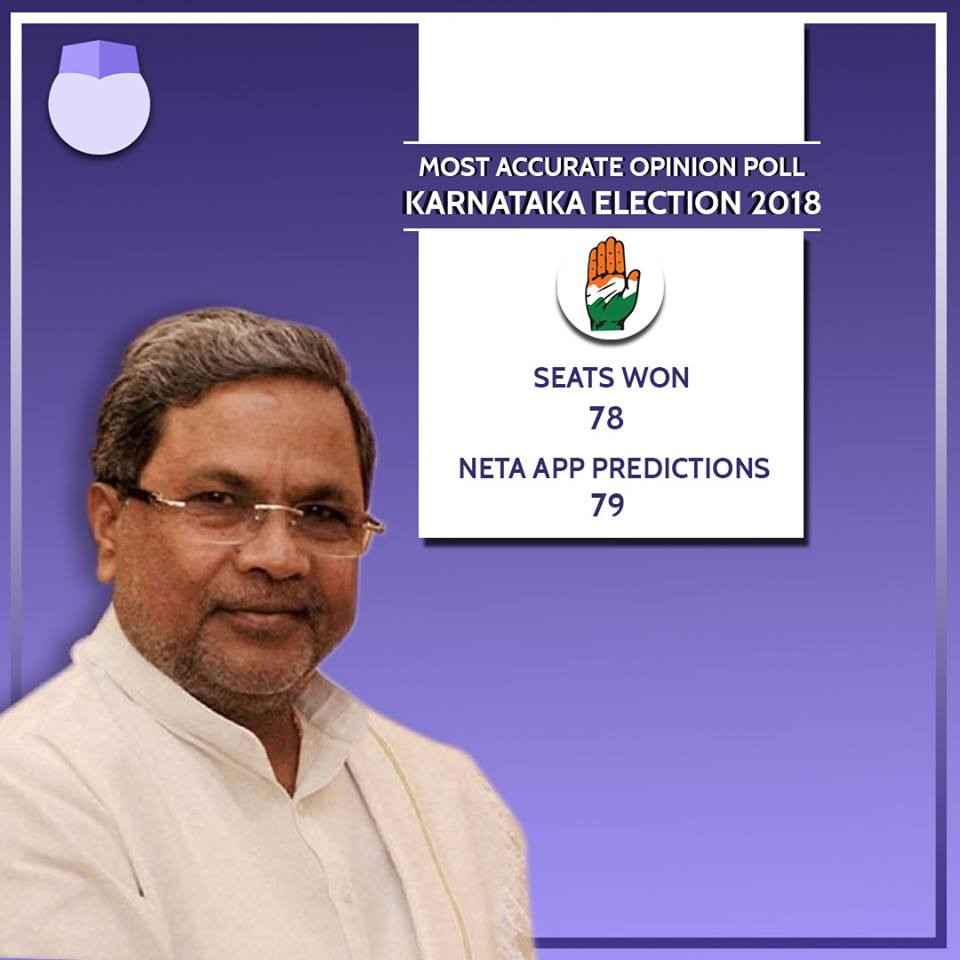 "On the marketing end, we need to ensure that we have credibility and people view us as neutral. For which, building a strong message of neutrality and credibility is important," says Mittal. This is critical, especially in such a polarised political climate. When asked about his own political preferences, he wasn't very forthcoming and said, "Personally, everyone has an opinion but the way we keep the app neutral is by keeping the data public, so there are no manipulations."
.
With the general elections coming along next year, Mittal has just one message to voters: "Don't vote on the basis of caste, or who speaks well, or who goes to your mandir. Vote by looking at your leaders' report card."
(Edited by Vinayak Hegde)
Like this story? Or have something to share? Write to us: contact@thebetterindia.com, or connect with us on Facebook and Twitter.
We bring stories straight from the heart of India, to inspire millions and create a wave of impact. Our positive movement is growing bigger everyday, and we would love for you to join it.
Please contribute whatever you can, every little penny helps our team in bringing you more stories that support dreams and spread hope.
Tell Us More