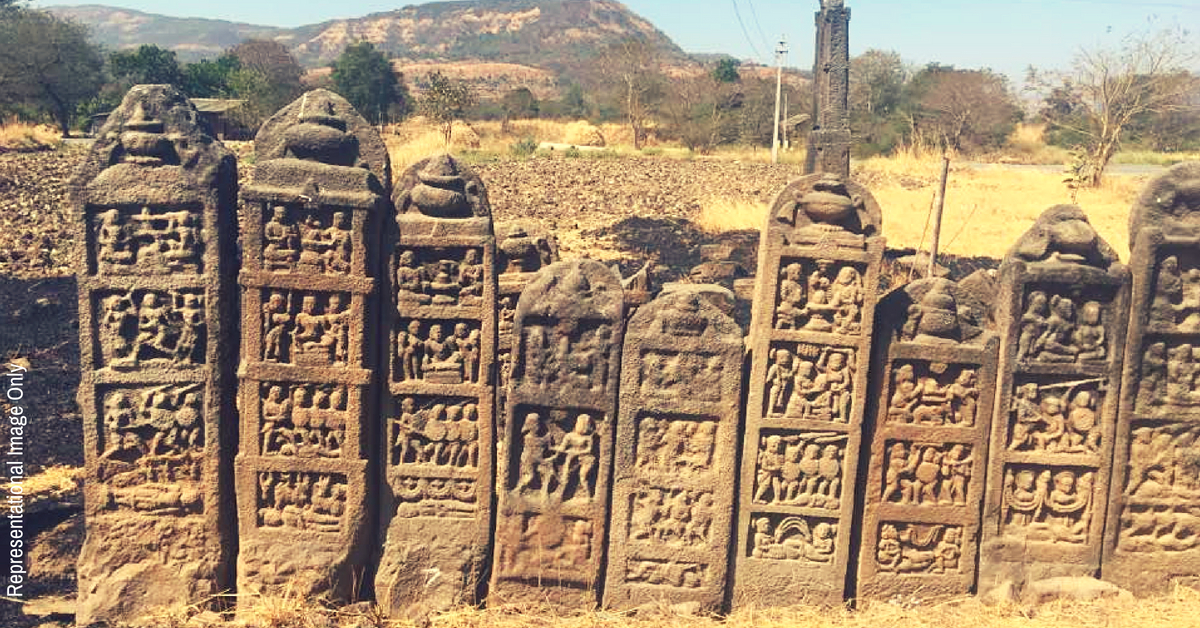 Two volunteer groups have been traversing through villages in Pune to collect and preserve Veergals without any help from officials.
How far can one go to preserve historic evidence, one that narrates the tales of brave unsung soldiers who laid their lives down in war?
Two volunteer groups have been traversing through villages in Pune to collect and preserve Veergals without any help from officials.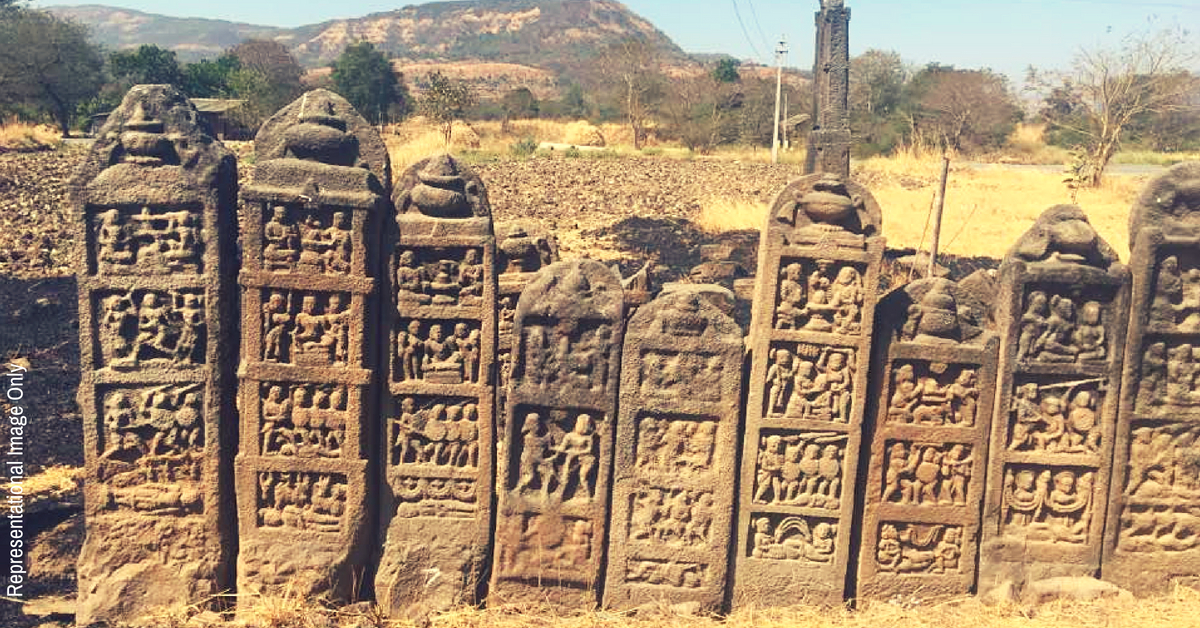 Veergals or Veergala, known as martyr's stones were erected between the 5th and 13th centuries AD under the Yadava and Shilahara dynasties. These were built either by the families or local villagers in memory of slain unsung soldiers. Many of these have been found in decrepit conditions, often buried in the ground.
Fed up of government negligence towards the memorials of thousands of soldiers, two Pune volunteer groups, Swarajyache Shiledar and Raigad Pariwar have been crusading for the conservation of these heritage stones.
According to a Pune Mirror report, the Veergal Conservation Campaign first began after the two groups stumbled upon some Veergals during a trek in Mulshi in the first week of July.
Speaking to the publication, MCom student and volunteer, Mangesh Navghane, said, "We were on a trek in Mulshi and visited a temple at Walen village, near Paud. Here, we saw several Veergals scattered — on the roadside on farms, open land, forest areas etc. Locals seemed scarcely aware of them, though the stones symbolised the heritage of their own village. We then ran a search online and realised their significance. We knew we had to do something."
They are now running this campaign in villages around Maval, Mulshi and Haveli, where they spend their weekends by scouring for these Veergals.
The groups have managed to collect over 70 such Veergals close to Mulshi alone. Fortunately, these were found in relatively good conditions. So the groups are now creating awareness among local villagers about their archaeological and historical importance. An outcome of their selfless efforts has been that villagers now start calling them when they find these stones.
Most of these bear carvings that illustrate incidents from the life of the soldier they are dedicated to. But it is indeed unfortunate that these lie forgotten just like the sacrifices of those heroes in a pitiful condition.
The members also located Veergals scattered around villages around Pune which found innovative uses. While some were being used as washing stones, others were used to mark boundaries between homes, and some others had sindoor applied to them, denoting their adoption as deities.
Another volunteer, Vaibhav Salunkhe, said, "The condition of these monuments is pathetic, and there is absolutely no effort from the government to preserve them. We are now spending our weekends locating such Veergals and shifting them to safer places."
Anil Kadu, an interior designer, described how the carvings on many of these stones were symbols like the sun, the moon, a pot of nectar, or even a battle scene. Yet each stone has a different scene.
Indologist Saili Palande Datar spoke about the crucial preservation of the Veergals, saying that these were evidence of events between the 5th and 13th centuries AD. A period which is largely missing in the history of ancient India due to the unavailability of manuscripts. They can help us connect the dots in our rich history, he felt.
---
Read More: This Historic 100-Year Library Was Regularly Visited by Subhash Chandra Bose!
---
"These stones depict the socio-political and environmental conditions (prosperity or drought) and trade, too. Some of the stories carved into the stones show brave men and women who perished while defending the interests of the village such as while fighting bandits who attempted to steal cattle, or invaders who abused women. The ancient system of Sati, too, has been found in many of them. These stories must be preserved," he added.
Talking about the lack of government steps to protect these Veergals, Vilas Wahane, Assistant Director of the State Archaeology and Museum Department, said that there was no policy to protect or preserve them.
He said, "Such efforts by youths are a welcome move as it signals public participation. We are trying to create awareness among the villagers to protect these stones as they are truly living history in their own right. We had carried out a drive to bring these abandoned Veergals to safe spaces such as nearby temples."
He added how the number of the Veergals is beyond 45,000 in the state alone, "but the department cannot preserve each stone due to limitations". In that case, the volunteer groups are doing a great job.
(Edited by Shruti Singhal)
Like this story? Or have something to share?
Write to us: contact@thebetterindia.com
Connect with us on Facebook and Twitter.