Situated in the lake city of Udaipur, since its foundation on 23rd October, 1985, Narayan Seva Sansthan has been working for the "service of suffering humanity". Since its inception, Narayan Seva has been rendering its services to physically, economically and socially needy people. The organization helps the physically challenged, especially the polio afflicted and those born with disabilities. The help is not only medical, but goes beyond it to ensure that the people are made self-dependent via employment.
Since 1985, over 95000 polio afflicted people have been able to stand on their legs after getting successfully operated under Sansthan's move towards self-dependence of the handicapped. Besides free distribution of clothes, medicines, food grains etc. to the tribal in remote areas, it also provides free vocational training to the physically disabled and economically weaker sections of the society. It has provided facilities for the training of these people in wood craft, carpentry, black-smith trade, leather work etc. supplying the necessary tools and raw materials to begin with.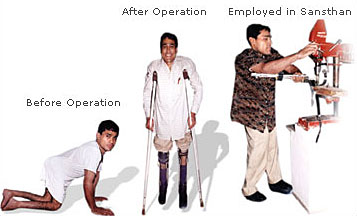 The organization has also been running an orphanage taking care of children who become orphan due to 'Nata-Pratha' – a social evil prevailing in this region of the country in which after the death of the husband, the wife goes away to stay with some other man leaving the children behind . Over 600 children have been taken care of and sent back to the main social stream.
As a part of its endeavour to make medical care available to poor patients at their door steps, the Sansthan maintains a mobile medical care unit. Equipped with all necessary modern facilities, the mobile medical unit is always kept ready to rush to any spot when urgent medical care is required. Apart from all of this, the Sansthan is also involved in promoting values of Indian culture as enshrined in some of the epics and scriptures. The Sansthan has been organizing expositions on Ramayana, Puranas etc. with the purpose of spreading the message of humanity.
Narayan Seva Sansthan has been creating success stories and looking after a section of the society that most often gets overlooked.
To know more about the organization visit: http://www.narayanseva.org/
This article has been contributed by Chandrika Maheshwari. Chandrika is a student in her 3rd year of engineering in BITS, Pilani and holds a vision to do something for the country and contribute in its development. Her interests include social entrepreneurship, traveling, reading and writing.