For the past 30 years, he has been studying the composition and chemistry of the atmosphere and has published more than 220 scientific papers and a textbook on the subject.
The National Aeronautics and Space Administration (NASA) of the United States bestows one of the highest awards of recognition– the NASA Distinguished Service Medal to those who have displayed distinguished service, ability, or courage, and made a substantial contribution which represents progress to their mission.
The details about the medal on the official webpage reads "…the contribution is so extraordinary that other forms of recognition by NASA would be inadequate."
And for this year, NASA has selected Dr Hanwant B Singh, an Indian-American Chemical Engineer, as the recipient for the NASA Distinguished Service Medal.
Dr Singh leads a group of scientists at the NASA Ames Research Center in the Earth Science Division in Moffett Field, California.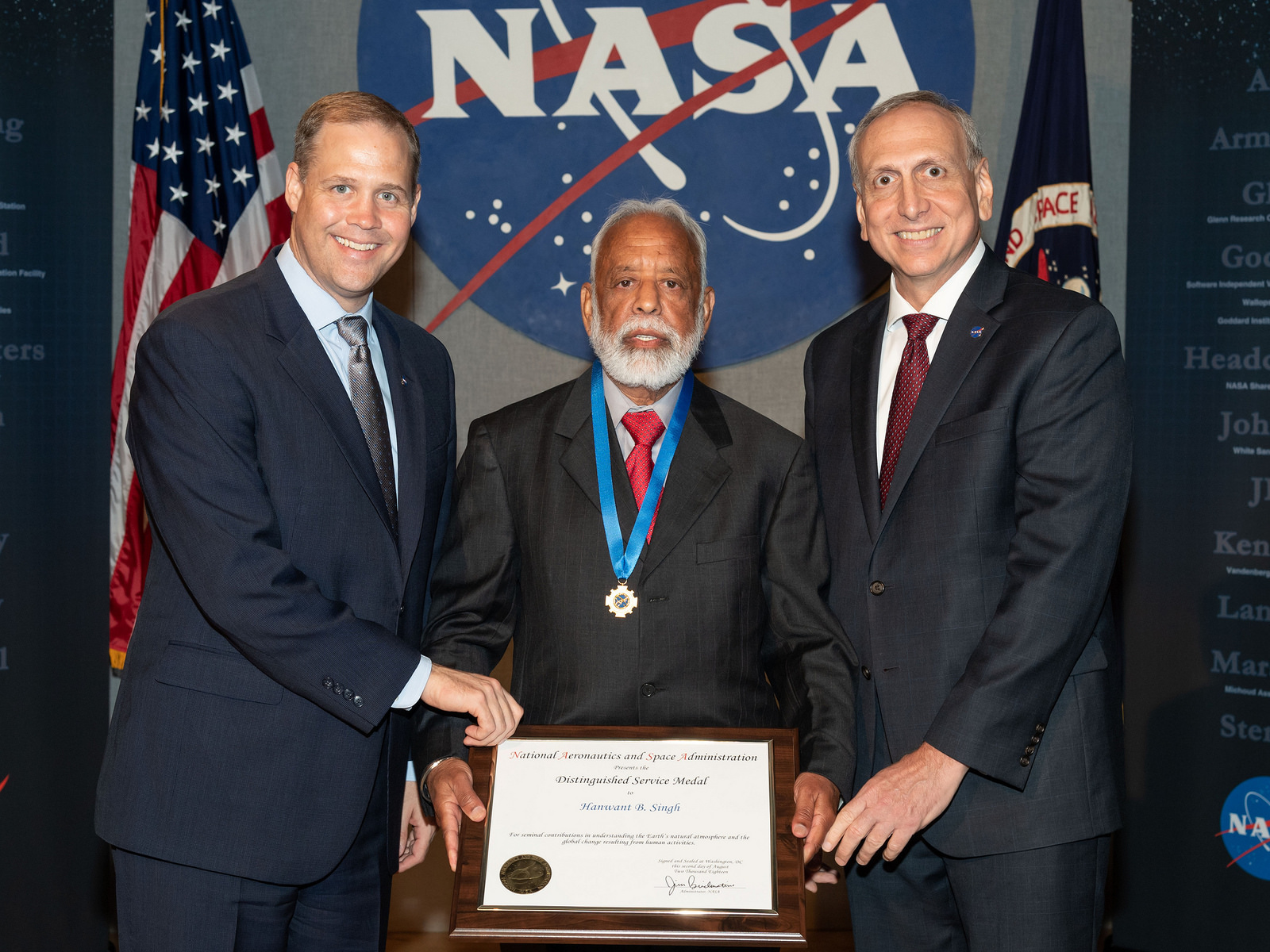 Earth science is the branch of science that deals with the physical constitution of the earth and its atmosphere. Through direct observations and data analysis, Dr Singh studied the impact of human activities on the chemistry and climate of the earth's atmosphere.
For the past 30 years, he has been studying the composition and chemistry of the atmosphere and has published more than 220 scientific papers and a textbook on the subject.
Dr Singh completed his BTech from the Indian Institute of Technology, Delhi, in 1968, and went on to receive his PhD from the University of Pittsburgh in 1972.
We spoke to Dr Hanwant Singh to learn about his incredible journey. "It has been a slow progression from education in engineering to environmental concerns and then earth sciences," says Dr Singh. He continues, "The subject matter of Earth Sciences is broad and brings together various aspects of mathematics, physical sciences, and technology."
Dr Singh's contribution to NASA has been incredibly immense. He developed new instrumentation and performed field studies to demonstrate its important role in ozone chemistry.
He was the man behind many firsts–from demonstrating that atmospheric carbon tetrachloride was of human origin which was not a widely accepted view, to detecting and measuring phosgene in the atmosphere.
Dr Singh shares, "There is much to discover in this field and because many aspects are global, you build close connections with people from many countries and extensive travel is an added benefit."
Singh has also been the recipient of the Frank A Chambers Award for "outstanding achievement in the art and science of air pollution", the NASA Exceptional Leadership/Scientific Achievement Medals (1998, 2005, 2009) and the H J Allen Prize.
He has single-handedly pushed the understanding of the changes taking place on Earth and its atmosphere.
When asked what earth science holds for future generations, he answers, "Young students should acquire a strong background in physical/biological sciences and be eager to embrace new technologies. Earth Science, like many other sciences, is ultimately a team effort and establishing teams and collaborations is a critical part of this enterprise."
Dr Singh was the finalist for the 2017 Samuel J Heyman Awards in the career achievement category, upon which Jack Kaye, Associate Director at NASA's Science Mission Directorate, commented, "He is probably one of the few people who have really, significantly distinguished themselves on all sides of it—measurements, analysis and leadership."
(Edited by Shruti Singhal)

---
---
Like this story? Or have something to share?
Write to us: contact@thebetterindia.com
Connect with us on Facebook and Twitter.