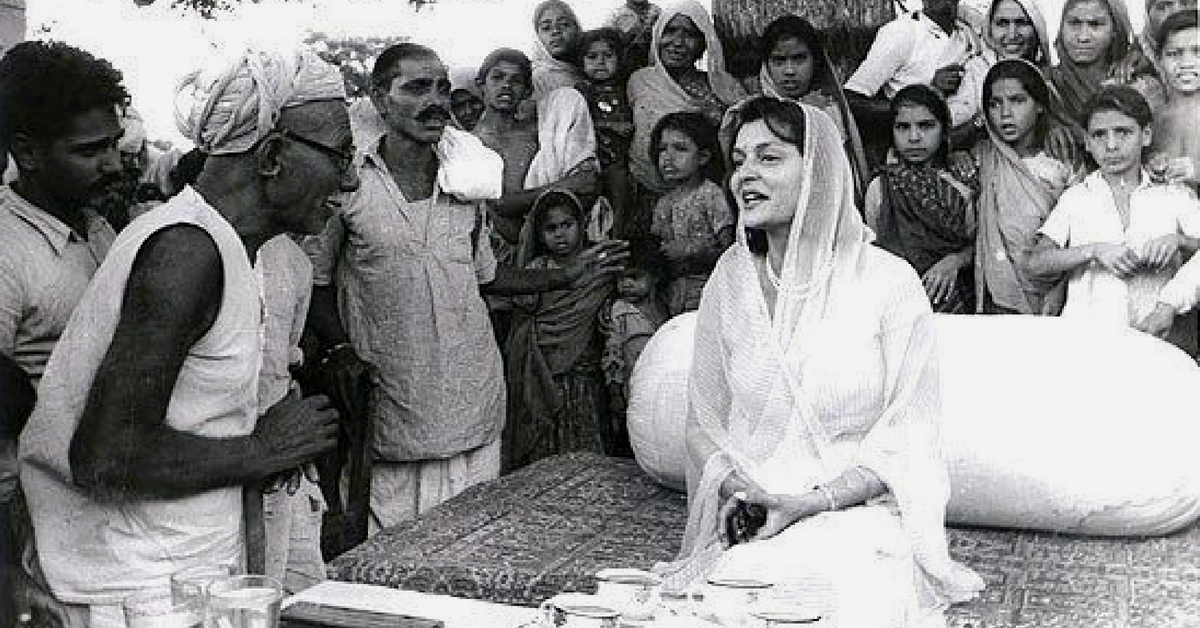 The Maharani or 'Rajmata,' as she came to be known, would go on to use her education and privilege to bring about a change in the system.
Born into the royal Koch Rajbongshi Hindu family, Gayatri Devi was the daughter of Maharaja Jitendra Narayan of Cooch Behar in West Bengal and Indira Raje of Baroda, Gujarat.
Educated in England, Shantiniketan, and Switzerland, and a skilled equestrienne and polo player, the family tree of eminent royals, rulers and socialists ensured that Gayatri Devi's life was full of dreamlike privileges.
In her autobiography, titled 'A Princess Remembers: The Memoirs of the Maharani of Jaipur,' Gayatri Devi wrote about a shopping spree when she was just a toddler. The princess had the privilege to shop at Harrods with no one but the store manager to assist her. Such was the life that the princess led—one that you and I only read about in fairy tales or watch on TV shows.
But the Maharani or 'Rajmata,' as she came to be known, would go on to use this very education and privilege to bring about a change in the system.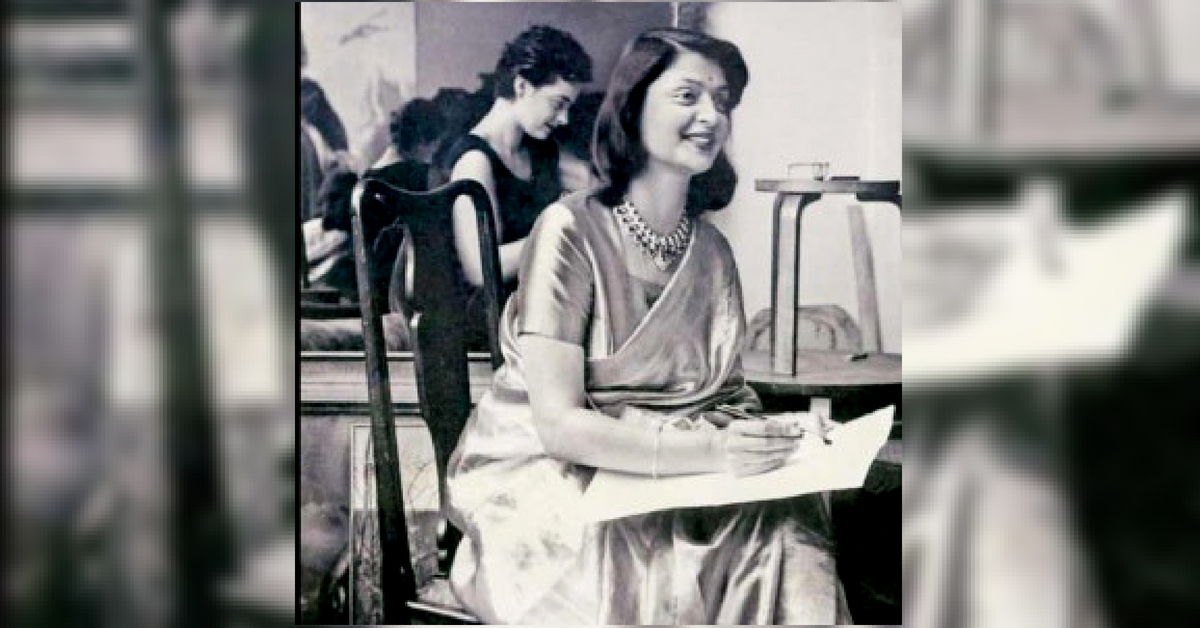 Trophy hunting was a popular leisure activity among the royals and the British when Gayatri Devi was growing up, and she was a 12-year-old when she shot down her first panther!
This was also the time when she met Sir Sawai Man Singh Bahadur, the Maharaja of Jaipur, who was a twice-married, 21-year-old man, and fell in love with him!
Man Singh was from a royal family and a formidable polo player. These common interests and background were instrumental in bringing the two young royals together.
However, Gayatri Devi was soon sent off to London for further studies. "I learned shorthand, to type and to write decent letters," she writes about her education at the Monkey Club, a traditional finishing school.
Unknown to their families, Man Singh and Gayatri Devi continued their relationship, and after a six-year courtship, the Maharaja proposed to her in London and she accepted.
However, the alliance was not well appreciated by their families.
Gayatri's family, in particular, was afraid that the bold, educated and 'modern' Gayatri would reduce herself to the 'purdah' system of the Jaipur Royals.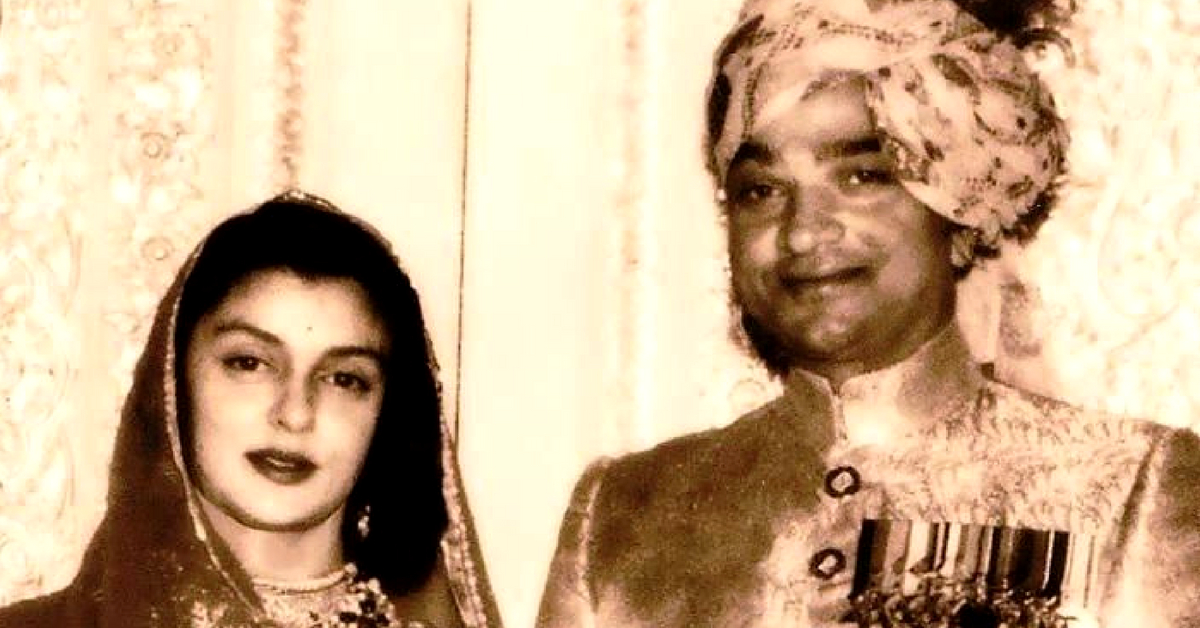 Surpassing all criticism and worries, the duo got married in 1940. Although Gayatri Devi adopted the formality of the royal family, she drew the line where it meant giving up her freedom. Both the wives of the Maharaja used to follow the purdah system. Gayatri Devi, on the other hand, refused to do so.
"The third Maharani of Jaipur accepted her role as the Maharaja's favourite but junior wife with good grace," the London Daily Telegraph noted, adding that, "She adjusted to the formality and restrictions of royal life, but at the same time used her authority to bring the palace women forward into the 20th century."
She also used this platform to educate more girls and empower them in their own right.
For this purpose, she started the Maharani Gayatri Devi Girls' School in Jaipur in 1943. The school started with 40 students and an English teacher.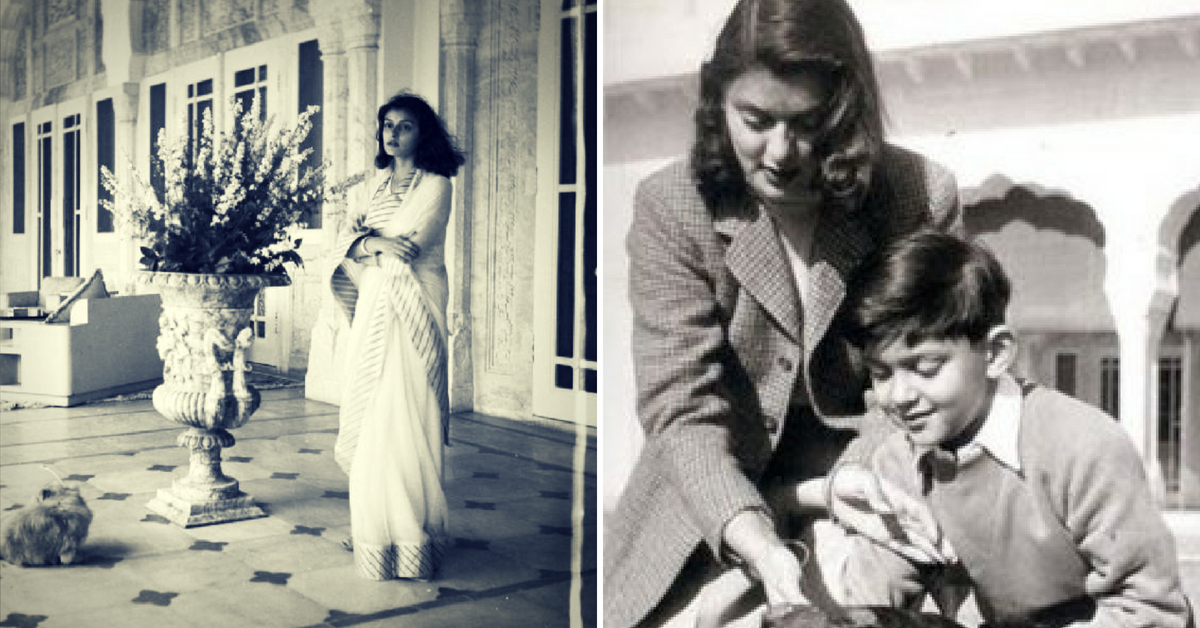 The princely states of India, like Jaipur and Cooch Behar, were abolished when India gained independence from the British in 1947, and Jaipur and 18 other princely states were merged to form the state of Rajasthan.
---
You may also like: This Forgotten Coach Was the Architect of Indian Football's 'Golden Age'
---
Although the Jaipur prince lost his sovereignty, the state received an annual stipend of approximately $378,000, from the government. In addition to this, the Maharaja of Jaipur also turned one of their palaces to a luxury hotel and started running travel, adventure and tiger hunting businesses for rich clients.
Gayatri Devi joined the Swatantra party in 1959, and in 1962, she decided to run for Parliament. Although she was a princess, she was adored and respected by people from all walks of life, primarily because of her work in education and her rejection of the purdah system.
In a landslide victory, validated by both, John F Kennedy and the Guinness Book of World records, Gayatri Devi won 192,909 votes out of the total 246,516 votes cast!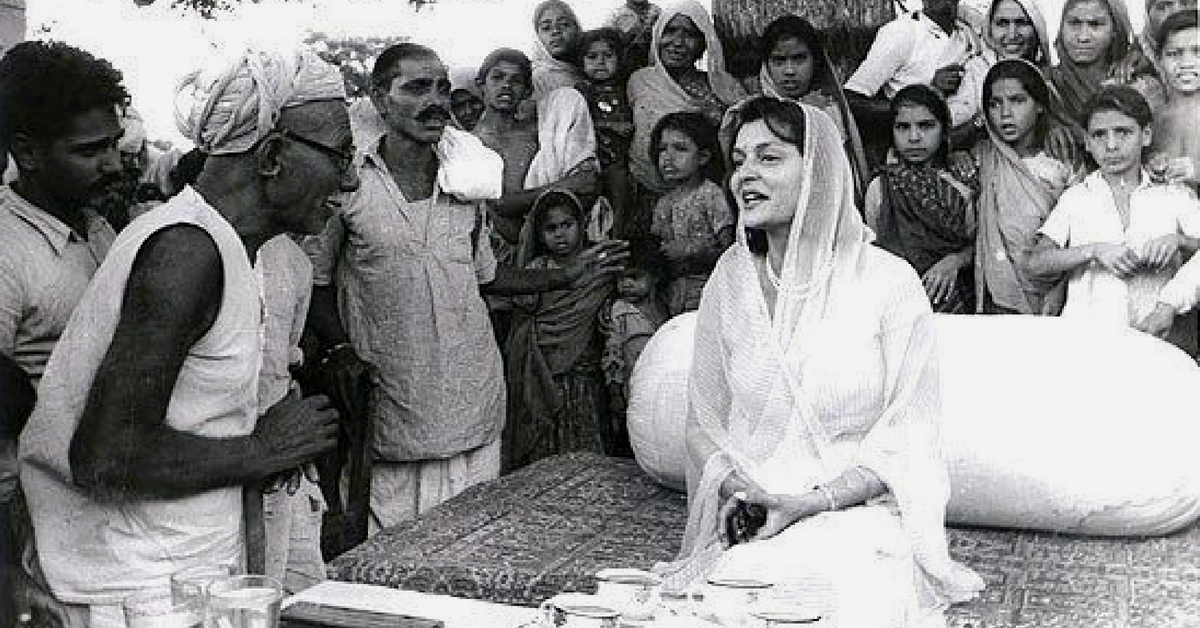 She continued to hold this seat in 1967 and 1971, running against the Indian National Congress. In 1971, however, all the privy purses to princely states were discontinued, terminating all royal privileges and titles, and Gayatri Devi was arrested, during the Emergency. She served five months in the Tihar Jail, after which she completely retired from politics.
These were difficult years for her. Her husband passed away in 1970, and his eldest son, who was her stepson, took over the throne, although only nominally. She was thus, no longer the Maharani but came to be known as 'Rajmata' or the mother queen.
---
You may also like: What Links India to Ocean's 8? a Gujarati King, a Priceless Necklace & the Ranji Trophy!
---
However, Gayatri Devi refused to wallow in nostalgia or sadness and chose to live a life doing what she loved doing best. She published her autobiography and continued to play and watch polo.
As the Telegraph reports, "Rajmata Gayatri Devi's two decades of widowhood were not spent in seclusion, as might have been expected of the widow of a Rajput ruler.
She and her husband had shared a great zest for sport and entertainment and, to the indignation of the traditionalists, the Rajmata continued to live life to the full."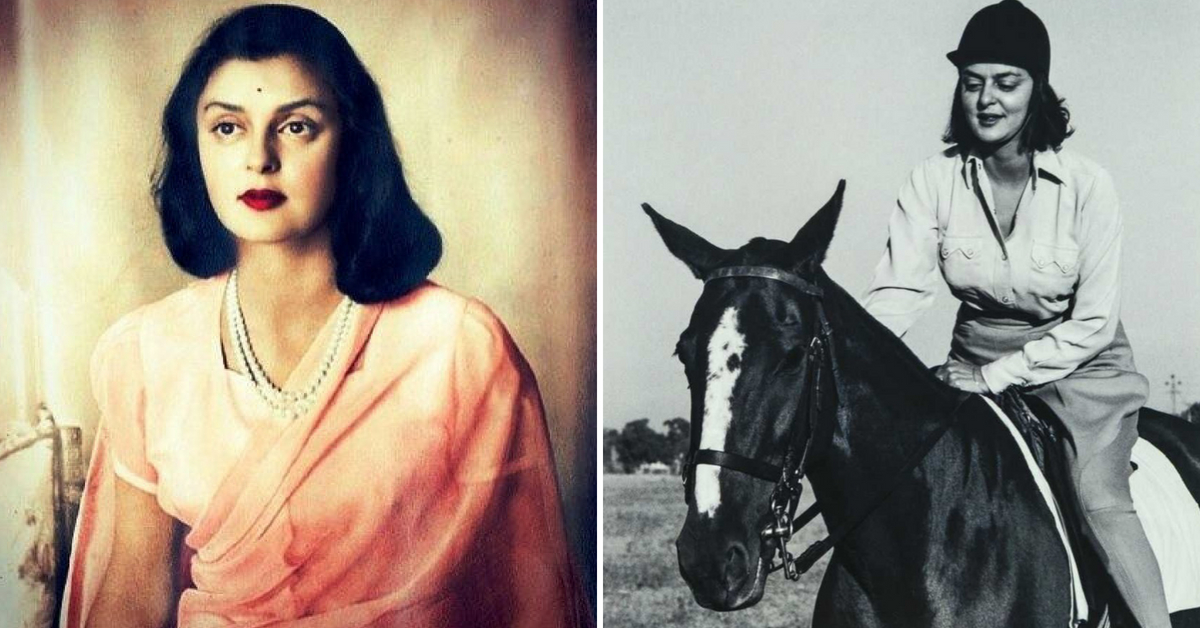 The Rajmata was known around the world for her beauty and keen fashion sense. Vogue had once described her as 'a dream in sari and jewels' and in 1966 while covering the proceedings of a government meeting, a reporter for the New York Magazine could not stop gushing about her.
He said, "The meeting had begun when the Maharani made her entry, giving everyone a whiff of expensive French perfume. She was dressed in a turquoise-blue chiffon sari with silver sequins sparkling like stars on a moonless night. She looked around with her large almond-eyes. Everyone stood up. As Hillaire Belloc once described someone, 'her face was like the king's command when all the swords are drawn.'"
---
You may also like: The Untold Story of the First Indian Pilot, Purushottam Meghji Kabali
---
Outliving both her husband and son, Prince Jagat Singh, Gayatri Devi died in 2009, of lung failure, at the age of 90.
From hunting a panther at the age of 12 to marrying the love of her life, and from winning a Parliament seat and being jailed for over five months, one can safely say that Gayatri Devi certainly lived a full life!
(Edited by Gayatri Mishra)
Like this story? Or have something to share?
Write to us: contact@thebetterindia.com
Connect with us on Facebook and Twitter.
NEW: Click here to get positive news on WhatsApp!