Last year, when the Air Quality Index (AQI) was recorded at 275 in Ludhiana, environmental scientists visited the city. They even visited Mehra's office and were surprised at a discovery—the AQI at IRS officer Rohit Mehra's office was just 78!
While it is a matter of great concern that India is slowly losing its green cover, it is also true that we are contributing to the plastic burden that the planet bears, with every wrapper, every plastic bottle and every plastic bag we buy.
It is therefore interesting to note that the Ludhiana Railway Station has found a way to reduce plastic waste and increase greenery on their premises in one shot, by using an item in the list mentioned above, to create vertical gardens!
Incidentally, the railway station is the first one, not just in Punjab but the entire country, to sport a vertical garden. The Ferozepur division of the Indian Railways, and the Income Tax department, Ludhiana, joined hands for this initiative which was inaugurated on Income Tax Day, 24 July.
Speaking to the Times of India, Vivek Kumar, the Divisional Railway Manager (DRM) said, "This is a wonderful project, and we are thankful to the IT officials for their suggestions and endeavour to make it possible on Ludhiana railway station, the first station in the country to get this garden. We will also replicate this project in other stations and sites to spread greenery as far as possible."
The vertical gardens, inaugurated by Kumar and the Chief Commissioner of Income Tax (CCIT- Ludhiana), Binay K Jha, was the brainchild of Rohit Mehra—an Indian Revenues Service official.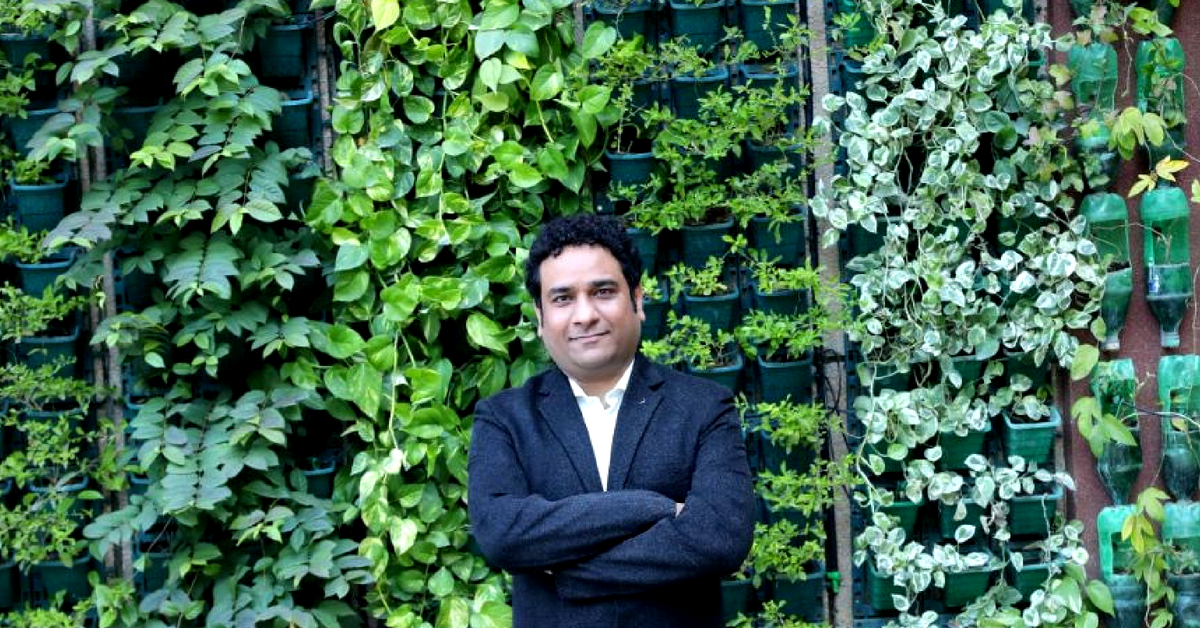 Mehra's journey to planting plants on walls began when he visited Singapore and was awestruck at how green and clean the citizens kept their country.
Speaking to The Better India, he said, "They have plants planted on home terraces too! But I realised that they use very costly containers to plants the saplings. Back home, I decided to use plastic bottles instead—the kinds that you use once and then discard. I started by planting a vertical garden at my home and then thought, why not expand it to my office?"
Mehra's office now sports 18,000 plastic bottles upcycled as pots for plants! However, he didn't stop there, and helped government offices, schools, Gurudwaras, and even hotels to house upcycled plastic bottles containing plants to make the surroundings greener and enhance their aesthetic appeal!
The most frequented Gurdwara in Ludhiana, Gurdwara Dukh Niwaran Sahib, has a vertical garden of about 37,000 plants!
We are all too familiar with the air pollution crisis that states like Delhi and Punjab are experiencing.
"Where all the schools in the country have just two long holidays—summer and winter—my sons had a third one: a smoke holiday!" Mehra told TBI. While this sentence is indeed amusing, if you think more about it, you'll realise how disturbing it really is.
---
You may also like: Greening 'Up': Pune to Grow Vertical Gardens on Its Metro Pillars!
---
Last year, when the Air Quality Index (AQI) was recorded at 274 in Ludhiana, environmental scientists visited the city. They even visited Mehra's office and were surprised at a discovery—the AQI at the office was just 78! The vertical gardens were silently battling air pollution, where the entire city was struggling to breathe fresh air.
"In our religion, we consume two trees after death (for cremation). So, I thought, why not plant some when I'm alive?
So far, my vertical gardens have planted about 2 lakh plants in Punjab, and as a result, upcycling the same number of plastic bottles!" Mehra told TBI.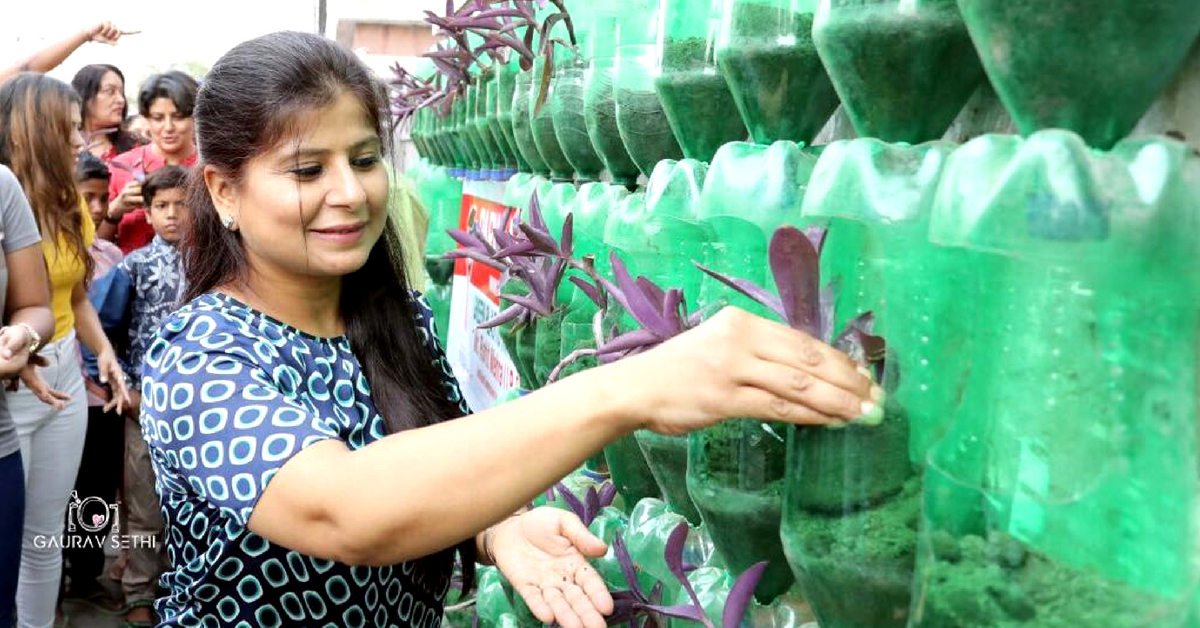 So far, the IRS officer has established over 75 vertical gardens in Punjab!
The Department of Railway did not miss Mehra's efforts, and they roped in the IRS officer to make the Ludhiana Railway station a greener space. But the start of such an ambitious project had to be slow and far-sighted, so they began preparing for exactly a year ago.
---
You may also like: Bengaluru Man Uses Hydroponics To Grow Vertical Gardens & Fodder Machines!
---
"The vertical garden at the railway station is a very special project for us, as exactly a year ago on the occasion of Income Tax Day 2017, we had launched a green plastic campaign from our office at Rishi Nagar by starting the work of making the first vertical garden using waste plastic bottles. Ever since the day, there has been no looking back," Jha said.
(Edited by Gayatri Mishra)
All pictures courtesy of Rohit Mehra.
Like this story? Or have something to share?
Write to us: contact@thebetterindia.com
Connect with us on Facebook and Twitter.
NEW: Click here to get positive news on WhatsApp!