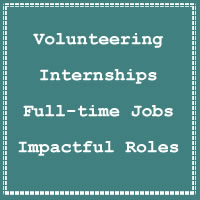 Over the past two years, we've been regularly featuring many inspirational individuals and organizations who are bringing about a positive change in our society. Their work ranges across sectors such as education, agriculture, working for the differently-abled, environment care, science, tourism – the list is endless.
We received many queries from readers on how they too could do their bit in assisting these organizations. When we spoke to these organizations, we realized that there was a gap in connecting the right people to the right cause. This is when we thought of setting up a Jobs section on The Better India.
As some of you might have already noticed, the little "Jobs" link is now live on the menu bar and you can access the section directly from here: http://thebetterindia.com/jobs/
As we get started, we've featured job openings in organizations that we have written about so far. We hope to continue to increase this list – where you as a reader can contribute too. If you are aware of any job opening in any organization that is bringing about a social impact, feel free to mail us the details and we will gladly put it up.
And if you are looking to apply for a job, just view the jobs listings, click on the relevant Job Title, click on 'Apply Now', fill in the details (ensure that your CV is in a .txt format to prevent errors) and hit the Submit button. Your application will directly go to the organization which has posted the requirement.
We shall continue to fine-tune this jobs section to ensure it meets the requirements of organizations and candidates. Your feedback is welcome.