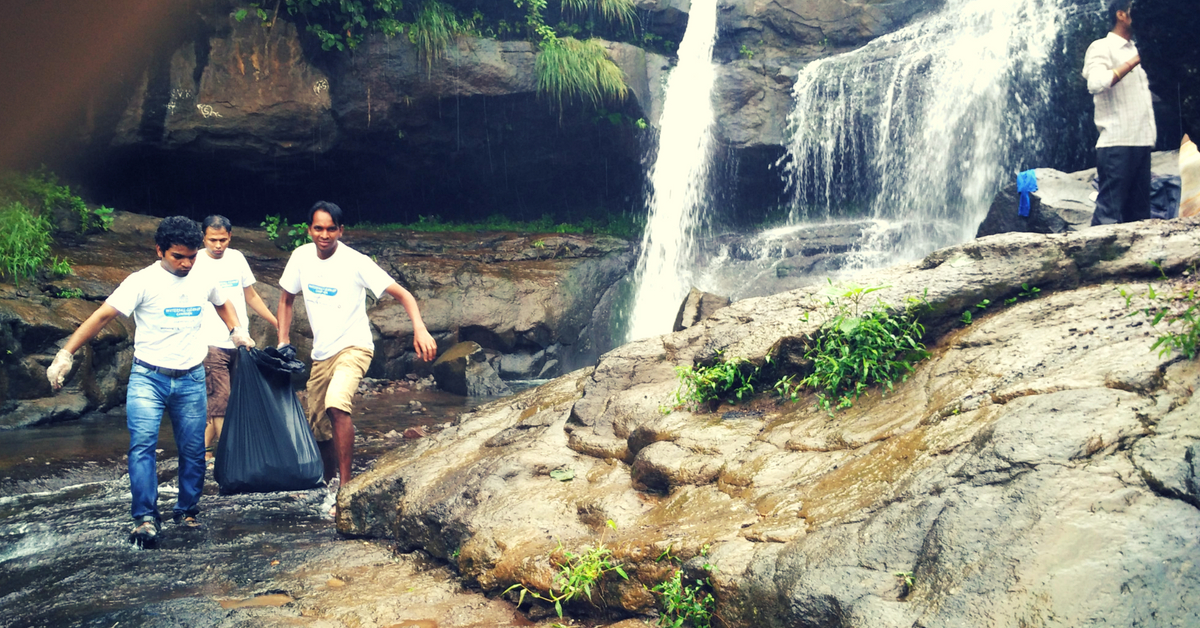 In the last 18 months, Dharmesh's group, consisting of 20 members has managed to clear over 6.7 tonnes of garbage from eleven waterfalls in Maharashtra, which includes Tapalwadi, Jummapatti, Zenith, Pandavkada, Chinchoti, Anandwadi, Kondeshwar, Bhivpuri, Palasdari, and Ambewadi.
Referred to as 'the man of the waterfalls' by his kith and kin, 31-year-old Dharmesh Barai was born in Uttar Pradesh. He was in class three when his family shifted to Mumbai, where his father worked as a groundsman.
He talks to The Better India, recalling the fateful first day of Class 10 when his father passed away.
"He would often tell me that he dreamt of seeing me graduate. His dream didn't come true while he was alive but I wasn't going to let him down," says Dharmesh.
And so, he worked hard to complete his graduation from the University of Mumbai. He also completed a diploma in Human Resources from the Wellingkar Institute of Management, Mumbai. He also worked a string of part-time jobs to make ends meet.
But amid all the difficulties, Dharmesh recalls how waterfalls were always his happy place.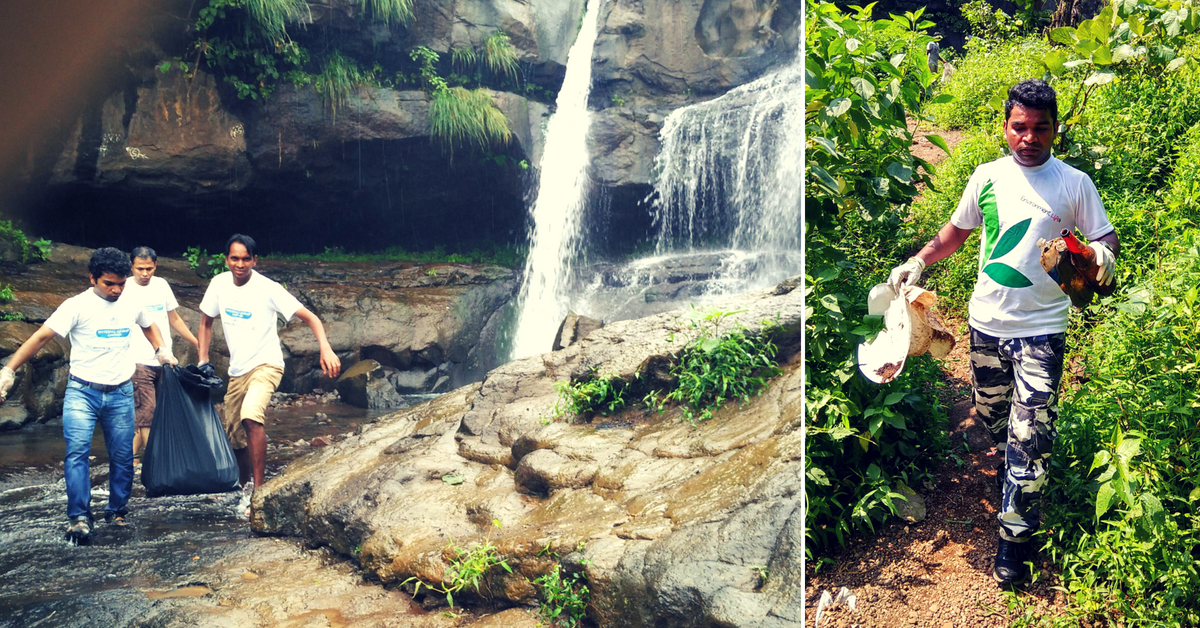 "I first visited a waterfall in 2002 with my friends. We hiked 90-feet up the scenic Zenith waterfall in Karjat, Maharashtra. I looked in awe as large groups of people, who were coming from the hustle of the city, enjoyed the breathtaking beauty of the waterfall. What bothered me though was the amount of waste they left behind. Eatables, plastic and thermocol cutlery, PET bottles and even alcohol bottles!" shares Dharmesh.
He decided to not give it much thought at the time. But over the years, as he explored other waterfalls in areas like Neral, Badlapur, Kharghar, Khopoli etc., he found a pattern in tourist behaviour where plastic and glass waste would be carelessly dumped, threatening the fragile ecosystem of the beautiful waterfalls.
In 2008, along with two of his friends, Amit Shirodkar and Vishal Kamatkar, Dharmesh started a local group called Environment Life.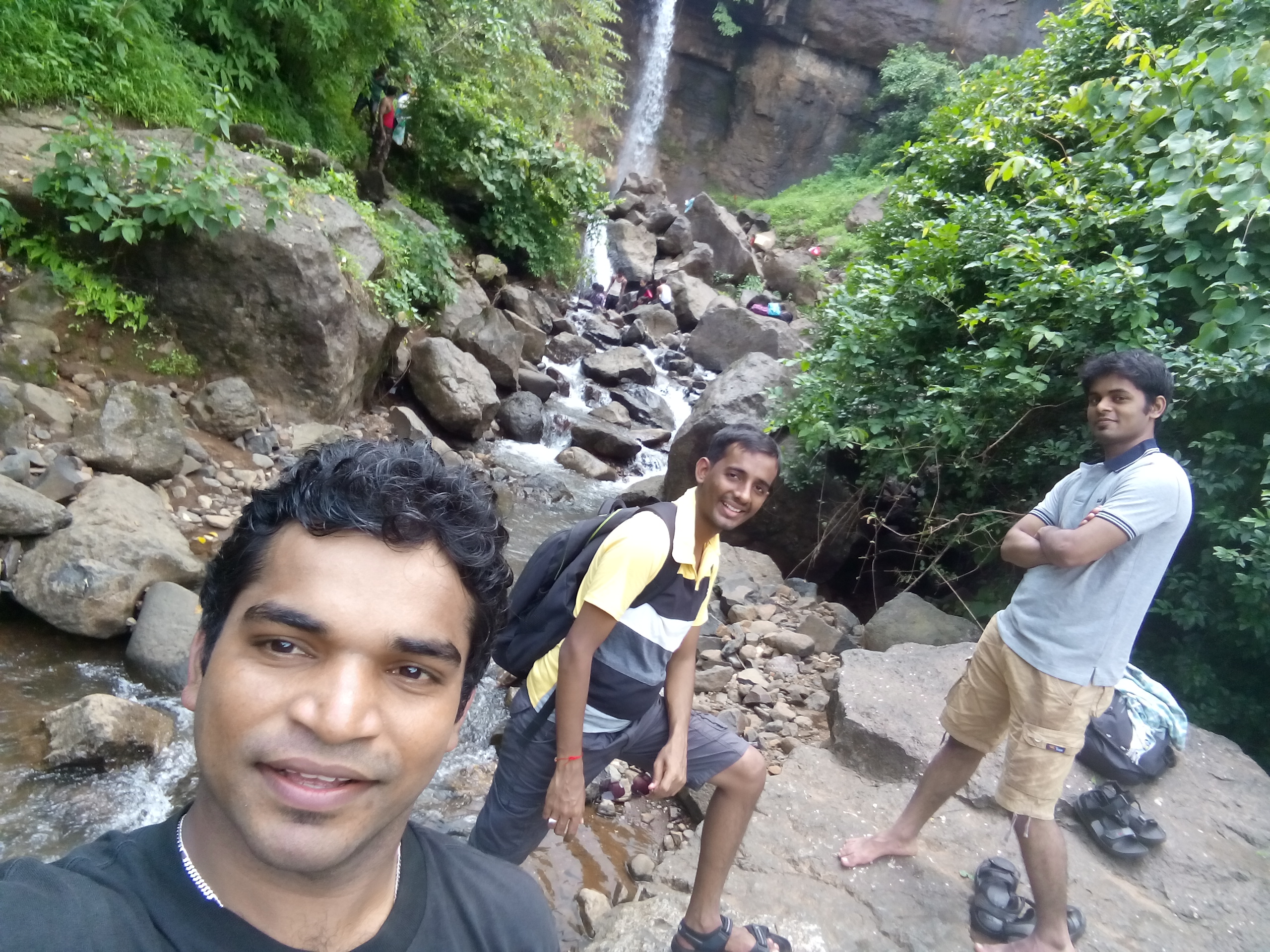 While the group has been involved in a host of environment-related activities, in 2016 they decided to kickstart what they claim to be — 'India's first-of-its-kind initiative to make waterfalls garbage-free'.
A major pillar of support for Dharmesh during this project has been his wife, Trupti Barai. From participating in every clean-up drive held till date, she has also been leading other women to be a part of the cause.
On the occasion of Gandhi Jayanti in 2016, inspired by the Swachh Bharat Abhiyaan, they conducted their first clean-up drive at the Anandwadi waterfall in Neral.
In the last 18 months, Dharmesh's group, consisting of 20 members has managed to clear over 6.7 tonnes of garbage from eleven waterfalls in Maharashtra, which includes Tapalwadi, Jummapatti, Zenith, Pandavkada, Chinchoti, Anandwadi, Kondeshwar, Bhivpuri, Palasdari, and Ambewadi.
Major challenges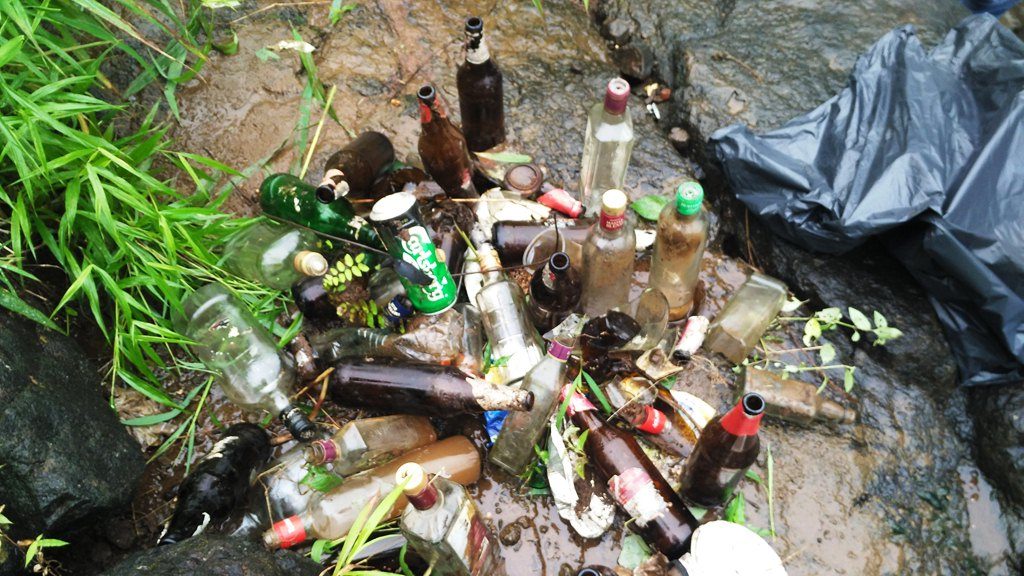 Of the 11 major waterfalls that they cleaned in six clean-up drives, over 2,500 kg of waste was collected from Bhivpuri waterfall in Karjat alone. Dharmesh reveals how 85 percent of this waste consisted of liquor bottles, while the other 15 percent included plastic and thermocol cutlery, packaged water bottles, wafer packets etc.
"The repercussion of this increasing waste is that many of the villagers hurt themselves because of the broken glass while walking around the area. Water that runs off from their areas into their fields also contains glass. This has caused many of them to stop farming. Even the cattle in the area end up consuming a lot of plastic in the grazing fields which are close to the waterfall."
Dharmesh recalls the challenges when they first conducted a clean-up drive at Kondeshwar.
"When we first began, we didn't even have gloves. We were about 25, just friends and others we knew from our social groups. Another mistake we made was to carry bin liners to collect the waste. While two volunteers held them on either side, the glass pieces poked through the bag and hurt many of us. We didn't even have first aid to tend to the injuries. But I think, it was a major learning experience for all of us," confesses Dharmesh.
Now, each time the team conducts a clean-up drive, they shell money from their own pockets to buy gloves, make adequate arrangements for first aid, food, water and travel. They also encourage their volunteers to get cement bags from construction sites for waste collection. Not only are these bags sturdy and cost-saving, but also reusable.
But is it always easy to convince people to sacrifice their weekend plans and travel to these waterfalls to clean them? Well, no.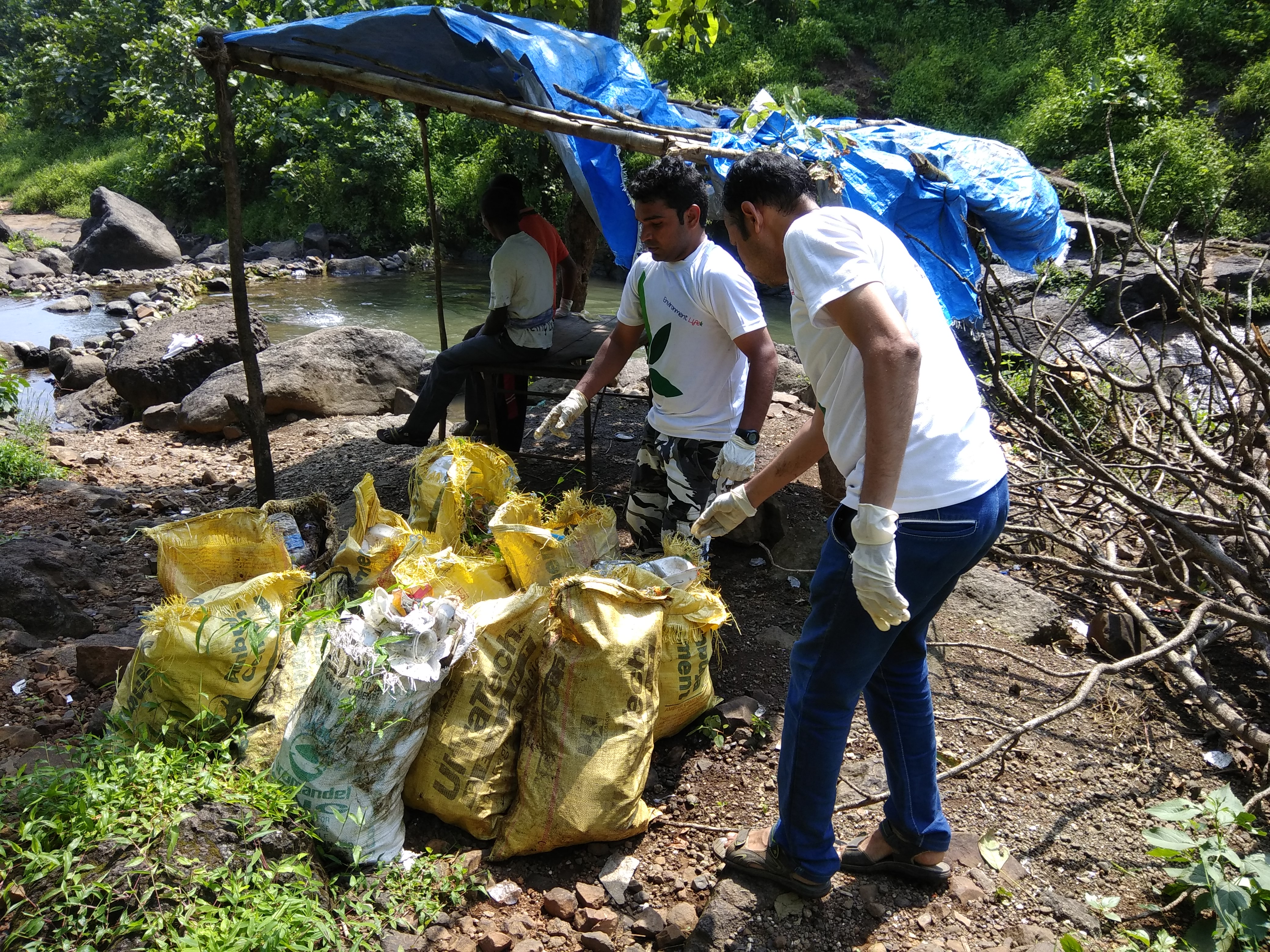 "From recce to getting permission from the village panchayats or gathering volunteers, every step is a challenge. Several times, volunteers give their names, but on the day of the drive, back out because the area is remote and requires additional time and effort. At times when the volunteers extend their support, the locals don't," says Dharmesh.
But over the years, as their initiative has been getting attention, as more and more people are coming forward to back the cause. One of their most successful clean-up drives was at Kondeshwar, where over 150 volunteers came together to clear 2,500 kgs of trash.
The group also visits the villages close to these waterfalls to create awareness and make them understand the purpose of the clean-up. After looking at the pictures of the piling waste in the water bodies, many of these villagers (especially youth) are now helping the group in picking trash.
All the collected waste is then carried by the gram panchayat garbage collection vehicle to the dump yards.
"We approached a few recycling units, but many of them have refused solely because the cost of travel and fuel to these remote areas and collect waste outweighs any profits they could make. But we are on a lookout for partners who would want to help," he shares.
When we ask him about the impact of the clean-up drives, Dharmesh says, "And while I cannot say that every waterfall we have cleaned is free of garbage, I can confidently tell you that the amount of trash has come down to a great extent. Slowly but steadily, more and more people are becoming conscious about not littering in these areas, and that, to us, is an achievement."
---
Read More: Led By This Man, Mumbaikars Clear 200 Tonnes of Garbage in a Record 24 Hours!
---
In a humble request to the Maharashtra Tourism Development Corporation and the Government of Maharashtra, Dharmesh has prepared a list of suggestions that he thinks can be useful in the long run to maintain hygiene in these waterfalls.
Install boards that describe the history of the waterfall and its importance to boost local tourism.
Install instruction boards that explicitly state the dos and don'ts for tourists to maintain hygiene and avoid dangers.
Set up basic infrastructure like toilets and changing rooms for tourists/visitors.
Install dustbins in all spots to avoid people from littering.
Ban liquor consumption 500 meters from the waterfall to avoid accidents and injuries.
Have an entry gate setup and collect nominal fees from visitors. This money can be used for maintenance, infrastructure development, and advertising.
Deploy security personnel to make sure rules are followed. Authorise them to levy fines on violators.
If deploying security personnel is difficult, create employment opportunities for locals to serve as caretakers of the waterfall.
If Dharmesh's story inspired you, contact him on +91 9773274296 or email him at ienvironmentlife@gmail.com.
(Edited by Shruti Singhal)
Like this story? Or have something to share?
Write to us: contact@thebetterindia.com
Connect with us on Facebook and Twitter.
NEW: Click here to get positive news on WhatsApp!