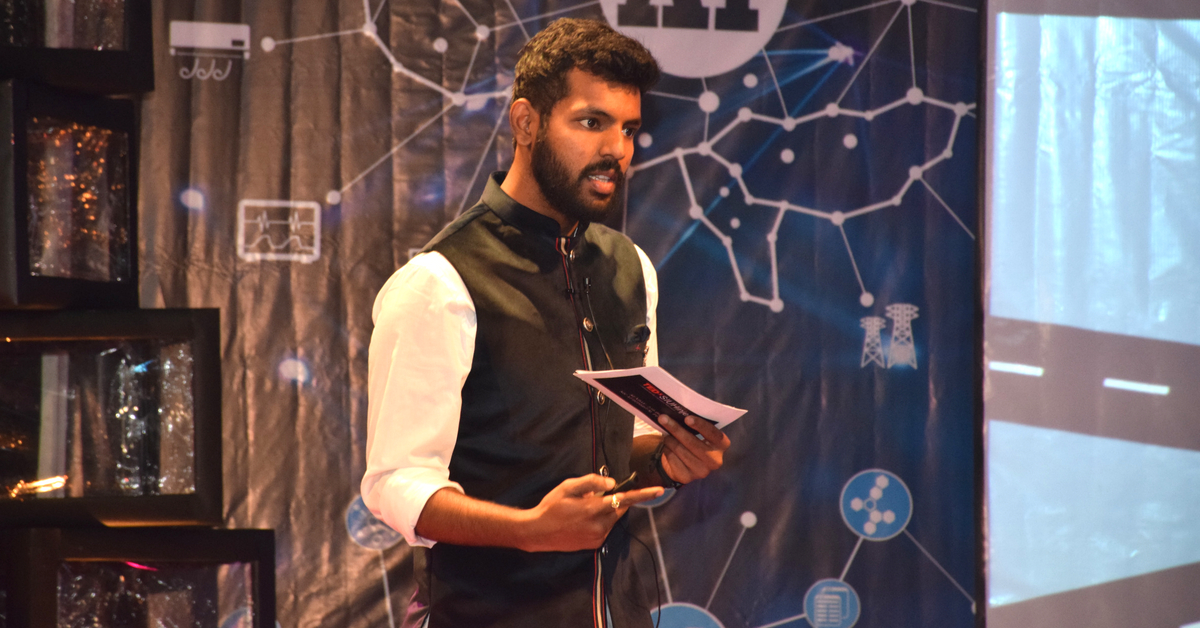 1 million youth. 3000 kms of Indian roads. 100 days of democracy. And 1 powerful youth manifesto for Andhra Pradesh.
Naga Sravan Kilaru isn't your average 24-year-old. The winner of the 2017 National Youth Award for "outstanding work in the field of national development and social service," Sravan considers himself to be a responsible and self-conscious citizen who wants to do his bit for society and make a difference.
On International Youth Day, which falls on August 12, Sravan will kick-start a mass youth campaign called 'YuvaGalam-A March for Million Dreams' in his home state of Andhra Pradesh, where elections are slated to be held early next year. Through this campaign, Sravan and his team of friends and volunteers will walk and cycle for more than 3,000 km over 100 days, meeting and speaking to 100,000 youngsters to draft the state's "first ever youth manifesto." He also hopes to engage 1 million youngsters online as well through the course of his 100-day campaign.
Suffice it to say; this isn't Sravan's first rodeo with social and political activism. He's been doing this since he was 17, an age where a person's thoughts are often occupied by choice of college, the latest gizmo on the market and the fate of their favourite sports team.
Like many among the current crop of youth leaders, Sravan's engagement with social activism began with the 2011 Lokpal anti-corruption movement spearheaded by Anna Hazare.
"When I was 17 years old, I took the initiative of forming a team and explaining the concept of Lokpal to students and its importance. This is because I saw many of my friends support the Lokpal movement, although they had no clue about what it meant. That's where my journey in social activism began, and from there I began to pivot towards political activism," Sravan tells The Better India.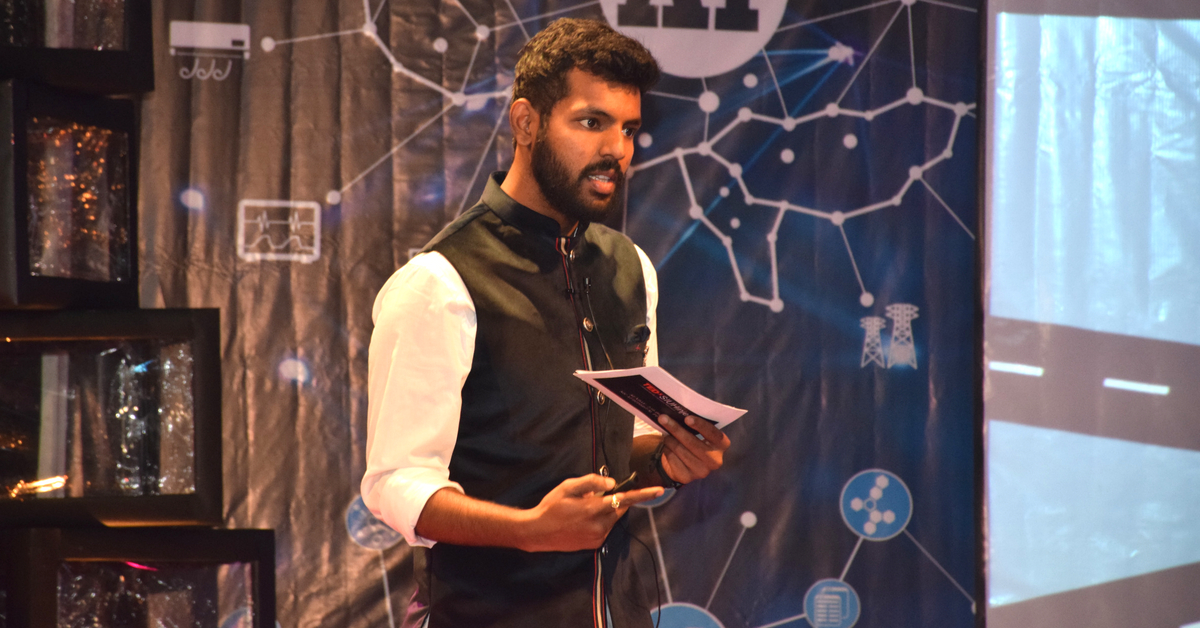 During the nationwide Lokpal campaign, Sravan organised public marches, addressed over 40,000 students and collected more than 25,000 signatures from his home city of Vijayawada supporting the passage of the Lokpal Bill in Parliament, which many had hoped would strengthen accountability in our democracy. Unfortunately for Sravan, the movement fell apart within a year.
However, it did not deter him from walking on the path of activism and the strengthening spirit of participative democracy.
"I can't teach anybody anything, but only make them think. My biggest contribution to change would be empowering the youth to think and make informed choices. I strongly believe that if we can provide the right information to people, they will make the best decisions. Often, what we lack is the right kind of information," the youngster from Andhra tells The Better India.
After completing his schooling in Vijaywada, like many students from his part of the world, Sravan moved to Bengaluru for his Bachelor's degree in Industrial Engineering and Management. Despite the daily rigours of daily academic life, the youngster from Andhra found the time to meet and engage people from different parts of the country who carried the same activist mindset.
During his four-year stint in the Garden City, he set up Revolutionising India through Social Empowerment (RISE)—a non-profit for youngsters, which promotes active participation in public life, raising awareness of civic issues and empowerment. Among the activities that the non-profit carried out in the city, was an awareness campaign for the preservation of the Kengeri Lake.
"We filed multiple Right to Information (RTIs) to bring the attention of the local public and media on the condition of Kengeri Lake and make efforts towards rejuvenating it. Through the RTIs, I found that the funds meant for the preservation of the lake were used to construct a shopping complex. After the campaign picked up pace, the officials began cleaning the lake," he says.
In September 2014, he launched a platform for Vijayawada's youth called 'Vijayawada Needs U' to empower them and discuss issues of public interest. This is where his work in spreading the gospel of participatory governance went into overdrive.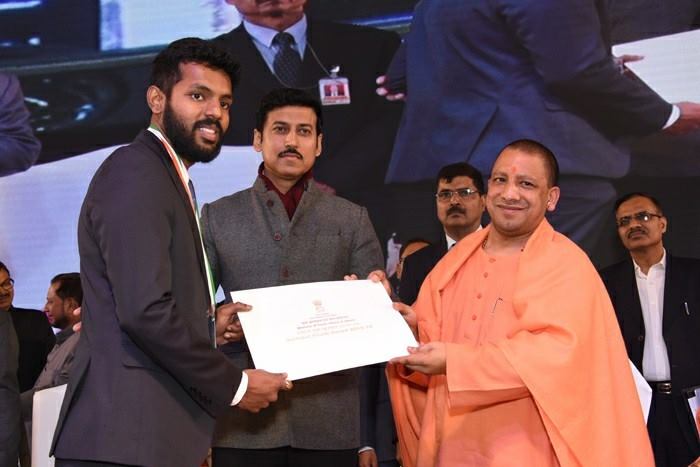 On this platform, he regularly conducts regular 'Mock Parliaments' where he has managed to engage nearly 500 youngsters through various campaigns and workshops. The initiative provides information about how the parliament functions, discusses issues of public importance and also encourages the youngsters to take up politics. In a country where less than 2% of MPs in Parliament are less than 30 years of age, this is essential.
Also Read: One-Third Reservation in Parliament: Here's Why Indian Women Need This Bill  
In fact, amongst the most interesting campaigns he started with VNU was to conduct a report evaluating the performance of 24 MPs from Andhra Pradesh based on critical parameters—attendance, questions raised, debate participation, funds allotted and spent, and bills of private expenditure.
A key finding by the VNU was that a mere 14 out of 24 MPs maintained an attendance of above 80%. "We put out the report cards of MPs in the public domain," Sravan tells The Better India.
So, what inspired YuvaGalam, his latest endeavour?
"My motivation is simple. Politicians make a lot of promises to young people, but hardly any of those are fulfilled. Although a lot of public conversation during election campaigns revolves around the youth and farmers, very few reform-driven policies that would both harness their true power and help them contribute towards the goal of nation-building, come to the fore. One of my major objectives through YuvaGalam is to develop an institutional framework that would allow young people to participate in governance," says Sravan.
As stated earlier, Sravan and his team of volunteers will walk and cycle for more than 3,000 km over 100 days, meeting and speaking to 100,000 youngsters across Andhra Pradesh. The objective here is to have a conversation with the youth of Andhra, take their opinions, understand their problems and draft a manifesto that reflects their aspirations.
"Besides urban areas, our other major focus group comprises of rural youth and urban poor youth. Our target is to cover at least two colleges a day and 500 students in each college. This will go on for 100+ days, fulfilling our objective of meeting 1,00,000 youth. We also hope to engage online media platforms, social media networks and missed call campaign to engage 1 million youngsters," he says.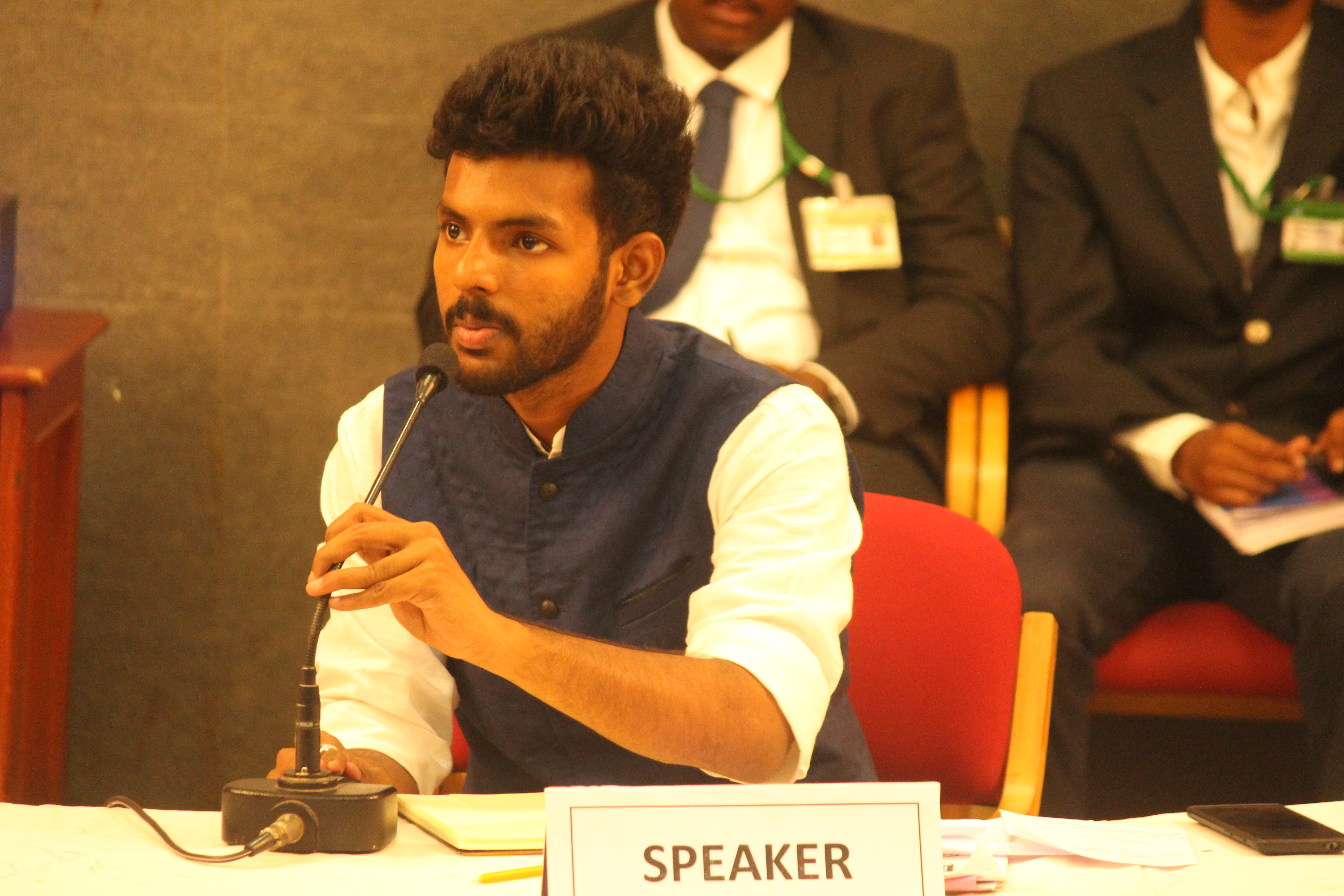 Sravan says that he has already reached out to multiple colleges, and many of them have come on board. "We will cover at least 70-80 engineering colleges, nearly 60-degree colleges with Class XI and XII students. Among the colleges on board are Sivani College of Engineering, Gitam University, Maharaj College of Engineering, Nalanda Degree College and Siddhartha College of Engineering, among other medical and engineering institutions. We also have volunteers at the district and constituency level who will get all the police and college permissions to address students," he says.
After engaging these students, Sravan and his core team of 8-10 members who have worked with him in some capacity over seven years, will draft a youth manifesto for Andhra Pradesh and lobby with every political party to adopt it.
However, as he tells The Better India, there are significant challenges that stand in the way. "The biggest challenge is the monetary constraint we are under. For now, all the money is coming from my pocket and friends who are part of the team. They are also assisting a great deal in working out the logistics. We want to ensure every youngster who wants to participate in this movement is given an opportunity to express themselves," he says.
Another major challenge Sravan believes is institutions allowing young people to have a non-partisan political debate. This is a major concern since educational institutions don't want their students to go beyond the remit of academic work. Moreover, many of these institutions in Andhra Pradesh are owned or controlled by politicians. "How open they are to such debates is a major question," he says.
While speaking to Sravan, what immediately stands out is his steadfast belief that young people should engage themselves further in the political arena and be a part of the potential change it could result in.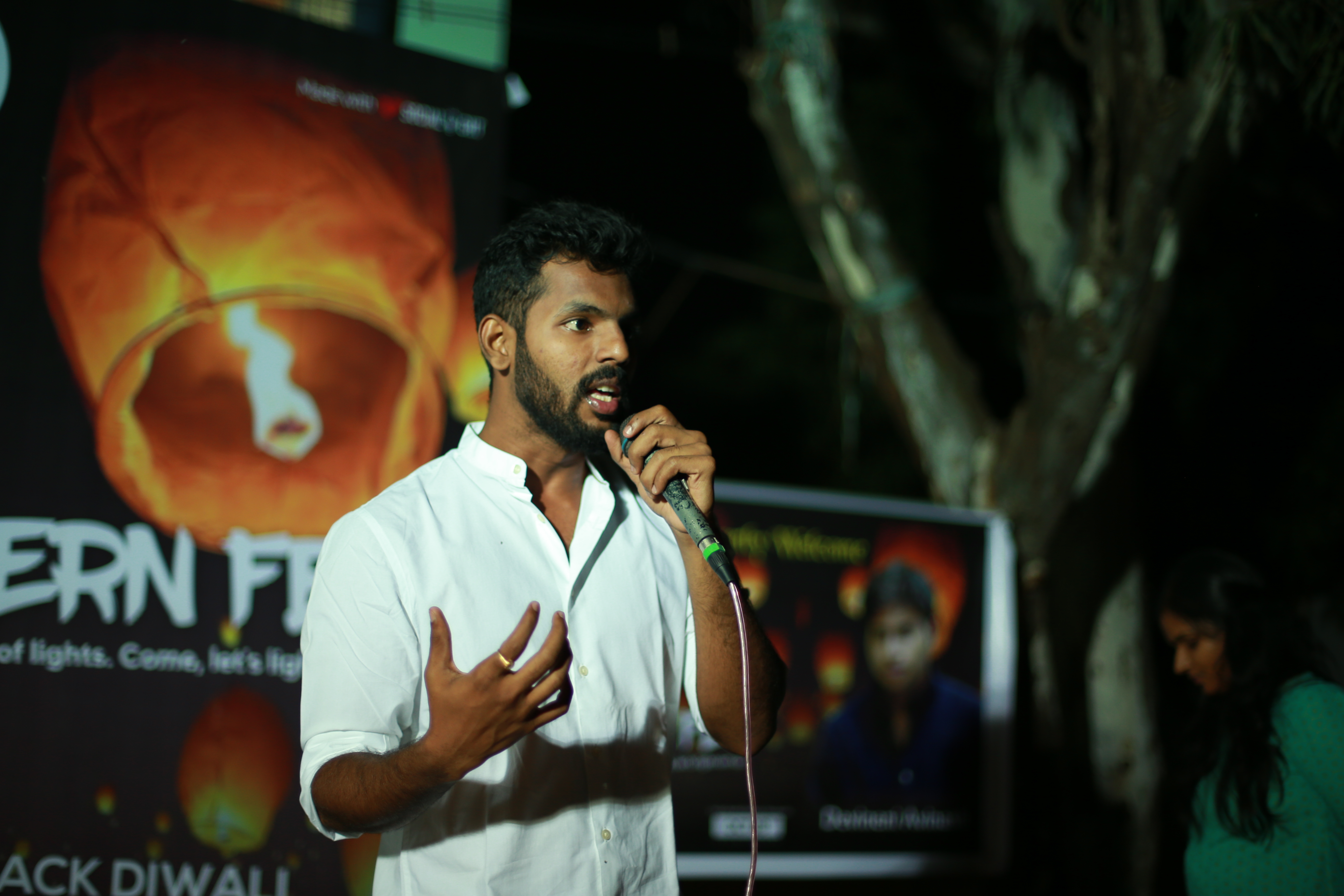 When asked whether young people today are too disengaged in the political sphere, he responds in the negative.
"I would rather say that they gave up or see this as a waste of time. Given the right direction and motivation, we have seen what the youth of India is capable of. We have the ability to bend the knees of governments and compel them into taking corrective measures. We need to focus more on local governments rather than just state and national elections. Moreover, young people must realise the importance of voting and casting a vote based on relevant information and capabilities of the legislators than just caste, community and region," proclaims Sravan.
Also Read: Transparency Is the Name of the Game. Will Electoral Bonds Ensure It? 
However, once again, one must raise the question as to why Sravan, who also works at SatSure, a successful Switzerland-based farm start-up, would invest so much time in this endeavour.
"The freedoms we enjoy today is due to the sacrifices and astute observation of many people. I want to do my part to ensure that this freedom reaches every individual and that it is protected in the right spirit," concludes Sravan. This is indeed an admirable aspiration.
Those who want to support the idea of YuvaGalam can express their support by giving a missed call at 7567144433. However, if you want to go beyond this measure and help Sravan, you can reach him on his mobile number at 90322-36555.
You can also reach the YuvaGalam initiative on:
Facebook- www.fb.com/nagasravan.kilaru
Their website: www.yuvagalam.com
Email ID: join.yuvagalam@gmail.com
(Edited by Gayatri Mishra)
Like this story? Or have something to share? Write to us: contact@thebetterindia.com, or connect with us on Facebook and Twitter.
NEW: Click here to get positive news on WhatsApp!
We bring stories straight from the heart of India, to inspire millions and create a wave of impact. Our positive movement is growing bigger everyday, and we would love for you to join it.
Please contribute whatever you can, every little penny helps our team in bringing you more stories that support dreams and spread hope.
Tell Us More