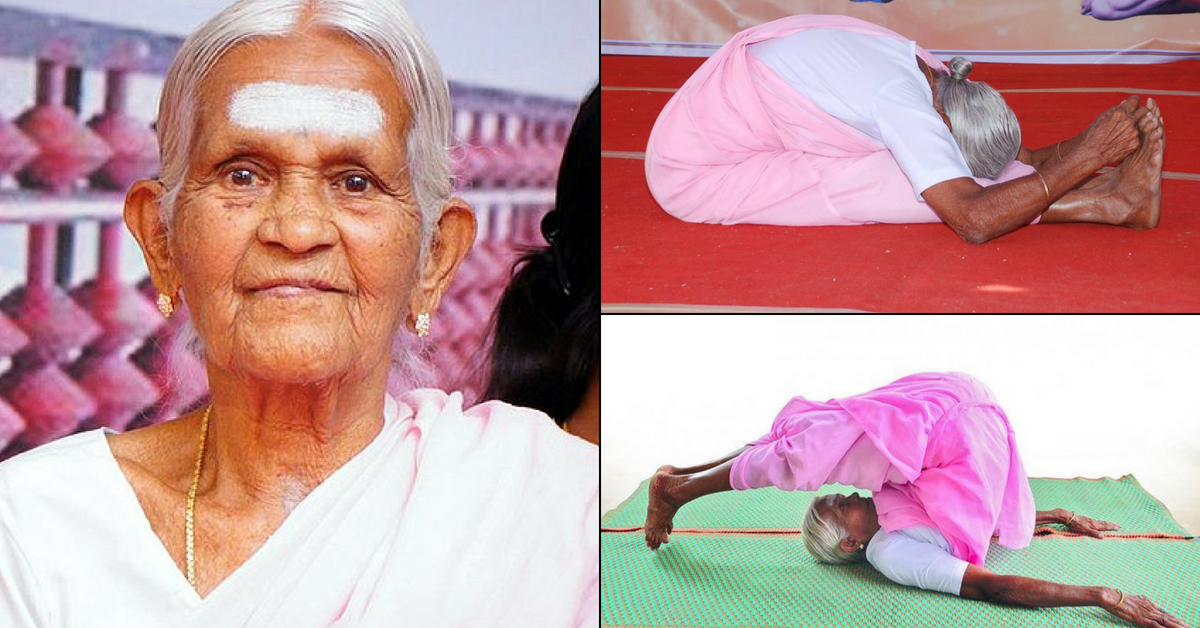 Mrs V Nanammal, 99, from Tamil Nadu, has been practicing yoga all her life, teaching successive generations too. Practice yoga for better health, she says.
Yoga, the ancient Indian art form of twisting and stretching one's body towards health has unfortunately disappeared from the lives of Indians over the last few generations. In a one-to-one with yoga maestros Mrs V Nanammal and her son Mr V Balakrishnan, Dr Priyamvada Chugh discusses their journey and the therapeutic benefits of yoga.
Mrs Nanammal and her clan of six children, 12 grandchildren and 11 great-grandchildren are all yoga teachers in Coimbatore, Tamil Nadu.
So how did it all begin?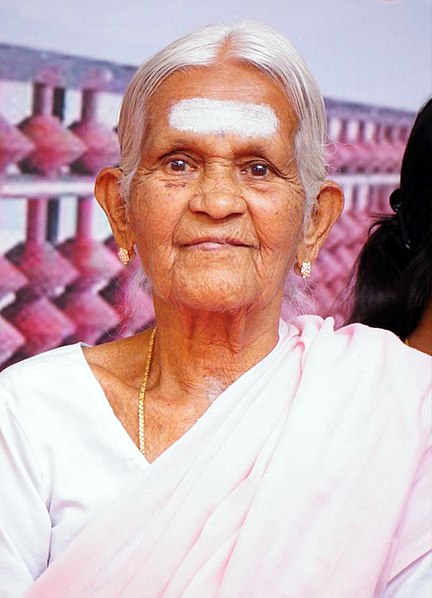 Source: Wikimedia
Being born into a farmer's family, Mrs Nanammal's grandfather was a Registered Indian Medical Practitioner, with expertise in yoga. "Only these days there are gyms, in olden days, everyone did some exercise or the other. In my village, everyone knew the ancient martial art, Silambattam. While I never formally learnt yoga, I picked it up from my grandfather just by seeing him," she says.
The tradition of learning-by-seeing yoga continues to seep in her family even today.
Since 1920, when she was born, Mrs Nanammal has not knocked the doors of a hospital. "The credit for this goes to the 50 unique asanas, five minutes of pranayama and five minutes of meditation that my mother has been practising every day," says Mr Balakrishnan.
It is this unshaken dedication and skill that got her the 2016 Nari Shakti Puraskar by the President of India, followed by the Padma Shri this year.
At 99 years of age, Mrs Nanammal or yoga paati (yoga granny in Tamil) as she is fondly called, still travels around the world, inspiring people of all ages.
Yoga paati and her family have taught the ancient science of yoga to one million students over the last 45 years and have helped scores of people with different ailments including sinusitis, diabetes, back pain, wheezing and irregular periods. When asked if there is a specific time of day to practice yoga, here's what they said:
"Yoga has to be done before sunrise facing the east or during sunset, facing the west. It is at these times that the sky is rich in infrared rays, from which our bodies gain an enormous amount of power."
It is believed that there are over 84 lakh yoga postures, of which only about 1,000 asanas are left now.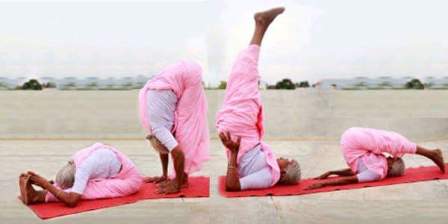 Among these, the favourite of Mrs Nanammal's family is Sirsasana or the headstand. The king of asanas, Mr Balakrishnan calls it.
Yoga paati learnt this asana at a very young age and can still do it effortlessly. Mr Balakrishnan shares, "It is due to sirsasana that my mother has very good memory, hearing power and eyesight. She can still needle a thread in seconds. As you stand on your head during sirsasana, a lot of blood flows into your brain. One minute of sirsasana in the morning and one minute in the evening will go a long way in keeping your brain healthy and shielding your body from paralysis."
"It is due to Sirsasana that Mrs Nanammal has very good memory, hearing power and eyesight. She can still needle a thread in seconds."
Our lifestyles are changing tremendously. With 12 or more hours of computers, TVs and mobile phones challenging our eyes, backs, necks and brains every day, we need to pause, and we need to stretch.
---
Also Read: How Yoga Helps the World. Paying (H)Ommage to Yoga on International Yoga Day!
---
"The spinal cord is our second brain. Forward bend, backward bend, right bend, left bend, you should give some work to the spinal cord to strengthen it," explain the yogis.
There are a range of asanas to keep the spine happy, from simple ones like Shashangasana (rabbit pose) and Bhujangasana (cobra pose), to harder ones like Ustrasana (camel pose), Chakrasana (wheel pose), Dhanurasana (bow pose), Matsyasana (fish pose) and finally, the Sarvangasana (shoulder stand, the pose for all organs).
Moving your neck clockwise and anti-clockwise improves the circulation through the neck, which houses the pituitary gland, a tiny pea-sized organ at the base of the brain.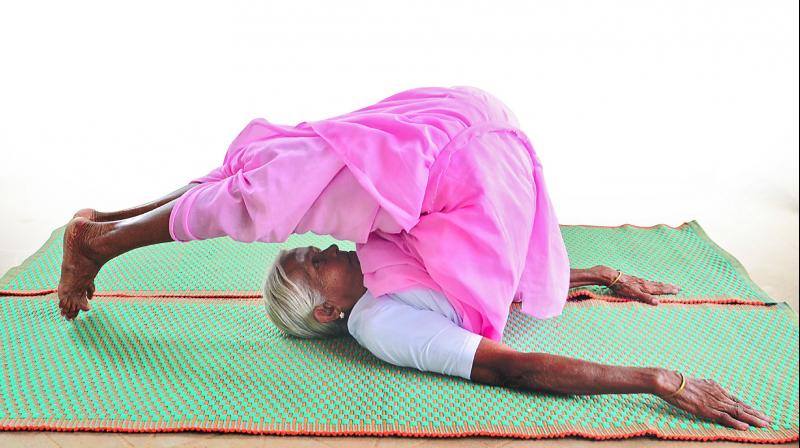 Source:Facebook
If the pituitary gland, which is the master of all glands, is happy, the general well-being of the body improves, and all major organs of the body, such as thyroid, liver and pancreas function properly.
Sadly, in addition to our sedentary lifestyles, our food habits have also worsened, leading to an increase in diabetes. While simple asanas like Uttanpadasana (raised leg pose), Salabhasana (locust pose), Sarvangasana, Paschimottanasana (seated-forward bend), and Mayurasana (peacock pose) are great.
Mrs Nanammal's favourite Halasana (plough pose) is best for controlling blood sugar.
She says, "All diseases start from the stomach. If you can do asanas that ease out the stomach, you will not get any disease. Halasana is the best for the liver, the pancreas and the stomach." Adding to this wisdom, paati says, "Using neem stick for brushing teeth every day will prevent diabetes in the first place."
Yoga is for everyone – from a 2-year-old when Mr Balakrishnan started the Sirsasana to the 99-year old Mrs Nanammal, who defies her age like none other. Even pregnant women can do yoga as long as their body supports them.
While for some pregnant women even Surya Namaskara is easy, for others, simple asanas like Vajrasana (thunderbolt pose) turn out to be difficult. "Do what you can," he says.
While today, 60-70% deliveries in India happen through caesarean section, in Mrs Nanammal's family, all deliveries have been natural.
"The main asana that pregnant women must do is Pranayama as it trains them to hold their breath and push fast, a motion that is key for childbirth. All animals shout and take in air when they give birth. When oxygen levels are high in the body, normal delivery will happen naturally. The art of breathing has, in fact, been running through the lives of Indians for ages. From controlling the breath during kabaddi to making tunes through flute and nadaswaram, from roaring the conch when someone dies, the use of breath has been mastered in India through centuries. However, today we have lost it. Pranayama is the best way to bring it back," they observe.
While the current generation has lost most of what our ancestors taught and practised, we need teachers like Mrs Nanammal and Mr Balakrishnan to propagate this powerful art of yoga and help us live calmer and healthier lives.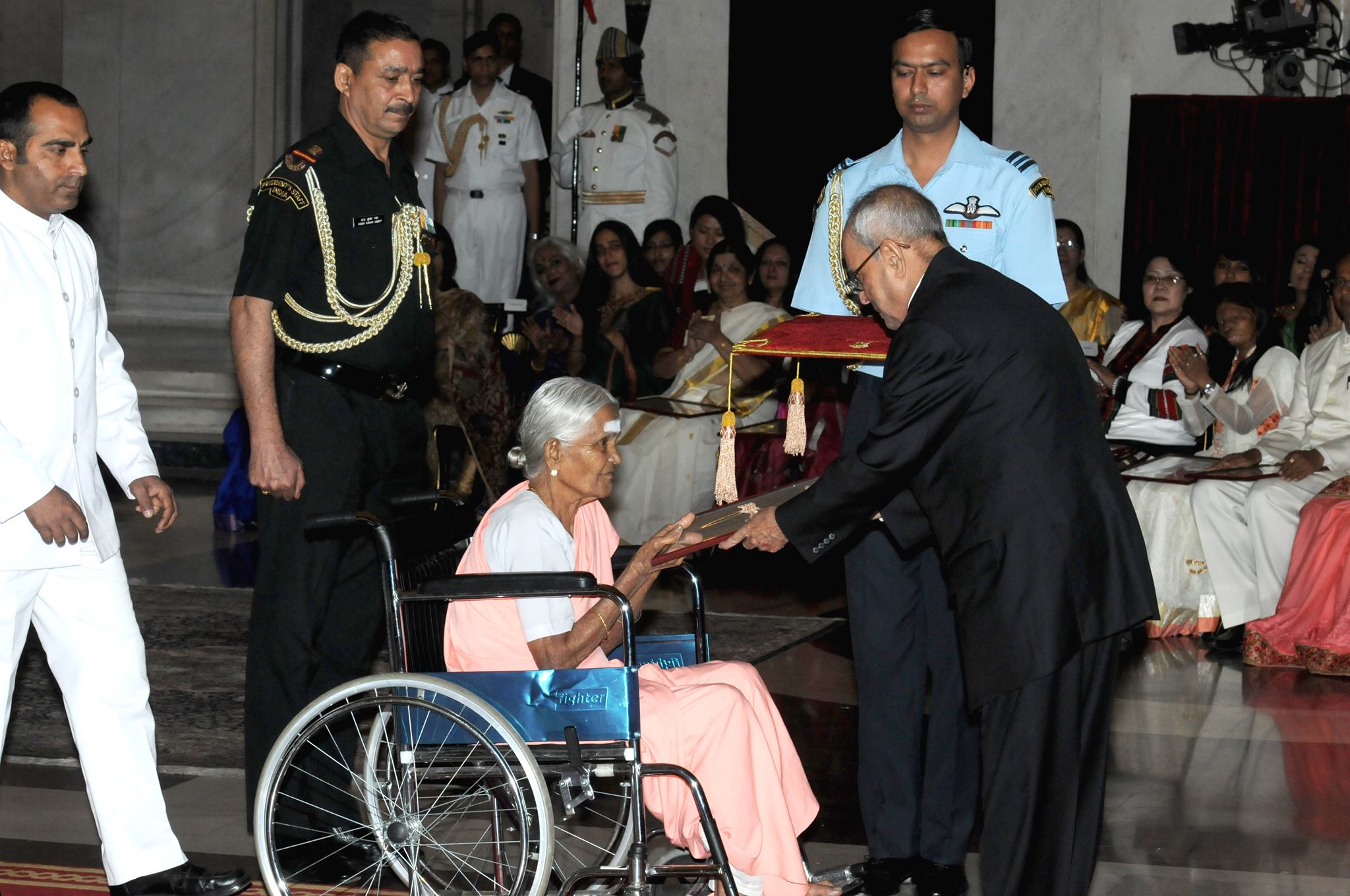 Source: Facebook
Unfortunately, unlike in ancient times, yoga is not a way of life for Indians anymore. We need to change this.
Yoga should be taught to everyone, and we need to start early. To this, the mother-son duo comment, "We dream that every school has a yoga teacher. Our family runs the Ozone Yoga Trust since 1971, which, along with the government's Bharat Seva Samaj has trained more than 1,000 yoga teachers. However, if there are no jobs for the teachers, this rich art will cease to exist. In this regard, if there is one Indian government policy that can help bring yoga to every citizen's life, it is to ensure that every school has a yoga teacher."
---
You May Also Like: Inspiration! Hubballi Man Teaches Yoga Despite Losing Both Legs to Road Accident
---
"If there is one Indian government policy that can help bring yoga to every citizen's life, it is to ensure that every school has a yoga teacher."
As we move forward to celebrate Mrs Nanammal's 100th birthday next year, let us be inspired by her, her family and from all the good that yoga has brought to health and wellbeing of millions across the globe.
(Edited by Shruti Singhal)
Like this story? Or have something to share?
Write to us: contact@thebetterindia.com
Connect with us on Facebook and Twitter.
NEW: Click here to get positive news on WhatsApp!
We bring stories straight from the heart of India, to inspire millions and create a wave of impact. Our positive movement is growing bigger everyday, and we would love for you to join it.
Please contribute whatever you can, every little penny helps our team in bringing you more stories that support dreams and spread hope.