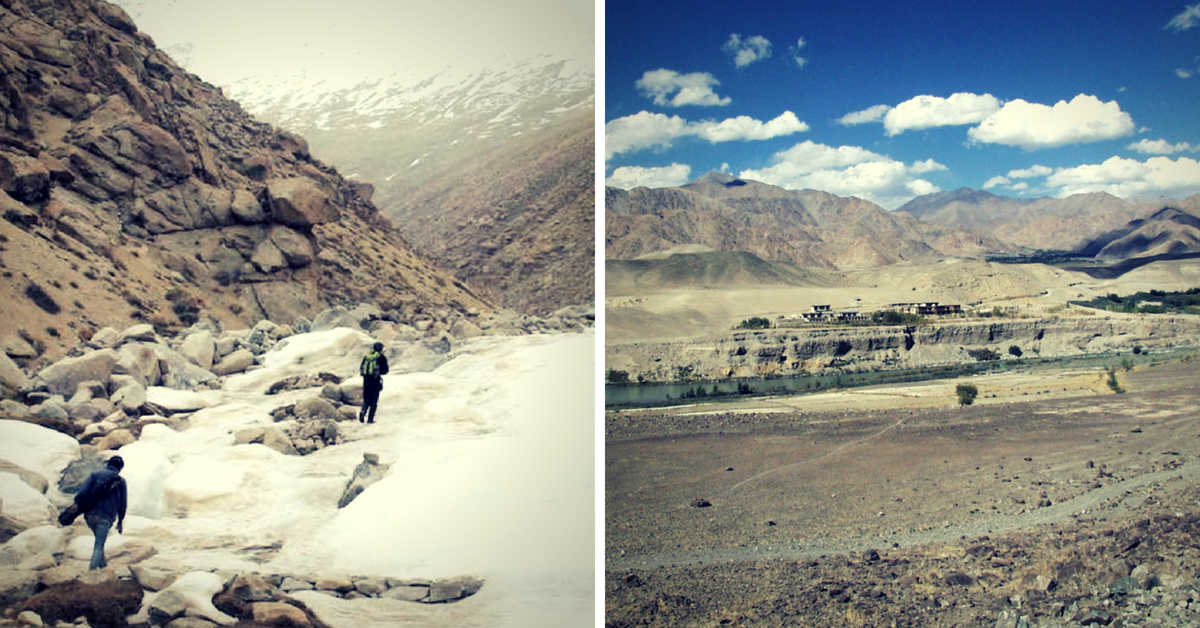 From facing flash floods in 2010 to this acute water scarcity, the effect of climate change on this Himalayan desert has been drastic and scary. Here's what needs to be done urgently!
Ladakh is suffering from probably its worst water crisis. This is not an understatement. The exponential rise in tourist footfall (from 524 in 1974 to 277,000 in 2017) allied with receding glaciers (21% decrease in glacial area in the western Himalayas) is casting a dark shadow on its present and future.
The region's biggest town, Leh, has already begun rationing water—two hours in the morning and evening. Other parts haven't fared any better.
Speaking to relatives back home, there are multiple stories of how taps and borewells are running dry – reminiscent of the situation in Shimla. The national press has well documented the water crisis in Himachal Pradesh – but the Ladakh story has not received much attention.
Some villages have, in fact, are already directing water from the Indus River for sustenance.
Making matters worse for Ladakh, which on average receives a mere 100mm of rainfall, is that in 2016 it received 20.9mm if rain.
"Being a cold desert, the weather conditions in Ladakh are extreme. The soil is underdeveloped and precipitation is hardly 100mm and vegetation is very sparse. A major source of water for drinking and irrigation is glacial meltwater. Under such extreme fragile conditions, if environmental conditions are altered due to climate change, the capacity of the ecosystem to bounce back to its balance is difficult," says Jigmet Takpa, Joint Secretary at the Ministry of Environment, Forests & Climate Change, while speaking to The Better India.
It is well documented that the effects of climate change in the Himalayas are more pronounced than in other regions of the world.
Located in the leeward side of the trans-Himalayan range, the region receives no precipitation from the south-west monsoon. Not only are we witnessing receding precipitation, but there are unexpected changes in its timing. In an ordinary year, the region receives maximum snowfall in November and January, allowing the snow to accumulate and freeze.
Locals, however, are now witnessing a lot of snow in late January and February. Since spring arrives by March, any recent snowfall raises the risk of avalanches or flooding, and in the subsequent years – drought. With not enough of a glacier frozen before spring, they begin to recede a lot quicker.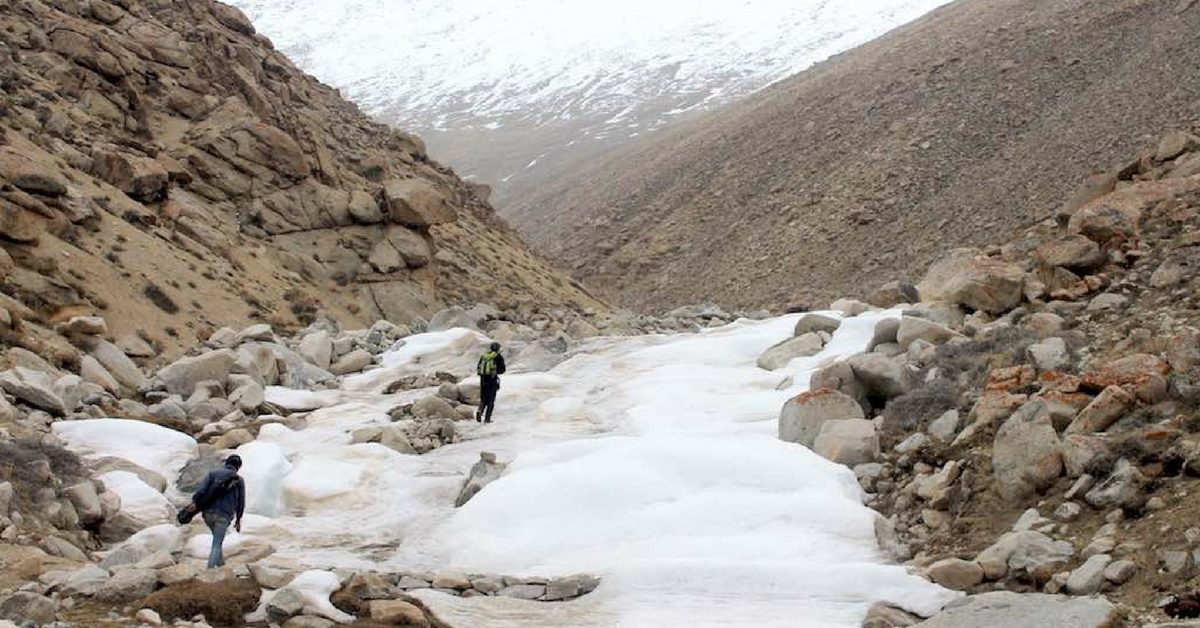 "The land of high passes counts on its annual precipitation, mainly snow, but between 2013 and 2017, it has received between 50 per cent and 80 per cent deficit in annual precipitation for four consecutive years, with 2017 breaking the spell of deficit rain," says this Down to Earth report.
"All villages and habitations in Ladakh have come up on the foothills of a glacier where the meltdown glacier water trickles down. If there is an abrupt rise in temperature, glaciers will be wiped out from the Himalayas, resulting in frequent flash floods and glacial lake outburst flood (GLOF) followed by a spell of drought. It is proving disastrous," says Takpa.
The change in temperature is also pronounced. By one estimate, minimum temperatures have risen by 1 degree Celsius during the winter months and 0.5 degrees in the summer months in the past 35 years, according to SN Mishra, a researcher with the Indian Air Force.
Another estimate indicates that there was a 3 degrees Celsius rise in temperature from 1973 to 2008 while the rest of India saw a 1 degree Celsius spike during the same period, according to a report by Jayaraman Srinivasan of the Indian Institute of Science, Bangalore.
What's particularly frightening is that not many studies have gone into understanding the role of the local economy on climate change and vice versa. "Will the rise in temperature melt away the glaciers or will it bring more rains in future? Will it result in more dry spells and drought in the cold desert? These are questions for which we don't have many answers," says Takpa.
However, what's clear is that the people of Ladakh, particularly in the Leh area, and incoming tourists have done little to mitigate the situation. For starters, Ladakh does not have too many industries emitting greenhouse gasses but makes up for it in the unabated influx of vehicles, particularly fossil-fuel guzzling light motor vehicles (LMVs), taxis, and diesel-run SUVs.
From April 1, 1994, to March 31, 2007, the total number of vehicles (commercial and non-commercial) registered with the regional transport authorities in Leh district was 4,007. From April 1, 2007, to February 28, 2018, the number of vehicles registered in the Leh district shot up to 14,948. Their impact on the region's air quality is evident.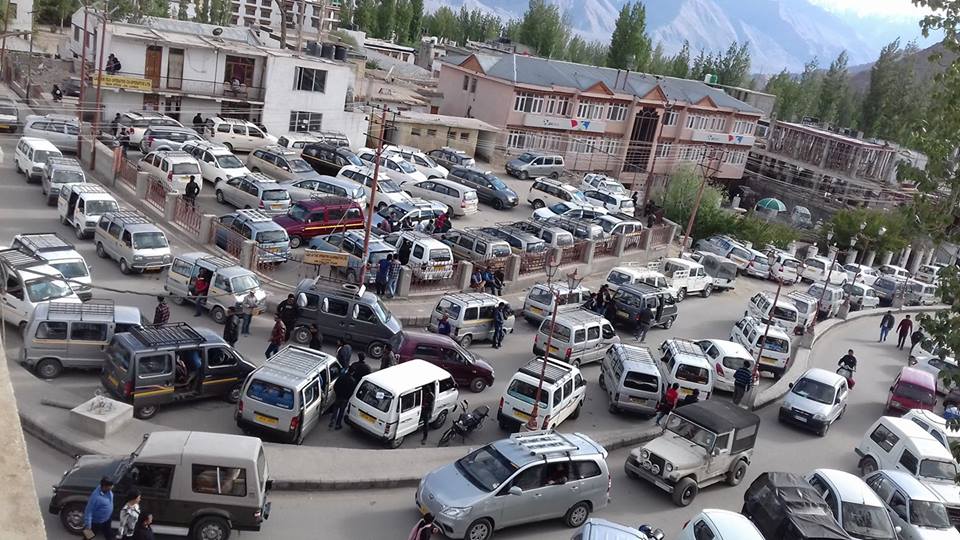 Another concern is the construction boom in the region. Every year, 25-30 guest houses are being registered, according to the Jammu and Kashmir Department of Tourism. As of November 2017, there are 826 hotels and guesthouses in the region, holding a capacity of 13,732 beds. In addition, numerous homestays aren't registered with the government.
Why is this a problem? According to Ladakh Ecological Development Group (LEDEG), a local non-profit and think-tank, while the average Ladakhi consumes 21 litres of water a day during the summer, the average tourist needs a whopping 75 litres mostly through showers and western toilets.
By some estimates, on any given day when all the hotels, guest houses and homestays are fully occupied, Ladakh would need an additional 2.5 million litres of water to survive.
In case you didn't know, Ladakh is a cold desert.
Making matters worse on this front is the adoption of Western sanitation systems by many hotels and guesthouses which waste a lot of water, shifting away from the traditional dry toilets.
Also Read: When Tradition Triumphs Modernity: Ladakh's Dry Toilets
"Almost all the households, hotels and guesthouse have their private borewell, and there is no regulation on it. All the springs within Leh town have dried up and, we believe it is an impact of groundwater exploitation. The question will not just stop at the number of borewells but how much water they extract from the ground. It requires a comprehensive study.
There is a tendency among locals to adapt certain practices of the tourists. We have witnessed that in certain wards where water supply is consistent people have installed modern sanitation facilities in their households," says Nordan Otzer, executive director of LEDEG to Down To Earth.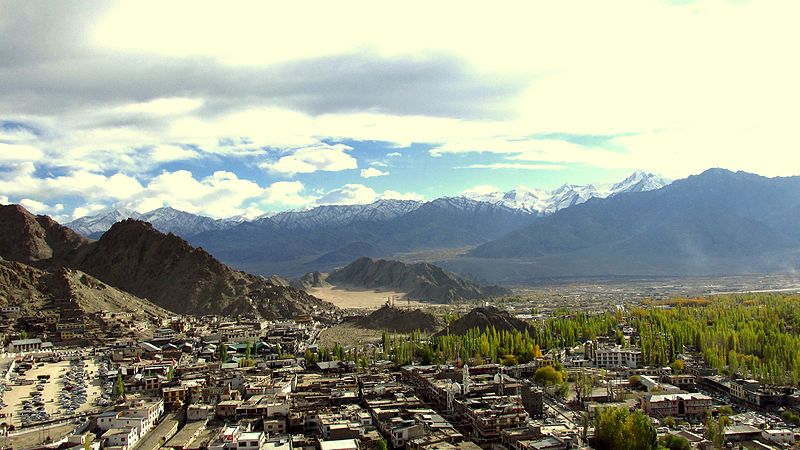 The fight against climate change is global, and Ladakh alone can do little to challenge its effects. However, if humanity is going to take on climate change, the fight will have to begin at home. Locals have already begun working towards mitigating the effects of climate change.
"Ladakh as such is not a net contributor to the greenhouse gas. Rather, Ladakh is model in implementing renewable energy technology much ahead of other parts of the country. In this sector, Ladakh has done commendable work in implementing the distribution and decentralisation of solar energy generation in its every nook and corner," says Takpa.
Tackling the effects of receding glaciers and storing precious water resources, remarkable engineers from the region like Sonam Wangchuk and Chewang Norphel have constructed ice stupas. However, recent events suggest that even these efforts are proving insufficient to the current water crisis.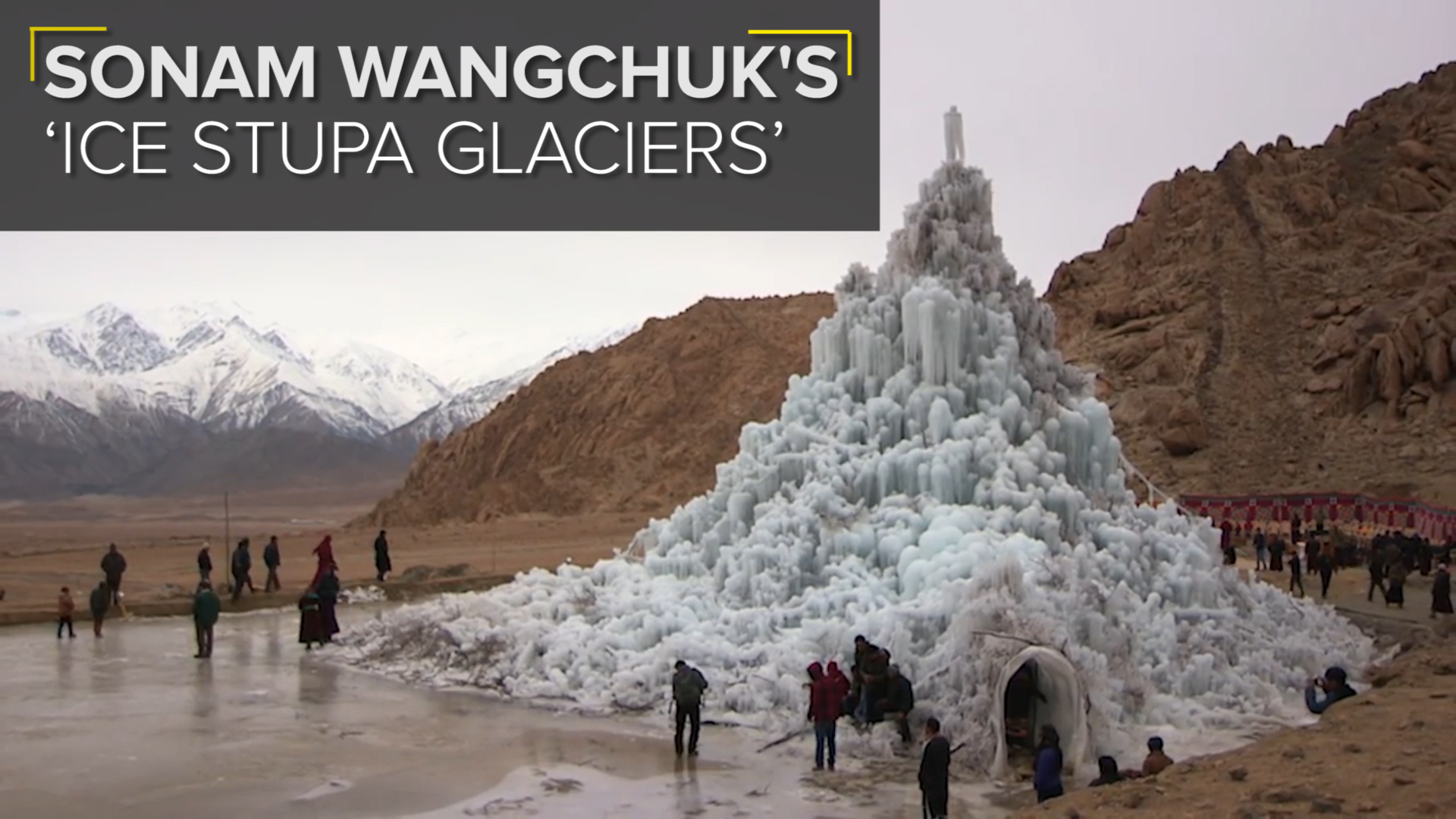 Another interesting innovation is the pre-fabricated solar heated mud hut.
"The cost of heating will be zero. Even if the temperature outside is minus 20 degrees Celsius, it will be 20 degrees Celsius inside the hut, without any heating. This is going to get rid of all the pollution caused by the massive amounts of oil and kerosene people consumes to keep themselves warm," Wangchuk told the Economic Times.
The local administration has, meanwhile, taken cognisance of rising vehicle numbers. In January 2018, the Leh district administration announced a ban on the issuance of fresh permits for contract carriages and fresh licences for bike rentals.
In March, the administration took the long-term step of reviving the public transport system by plying buses along busy routes in and around Leh.
Also Read: Battling Traffic Congestion, Eco-Sensitive Leh's New Initiative May Be An Answer
However, a lot more needs to be done to mitigate the effects of climate change.
Diesel vehicles could be phased out by imposing heavy taxes and service charges on the next purchase. Replace them with electric vehicles and buses.
In addition, the administration must contemplate higher parking charges and implement stricter pollution norms. Only vehicles with certain Euro V or VI emission standards should be allowed to enter the region.
Ladakhis have long known how to coexist with nature, even before the advent of modernity. "In ancient times, Ladakhis used to freeze the water in the mountains using boulders bunds. It is one of the many techniques. But the most important and efficient system of water management is the collection of water through the tank (Zing) and intricate, yet efficient distribution of water through gravity channels.
It was called the "Churpon system", where the whole community was involved. Collective decisions were taken to distribute water. Each and every piece of agricultural land would wait its turn to receive water for irrigation. All these old systems need to be revived," says Takpa.
Another step that the administration must take is greater regulation of the tourism industry, particularly the construction of hotels and guesthouses.
Associated with that concern is the responsible use of water. Tourists must be encouraged to choose hotels or guesthouses with the traditional dry Ladakhi compost toilets allied with constant reminders that they are in a desert.
What many in Ladakh do not even realise is the long-term impact of the tourism boom. Not only is greater regulation the need of the hour, but the focus must shift drastically to ecotourism.
(Edited By Vinayak Hegde)
Like this story? Or have something to share? Write to us: contact@thebetterindia.com, or connect with us on Facebook and Twitter.
NEW: Click here to get positive news on WhatsApp!
We bring stories straight from the heart of India, to inspire millions and create a wave of impact. Our positive movement is growing bigger everyday, and we would love for you to join it.
Please contribute whatever you can, every little penny helps our team in bringing you more stories that support dreams and spread hope.