Mumbai Rains: And while this is only a small attempt at highlighting their work, words will never be enough to express how these everyday heroes strive to keep the city going.
How many times have you stayed put at whatever place you were just to escape the possibility of being struck in Mumbai's annual deluge? While most of us wouldn't dare step out of our homes the minute news channels flash – 'torrential rains and waterlogging', there are a few individuals who battle the rough weather and tread through a waterlogged city to do their duty!
Here's a small attempt at highlighting the selfless efforts of some of these Mumbai Rain Heroes in 2018:
The Traffic Cop Who Stood in the Heavy Rains, Without a Raincoat or Umbrella For Two and a Half Hours.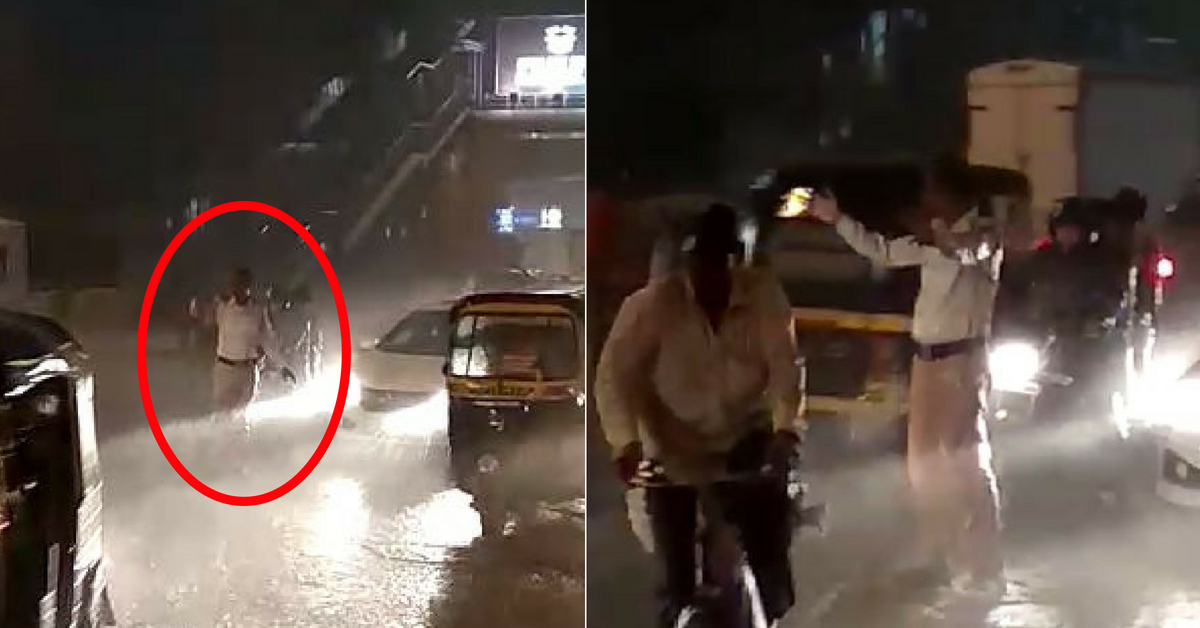 On June 4th, just as the rest of Mumbai was welcoming the first week of monsoon showers, a video captured by Satyam Yadav at Akurli Road, near the Western Express Highway in Kandivali East, went viral. As the office-goer rushed home on his bike to seek shelter in the torrential rains like many others, he saw a traffic cop standing in the middle of the road doing his duty diligently, without any waterproof gear.
The hero of this viral video was 47-year-old Nandkumar Ingle who ensured that traffic was smoothly managed. The strong winds even blew some of the barricades up to 150 kms away. And so the cop handed over his phone to another traffic warden and continued to stay put in the middle of the road for the next 2.5 hours. His dedication to his duty was widely lauded by netizens who demanded that he is rewarded for his work. Watch the cop in action here.
When BMC Failed, This Mumbaikar Spent Hours Alerting Motorists About Open Sewer!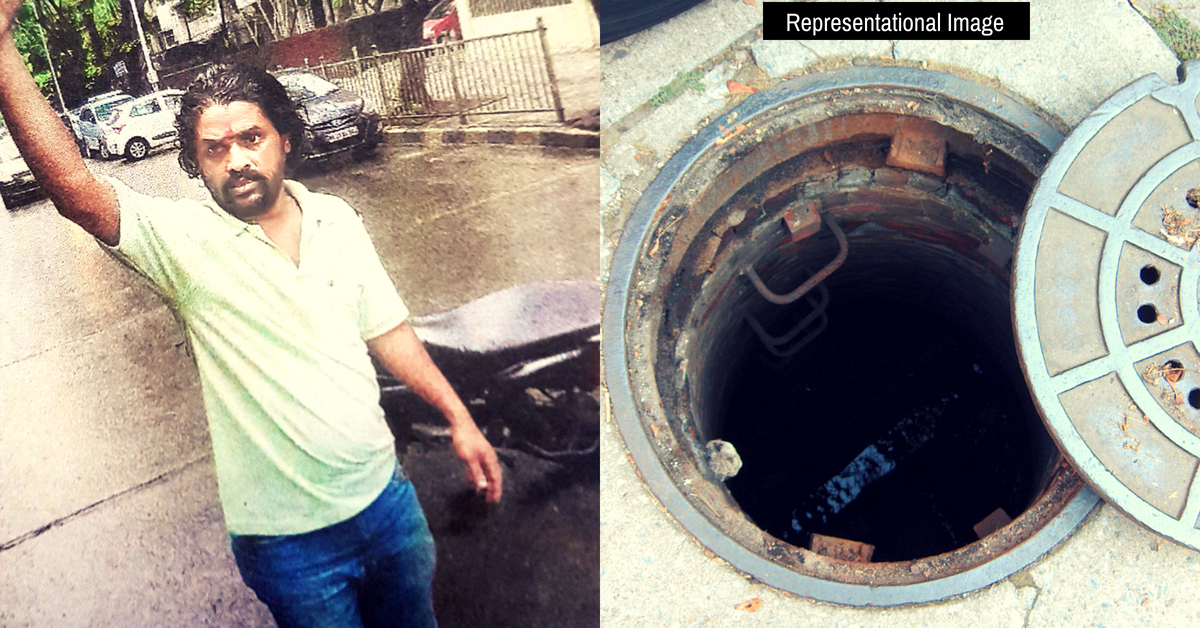 Every year, several cases of Mumbaikars being sucked into potholes and sewers in waterlogged streets come to the forefront. The reasons for these deaths at most times is a small act of negligence on the part of BMC workers and sometimes other civilians where they open sewers to let the waterlogged streets drain off, but forget to put the lids back on.
But in a heroic act on June 7th, 34-year-old Ravi Patil spent nearly two hours cautioning motorists to drive away from an open manhole in Matunga. Ravi knew that only BMC employees were authorised to open or shut a manhole. And so the minute he saw the open sewer, a death trap for speeding motorists, he tried to reach some helplines, but to no avail.
When all the authorities failed to respond to his call or even mark the open sewer with a red flag or a bamboo stick as per protocol, he took the matter into his own hands. Reaching out to his colleagues, a gardener and a watchman, armed with a pick-axe, the three men put the lid back on themselves. Read the full story of the Mumbaikar here.
This Selfless School Driver Who Died Saving Kids From Drowning in a Drain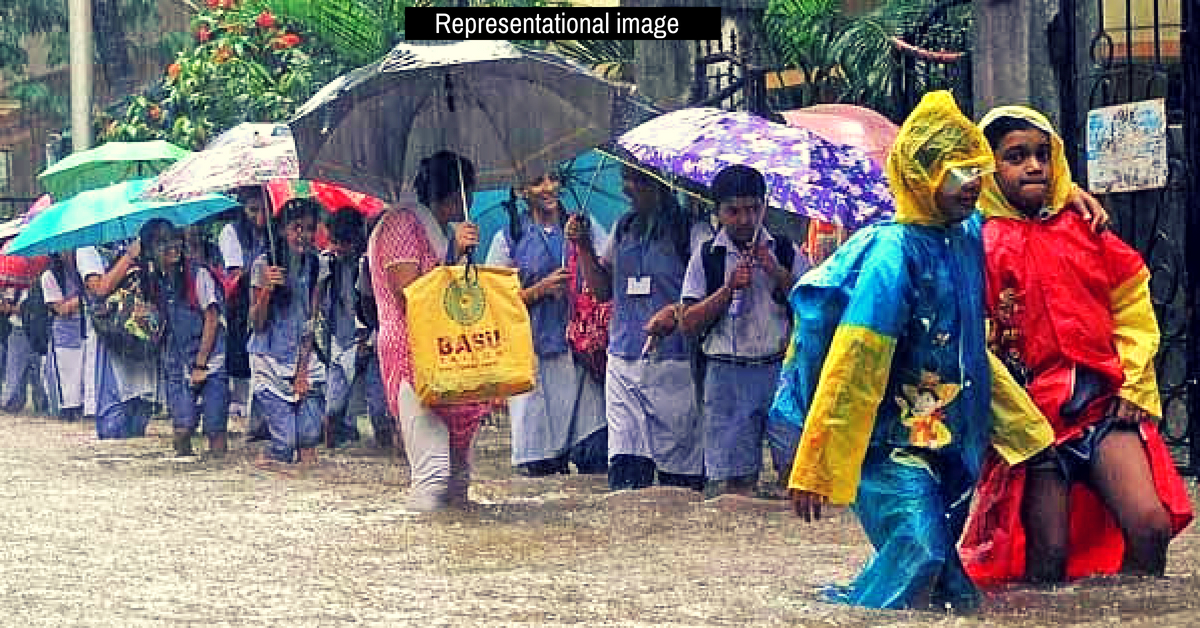 On June 25th, when the schools in Virar shut down early on account of the downpour, 40-year-old Prakash Balu Patil picked up children in his newly started pick-up-and-drop school van. On their way home, the van got stuck in a drain and turned turtle near Narangi village.
During the process, Patil saw the two kids struggling to stay afloat. He quickly jumped out of his seat to save them, without a care for his own life. And though the two kids were saved, the driver lost his balance and was washed away, leaving behind his parents, bereaved wife, and three kids. His body was later recovered by firefighters. Read more about this Mumbai rain hero here.
---
Read More: Mumbai Floods: 7 Times Good Samaritans Restored Our Faith in Humanity
---
The Traffic Police, The Motorman of the Local Train and the BMC Workers Who Preferred Duty Over the Deluge.
In some jobs there is no work from home option. Your people on the road are a daily inspiration @MCGMswm . Thank you for all you do??#Mumbairains #Mumbaikars pic.twitter.com/nm3x8aroY0

— Rujuta Diwekar (@RujutaDiwekar) July 3, 2018
While celebrity fitness expert Rujuta Diwekar took to Twitter to thank an MCGM worker who continued to sweep the streets despite the heavy rains, another Twitter user, Prachi Dave, decided to laud an efficient train driver who drove through heavily waterlogged tracks from Kurla to Dadar at a time when many train services were disrupted.
An efficient train driver, Drives through heavy water log between kurla to dadar #MumbaiRains #mumbailocal #MumbaiRainsLive pic.twitter.com/IGjsHe9fbN

— Prachi Dave (@DavePrachi9) July 3, 2018
Many others, including JSW Chairman Sajjan Jindal and Mahila Congress Committee (Secretary), Shilpa Bodkhe, praised the Mumbai police and the traffic police for working under extreme conditions to keep the city going.
Now that's some dedication. This is the Mumbai spirit which keeps us going. Despite the heavy rains, this cop was on spot making sure there's no traffic jam under his watch. Thank you for this service we are indebt. #Mumbai#MumbaiRains #TrafficPolice pic.twitter.com/cOelPsLcFW

— Shilpa Bodkhe (@BodkheShilpa) July 3, 2018
It takes a lot of courage and perseverance to do what the @MumbaiPolice does under extreme conditions to keep this city going. Let us not undermine their effort for what is not in their control. #MumbaiRains (1/2) pic.twitter.com/LsXXhyRCnE

— Sajjan Jindal (@sajjanjindal) July 3, 2018
And while this is only a small attempt at highlighting their work, words will never be enough to express how these everyday heroes strive to keep the city going. It is unsung individuals like these, that prove the spirit of Mumbai will never be broken, not in the heaviest of rains, at least.
Kudos to every one of them!
(Edited by Shruti Singhal)
Feature image credit: Twitter/@imranshamsi
Like this story? Or have something to share?
Write to us: contact@thebetterindia.com
Connect with us on Facebook and Twitter.
NEW: Click here to get positive news on WhatsApp!