What's truly exciting is the global recognition his technology is garnering. The South Korean army has shown a keen interest in acquiring this technology and Harshwardhan says, "my aim is to save lives – to me it doesn't matter whether the person is in India or Korea."
---
This article has been powered by Marico Innovation Foundation.
---
Harshwardhan Zala is 15 years old – an age when kids are busy at school, preparing for examinations and thinking, perhaps, about what they would do in the future. But Harshwardhan already has a handful of patents to his credit and has earned the title of being India's Drone Wiz. He also happens to be the founder and CEO of his company, Aerobotics7 Tech Solutions.
At 14, Harshwardhan designed a smart solution through which drones could not only detect but also defuse landmines in war fields, saving many lives in the process. His vision, he says, is to clear all the landmines around the world, thus making it a safer place. "Do you know there are more than 100 million active landmines across the globe?" he asks me as we begin our conversation.
"My goal is to create technological solutions to save thousands of lives across the world, and this is just the beginning," says Harshwardhan in this amazing video about his work.
To know more about his phenomenal journey, The Better India caught up with Harshwardhan. For a young achiever, Harshwardhan is a stellar example of humility. He is soft-spoken and eager to explain his work to me, without once sounding arrogant.
Starting young
A resident of Ahmedabad, Harshwardhan is the only son of an accountant father and homemaker mother. Speaking about his first innovation, he says, "I was 10 when I made a remote-control which could be used to control and operate home appliances wirelessly. At the time when I made this, there were no such gadgets available in the market."
After having made the device, Harshwardhan's parents also recognised his talent and encouraged him to take it further. "My parents have certainly been supportive of me; emotionally, physically, and of course financially. They have always stood by me," he says.
While regular ten-year-olds are about stealing a few extra minutes of television or getting one more chocolate out of their mother, Harshwardhan was thinking about what he could build next.
Technology when used well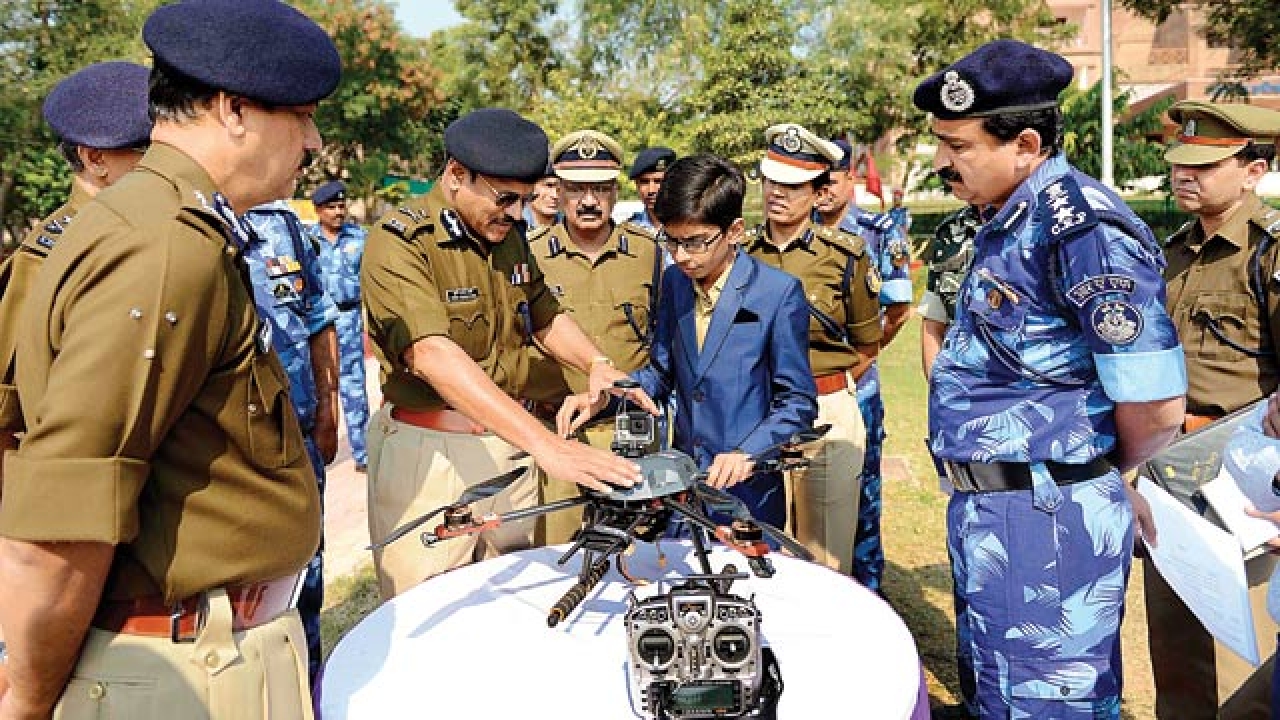 "I would be reading books about the problems that the world was facing, and when I could, I would visit the cyber café and watch YouTube videos about these problems. Finding a solution was like my mission then," he says.
Since Harshwardhan did not have access to the Internet at home, he would go to a nearby cyber cafe and spend hours there. His partner in this was his grandfather who would always accompany him since Harshwardhan was not allowed into the café without an adult.
"The first time I visited the cyber café I was turned away because I was not 18-years-of-age. That was when my grandfather decided to come along. I would spend about seven to eight hours each session, and he (grandfather) would sit with me, patiently," he says.
At 72, Harshwardhan's grandfather, Dilavar Singh, is also equally invested in his success.
Harshwardhan draws his inspiration from former President of India APJ Abdul Kalam and Steve Jobs. "I have never liked going out much or watching cartoons and movies. I enjoy watching documentaries and feel that there is always so much to learn from them," he shares.
---
In their endeavour to nurture innovation in India, Marico Innovation Foundation is helping Harshwardhan raise funds to better his technology through a crowdfunding campaign. You too can be a part of his innovation journey by supporting him.
Unable to view the above button? Click here
---
Ignoring the noise – focusing on the goal
While Harshwardhan is working, he is like a horse with blinkers. He chooses to only look at the end goal and doesn't waiver from that path. He speaks about how there were times when his friends would make fun of him because he would refuse to play with them. "I have been called a 'home-person' who just prefers to stay indoors, but then I never bothered about anything that was said about me," he says.
The video that changed everything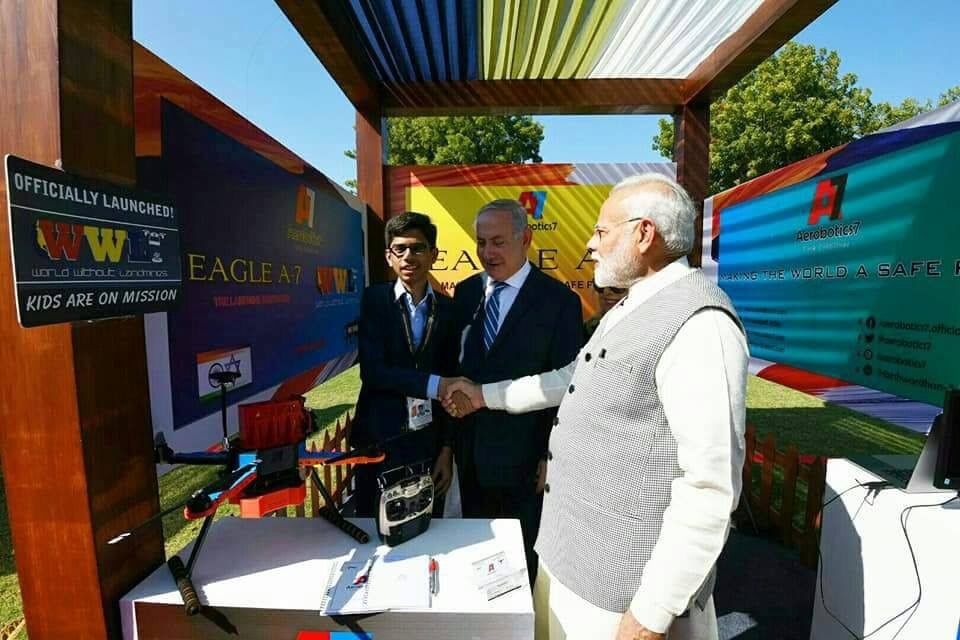 One such day at the cyber café, Harshwardhan saw a demonstrative video, which reflected how people die due to explosions in undetected land mines.
"This got me thinking about active landmines. I found that for over 60 years, researchers have been trying to find a solution to this problem and still hadn't," he recollects. He adds, "I worked on a prototype and went to different companies to tell them about my solution. Unfortunately, none of them took me seriously. Some advised me to complete my education, while others were outright dismissive."
Harshwardhan went to two-dozen companies with his idea, but after being rejected by all of them, he founded his own company with the money that his parents put together.
Harshwardhan's drone
Two years of intensive work later, Harshwardhan's drone was ready to be unveiled. The drone goes into the field, surveys the ground, and sends real-time signals to the nearest army base. The drone also drops a package on the location to mark it. The drone is also fitted with a wireless detonator, which can be activated without risk to any human life.
"I am currently working with the Indian Army and CRPF to help clear all the landmines in the country. Once that is accomplished, I will share my technology with the rest of the world," he says.
What's truly exciting is the global recognition his technology is garnering. The South Korean army has shown a keen interest in acquiring this technology and Harshwardhan says, "my aim is to save lives – to me it doesn't matter whether the person is in India or Korea."
Tryst with Marico Innovation Foundation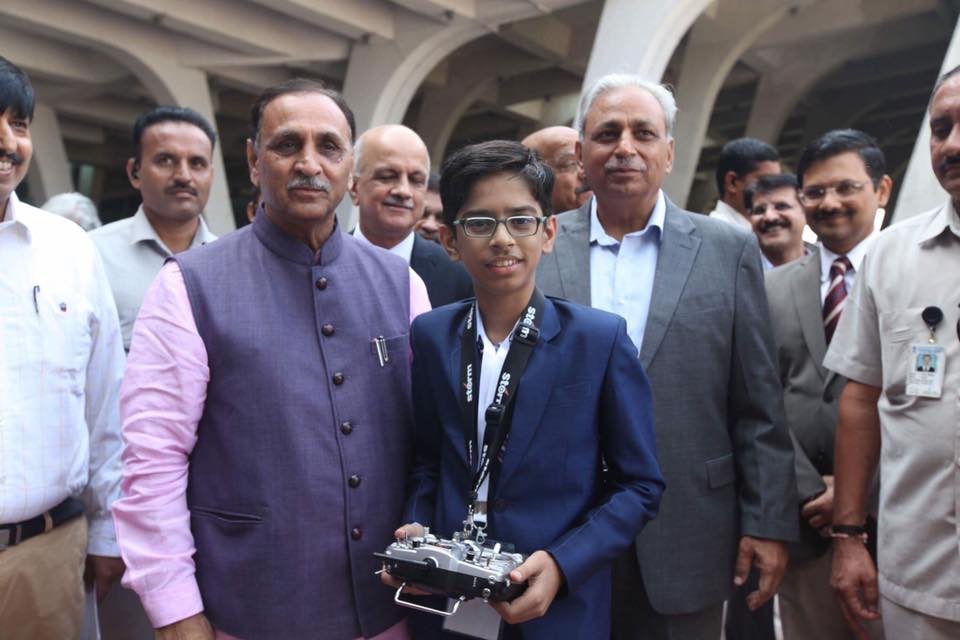 Established in 2003 by Harsh Mariwala, Marico Innovation Foundation strives to nurture innovations that add to India's growth story. Through MIF Awards, the foundation has identified and showcased more than 57 breakthrough innovations in our country. Harshwardhan was invited to be a part of the Fire Side Chat with Young Innovators at the 2018 edition of MIF Awards.
Being a part of the event was of great significance for Harshwardhan. "I was in the same room as so many CEOs, Directors, and innovators – it was truly an enriching experience for me. Being able to share my story with such an elite audience was a thrill for me. I was also very nervous," he adds for good measure.
"I was approached by so many people at the event who wanted to know more about my work and invited me to their office. Meeting Harsh Mariwala sir was also a high point; his appreciation of my work will always be special," he says.
Priya Kapadia, Head of MIF, says, "The sheer volume of learning for us, seeing these young innovators has been incredible. One of the biggest takeaways for us, as a foundation, has been that innovation and the zeal to be an entrepreneur can strike at any age. It is that curious mind that we aim to nurture and engage with."
The team spent a significant amount of time with the young innovator and his family to understand his journey and was proud to showcase the spirit of innovation in him.
Life after becoming 'famous'
"Nothing has changed. I still do all that I did before," he reveals. "My mother still finds reasons to pull me up and scold me," he says with a light laugh.
"The one thing that has changed is that I now sleep much later and visit various offices through the week."
When asked if he finds time for his favourite outing and foods, he says, "We do go out, and I especially love the Gujarati street food in Ahmedabad. Khaman dhokla is my favourite."
Harshwardhan is working towards providing for a safer tomorrow- for us and for those who keep us safe. While he has the intelligence to make that happen, he needs our support to help him build these innovations.
We invite you to come forward in support of the young innovator and help him achieve greater success.
---
In their endeavour to nurture innovation in India, Marico Innovation Foundation is helping Harshwardhan raise funds to better his technology through a crowdfunding campaign. You too can be a part of his innovation journey by supporting him.
Unable to view the above button? Click here
---
Like this story? Or have something to share?
Write to us: contact@thebetterindia.com
Connect with us on Facebook and Twitter.
NEW: Click here to get positive news on WhatsApp!