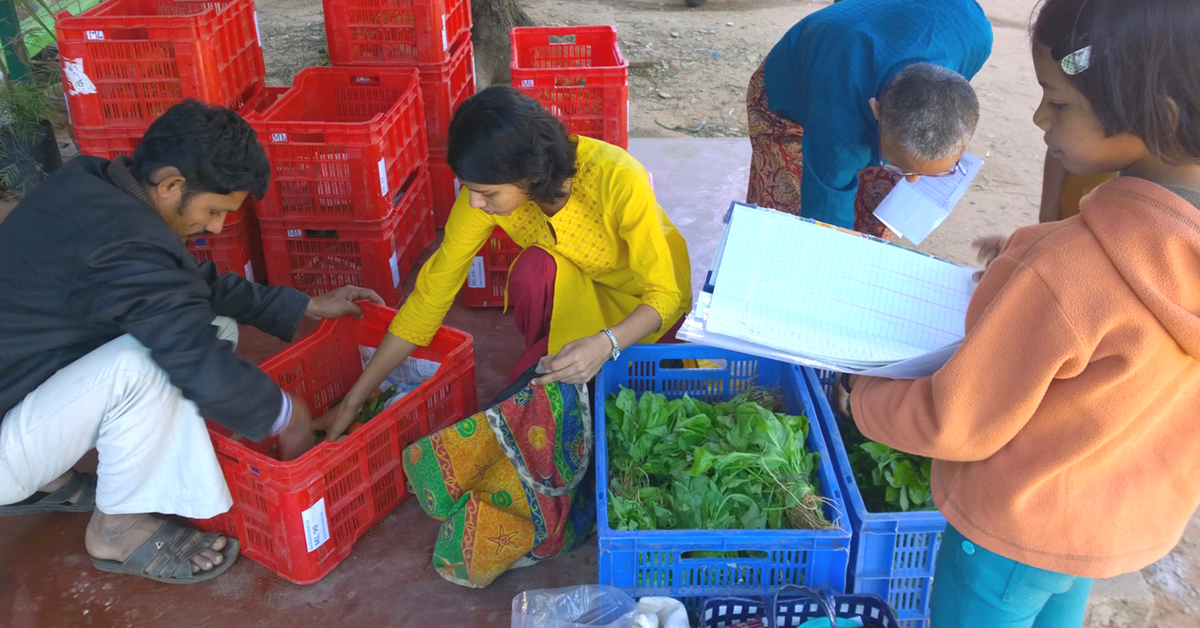 Community-Supported Agriculture is a partnership between a farm and the consumers where the risks and rewards of farming are shared.
More people in Bengaluru are now eating well, buying locally and getting to know the farmers who grow their food – all thanks to the Navadarshanam Trust's Community-Supported Agriculture (CSA) initiative is turning two years old this year.
The atmosphere on Sunday morning at the Canara Union Community Hall in Malleswaram, Bengaluru, is relaxed and friendly, as people trickle in to pick up their vegetable baskets from the Navadarshanam Community-Supported Agriculture (CSA) scheme.
Some just put their share from a box into the carry bag that they bought and take off to enjoy their Sunday, while others hang around for a chat with the volunteers, Uma and Srinivas, and the farmer, Laxminarasa, who are all helping with the delivery that day.
Among the members of the first hour of the CSA are Vani Murthy and her husband Ram, who in addition to their vegetables, are getting some cow dung, fresh from the farm for their compost and terrace garden.
What is CSA?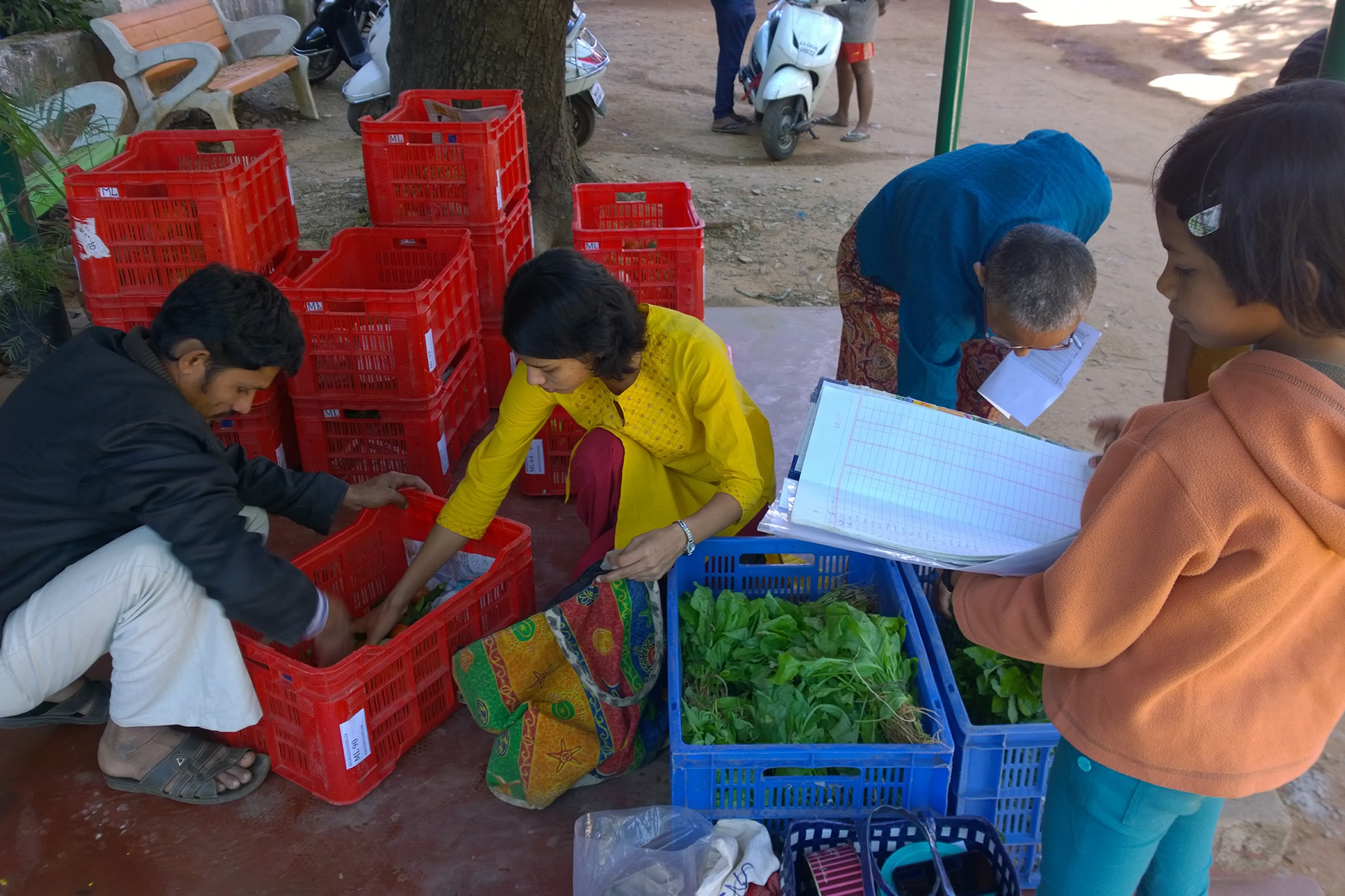 Community-Supported Agriculture is a partnership between a farm and the consumers where the risks and rewards of farming are shared.
Currently, there are around seven pickup points across Bengaluru, where over 100 member households pick up their supplies for the week on Sundays. The consumer members of the CSA seem to be very happy with the vegetable supply to date. They can choose to get a basket of 4-12 kg of vegetables every week, which comprise a variety of seasonal vegetables – around 30 varieties in total over the year, and usually 3-5 bunches of fresh greens per box.
As one member says, "The diversity in our diet has increased since we joined. We get vegetables in the box that we would normally never go and buy, and that we didn't even know what to do with at first."
Also, members can order groceries and bakery items from the Navadarshanam Producer Cooperative. Vani and Ram, for instance, ordered some cold-pressed groundnut oil, delivered in their steel container which they handed in beforehand.
Not everyone has the drive or foresight though, so most of the groceries are still packaged in cloth bags (where possible) or else plastic. A more comprehensive, sustainable solution to the packaging question is currently being hatched by the Navadarshanam team.
The CSA model: Supporting a farmer instead of buying vegetables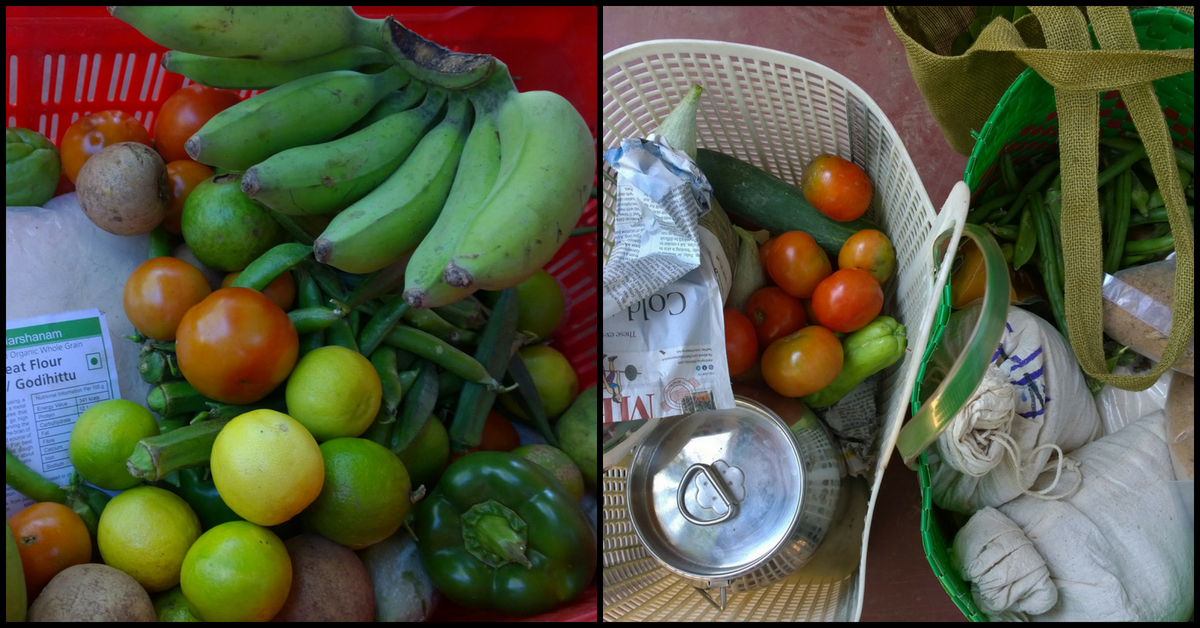 The CSA is a new offering under the Navadarshanam Trust Self Help Group, a food enterprise owned and operated by a group of villagers that provides a sustainable income to more than 30 families from the local village community.
What's special about the CSA model is that the members are not mere "consumers" who buy whichever vegetables they fancy in whatever quantity, whenever they like. Instead, they enter into a partnership with the farmers, making a long-term commitment to support the farmers who grow their food and consume what they produce. This gives farmers more security to plan their crops, helps them minimise waste and allows consumers to share the risks inherent in any natural system such as farming.
Once a herd of elephants invaded the vegetable garden at Navadarshanam the very day before the harvest was due, so there were 200 kg less cabbage on the delivery day than anticipated. "We had to send out an online message to the members saying, 'Sorry, folks, no cabbage this week'," says Gopi, initiator and manager of the initiative at Navadarshanam Trust.
On the other hand, when there is a bumper crop, farmers are not left alone to dispose of it at dumping rates but have an assured outlet.
---
Also Read: In A First, Hyderabad Folks Get Organic Food Directly From Farmers in Sangareddy!
---
Gopi explains, "When the bottle gourd is starting, I can't turn off the tap. So we give them some twenty recipes – 'Here you go, knock yourselves out'!"
On the Navadarshanam website, the mission of the CSA is summarised as follows:
"With the rapid degradation in the quality of urban foods consumed and the continuing crisis in the farming communities, we view the CSA as an important vehicle to revive consumers' connections with food and the connections with farming communities that grow their food and create an enduring member-participatory model."
Figuring out a regular and diverse supply is a challenge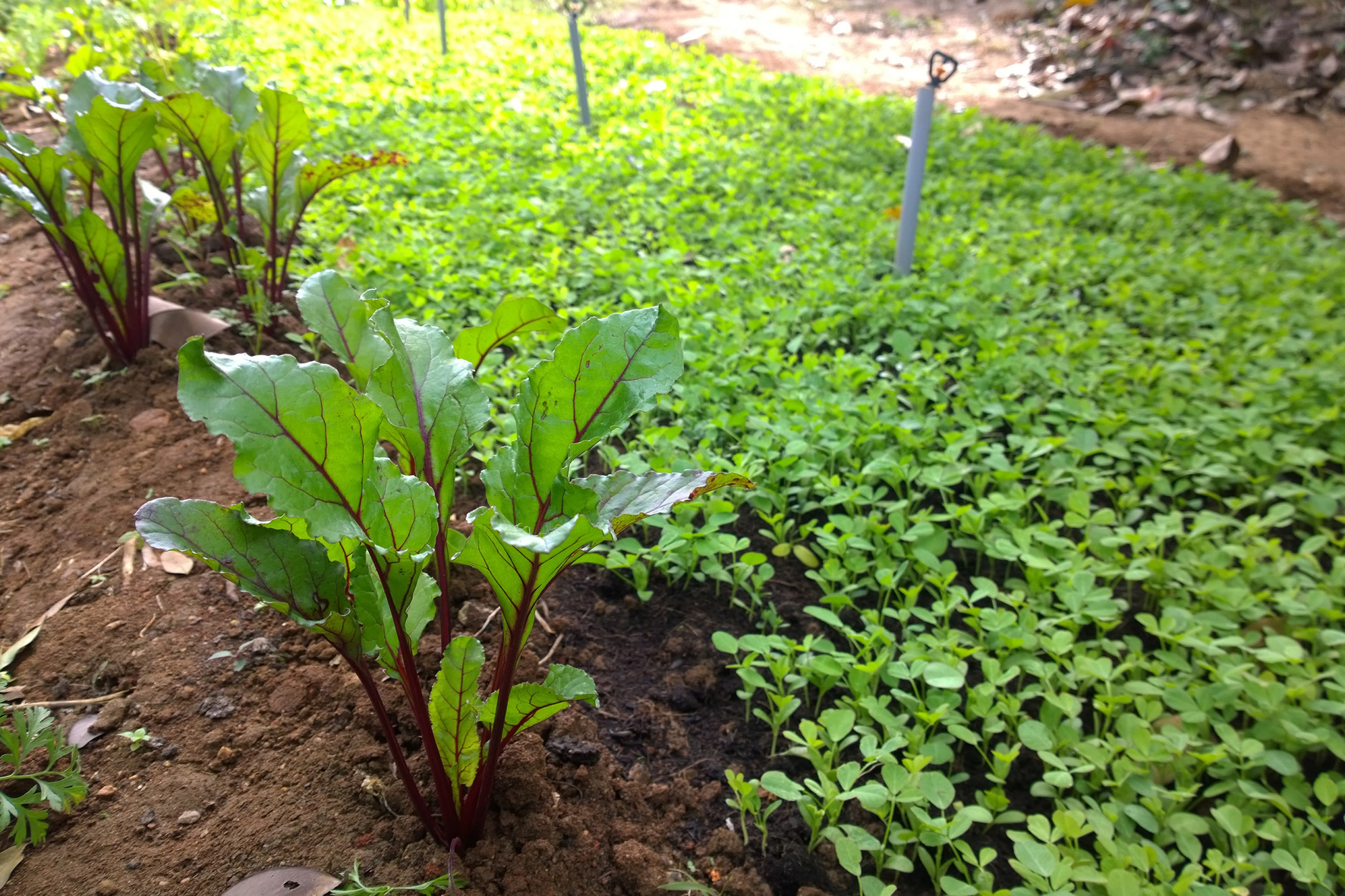 And of course, the commitment goes both ways. The farmer members work according to detailed planting schedules to make sure the consumer members get a good variety and consistent supply of vegetables all year-round.
While this is the theory, the practice is not always as smooth, at least not yet. The CSA was only launched in mid-2016 and ran as a pilot with around 50 selected members for the first five months.
Meanwhile, it has expanded to over 100 members. For many of the farmer members, growing vegetables is a new line of farming, and it takes some time for training and changing their mindset.
Before the CSA started, most of them were used to growing a much smaller range of crops like ragi that are sown and harvested only once in a season. Vegetable production requires a very different way of planning and working. Therefore a lot of capacity building has gone into it, and the efforts for training more farmers are ongoing.
Farmers are now beginning to see that these efforts are worthwhile, as vegetables yield many times the returns compared to grains. Laxminarasa is one of the most committed and successful farmer members to date, or as Gopi says "one of our star farmers". He took to the idea of growing vegetables instantly and has by now, increased his secured monthly income substantially. Gopi hopes that his example will be noted by the other farmers soon enough and make them more proactive about their vegetable production.
On the farmers' side, one of the main challenges is the lack of continuous access to water in a dry-land environment. Traditionally, these farmers would grow only one rain-fed crop per season; vegetables, on the other hand, require much more constant attention as well as water.
Lakshminarasa says that he can grow only greens as he hasn't been able to get an electrical connection for his borewell yet. He had applied for it several months ago and is still waiting for it. Having to purchase water adds to the cost of the vegetables, but the CSA model allows farmers to pass this cost on to consumers.
For the consumer members, price levels do not compare badly at all to ordinary organic vegetable vendors around the city. The basket rates are not tied in any way to regular market rates and do not fluctuate. Therefore there will be times when the prices for a particular vegetable work out somewhat higher than market rates, but also times when they are lower. So on the whole, they are more reliable and thus ensure a reliable income for the farmers.
Adding to the security for the farmers is the fact that members are required to pay in advance for at least one full season which lasts 3-4 months, and their membership can only be cancelled at the end of the season.
Multiply, not grow – replicate small, independent initiatives in every region of India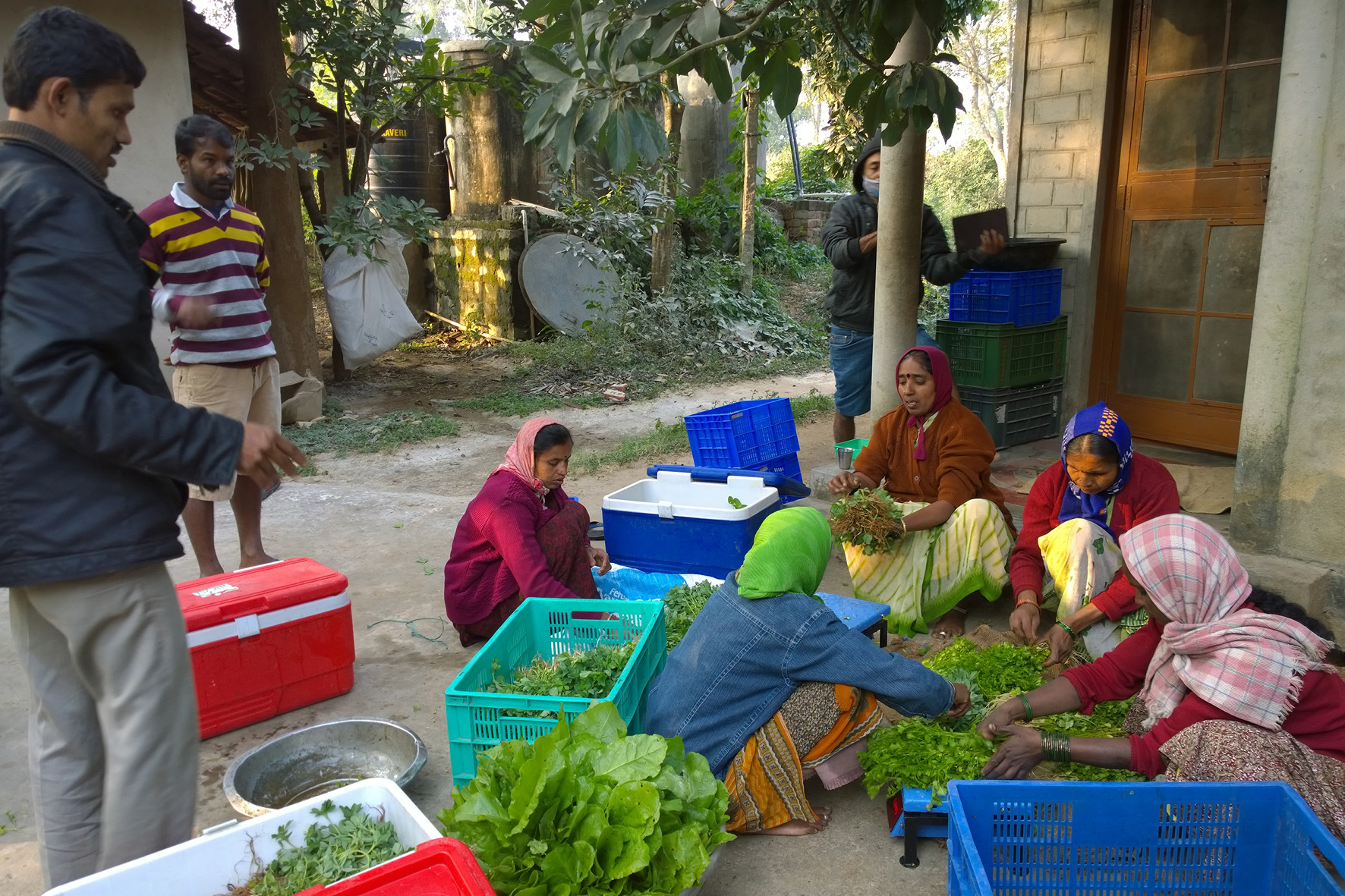 Even while the system is still getting refined on the production side, there is already a waiting list of 200 people who are keen to join as consumer members. "Our motto is to multiply, not grow. We are going to expand maybe a little bit more, up to 200 members or so, but not beyond that. Others can replicate the model in other regions, and serve other parts of Bengaluru. That makes much more sense from a logistical perspective, and the market is big enough for everyone," says Gopi.
So while the Navadarshanam CSA does not intend to grow beyond a certain viable but manageable scale, the team is very encouraging of others following their example and happy to help with advice.
---
You May Also Like: This Startup Is Helping Indian Farmers Turn Agriculture into a Sustainable & Profitable Business
---
So if the thought of a weekly vegetable basket makes your mouth water, why not take the initiative and find some farmers for a new CSA? Similar initiatives are already running successfully in other parts of the country too, like Gorus in Pune, which has been around for close to ten years.
Those who are interested in learning from the Navadarshanam experience to start their initiative can start here.
(Written by Nina Osswald and Edited by Shruti Singhal)
NEW: Click here to get positive news on WhatsApp!
Tell Us More
We bring stories straight from the heart of India, to inspire millions and create a wave of impact. Our positive movement is growing bigger everyday, and we would love for you to join it.
Please contribute whatever you can, every little penny helps our team in bringing you more stories that support dreams and spread hope.