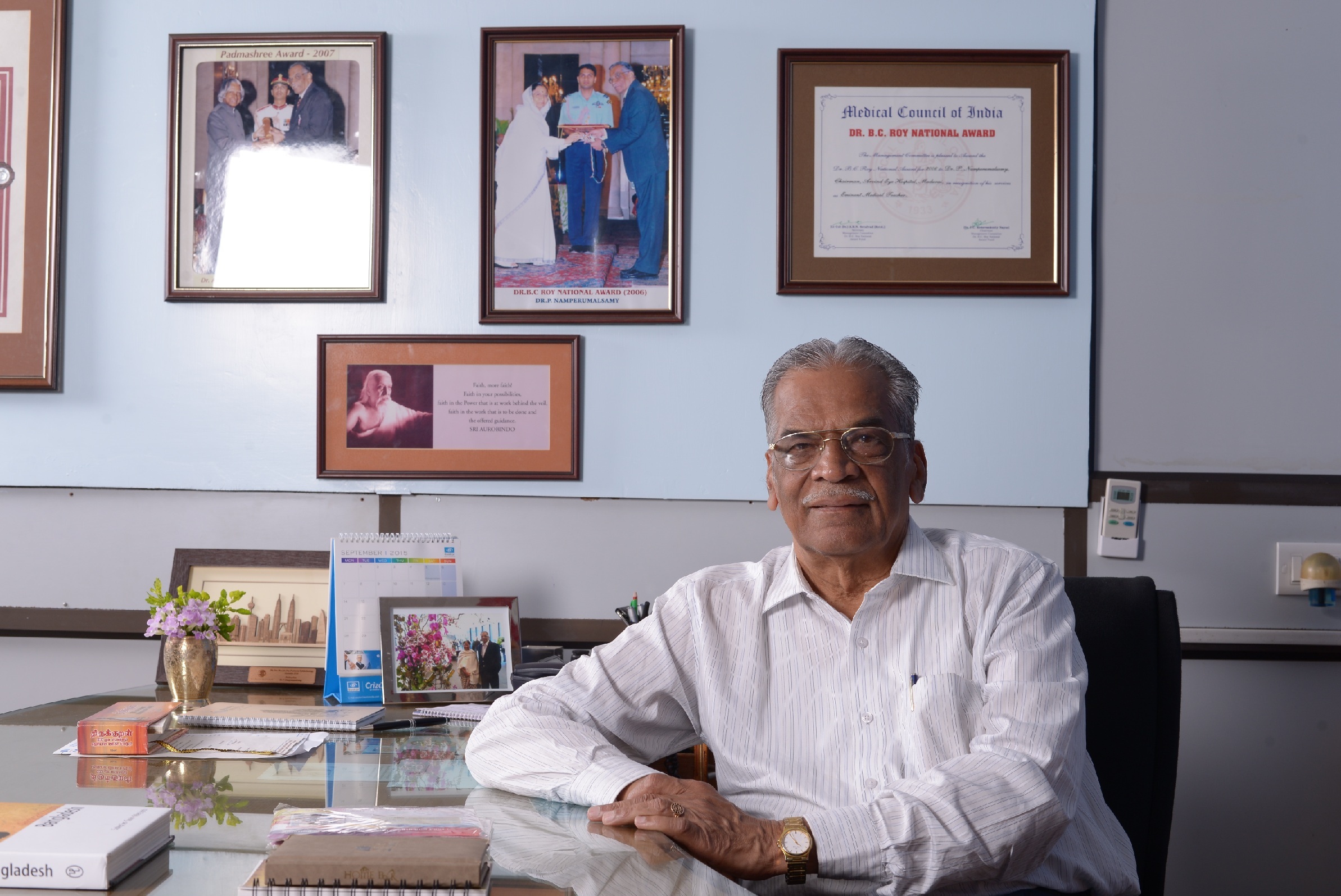 Meet Dr Namperumalsamy, the Chairman Emeritus of Aravind Eye Hospital in Madurai, Tamil Nadu, who has been replacing cataracts safely and quickly to a record of one every 15 minutes.
---
Health Heroes – This article is part of a series to celebrate some of India's most amazing doctors and to understand the incredible work they are doing.
---
Our eyes are the windows to the world. But what happens when these windows are blocked? There are about 45 million blind people in the world, and worryingly about one-third of them are in India.
What causes blindness? What are the treatment options? What is the status of eye donation in India?
In conversation with Dr P Namperumalsamy, the Chairman Emeritus of Aravind Eye Hospital in Madurai, Dr Priyamvada Chugh discusses all things eye-health-related.
Dr Namperumalsamy (affectionately called Dr Nam), a 2006 Padma Shri awardee, has also been named by TIME magazine as one of the world's 100 most influential people for bringing assembly-line efficiency to eye surgery in India.
His innovative model, which serves society without compromising on its profitability is being taught as a case study at Harvard Business School since 1993.
What drove him to become an ophthalmologist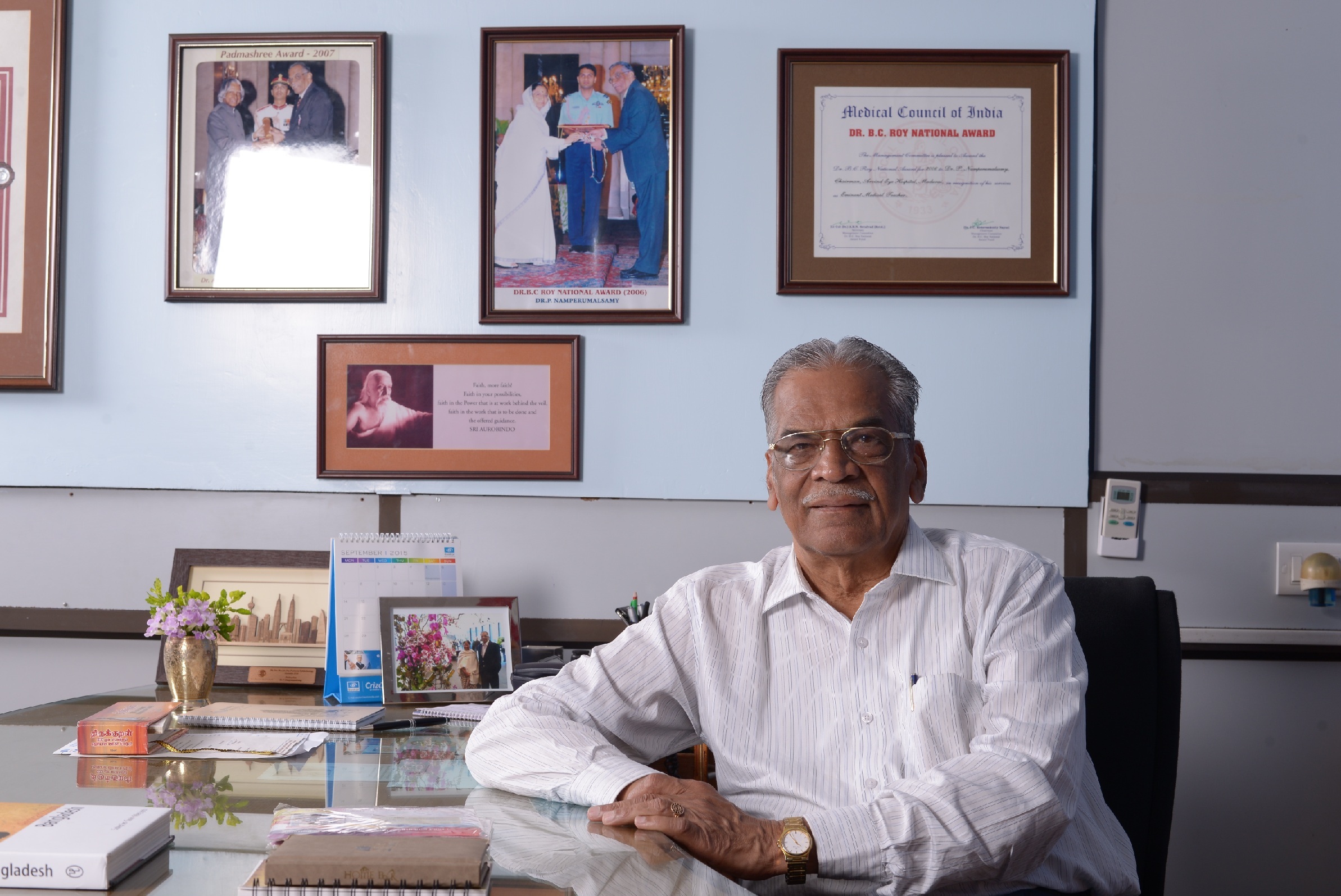 I was born into a middle-class family in a small village near Theni in Tamil Nadu. While I aspired to become an engineer, my father wished that I entered into medicine. Graduating in 1963, I soon married Dr Natchiar, who is the sister of my undergraduate degree Professor Dr G. Venkataswamy (fondly known as Dr V).
Under Dr V's guidance and support, I took up ophthalmology. Our association for more than 40 years as a student, family member and a colleague had a tremendous influence on my life. I also imbibed many innate life qualities from Dr V – teamwork, quick decision-making, the need for a compassionate patient-doctor relationship and the value of selfless service to the common man.
Cataract leads to 63% of cases of blindness in India. What causes cataract?
Cataract is the clouding of the eye's lens, which is the most common cause of vision loss in people aged over 40. While the specific cause for cataract remains unknown, exposure to ultraviolet sun rays, nutritional deficiency and genetic factors are some of the main drivers. Most cataracts develop when ageing or injury changes the tissue that makes up the eye's lens.
---
Also Read: Nepali Eye Surgeon Who Reduced Cataract Surgery Cost by 90% Wins Padma Shri!
---
With an increased incidence of diabetes worldwide, blindness related to diabetes, known as diabetic retinopathy, is on the rise. What is the status in India?
Diabetic retinopathy is the blocking of vision in diabetic people, which results from the weakening and bleeding of blood vessels in the eye accompanied by structural changes in the retina. Diabetes affects more than 415 million people across the globe, of which about 69.2 million people are in India.
With increasing sugar intake and changes in lifestyle, this figure is estimated to double by 2040. The tragedy is that diabetic retinopathy is a symptomless condition until a point when the affected suddenly lose their vision, at which stage, intervention becomes expensive and of limited benefit to the patient. While all people with diabetes (type 1 or type 2) can develop diabetic retinopathy, high blood pressure, high cholesterol, pregnancy and smoking are some of the factors that raise this risk.
What is corneal blindness and how can it be treated?
The cornea is the clear, front surface of the eye, which is crucial for light focusing. Like a "window", it allows light to enter the eye. Vision could be markedly reduced or lost if the cornea becomes "cloudy" or scarred, a condition known as corneal blindness.
Corneal blindness can occur due to an eye injury, birth defects, malnutrition, infections, or chemical burns. Corneal transplantation enabled by eye donation is the only remedy for corneal blindness.
Corneal transplantation enabled by eye donation is the only remedy for corneal blindness.
Corneal transplantation enabled by eye donation is the only remedy for corneal blindness.
What is the status of eye donors? Is there still a shortage?
We have witnessed a lot of positive change in the number of eye donors in India. According to the Eye Bank Association of India, 11,473 corneas were collected during 1995-1996, while this number increased to 52,758 in 2015-2016.
While this trend is encouraging, there is still an annual need of one lakh good quality corneas for transplantation. Even though we have more than 500 eye banks in India, only 2% of them are active.
In spite of the efforts by the National Programme for Control of Blindness and other health agencies, public awareness of eye donation remains low. Southern Indian states are performing better than others with Tamil Nadu topping the list regarding eye donation. Several initiatives by NGOs such as the Sight First Programme of Lions Club are targeted towards raising public awareness on voluntary eye donation.
You are the man behind replacing cataracts safely and quickly to a record of one every 15 minutes. How did you achieve this?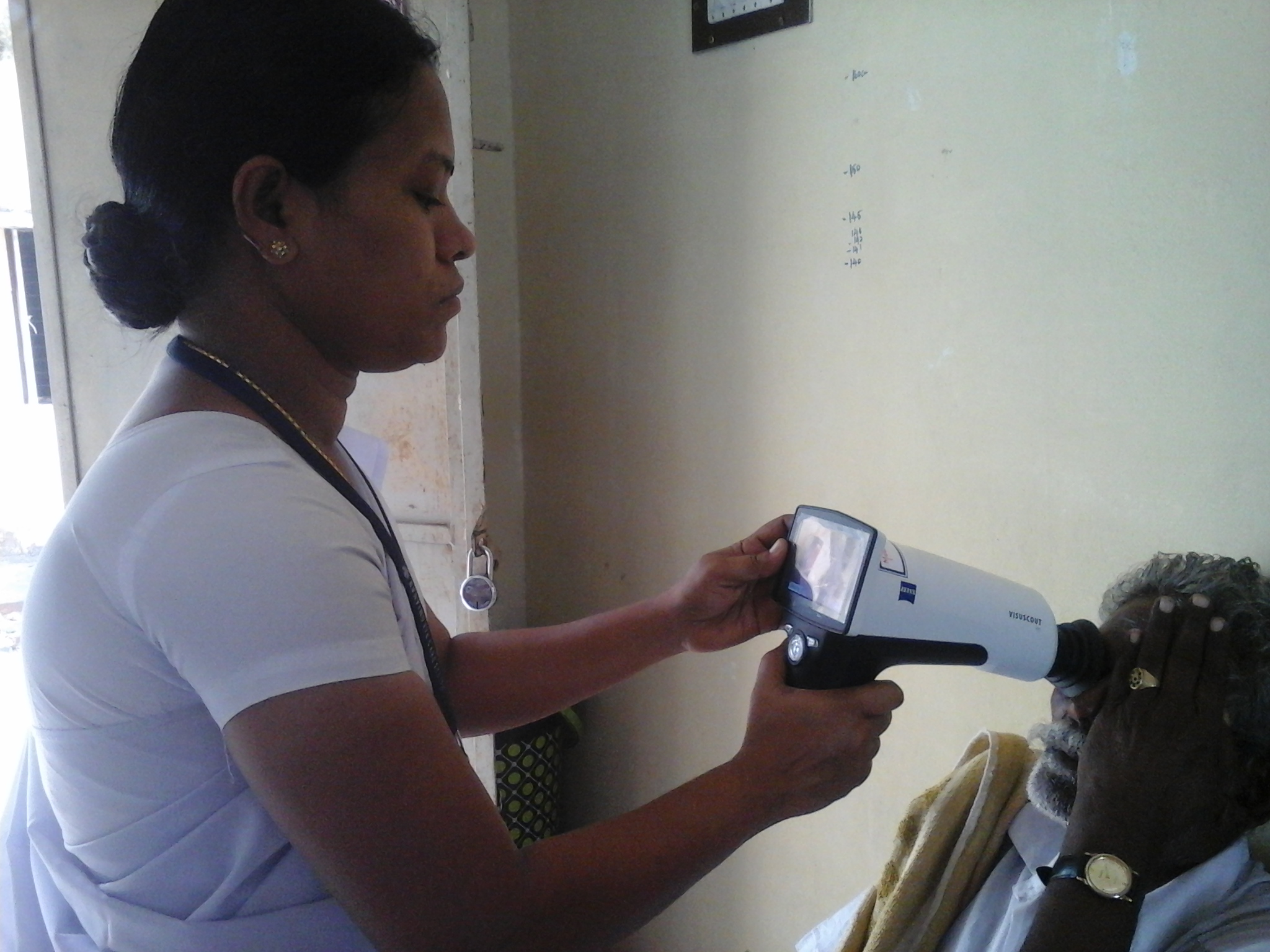 This achievement at the Aravind Eye Hospital can be attributed to the two-table system in the operation theatre, a novel concept introduced by Dr V.
This system is a step towards effective management of the high magnitude of blindness in India, despite the limited availability of trained doctors. This method enhances the number of surgeries performed in a given time, while keeping up the efficiency and effectivity, without compromising the quality.
There is a striking resemblance of our model to an assembly-line of a manufacturing facility. Each operation theatre has four tables where two doctors operate independently. Each doctor has a large microscope stationed between the two tables.
When a doctor walks into the operation theatre, a cataract patient who has been fully prepped by two mid-level ophthalmic personnel (MLOP), is brought in for surgery. The doctor looks through the patient's case sheet and quickly gets to work—removing the affected lens in the eye and replacing it with an artificial lens.
As he is doing this, a second patient is wheeled in, positioned on the other table and prepped by the MLOP (each doctor has two MLOPs to assist him). After inserting the lens, the doctor simply swings his microscope across and shifts his attention to the second patient, while the MLOPs take over the necessary post-operative procedures—like bandaging the eye, etc.—and wheel the first patient out. As the doctor completes the surgery on the second patient, a third patient, prepped and ready, awaits their turn at the first table.
By getting a doctor to focus on the critical part of the surgery (removing and replacing the lens in the eye), they have been able to build an army of qualified MLOPs who handle other aspects and put in place an assembly-line process, which ensures that a doctor's output is high.
An Aravind Eye Care doctor takes just 5 to 10 minutes per patient, enabling him to perform about 50 surgeries a day, which is at least 2,000 a year. Doctors elsewhere in India, manage at best, 300-400 surgeries a year, while doctors in developed nations perform 200 a year! It is this scale that has enabled us to execute our vision of fighting avoidable blindness and restoring eyesight to thousands of people.
An Aravind Eye Care doctor takes just 5 to 10 minutes per patient, performing an average of at least 2,000 a year, compared to a national average of 300-400.
If there was one Indian health policy that you could change towards eliminating needless blindness in India, what would it be?
In India, more than 80% of the population resides in rural areas while more than 70% of healthcare resources are concentrated in urban areas, causing a gross failure in healthcare.
---
You May Also Like: World's 1st Eye Language Guide Made in India To Help the Paralysed Interact Without Speech!
In my opinion, there are at least two ways to correct this misdistribution:
• By innovating far-reaching healthcare methods such as telemedicine-based consultations.
• By improving the distribution of healthcare resources through public-private partnerships. For this, it is vital that the government embraces a cultural change in the healthcare sector by introducing operational efficiencies commonly associated with the private sector, a model that has previously been implemented in other sectors such as airline and telecommunications.
With emerging challenges like diabetes, increased usage of mobile phones and computers daunting our eyes, these little windows to the world are likely to fight a battle they may not win.
It is thus time we take care of these precious organs that define the sense of sight for us and pledge to donate our eyes to help someone who is deprived of the beauty of this world.
(Written by Dr Priyamvada Chugh and Edited by Shruti Singhal)
Like this story? Or have something to share? Write to us: contact@thebetterindia.com
Connect with us on Facebook and Twitter.
NEW: Click here to get positive news on WhatsApp!
We bring stories straight from the heart of India, to inspire millions and create a wave of impact. Our positive movement is growing bigger everyday, and we would love for you to join it.
Please contribute whatever you can, every little penny helps our team in bringing you more stories that support dreams and spread hope.