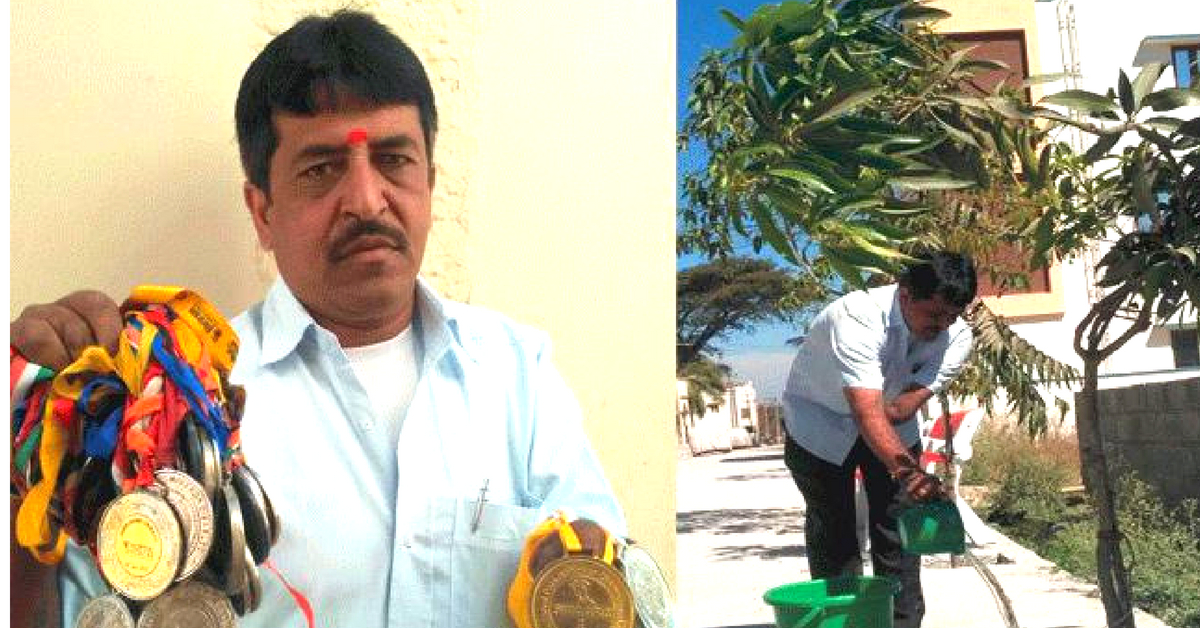 Karnataka's TV Subramani has won many gold medals, at various levels throughout his athletic career and is now on a green mission.
Karnataka's TV Subramani is quite the athlete. He has won two gold medals in international events and one in a discus throw event at the recently-concluded Para International Athletics Championship in Sri Lanka.
The New Indian Express reports that apart from these medals, he has won 64 medals at the national, state and district level in these and other athletic events. He has captained both cricket and kabaddi teams. All this, with a weakened right limb, and no left hand.
This man is now on a mission to make his village green.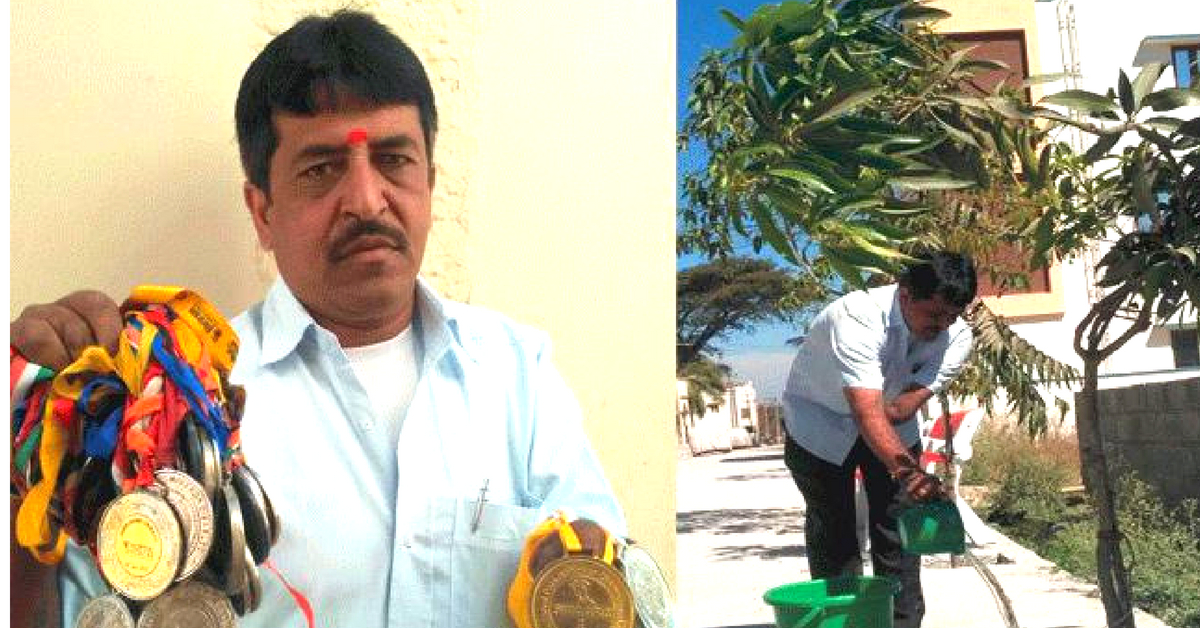 Rajanukunte, the verdant neighbourhood, sports 67 trees, courtesy Subramani (38), who has decided to make the air in his neighbourhood clear and fresh.
He spoke regretfully about the environment, and its deterioration, and urged people to get involved in greening activities before villages become unlivable. His village in Yelahanka taluk near Bengaluru is his area of operation, where he works with his two friends, Murali and Manjunath, who also funded the project.
It took Subramani around 6-7 years to plant, regularly maintain and water the plants, which include mango, sampige, neem and other saplings.
Due to his efforts, the village of Doddatumkuru has 50-60 saplings along the water tanks. Those saplings have benefitted the bird and animal species along the area's wetlands.
He appeals to the state government to provide one or two acres of land so that he can develop a forest, to ease the harms of the concrete urban jungle.
Subramani's obsession with his green pursuits is proof that whatever he does, he puts everything into it. He also participates in annual festival events, dramas and other cultural events.
For international sporting events, the Rajanukunte Gram Panchayat came forward to fund his participation in Sri Lanka, and Nepal. Subramani is grateful and appreciates the help provided, saying that the gram panchayat has helped his kids pursue an education, and provided a fund for his events. He was coached by University player Mahendra in discus throw and javelin.
Subramani wants to combine his love for sports and conservation. He wants to spread the green movement across Karnataka, and he will only concentrate on discus throw and javelin to win more gold medals so his forest dream can be fulfilled.
---
You may also like:- Video: At 18, She Was Confined To a Wheelchair. Today, She's a Sports Superstar!
---
Subramani manages to chase his passions, and work, all while earning just Rs 6,000 per month, with a disabled pension of Rs 1,200 and a bus pass. An SSLC pass, he works as a helper in a medical store. Working two hours in a milk dairy unit gets him some rations and other help.
We hope that Subramani can continue his noble environmental endeavours and take care of his family as well.
(Edited by Shruti Singhal)