He took a two-year sabbatical to immerse himself in the designing of three gadgets that he claims could be one step forward in ensuring the safety of women and senior citizens.
While most people prepare for retirement in their 60s, a 65-year-old Chennai engineer is using his time to create innovative gadgets that can benefit women and senior citizens in times of emergencies.
K G Radhakrishnan, a resident of Nolambur, graduated with a degree in electrical engineering in 1976 and worked as an A-grade electrical contractor. But he took a two-year sabbatical to immerse himself in the designing of three gadgets that he claims could be one step forward in ensuring the safety of women and senior citizens.
Here's a look at the three gadgets:
1. Usha Lifesaver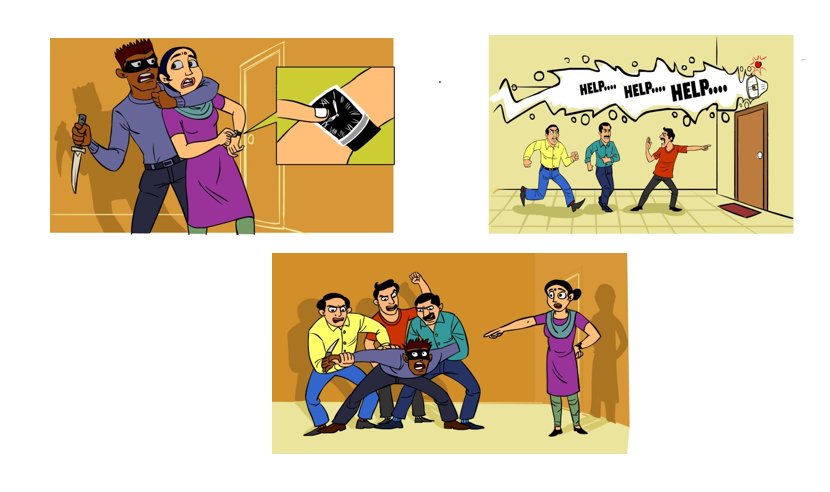 Named after his wife, Usha, this first device is a chic wristwatch. Radhakrishnan says that it that can come handy for women as well as senior citizens who stay alone in an apartment or individual homes with a neighbourhood.
His first device is a speaker that can be mounted at the entrance of the house and comes with remote control, which, instead of a switch is, in fact, a wrist-watch-like gadget that the user can wear at all times, without the fear of misplacing it.
In case of a medical emergency or if a miscreant barges into their home, the user only has to press a button on the device. It will immediately activate the alarm, and the speaker will give out a screeching call for help that can cover a distance of 500-600 meters, thus alerting even sleeping neighbours. Speaking to The Better India, he says that the device can be worn even while sleeping, as it will not give off a false alarm.
Another feature of this unique watch is that even if it is damaged, it won't stop making the noise. Only the wearer can deactivate the alarm. It runs on a battery, so miscreants switching off the power supply of the homes to break in and enter, wouldn't affect its working either.
Radhakrishnan explains, "One might say, even if the neighbours wake up, there is a tendency that the call for help may disorient them, making it difficult to understand what direction the noise is coming from. So, another feature of this device is the minute the call-for-help button is pushed, the watch will emit a blinding red light that can reach a huge distance. So, if the ears are confused, their eyes will direct them to the source."
But after getting feedback from his near and dear ones about how the reach of the gadget is limited because the speaker is stationary, Radhakrishnan began working on a portable version of the first gadget.
2. Usha RAVVs Saviour Pouch

The engineer next created a gadget that could fit in a pouch that could be strapped to the hip.
"All the user has to do is press the button on the pouch to sound the alarm, which is set as a woman's cry for help by default (with help from a dubbing artist). The sound is loud enough and can reach even reach a passerby 60 metres (190 foot) away from the victim," he explains.
The pouch is equipped with a mini speaker and amplifier.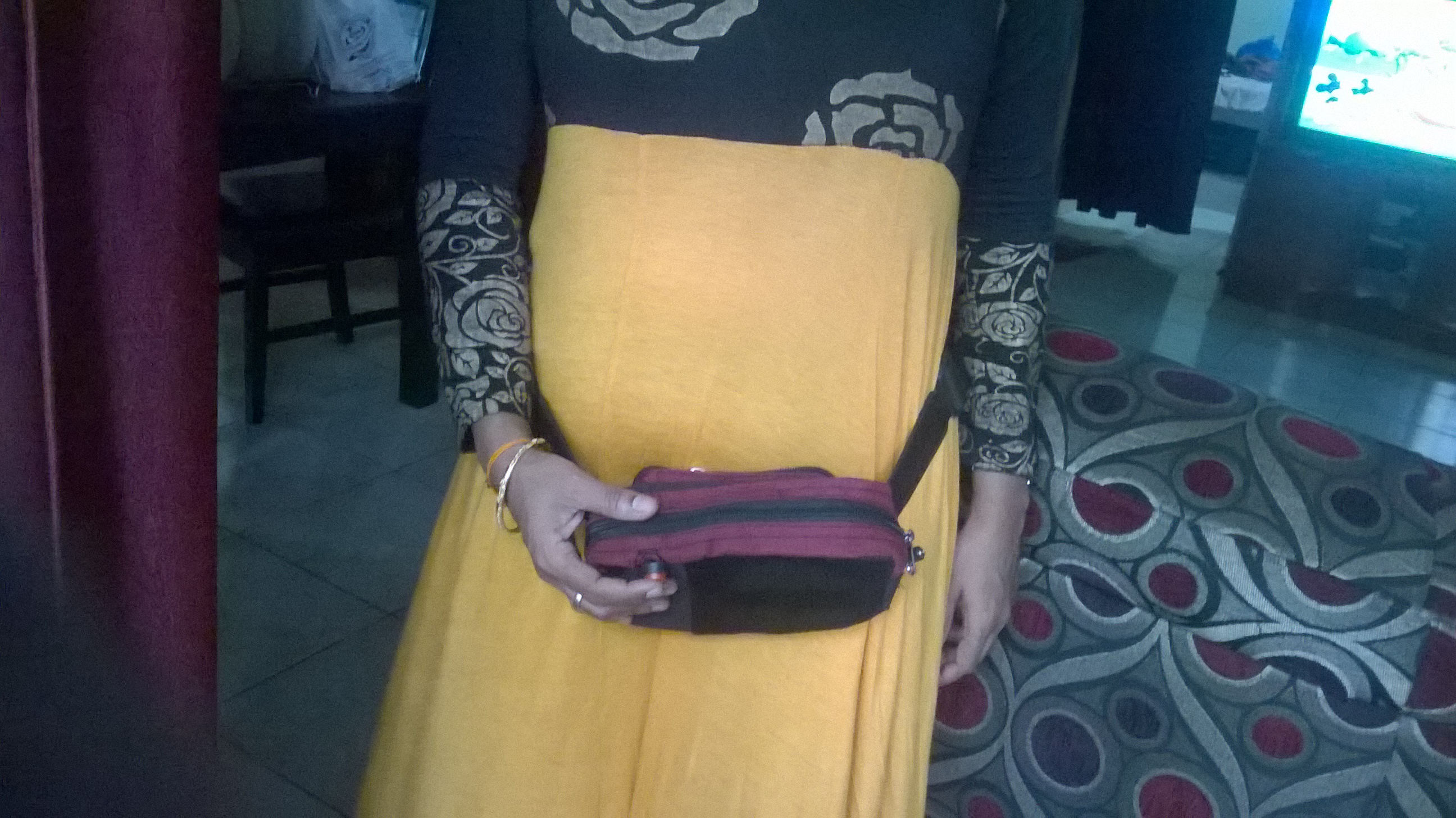 The device also has a slot for a sound card which the user can use to reset the call-for-help alarm to any language or voice. The pouch even has space to keep a mobile and valuables while on the go.
Usually, when a chain is snatched in the middle of the road, the person goes into a panic mode and cannot react for a while. The miscreants use this time buffer to flee. But in this case, even if the victim presses the button after a minute, the sound will cover a distance of 250-300 meters, alerting passersby.
---
Read more: Want to De-Link Aadhaar Details From Banks & Mobile Numbers? Here's How To Do It!
---
3. Usha RAVVs Armour on Wheel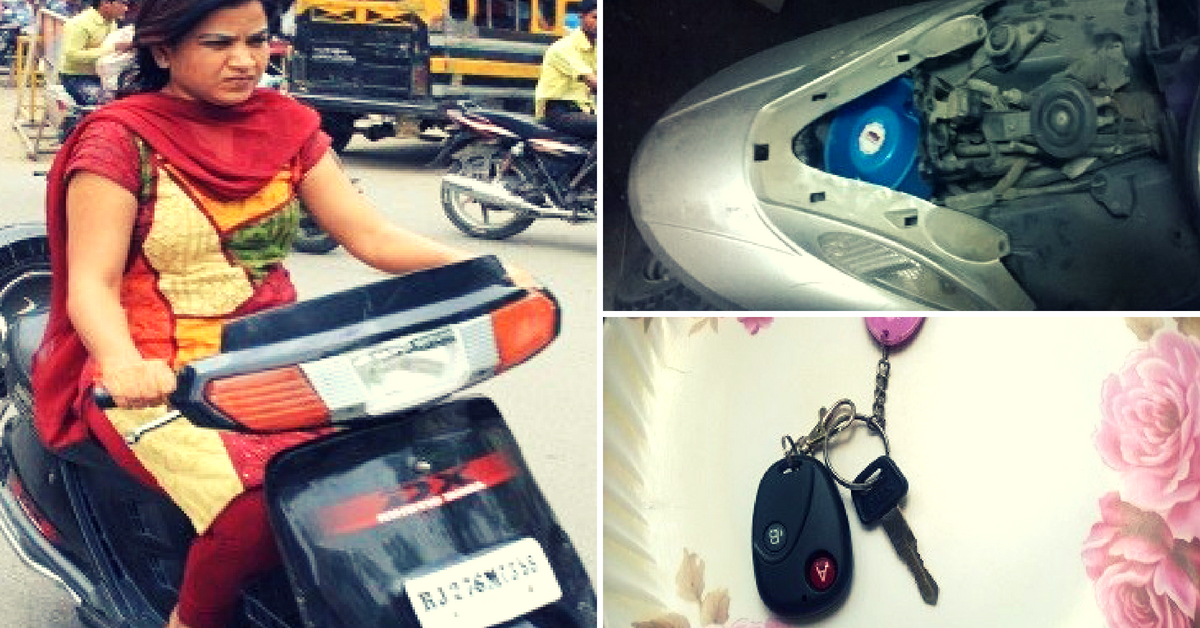 After his daughter shared her experience of being eve-teased as she alighted her scooter, Radhakrishnan got the idea of developing an alternative version for women on two-wheelers. The main circuit, including the speaker, is placed right below the horn and the switch is embedded in the remote key of the vehicle.
Radhakrishnan spent the last one year developing and redeveloping over 20 models, till he arrived at these three final versions. He aims to mass produce these in his capacity and is happy with the attention his innovations are receiving.
If Mr Radhakrishnan's story inspired you, get in touch with him on 9884621378 or write to him at volt.amps.consultancy@gmail.com
(Edited by Shruti Singhal)
Like this story? Or have something to share?
Write to us: contact@thebetterindia.com
Connect with us on Facebook and Twitter.
NEW: Click here to get positive news on WhatsApp!