While the world was celebrating World Environment Day with new initiatives that promise to make this planet a better place, a picture from Gurugram showed the gruesome reality of plastic in our jungles.
Manoj Nair, a prominent birdwatcher from Delhi had visited the Basai Najafgarh Wetlands, and there, among the hundreds of pictures he took of various bird species, one photograph of a black-necked stork, which had a plastic ring stuck in his beak, showed the plight that our wild animals and birds live in.
Storks, as you may know, have characteristically long necks and beaks that help them fish. It is likely that while fishing, the stork got a plastic ring stuck in its beak, which sealed its mouth shut.
The photograph by Nair was widely circulated on social media, and environmentalists, bird watchers and wildlife enthusiasts voiced their concern and dismay over it.
The black-necked stork symbolises the carbon footprints left by humans all over the world—ones that are threatening wildlife at every step.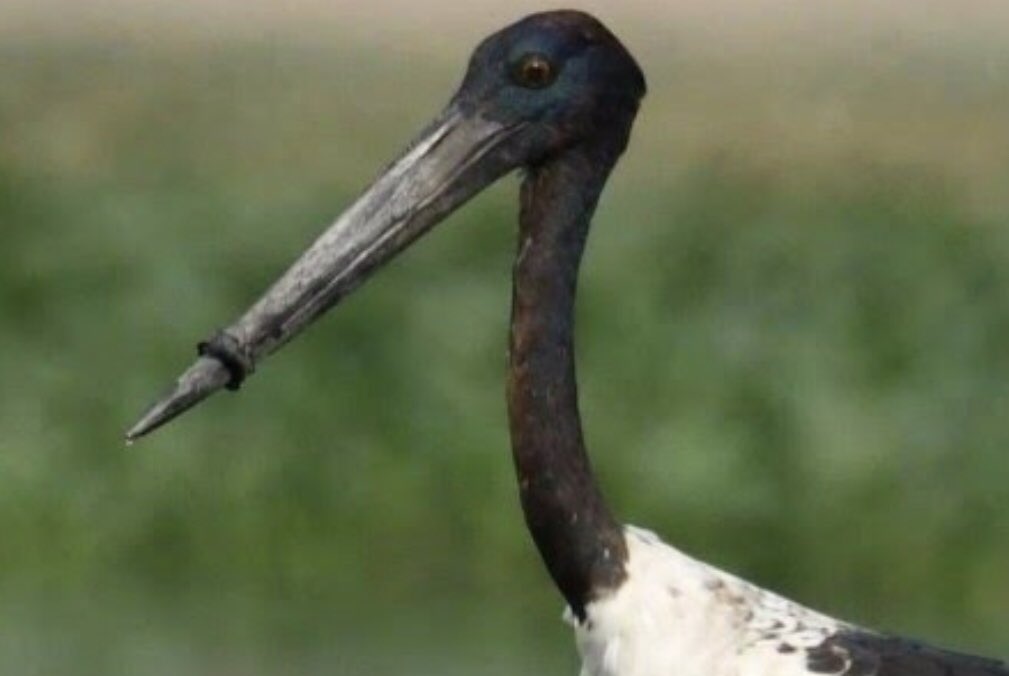 The photograph was a catalyst for forest officials to keep track of the bird, and try to rescue it. For over five days, the team observed the bird and attempted to capture it. They decided against using a tranquiliser because that would have posed a risk to the bird's life.
Shyam Sunder, the District Forest Officer (Wildlife) told The Indian Express, "We had been attempting to help the bird using various tactics for the last four or five days, but none of those had worked. We then had little choice but to take advantage of the fact that it had not eaten for a while, and wait for its energy level to deplete."
Finally, the bird started showing signs of fatigue and slowed down its movements on Wednesday, 13 June. This gave the rescue team an opportunity to capture it and take the plastic ring out from its beak.
The Black-necked stork #Spotted with ring around the beak has been #rescued after five days by wildlife, birders and BNHS teams in a joint rescue operation from Delhi's Najafgarh lake area today morning @htTweets #bird #wildlife #conservation @HTGurgaon @htdelhi @joydeepthakur pic.twitter.com/2Vzzn1YHG6

— Leena Dhankhar (@leenadhankhar) June 13, 2018
#Gurugram: The lower part of the bill was found to be full of mud, bird could not open his bill, it could not get rid of the mud @HTGurgaon @htTweets @joydeepthakur #wildlife #DidYouKnow #gurugrammatters #Gurgaon #Safe pic.twitter.com/LPVl6pYHIr

— Leena Dhankhar (@leenadhankhar) June 13, 2018

Manoj Nair, the person behind the viral photo and consequently, the rescue, said, "It's a rare case of survival… the bird has been rescued, and it's in a healthy shape. Over the last six days, a rescue team of birders and forest department observed that it was wetting its beak and maybe that's why it survived."
The team has decided to keep the bird under observation for another day, ensure that it is healthy and then set it free.
---
You may also like: Spotted After 40 Years, Rare Fishing Cat Rescued By Jharkhand Forest Officials!
---
"The bird has been rescued and has eaten some fish. It seems to be healthy, but we are keeping it under observation for a day. If everything goes well, it will be released tomorrow," an official told The Indian Express.
The photo has shed light on the fact that our wildlife is under grave threat. While the fact that the stork was rescued is excellent news, the incident is a wake-up call for all of us. Let us all take a vow to never let our actions harm our environment.
(Edited by Gayatri Mishra)
Like this story? Or have something to share?
Write to us: contact@thebetterindia.com
Connect with us on Facebook and Twitter.
NEW: Click here to get positive news on WhatsApp!