When he faced harassment by a corrupt and arrogant ticket checker in a local train in Mumbai, instead of accepting the injustice in the interest of time or fear of reprisal, he decided to use the powers vested in him by the laws of the nation and take the challenge head on. Here's his first-hand account of what transpired, how he dealt with it, why he did it and how we can all stand up for our rights too. We have kept his identity and that of the government officials involved in this hidden so that no one is adversely affected by the sharing of this incident.
2012
One day, I happened to be travelling on the Harbor Line in Mumbai on an expired pass. The pass had expired 2 days back and I had not realised it. The Ticket Checker (TC) caught me on the station and asked for my ticket/pass. Realizing that I had not renewed my pass, he asked me why I was travelling without one. I told him that I had forgotten and I was ready to pay whatever was the fine.
The TC, a 20 something newbie, not in uniform and with no badge or identification on him, was adamant on not fining me at the platform and insisted that I go with him to the station office. I told him, you can fine me right here or else I am going my way. He did not like it one bit. He said he did not have his receipt book with him (while it was in his pocket the whole time). Realising that this wasn't going anywhere, I went with him to the office.
On the way, I called my dad to inform him of the situation and that I'd be late. I was advised by my father to pay the fine, take the receipt and be done with. On reaching the office, the TC, along with the off-duty policeman, started mocking and abusing me after I pointed out to him that he had the receipt book in his pocket the whole time. After about 20 minutes of arguing, threatening, etc., he fined me. Next day, I came with my dad to register a complaint against him with the station master. He refused and said, do what you want. I did. I filed an RTI to know their names, whether they were supposed to carry badges, name tags, etc. And here's the answer I got:
After that RTI, the station master was sweet talking his way out, called the young TC, made him apologise and the matter was closed. But he always had an eye on me and my dad and always gave cold stares since then.
2014
I and my father travel regularly, at separate times, every day from this particular station, and hence we see this young TC all the time. We would always see him catching college going students and young children. He would never catch the obvious rowdies and the drunks and drug addicts who are seen on the station. In June this year, when my father was returning home, he saw this TC harassing school children on the station. He confronted him and asked him what was going on. The TC got enraged and started hurling abuses at him. He gave death threats too along with some unmentionable curses. The railway staff at the ticket counters, the passengers passing by – everyone heard this argument.
Not one to take it lying down, my father went with his lawyer to the Railway Police at the station where this happened the next morning. After the case was explained to the officer, he called the TC on phone from the station and when the lawyer was speaking, the TC again used very abusive language thinking it was my father talking. They left after that. This is the lawyer's notice explaining the incident: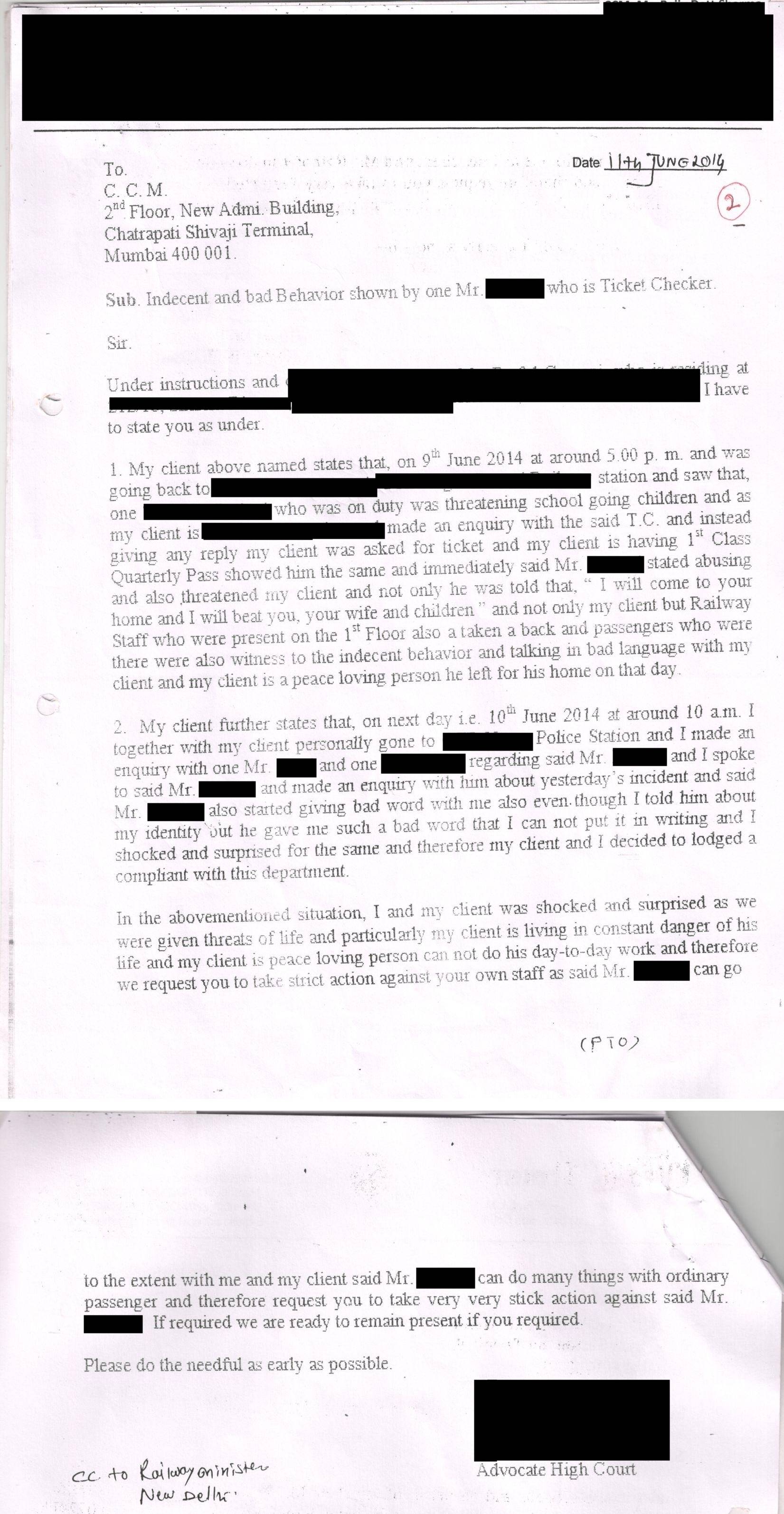 The next few days were spent sending a complaint letter to the heads of Central Railway, The Railway Minister and Railway Ministry and the Station Master. After a week or so, I filed an RTI request with the Railway Ministry to find out the status of my complaint. The Railway Ministry replied in 10 or so days and had brought the RTI and the complaint to the notice of the Chief Commercial Manager and Public Information Officer (PIO) at the Central Railway, who then swiftly transferred it to the concerned person, the Divisional Commercial Manager of Central Railway, Mumbai because it came under his purview. He has set up a meeting with us, the TC in question and his department for further action. I am positive that we will get a proper outcome and justice.
These are the letters I got from the Chief Commercial Manager & PIO at the Central Railway and the Divisional Commercial Manager of Central Railway, Mumbai:
What does it take?
We did this without any kind of 'contacts' or any kind of interference from any political party or politician. There is a prevailing impression that one needs to go from pillar to post, bribing everyone, to get things done when dealing with the Government and Government employees. This is why hardly anyone speaks out, because they do not want to waste time in going from one office to another and find it better to keep quiet. We did this without going anywhere. We never spoke to anyone except the concerned railway officials on the phone. The rest of the communication was done via email, letters and RTI – and that too was done online! If I had to break it down, it simply took 15-20 minutes a day and that too not every day. It's that easy, but requires patience, determination and some basic knowledge of law and procedures. That's it!
Why did we do it?
We did this because it was necessary. Yes, it took time but it was well worth the effort. I hope more and more people speak up and complain to the authorities about any and every problem and follow it up religiously. The reason I wish to share this with the readers of The Better India is because I want to show and prove that anyone can do this, without bribing anyone and by using the system and procedures laid down in the law. I hope that the Railway authorities punish the TC harshly because he remains a danger to the commuters at large, especially the young children and students who use the railway every day.
Resources
Here's how you can file an RTI application:
https://rtionline.gov.in/ – The official portal that allows you to submit RTI applications to the Central Government directly.
http://www.onlinerti.com/ – For a fee of Rs.99 they help you draft your RTI application and send it to the concerned authorities.
This document answers most of your queries on what is RTI and how you can use it.
And here you can find information on the RTI Act from a legal perspective.
We also recently reported that the GoI has initiated a free online course in teaching people to use RTI and get a hands-on experience.
Like this story? Or have something to share? Write to us: contact@thebetterindia.com, or connect with us on Facebook and Twitter (@thebetterindia)
We at The Better India want to showcase everything that is working in this country. By using the power of constructive journalism, we want to change India – one story at a time. If you read us, like us and want this positive movement to grow, then do consider supporting us via the following buttons.
Please read these FAQs before contributing.