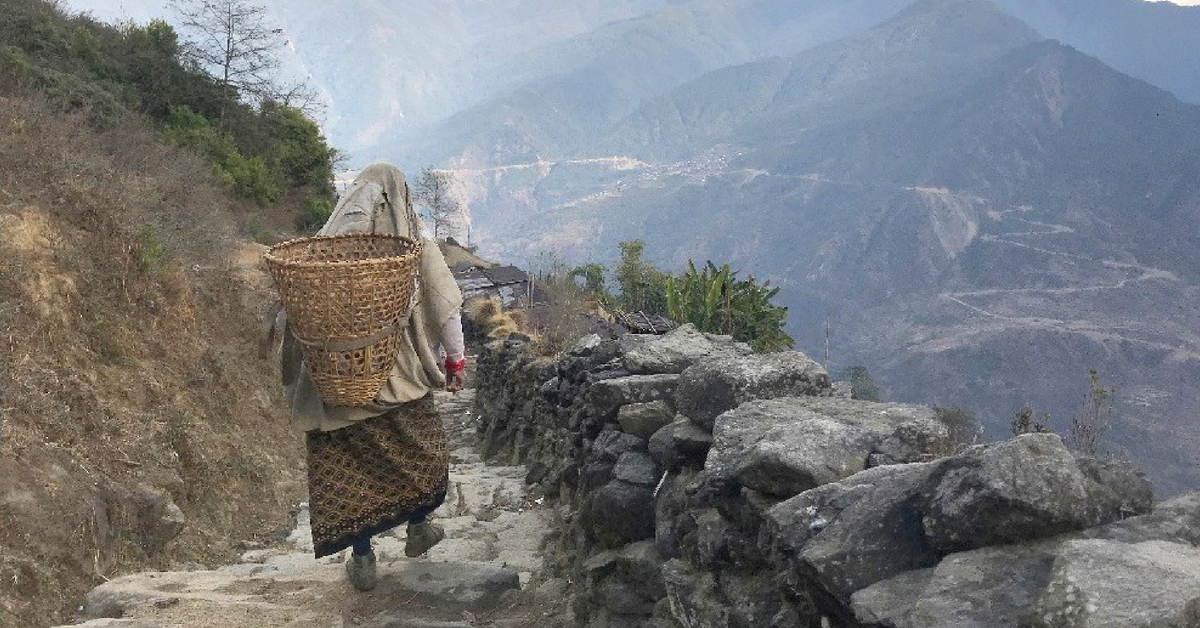 The terrain is difficult, and there is also an increasing dearth of individuals who remember and can narrate these stories.
"You must have seen an unfinished concrete structure there. Last year, we started constructing a temple inside the forest. But we think we displeased our deity; and our village was hit by an earthquake, a rare phenomenon here. So, we decided to stop all constructions, maintain the area as it is and not offend Sherlanpoche," says Konjo Tsering, Goan Bura (village headman) of Yewong village in West Kameng district of Arunachal Pradesh.
Legend believes that long ago, there lived a powerful creature in the Grang forests surrounding the Yewong village.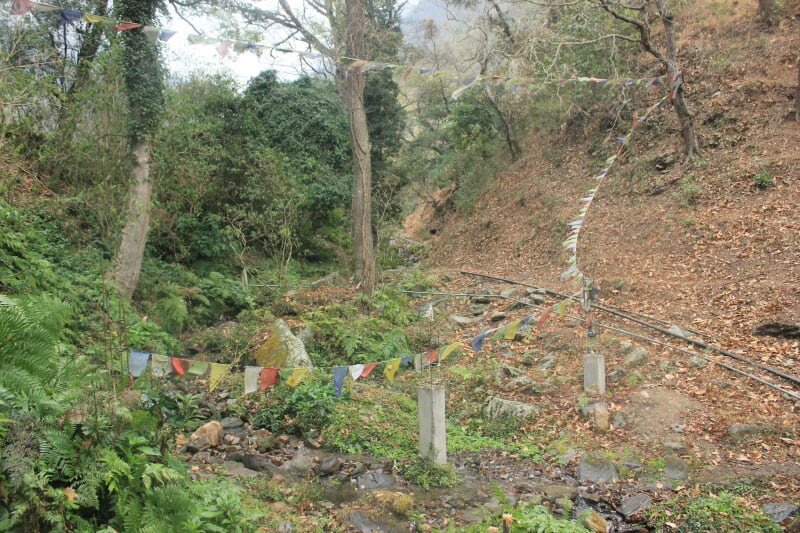 According to locals, the creature resembled an elephant in size. And now, they worship a long elongated rock that resembles an elephant trunk, likening it to Sherlonpoche (which means 'the golden elephant' in Monpa, an East Buddhist Tibetan language).
Sherlanpoche was evil. Whoever would pass through the forest was harmed by him. Even the birds and animals were not spared. Nobody knew the reason for his cruelty, but everybody feared him.
Once, a respectable Buddhist Lama named Atajarapa, who lived in a nearby mountain, was travelling through this forest with his son. And as fate would have it, Sherlanpoche captured his son. Despite repeated warnings, he refused to release the Lama's son. The Lama was now determined to give Sherlanpoche a taste of his wrongdoings. He used his spiritual powers and entrapped Sherlanpoche's son inside a bell.
The tables had turned. Sherlanpoche could not fathom the supremacy of the Buddhist Lama. He complied to release the son in return for his own son's life.
Atajarapa agreed on a promise in return from Sherlanpoche that he would not kill or harm any living beings in the forest and instead be the guardian deity. He also gave his word on behalf of the local Monpa inhabitants of Yewong village that they would worship Sherlanpoche for years to come.
Based on this single belief, prayers are offered once a year to Sherlanpoche, who is believed to be living in the forest in the form of an elongated rock resembling an elephant trunk. This forest is known as the Grang Sacred Forest, by the locals and spans around 250 hectares.
The sacredness of the forest has ensured that no trees are felled or that the forest resources are not used for personal or community purposes by the locals.
Not very far from Yewong village is located the picturesque Sangti valley which is surrounded by the high mystic ranges of the Eastern Himalayas.
The valley is adorned by its pristine forests on all sides with the Sangti river calmly flowing through the valley.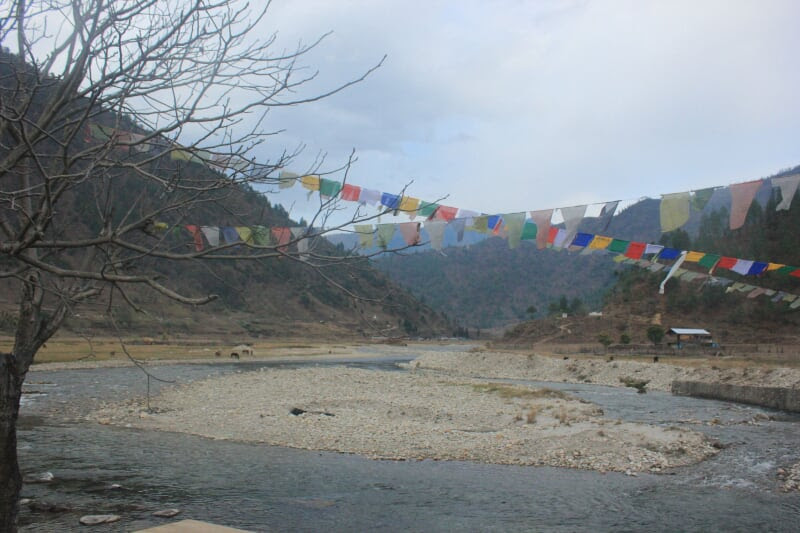 Amidst this valley lie similar tales and beliefs of the sacred mountains of 'Ni Dhirshing' and 'Namchen'. Although no one in Sangti valley has ever climbed the 'Ni Dhirshing' mountain due to its sheer steepness or, have seen the holy gompa which is believed to be on Ni Dhirshing, but they do hear bells ringing and conch shells blowing from the mountain. For the locals, the mystery and legend associated with it have given their mountain its sacred status.
---
Also Read: Arunachal Tribe Protects Unique Bird Species, Wins the India Biodiversity Award!
---
Dirang basti also located in West Kameng district has an old tale about animal sacrifices in the area. The tale goes that a challenge took place between the head priest of the Bon religion and a Buddhist lama -Lopon Rinpoche visiting the area from Tibet. As per the legend, animal sacrifice was an important ritual of the Bons, but Lopon Rinpoche advocated non-killings of any beings. He tried to persuade the locals to stop the killings but this resulted in a challenge between him and the priest as to who could reach the Dzangto Peri mountain first.
Lopon Rinpoche won the challenge and demanded that the head priest stop all animal sacrifices in the area, especially while they worship their sacred mountains – 'Bangle' and 'Dunphu'. Following this, animal sacrifice is not only banned in the area, but the killing of any animal for dietary consumption is also prohibited.
Travelling through the Himalayas in search of stories connecting people and nature, I found that communities living in this region exhibit an inherent relationship with their natural surroundings.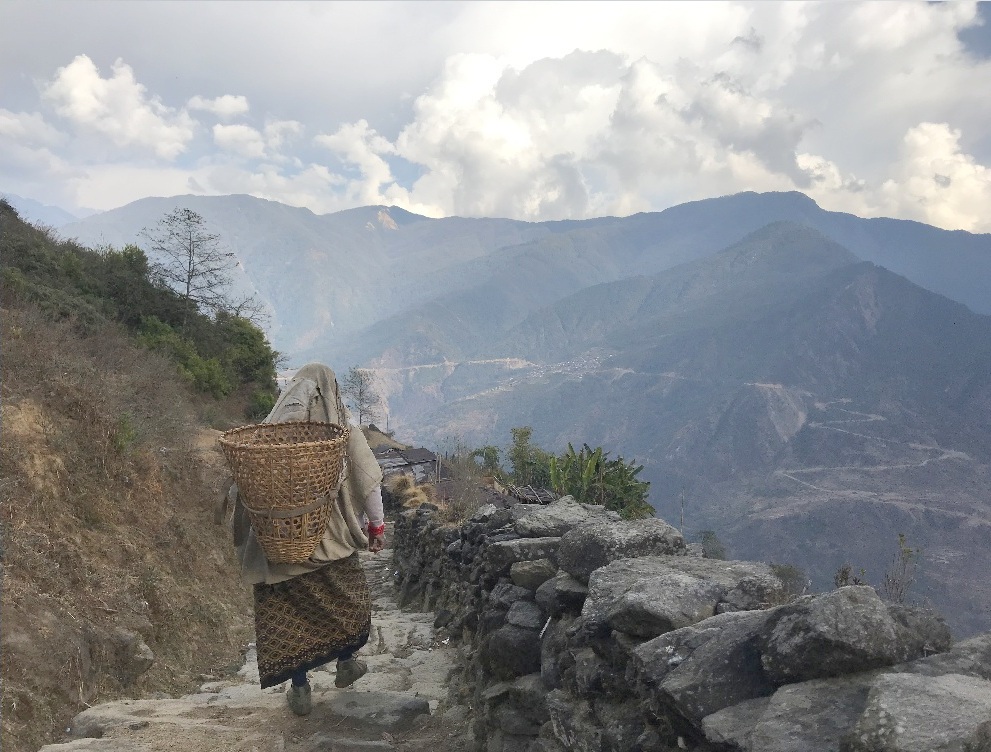 The forests and the biodiversity hold a special significance for them. Although the communities are highly dependent on forest resources for their survival, they are also its best guardians.
These are many more untold or undocumented oral narratives that exist in Arunachal Pradesh and across the Himalayas. The forgotten tales speak a thousand words about the culture, the people and the natural environment of the region.
These narratives have been passed on through generations orally and are the basis of their cultural and spiritual lives. Such practices have not only helped in preserving their backyard forests and green cover but has also led to conserving the rich biodiversity of the forests.
---
You May Also Like: MY STORY: What My Lunch With the Adi Tribe of Arunachal Taught Me About Sustainable Living
---
The terrain is difficult, and there is also an increasing dearth of individuals who remember and can narrate these stories. With the coming of new age media, this traditional art form of storytelling is struggling as daylight is replaced by electronic gadgets and senior citizens are relegated to pray and ponder about the past. In many countries, this traditional form of communication has become less commonplace. However, it is important for us to document these oral narratives and pass them on to the next generation.
In today's fast-paced world, it is important for us to understand and preserve our intangible culture to create a sustainable future. Such practices will help to strike a balance between communities, culture and science-based conservation.
All pictures: Pooja Chowdhary
(Written by Pooja Chowdhary and Edited by Shruti Singhal)
About the author: Pooja Chowdhary is a communications professional in India, documenting stories connecting people and nature. She recently traveled to some of the Himalayan states of India, Nepal and Bhutan to document oral narratives under her project 'Whispers of Yore'. Pooja is an Asia Pacific Leadership Fellow of the East-West Center, Honolulu, Hawaii.
Like this story? Or have something to share? Write to us: contact@thebetterindia.com
Connect with us on Facebook and Twitter.
NEW: Click here to get positive news on WhatsApp!
We bring stories straight from the heart of India, to inspire millions and create a wave of impact. Our positive movement is growing bigger everyday, and we would love for you to join it.
Please contribute whatever you can, every little penny helps our team in bringing you more stories that support dreams and spread hope.