The forests of Jharkhand are home to hundreds of birds and animals. Stepping into these jungles will make you realise that there's so little we know about these eco-systems–about the symbiosis of prey and predator, about birds that step into a crocodile's mouth without so much as a worry, about big cats who are peaceably walking right next to you.
Walking the paths of the Himalayas, in the Ganga and Brahmaputra valley wetlands as well as the Sunderbans and the Western Ghats- is one such fascinating cat–one that may not pop up on your top three wildcat lists–the fishing cat.
Smaller than an adult leopard, this nocturnal cat prefers living near wetlands and water bodies where fish are plenty. It hunts its prey–fish, frogs or birds by grabbing them from the water. At times, the cat will also dive into the water to chase its prey.
The fascinating cat is difficult to spot, more so than a tiger or a leopard. So rare is its spotting, that the Jharkhand forest officials spotted a sub-adult fishing cat after nearly four decades!
It's important to note that the International Union for Conservation of Nature (IUCN), has categorised the fishing cat as a Vulnerable species.
LR Singh, State Chief Wildlife Warden, told Hindustan Times, "Fishing cat was reported for the first time after several decades in Jharkhand. It is said that the animal was also spotted in East Singhbhum district around four decades ago. We are examining the records."
A sub-adult fishing cat got caught in the nets of the villagers of Sahibganj district in Jharkhand. It was suspected of hunting the goats and calves belonging to the villagers.
They probably didn't know that the fishing cat is placed in Schedule I of the Wildlife Protection Act, 1972, which outlaws the hunting or breeding of these animals.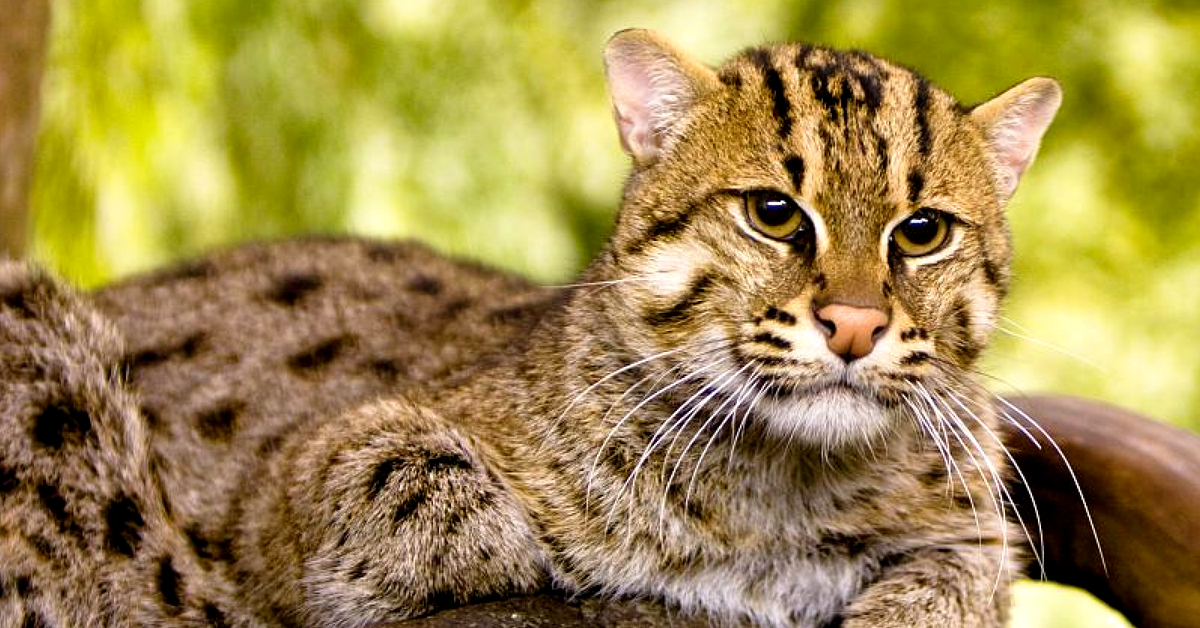 Trapped and injured, the fishing cat was left at the mercy of the angry villagers.
It is a mystery how forest officials heard about the fishing cat capture, but as soon as they did, they rushed to Sahibganj. Manish Tiwary, Divisional Forest Officer (DFO), Sahibganj, told HT, "The cat was rescued from Pahar Pur area, around 40 km from Sahibganj town. The animal had received injuries as it was trapped in a net by villagers."
---
You may also like: 13-Year-Old Boy Sees Turtle Being Sold. What He Did Next Will Leave You Inspired!
---
Singh added to this by saying, "Villagers had trapped the cat after their domesticated animals, mainly calves and goat kids, started disappearing."
The forest officials were quick to rescue the cat which is now being given special care under expert observation. They hope to revive it soon and send it back home to the jungles.
Whether by accident or on purpose, wild cats should never be caught in human clutches. This time, it was the quick response by the forest department that saved a fishing cat in Jharkhand. Let's hope the animals stay safe in their home henceforth.
(Edited by Shruti Singhal)
Like this story? Or have something to share?
Write to us: contact@thebetterindia.com
Connect with us on Facebook and Twitter.
NEW: Click here to get positive news on WhatsApp!