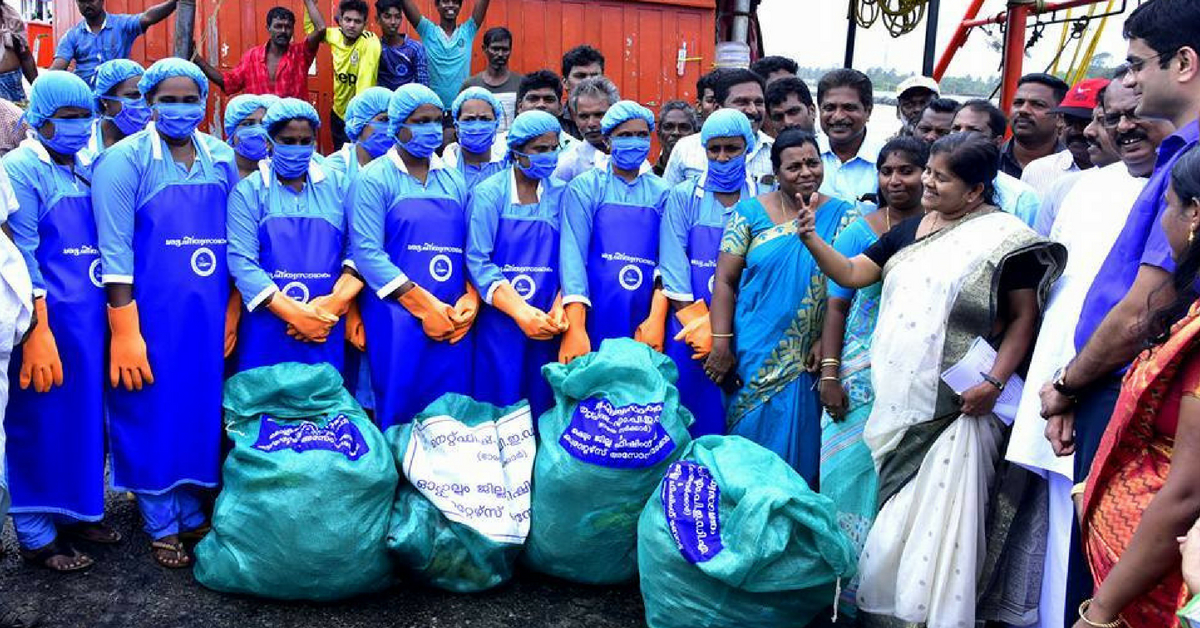 About 28 individuals from the community are directly involved in the process and make use of five trawlers to retrieve the plastic waste from the sea.
Flagged off in 2017 by J Mercykutty Amma, Kerala's fisheries minister, the objectives of the ambitious Suchitwa Sagaram (Clean sea) Mission include the prohibition of plastic waste dumping into the sea and procuring all forms of plastic materials in the sea or ones which got entangled in the nets while fishing.
Kerala's coastline stretches to nearly 600 km, and the state is one of India's top fish producers; over a million households are entirely dependent on the fishing industry. However, due to rampant marine pollution, not only is the aquatic ecosystem under serious threat, the impact will eventually trickle down to our plate as well!
Taking cognisance of this fact, the fishing community settled along the Neendakara harbour in Kollam, undertook the responsibility of recovering plastic waste along the coast under the Suchitwa Sagaram campaign in June last year.
Nevertheless, their participation could also be attributed to their self-driven objective of keeping the sea and surroundings clean.
About 28 individuals from the community are directly involved in the process and make use of five trawlers to retrieve the plastic waste from the sea. Previously, they would discard plastic waste that would often get stuck in their fishing nets, back into the sea. Now, they take the extra effort to not just collect the debris stuck in the nets but also look out for more along their fishing routes.
---
You may also like: Goodbye Disposables, Hello Reusables; Kerala Govt Offices Boycott Polluting Plastic
---
"So far, 10 tonnes of plastic bags and plastic bottles and 15 tonnes of discarded nets, plastic ropes and other plastic items from the sea have been removed by the fishermen. Even though it is a small group, they have freed the sea from 25 tonnes of plastic waste," Johnson Premkumar, the programme officer for training under the initiative, was quoted as saying by a UN website.
The best part of the initiative is that it doesn't end with procuring the plastic waste from the sea. After the waste is collected at the harbour, it is fed into a plastic shredding machine, which turns it into material used for road surfacing.
https://www.facebook.com/netfishmpeda/photos/p.2003184716560211/2003184716560211/?type=1&opaqueCursor=AboXqyAhneBqzF5q19sykPPu8z1sUAS29L5w3FIqcx8xw-eQEnP9tLR74u8fY63qF2KtKbsqTBIPCW2YmbID2COvGq8o3q1E3h-2bONDYN0rFEIARPdw_xuH4Q8RcxBNOWWeWYGmqRPuQDK46qr1w0JGppls9AdMg99E1a-Gmn8VqRA9nl7g2j_bqPguzczknz9HAGUX0WAW0fYs9227YAC6H80QIjp6hbcvZjadS59Ui1RAZQ7lr0QY3ZqUP20QO6f1cPkpWCd4RHQp9pfCl__4XN5KhZ9hFUrcPvddEQn4VUACcw_EUKfKtZ6Lwr8hKWbSFH_74JyCn5RGj7PIh30_rwyEXLOHGF_vTAX3yYkIEIjw1nT1y2Zg9_ygy4BKsJOzTVCYSGIuCDIXaOtNKDc0CWYoEVBG2DOLupSDwixKao4lRQFsqMawDvqtIuLdfbc&theater
Therefore, this exceptional initiative tackles sea-bound plastic pollution, in addition to routing the waste for infrastructural activities!
As 'Beat Plastic Pollution' is the theme for World Environment Day this year, the Suchitwa Sagaram project is setting the right precedent by bringing back plastic waste from the seas and resuscitating Kerala's coastline and marine life.
(Edited by Gayatri Mishra)
Like this story? Or have something to share?
Write to us: contact@thebetterindia.com
Connect with us on Facebook and Twitter.
NEW: Click here to get positive news on WhatsApp!