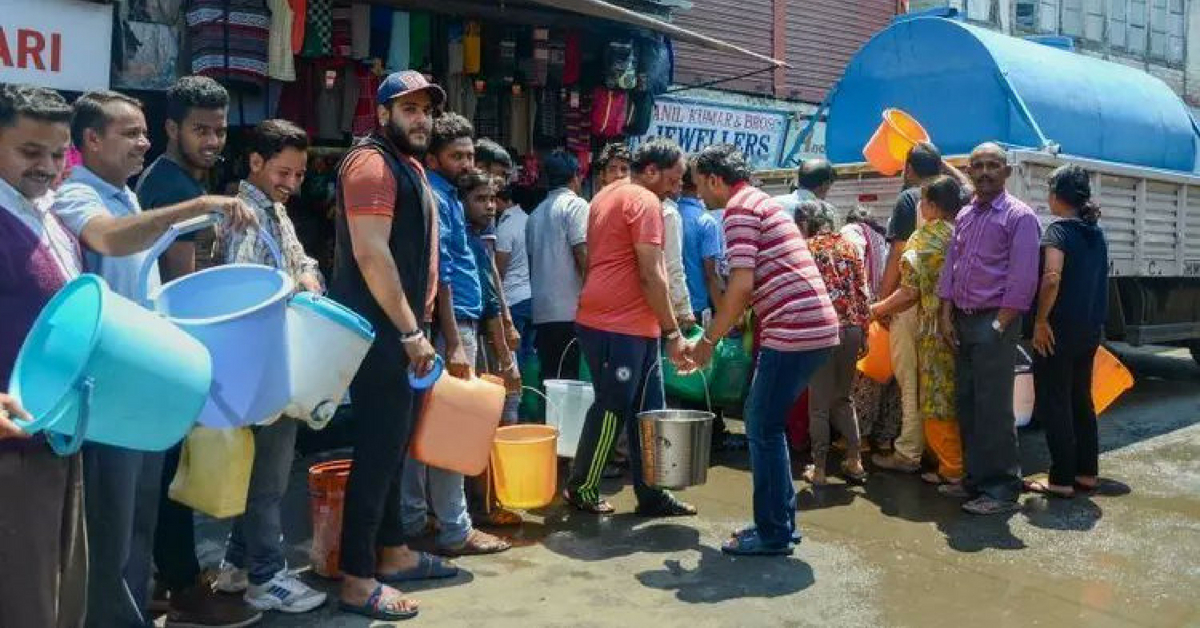 In the last few days, Shimla has been making headlines for the severe water shortage it has been facing, with residents having to wait for days to get clean water into their homes.

A water shortage in India's urban areas isn't something new. Every year, with the onset of summer, taps go dry in several cities across the country as the demand for water rises. As the citizens look to the sky to tide over a parched summer, private water tanker operators make a killing by arbitrarily hiking the price per load.
In the last few days, Shimla has been making headlines for the severe water shortage it has been facing. The capital and largest city of Himachal Pradesh, the picturesque hill station has had no water for the past week, with residents having to wait for days to get clean water into their homes.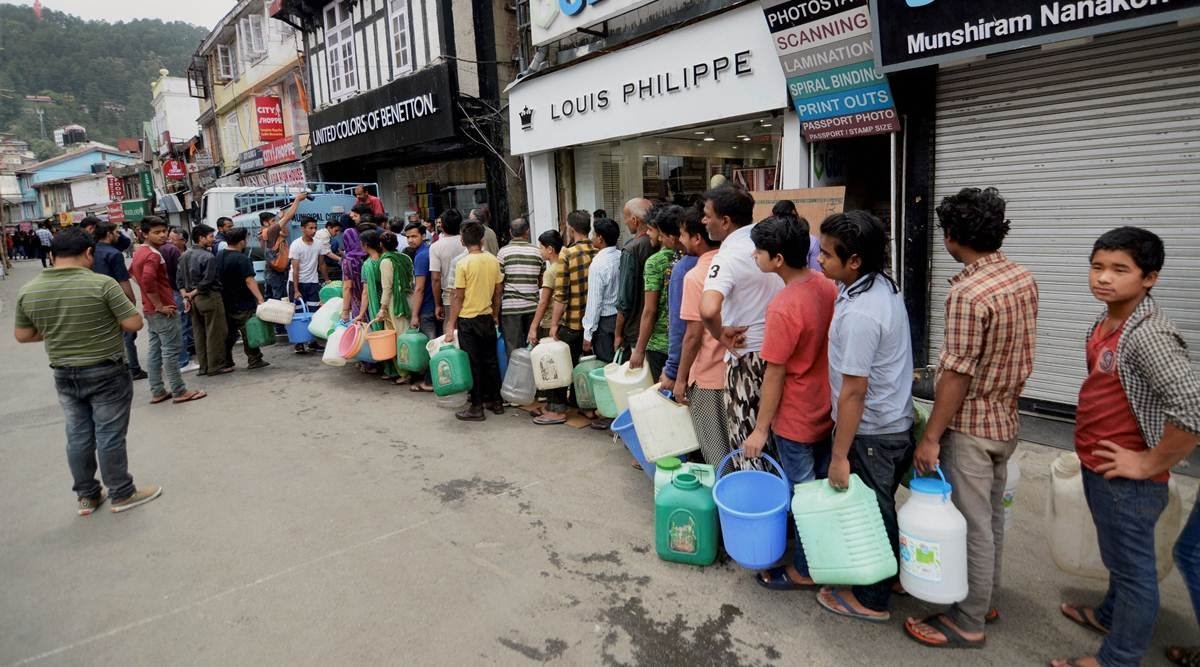 In fact, local media reports say that the water provided by the tankers is not enough to meet the needs of all households, let alone sufficing for hotels, restaurants and other tourist attractions. Moreover, because of the terrain, tankers have been unable to reach places like Kasumpti where residents of Chalaunthi have been forced to head to the local cremation ground to get water.
As such, the people of Shimla are appealing to tourists to stay away. A message posted on social media reads,
"Give Shimla some time to breathe and recover. There is a massive water crisis here. If you love Shimla, please don't visit."
The reason for the city's water supply crumbling in peak tourist season is a combination of multiple factors: unplanned urban growth, large-scale deforestation, population explosion and climate change, leading to much lower precipitation during the winter months. As a result, the natural flow and recharge of water in the region has fallen sharply.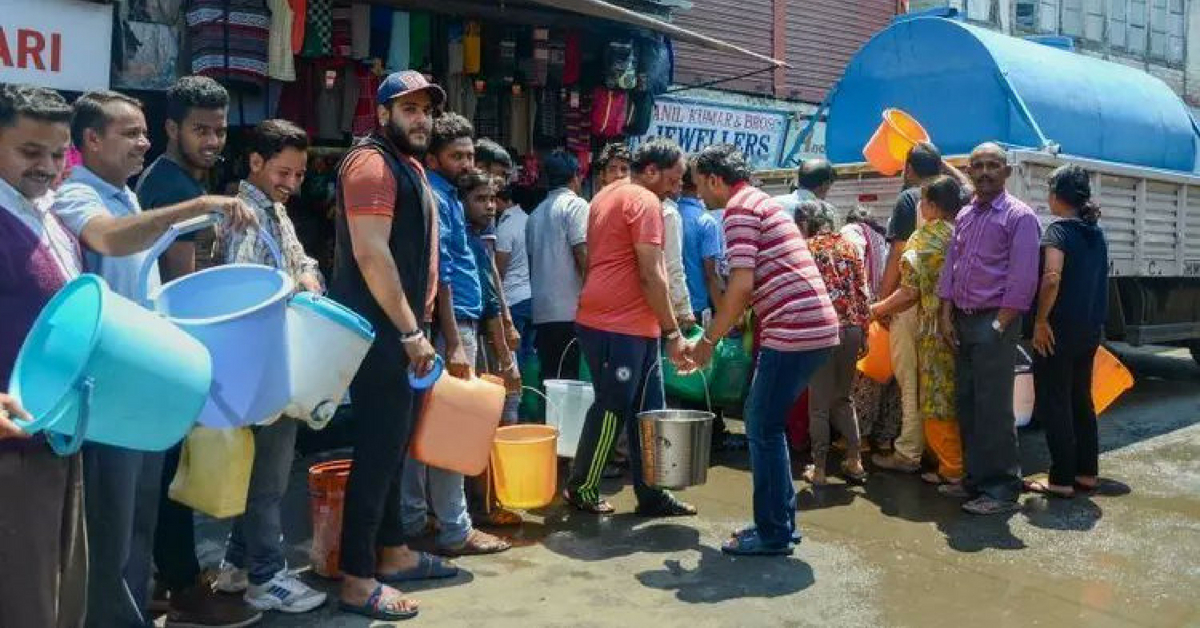 Over the past three summers, Shimla has been reeling from water scarcity with the availability of fresh water falling to 29-30 million litres per day (MLD). However, the last few months have been far worse than ever before. The water availability has been only about 20 MLD whereas the demand in Shimla during peak tourist season is around 45 MLD!
Unsurprisingly, it has become imperative that the government and citizens work together to find solutions that can put an end to crippling water shortage in places like Shimla. Reports have indicated water shortages in other Indian hill stations, including Mussoorie, Ooty and more.
Here are some steps that can help prevent Himalayan towns like Shimla from running out of water:
1. Rainwater Harvesting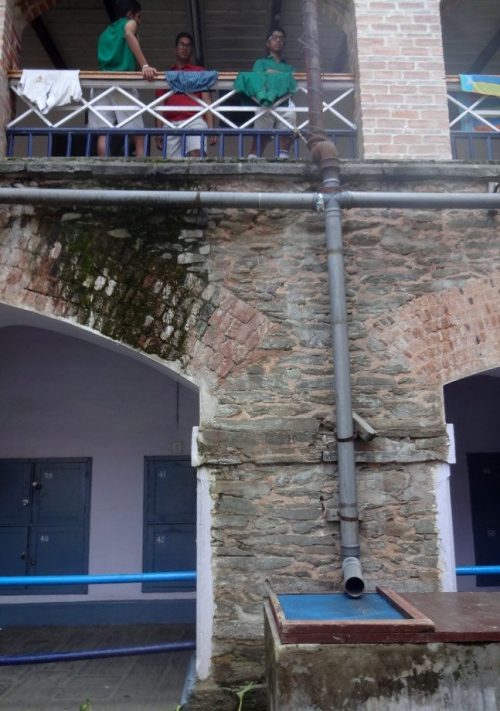 Rainwater harvesting is an effective option for water conservation in Shimla, a town which experiences almost 75% of its rainfall between the months of June to September.
In hill stations, slanting rooftops act as a workable catchment area and can be linked to easy-to-maintain harvesting systems. The collected rainwater passes through a mesh which stops pollen, pine needles and monkey droppings from entering the filtration chambers, which is layered with pebbles, coarse sand and charcoal.
This water can then be used for several non-drinking purposes. A study has revealed that the water requirements of one toilet, used by four persons, can be fulfilled for two months with the rainwater stored in just one month.
In fact, Shimla's Bishop Cotton School has been tiding over water scarcity by harvesting rainwater for years. This example must to be emulated by other residential schools, institutions and government offices located in hilly regions.
2. Planned Urban Development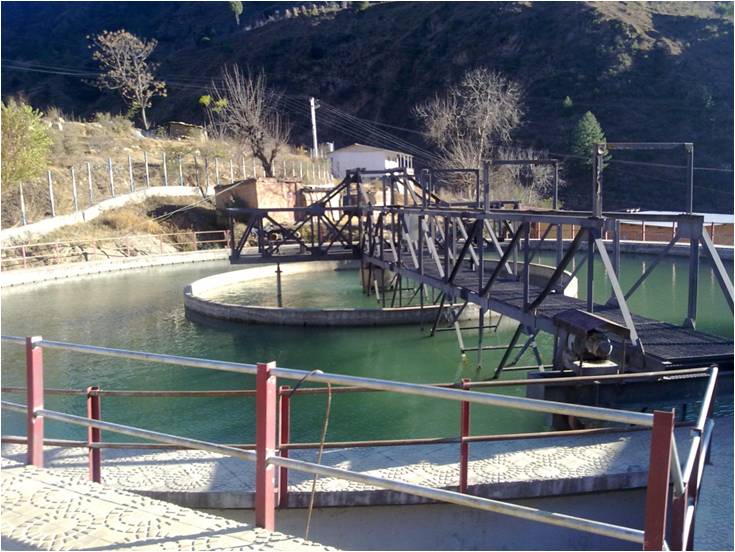 There has to be both short-term and long-term planning. The current infrastructure in place in Shimla for drainage is such that water gushes by and is hardly retained. More embankments are required to restrict the flow of the water so that it gets time to percolate and recharge numerous water bodies.
Moreover, proper monitoring and management of leakages must be done on a war footing. And Shimla doesn't have to look far for inspiration. In Himachal's second capital, Dharamshala, effective resource management by the administration has ensured that the town does not face water scarcity even in peak summers.
In fact, all the four water supply networks that cater to Dharamshala's needs have been augmented keeping in mind future needs. So, if there is a disruption in one network, water is supplied through another. Old pipes across the town are also being checked and replaced to plug wasteful leakages.
More importantly, the Greater Shimla Water Supply and Sewage Circle (GSWSSC) must have a mechanism in place to deal with crises like when Ashwini Khad (a major source of drinking water for Shimla) was contaminated in 2005 by the upstream construction of a Sewage Treatment Plant (STP).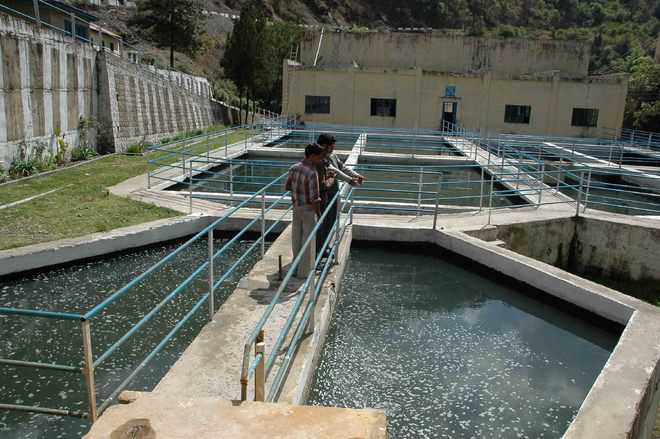 Since then, there have been periodic breakouts of hepatitis due to the contaminated water, despite the source not supplying more that 2-3 MLD of water to the town. Such mistakes in planning and implementation must not be repeated. According to experts, the following steps can be taken to remedy the situation:
Modification and installation of better filters at Ashwini Khad to remove organic matter and microbes.
Response time for attending leakage in supply lines needs to be reduced
Presence of free residual chlorine at the user end should be ensured.
The sludge handling system of STPs should be improved to prevent chances of
biological and chemical sludge being disposed of in natural open drains.
Shimla Municipal Corporation should ensure that 100% habitation is connected with
a sewer system.
Furthermore, mountain springs are the primary source of water for many households in the Himalayan region and, for many villages, the sole source of water. Thus, measures such as systematic mapping of springs, safe storage and mainstreaming of spring revival programmes must be prioritised. As suggested by a NITI Aayog report, a national registry for springs in the form of a Spring Health Card must also be established to periodically evaluate the health of the springs.
3. Reinforcement of Traditional Water Systems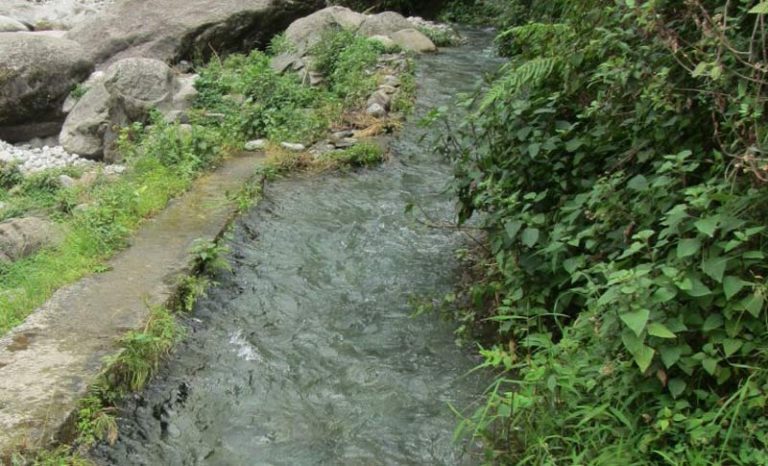 Simple and eco-friendly for the most part, traditional water systems are not just highly effective for the people who rely on them but they are also good for the environment.
For instance, in Himachal Pradesh, kuhls (surface water channels) have been used since ancient times to carry glacial waters from rivers and streams into valley fields. These kuhls need to be desilted and fortified to prevent them from breaking during torrential rainfall.
Another effective traditional water management system is bamboo drip irrigation, practiced in the tribal pockets of the Khasi and Jaintia hills of Meghalaya. In this, a network of bamboo pipes of varying diameters, lengths and positioning is used to harvest water from hill springs or streams. This can be adopted on a larger scale wherever possible.
Nagaland's Zabo is also a great way of collecting run-off in community tanks/ponds. Rainwater that falls on forested hilltops is led by channels that deposit it in pond-like structures created on the terraced hillsides. The channels also pass through cattle yards, collecting the dung and urine of animals, before ultimately meandering into fields at the foot of the hill.
---
Also Read: Modern India Can Learn a Lot from These 20 Traditional Water Conservation Systems
---
4. Rain Gardens & Afforestation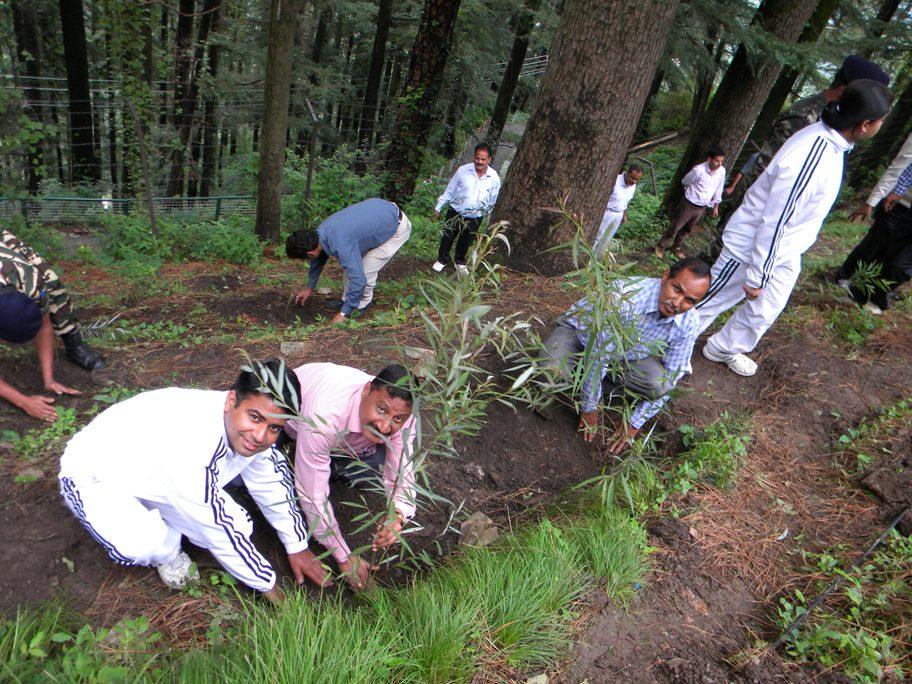 As discussed earlier, hill stations will have to bank on harvested surface water for their needs in the future. But the loss of tree cover by massive deforestation would mean less natural retention of water in the soil and more flooding as the rain comes in torrents. Such a flow of water cannot be harvested.
This is why dedicated afforestation and creation of rain gardens is a good idea. A rain garden is a sunken landscape that uses native plants, local soil, and mulch to remove pollutants from water, and allows it to percolate into the ground. It's easy to create, looks good all year-round and has a positive impact on the environment.
Furthermore, large catchment areas need to be developed around water bodies so that natural recharge of groundwater takes place. A good example is the Seog catchment area which has been denoted as a wildlife sanctuary and where no construction is allowed.
5. Greywater Reuse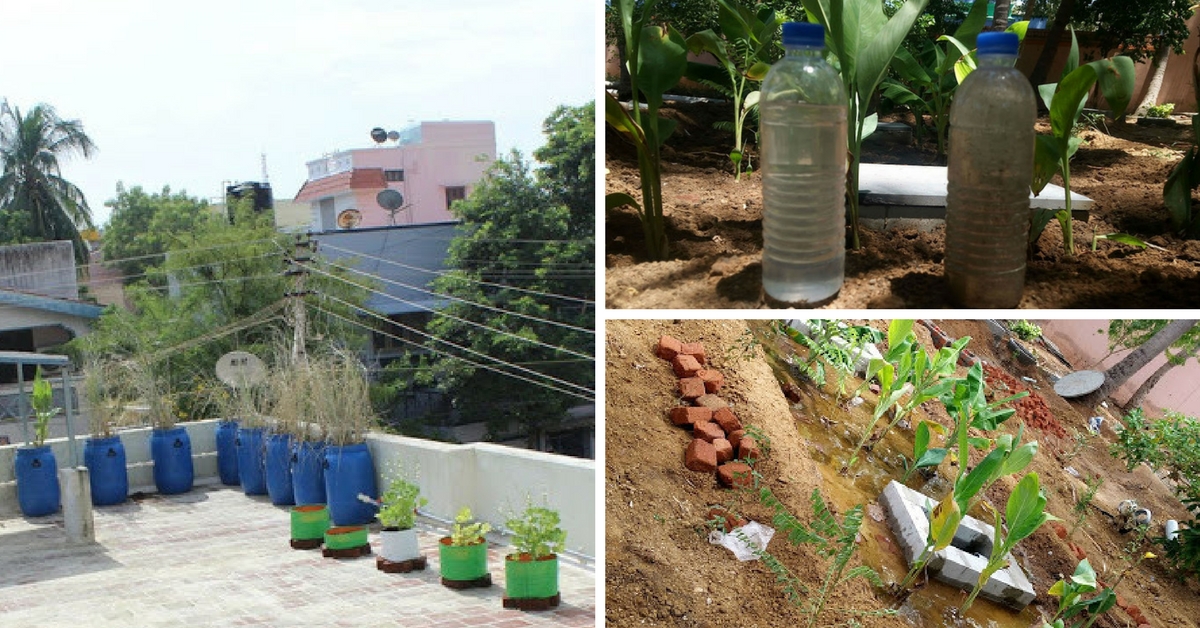 One of the most effective ways of conserving water this in everyday life is greywater recycling, a method of recycling wastewater from kitchen sinks, showers and laundry fixtures.
Greywater recycling helps reduce household water usage by about 50% — potentially halving your water bills as well as your water footprint. It is also a smarter use of resources. When you use greywater to clean your balcony, you're getting twice as much good out of that water.
Moreover, unlike a rainwater harvesting system (which relies on rainfall), greywater is in plentiful supply on a daily basis — the more clean water that you use to wash yourself, your food and your dishes, the more greywater you will have to recycle.
Since water availability in hill stations like Shimla have been steadily reducing, greywater recycling must be encouraged among its residents, with the government providing technical assistance.
(Edited By Vinayak Hegde)
---
You May Like: Saving Water Made Easy – Your Guide To Greywater Recycling At Home
---
Like this story? Or have something to share? Write to us: contact@thebetterindia.com, or connect with us on Facebook and Twitter.
NEW: Click here to get positive news on WhatsApp!
We bring stories straight from the heart of India, to inspire millions and create a wave of impact. Our positive movement is growing bigger everyday, and we would love for you to join it.
Please contribute whatever you can, every little penny helps our team in bringing you more stories that support dreams and spread hope.
Tell Us More