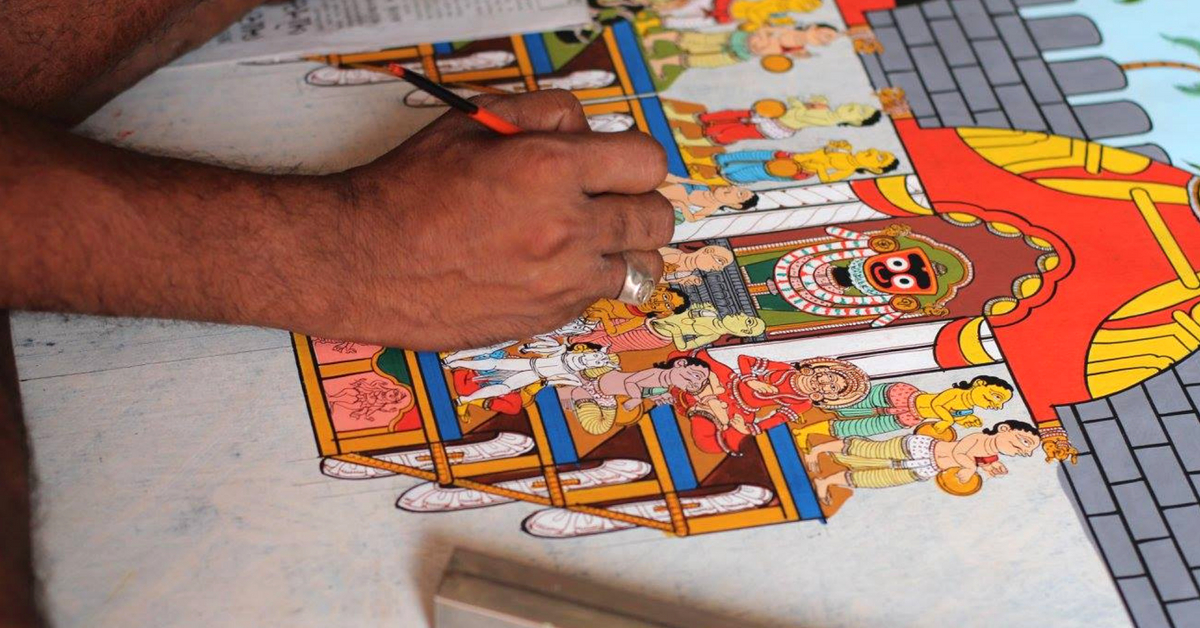 There are many artisans who live in India's numerous little towns and villages and churn out masterpieces with their hands, but fail to find the visibility they deserve.
"The productions of all arts are kinds of poetry, and their craftsmen are all poets" — Plato
When it comes to handicrafts and handlooms, India undoubtedly has a rich and boastful legacy that has withstood the test of time.
From stone sculptures and jewel-encrusted fabrics to elegantly sewn embroideries and dexterously crafted metal curios, each one of these handcrafted pieces is deeply rooted to the region they originate from and are windows to its culture and geography.
In a country that is as diverse and multifaceted as India, it wouldn't be a surprise if you come across villages and hamlets, where generations of one family have dedicated themselves to mastering a craft, and have enticed people from across the world for the sheer brilliance of their handiwork.
Marble carvers from Agra, textile handicrafts of Bhuj, silk sarees from Kanchipuram and Varanasi—these are just a few amidst the treasure trove of indigenous craftworks from India.
However, there are many artisans who live in India's numerous little towns and villages and churn out masterpieces with their hands, but fail to find the visibility they deserve. This, coupled with the lack of monetary returns, forces them to leave behind their ancestral legacy and head to other cities and towns for better employment prospects.
But there are some who have held on to their skill. Here are 15 lesser-known villages and their handcrafted art from across the country:
1. Clay potters of Thiruchigadi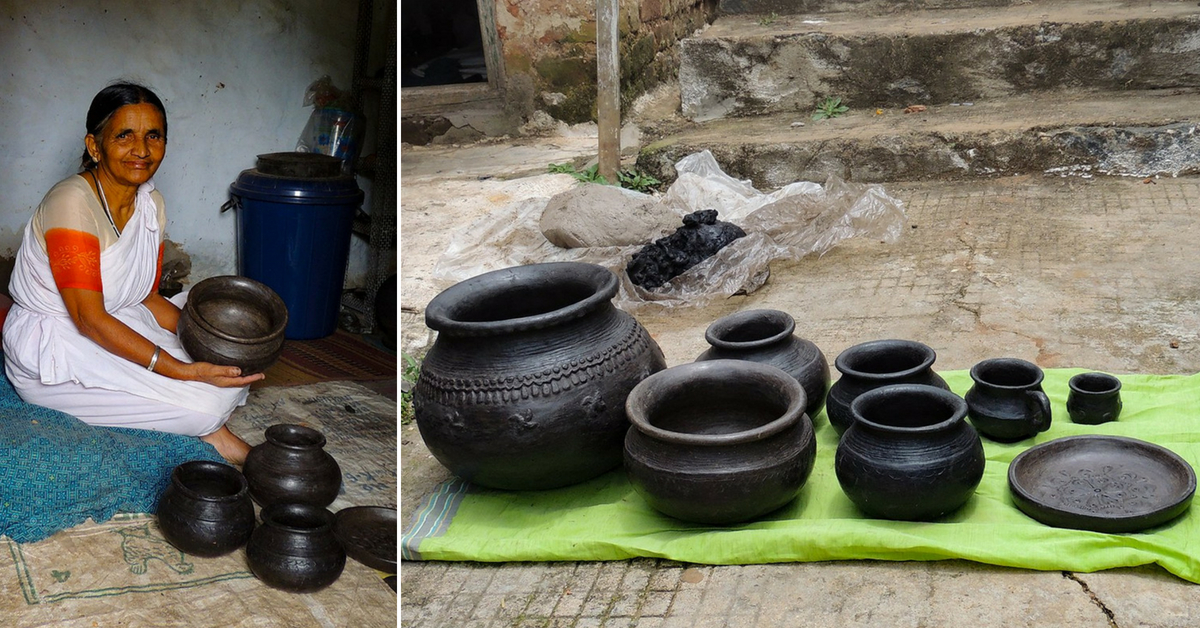 Nestled amidst the hills of the Nilgiri district in Tamil Nadu, Thiruchigadi is a tribal hamlet that is home to the Kota tribe with a long-standing legacy of traditional clay pottery.
While pottery villages are prevalent across the country, what makes this particular strain of pottery unique is that only the women of the tribe are engaged in the craft, which they have learnt from their mothers and grandmothers through observation.
The involvement of men stops at fashioning the wheel, and this skill has more of a spiritual and ritualistic nuance to it.
2. Silver filigree artisans of Cuttack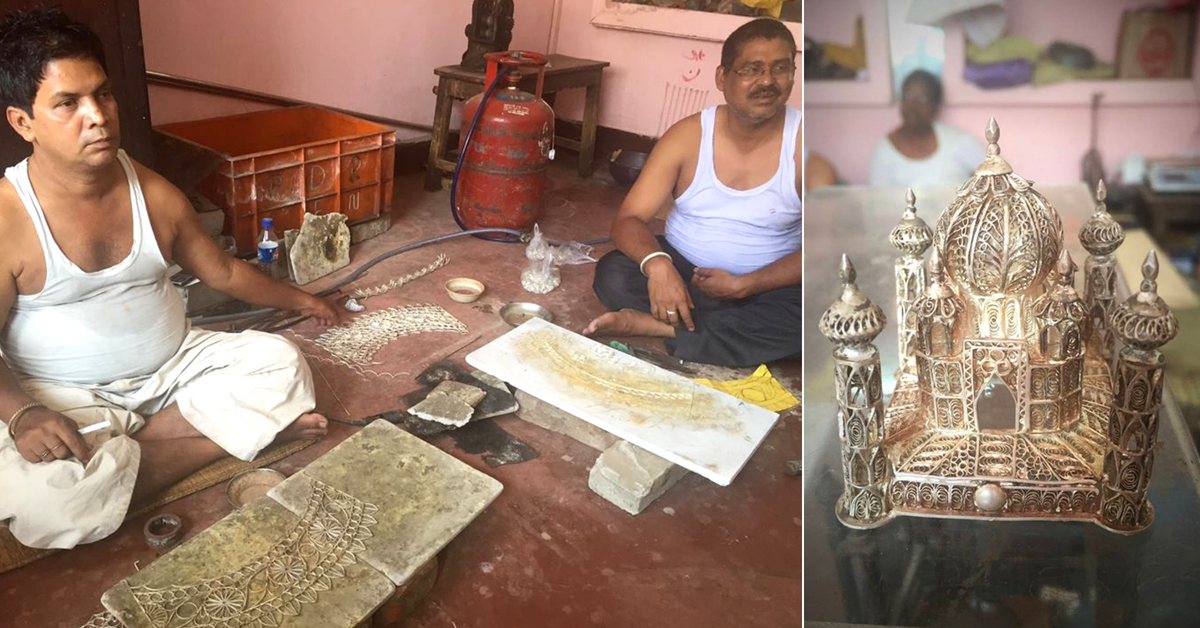 It is believed that the silver filigree work of Tarakasi was introduced in Cuttack, Odisha almost 500 years ago.
Historians have found a rare link to this craft all the way back to Indonesia where a similar type of filigree work is still practised. This similarity can probably be attributed to the exchange of ideas and cultures, which occurred in ancient times during the extensive maritime activity between Odisha and Southeast Asia. Today, Tarakasi has become more or less synonymous with the small town's identity, bestowing Cuttack with the moniker of 'Silver City'.
Requiring a great deal of precision, creativity, and firm hands, filigree is a delicate kind of metal work, usually of gold and silver made with tiny beads or gemstones, twisted threads or both in combination, soldered together on the surface of an object of the same metal and arranged in artistically rich motifs and patterns.
Presently, one can find brilliant Tarakasi works on Durga pandals and the exquisite jewellery adorned by Odissi dancers.
3. Terracotta artisans of Asharikandi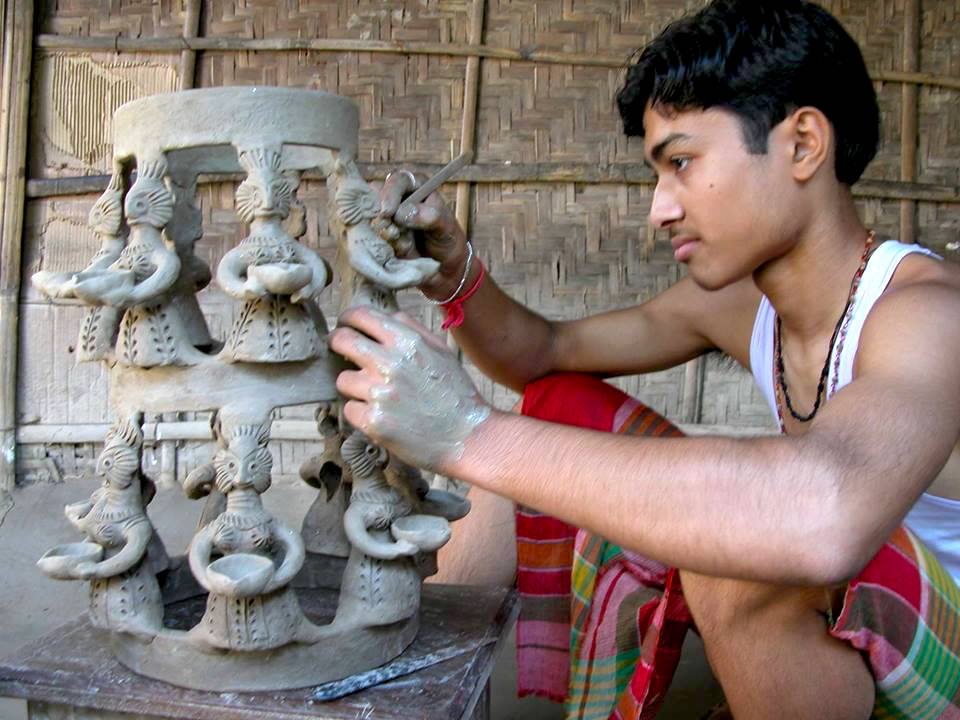 What connects the ancient Harappa civilisation with a quaint little village in the Dhubri district of Assam, almost 2,500 km apart?
The legacy of terracotta!
Over 300 artisans in Asharikandi, a tiny village in Assam, have kept the ancient craft of terracotta pottery and toymaking alive. One of the iconic curios from this village is the Hatima Putul, a toy depicting a mother with elephant-like ears with a baby on her lap, which is perhaps the best example of the village's unique creativity.
Their disposition, experimental attitude, diversification of products and the willingness to upgrade their skill with time, has enabled the terracotta artisans of Asharikandi to make a mark across India.
4. Metal mirror makers of Aranmula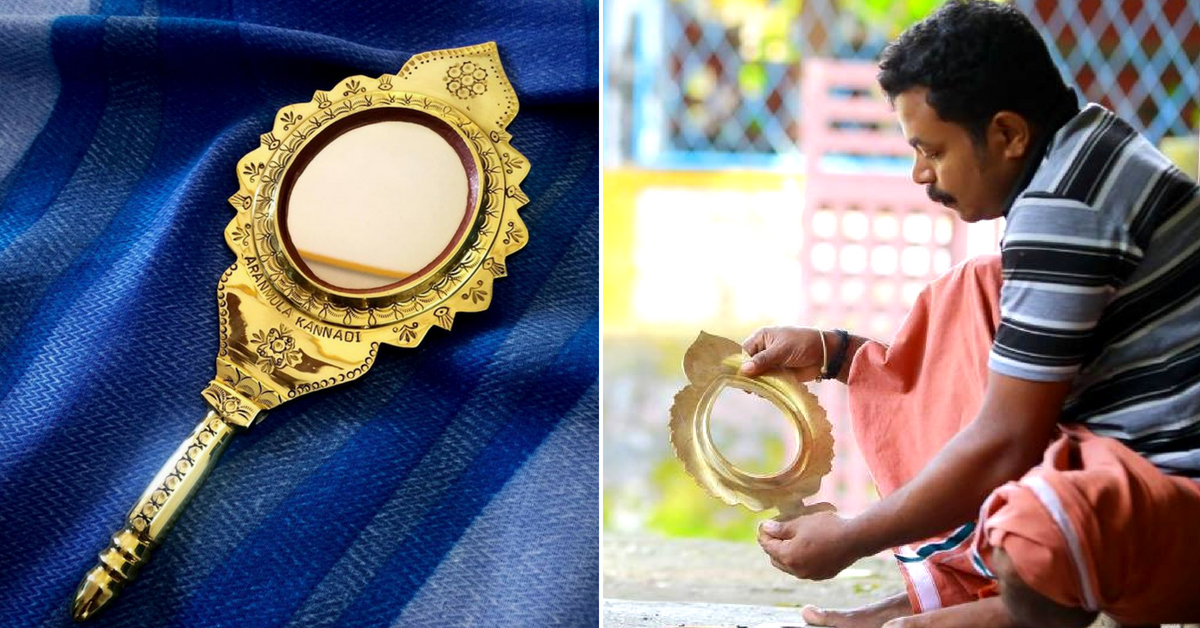 Besides being renowned for the centuries' old Sree Krishna Temple, the unique ritualistic feast of 'Vallasadya,' and annual snake boat race, the exotic village of Aranmula from the Pathanamthitta district of Kerala is home to the mysterious craft of metal-alloy mirrors, also known as Aranmula Kannadi.
Believed to have existed even during the Vedic period of Indian history, the composition of metals that are alloyed with silver, bronze, copper and tin continues to remain a secret that has been fiercely guarded through generations of the mirror-makers. The reflecting surface is polished to perfection and embellished with beautiful carvings by the artisans before they are ready for sale.
5. Block printers of Ajrakhpur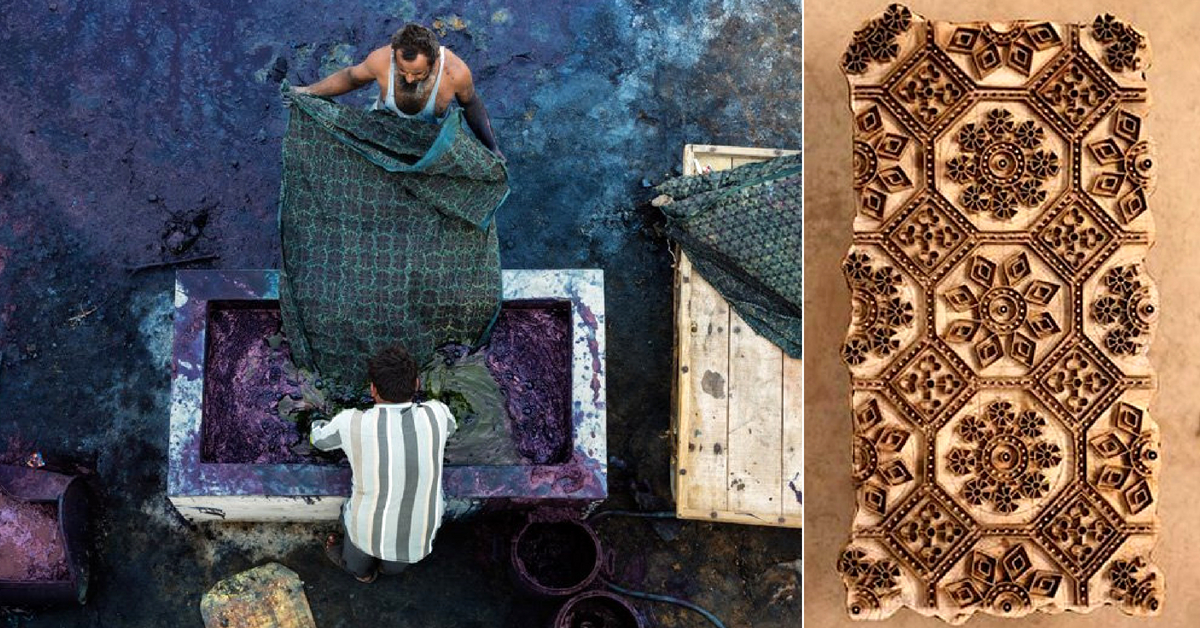 This little village near Kutch in Gujarat is home to the art of Ajrakh block printing that has enticed fabric lovers from across the world. After being dyed with natural colours derived from indigo, henna, turmeric, pomegranate, iron and even mud, each piece of fabric is washed over 20 times, after which beautiful patterns and motifs are printed on it using hand-carved wooden blocks.
The Khatri community has been carrying forward the 3,000-year-old legacy of Ajrakh block printing from Sindh, and the art is passed down to sons from their fathers.
Sadly, many artisans were killed or had their workshops destroyed by the devastating earthquake of 2001. This incident prompted all the Khatri artisans spread across Kutch to band together and build a village that would keep their legacy alive, and this is how Ajrakhpur came into being.
6. Grass-mat weavers of Pattamadai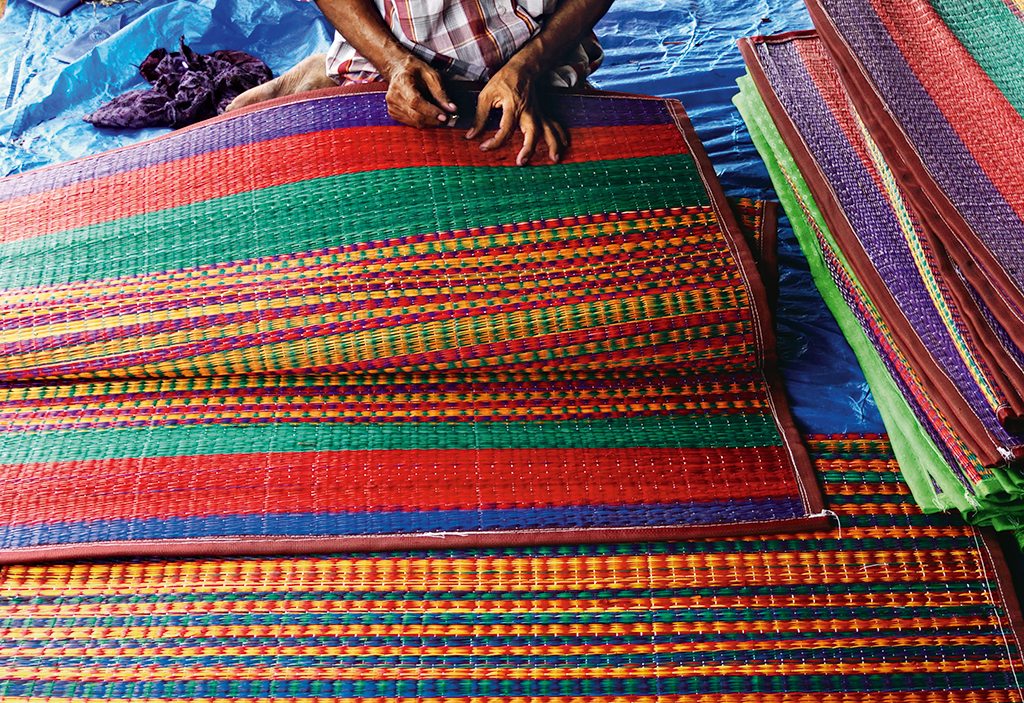 Most of us have seen or even have used these mats in our homes, but do you know where do these Pattu Pais originate from? Well, Pattamadai, a rustic village tucked away in the Western Ghats of Tamil Nadu, is where these multi-hued mats are skillfully woven.
The Muslim communities in the village have been engaged in this for generations, and it is an elaborate method which involves drying the tall korai grass that grows along the banks of Thamirabarani river, soaking it in water for increasing flexibility, and finally dyeing these before commencing the weaving process.
7. Artists village of Raghurajpur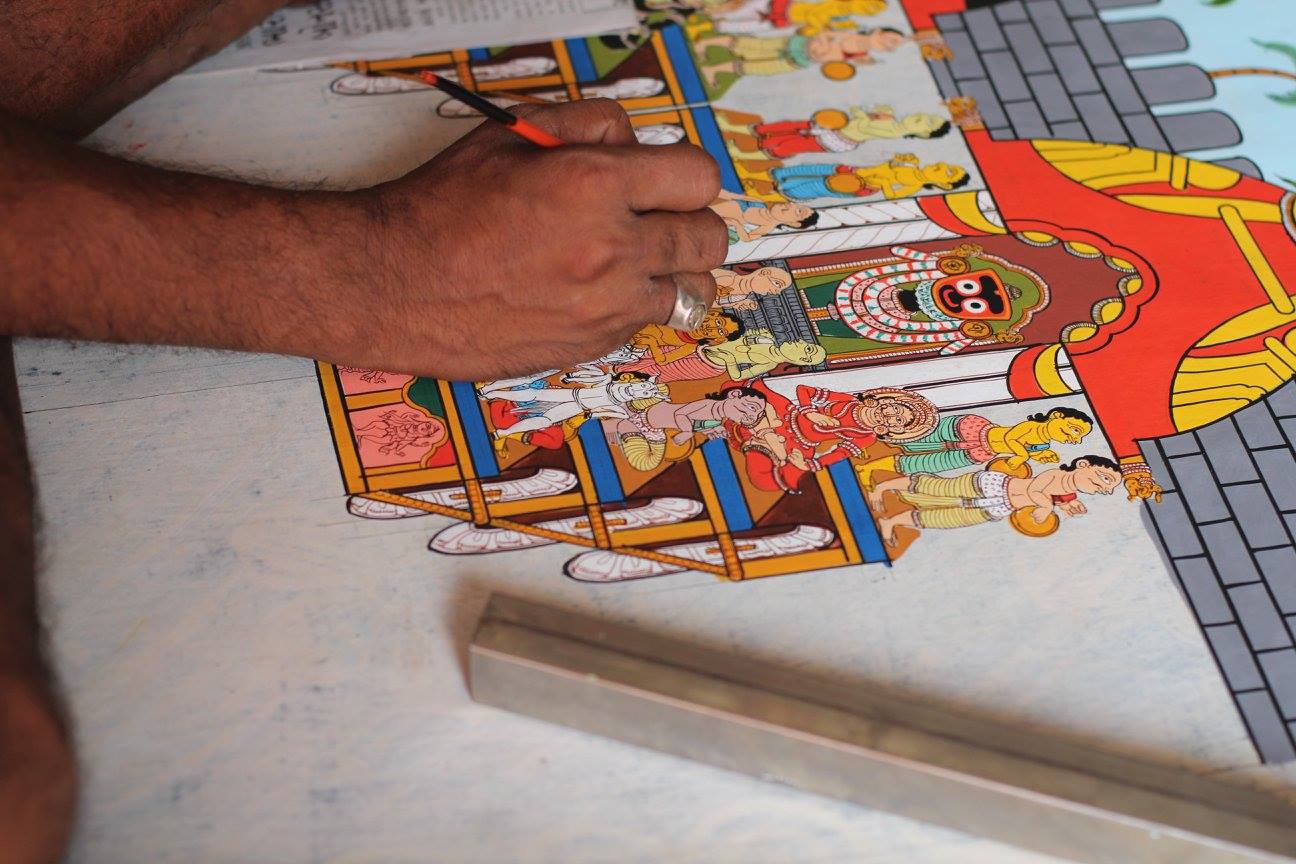 Approximately 14 km away from Puri, Raghurajpur is truly a village of artists where every individual is engaged in some form of craft from an assemblage of artworks including stone engraving, wood carving, mask making, Tussar painting, and palm-leaf engraving.
It is, however, the legacy of hand-painted Pattachitra that finds worldwide acclaim, yet very few know that Raghurajpur is where its creators reside and craft enchanting pieces of traditional folk-art on pieces of cloth, dried palm leaves and paper.
Following the miniaturist style inherited from their forefathers, these artists meticulously depict various themes ranging from mythology and religion that emerge as poetic renditions made alive through naturally made colours.
8. Silks weavers of Sualkuchi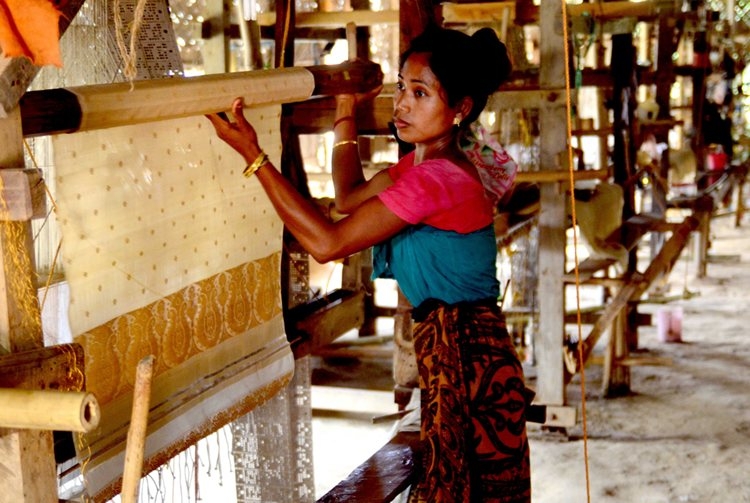 While the entire Sualkuchi cluster has been engaged in the handloom industry, it is the exquisite, hand-woven Golden Muga which has made the sleepy village in Assam, world-renowned. The weaving tradition in Sualkuchi is believed to have taken form in the 11th century when king Dharma Pal of the Pala dynasty, sponsored the craft and brought 26 weaving families from Tantikuchi to Sualkuchi.
Later, it was established as a silk weaving village by Momai Tamuli Barbarua, an administrator of the Ahom Kingdom after the Ahoms defeated the Mughals in the mid 17th century. Almost every household is involved in this magical skill of silk weaving, and if one walks through the streets of Sualkuchi, the rhythmic clatter of looms and flying shuttles that eventually churn out silk fabrics with brilliant motifs and intricate patterns is a constant.
9. Ornate table makers of Ladakh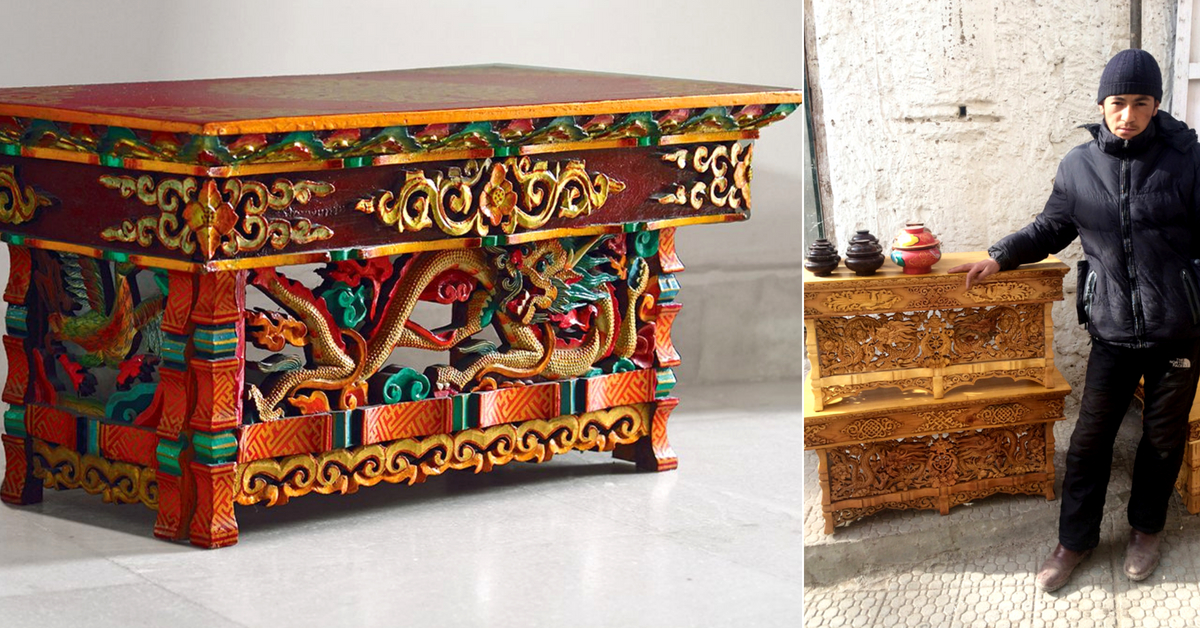 Those who have had the opportunity of visiting Ladakh must have undoubtedly come across choktses—ornate, handcrafted wooden tables. Deeply ingrained with the centuries-old nomadic lifestyle, a choktse is a prime example of an invention arising out of necessity.
Crafted by skilled carvers based in Leh as well as villages of Choglamsar and Wanla in Ladakh, these low wooden folding tables are an indispensable part of trans-Himalayan households and can be found in monasteries and restaurants as well.
From simple designs to more elaborate versions, these tables are typically foldable and extremely portable. The embossing on the tables traditionally used to involve mineral pigmenting to render the snow lions, dragons, clouds, conch shells, and lotus motifs finely carved on the table. Depending upon how complex a design is, these carving and embossing of choktses can take between a fortnight and two months to complete.
10. Bell metal artisans of Sarthebari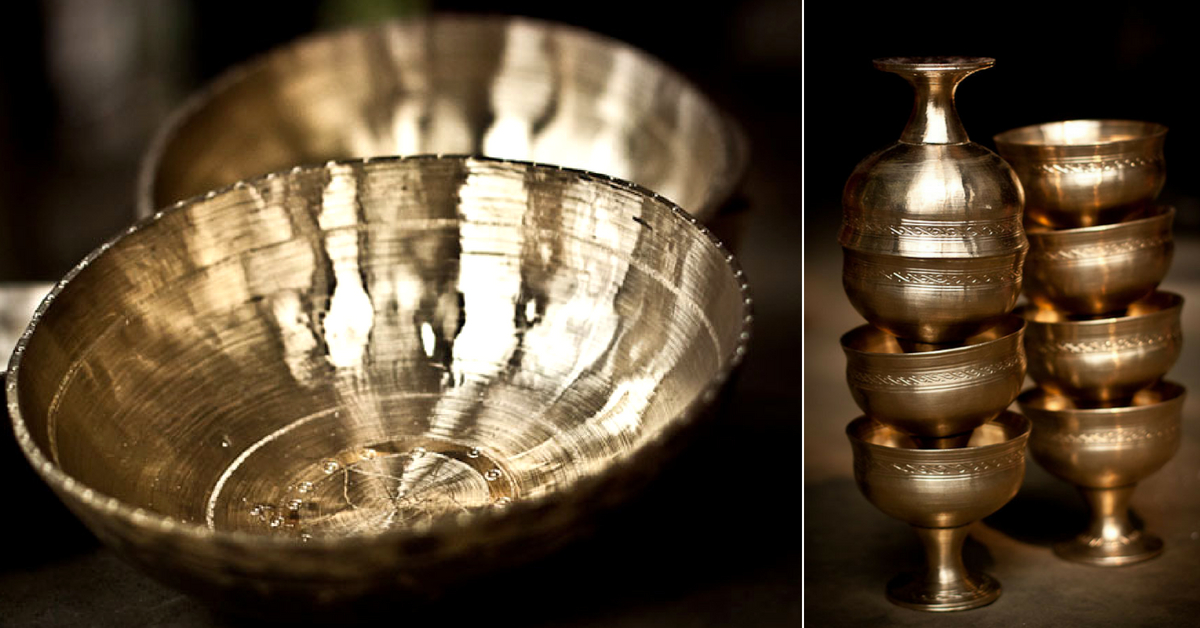 An entire village that is engaged in bell metal craft—that is Assam's Sarthebari village for you! The craft has survived in the region for ages, and minimal transition has occurred in the way these bell metal craftworks are fashioned.
The artisans, who are also known as the Kahar or Orja, still incorporate the ancient techniques and tools required for burning and shaping the metal to craft iconic bell metal curios and utensils. If you walk through Sarthebari, you can't miss the constant hammering of metal at the furnace that can be heard from any part of the village.
From kitchen utensils like plates and water pots to cymbals, one can find a variety of exquisitely handcrafted bell metal artefacts in the village.
11. Blackstone potters of Longpi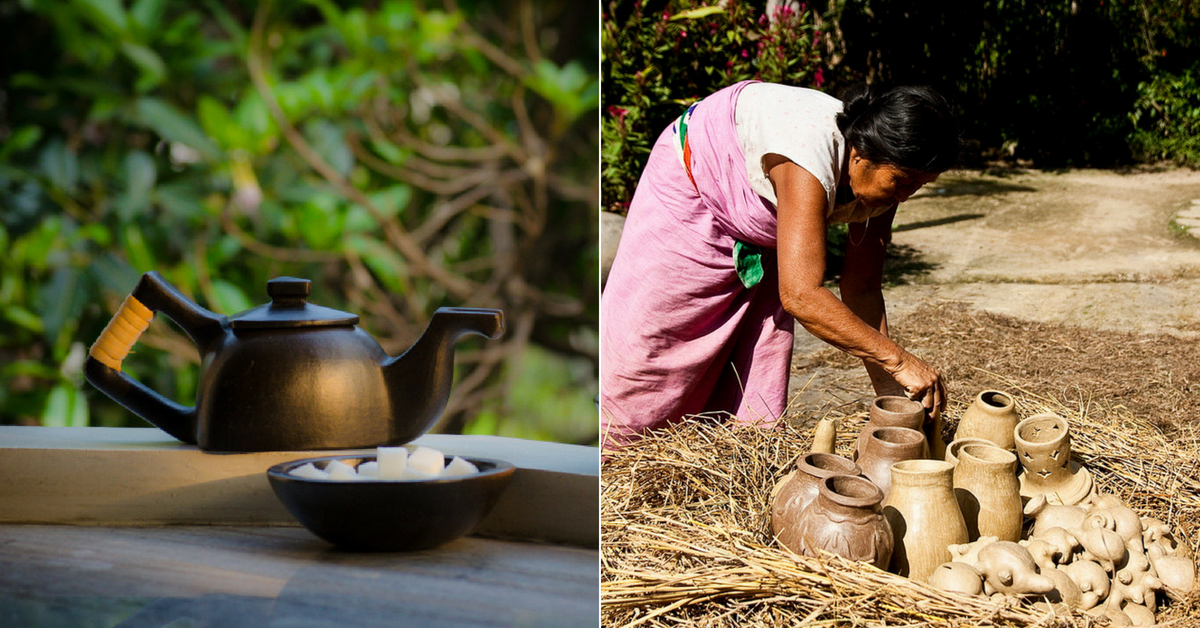 Once known as 'royal pottery' because only the royalty and the rich in Manipur could afford it, the Blackstone craft from the village of Longpi in Manipur is unlike any other type of pottery seen across India. Sharing the namesake of the village its potters hail from, the craft which is locally known as Longpi Ham is still carried forward by little over 200 potters from Thankul Naga tribe in the village.
The material used for the pottery here constitutes of a mixture of Black serpentine stone and weathered rock; mixed in a three to one ratio and unlike most pottery techniques, does not need the potter's wheel to be crafted.
The shaping of clay is done with the hand and with the help of moulds. Not only are the artefacts functional, but are also more often than not, black in colour, a result of the process and smoke stains while firing. They are then polished with local leaves called Pasania pachyphylla, which provide the lustre, and are believed to possess medicinal properties.
12. Lost-wax metal casters of Ektaal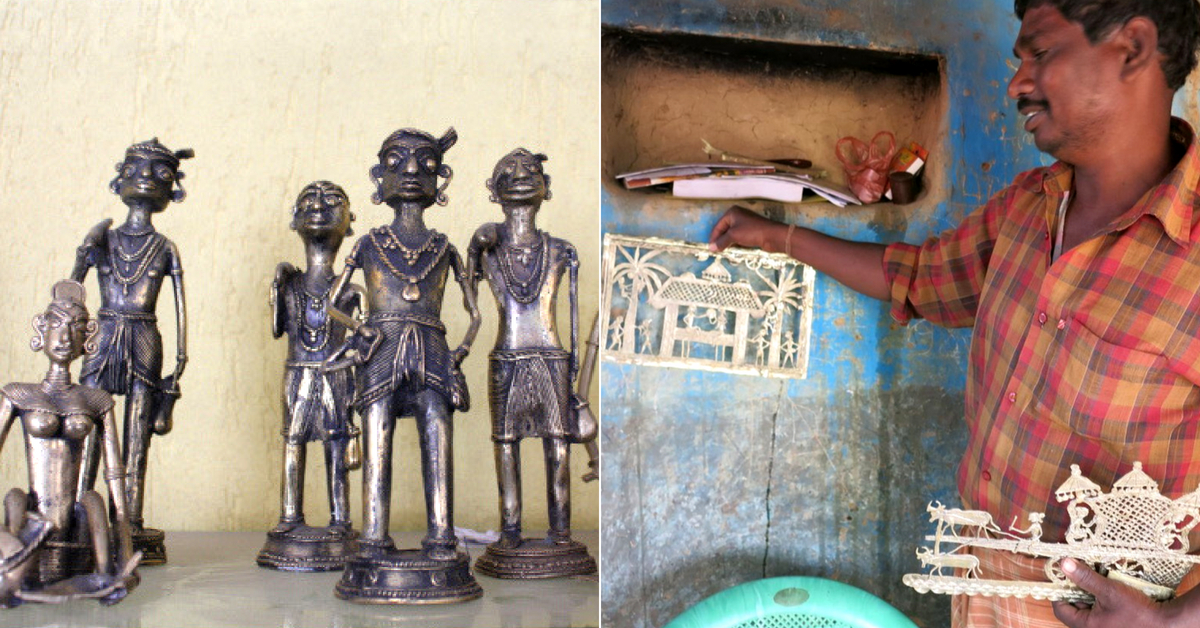 The earliest artefacts that employed the lost-wax casting technique of Dhokra were found amidst the ruins of Mohenjo-Daro. The non-ferrous metal casting technique has been prevalent across the Indian subcontinent for over four millennia and today, the Jhara craftsmen from the tribal village of Ektaal in Chhattisgarh have been the harbingers of this ancient art of crafting dull-gold figurines of all shapes and forms.
If one visits this village, almost every artisan's dwelling is like an open-air gallery, with entire families being involved in the long-drawn procedure, which involves making intricate casts out of beeswax and resin baked in clay and finally filling them with molten metal. From metal lamps, delicate jewellery, to lithe-limbed statues, these artefacts showcase painstaking detail and capture mythological icons as well as scenes from everyday life.
13. Last scroll painters of Cheriyal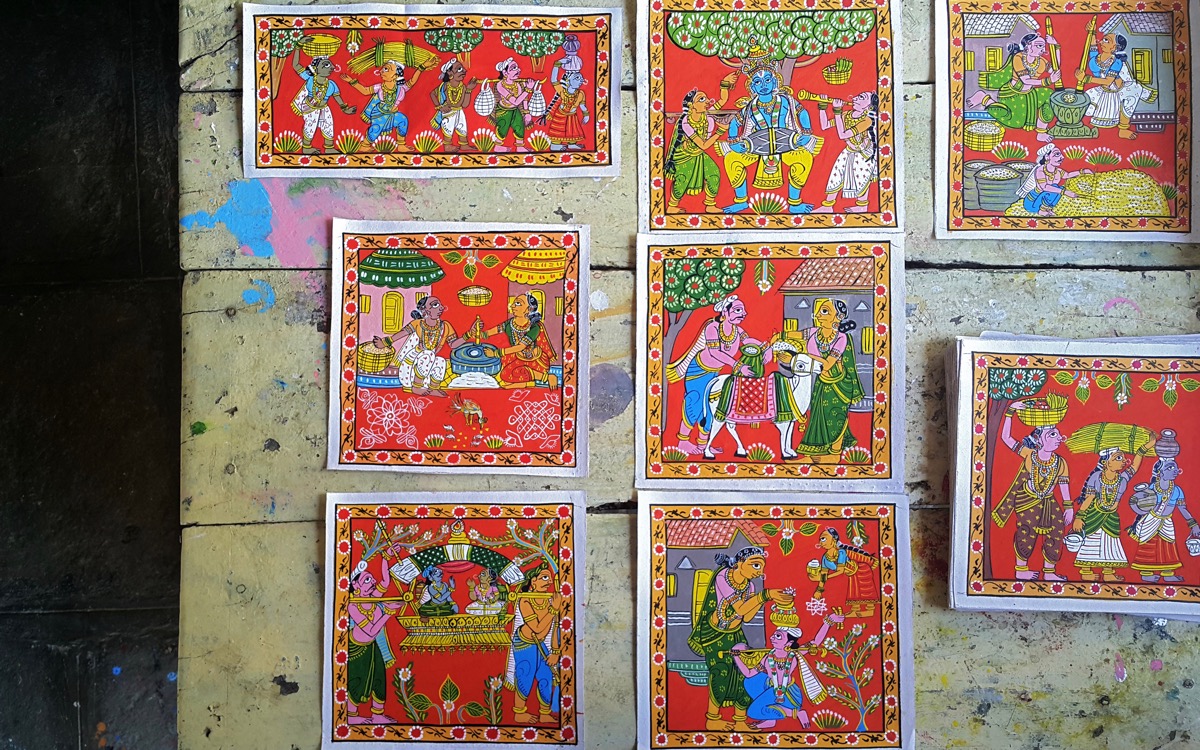 Made from Khadi, the Cheriyal scrolls are like windows to the past and are hand-painted in a style distinctive to the region's local motifs and iconography. Carrying the namesake of the tiny little village in Telangana, the art form is characterised by a dominance of the colour red in the background and is painted in panels depicting scenes and stories from Indian mythology and epics. One could almost call them comic strips from the bygone era!
These scrolls once held great sociological and cultural significance and were conventionally used as a tool for educating as well as entertaining the villagers. At present, the legacy of this dying art form has trickled down to three families in Cheriyal, who continue to pursue the art.
14. Carpet weavers of Bhadohi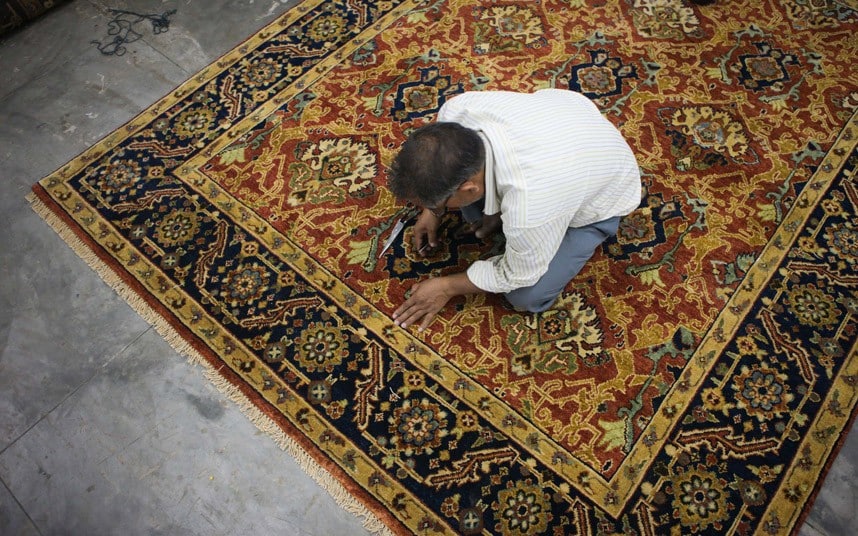 Also known as 'Carpet City', the legacy of Bhadohi is widespread and renowned across the world yet few Indians know about this small town in Uttar Pradesh and its rich carpet-weaving heritage.
Over 22 lakh rural artisans are directly engaged in the hand-knotted process of the weaving industry, which is believed to the largest carpet weaving hubs in South Asia.
This particular style is known to date back to the 16th century of Mughal Emperor Akbar's reign. Some of the well-known carpet specimens from Bhadohi include Cotton Dhurries, Chhapra Mir carpets, Loribaft and Indo Gabbeh.
15. Sheet metal artisans of Pembarthi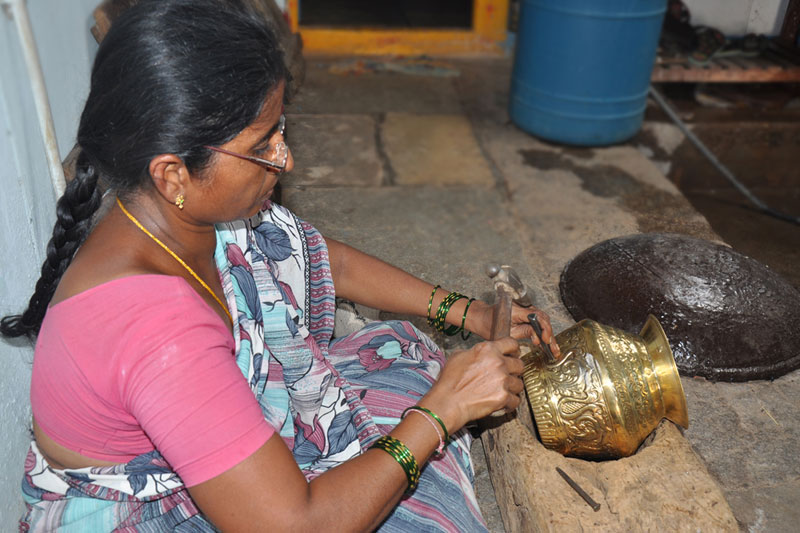 Historical accounts state that the brassware tradition of Pembarthi was at its apex during the ancient Kakatiya Empire—the brass metal craft to adorn their chariots and temples. The sheet metal artisans were so famous for their brilliant handiwork that they were known as Vishwakarmas during this period. But with the collapse of the empire, the craft lost its shine for a while before it came back to the fore during the rule of the Nizams of Hyderabad.
Pembarthi's brassware tradition continues to persist. Its unparalleled sheet metal artefacts that have been meticulously crafted and exquisitely engraved by artisans through generations continue to mesmerise curio collectors and tourists.
(Edited by Gayatri Mishra)
Like this story? Or have something to share?
Write to us: contact@thebetterindia.com
Connect with us on Facebook and Twitter.
NEW: Click here to get positive news on WhatsApp!
Tell Us More
We bring stories straight from the heart of India, to inspire millions and create a wave of impact. Our positive movement is growing bigger everyday, and we would love for you to join it.
Please contribute whatever you can, every little penny helps our team in bringing you more stories that support dreams and spread hope.