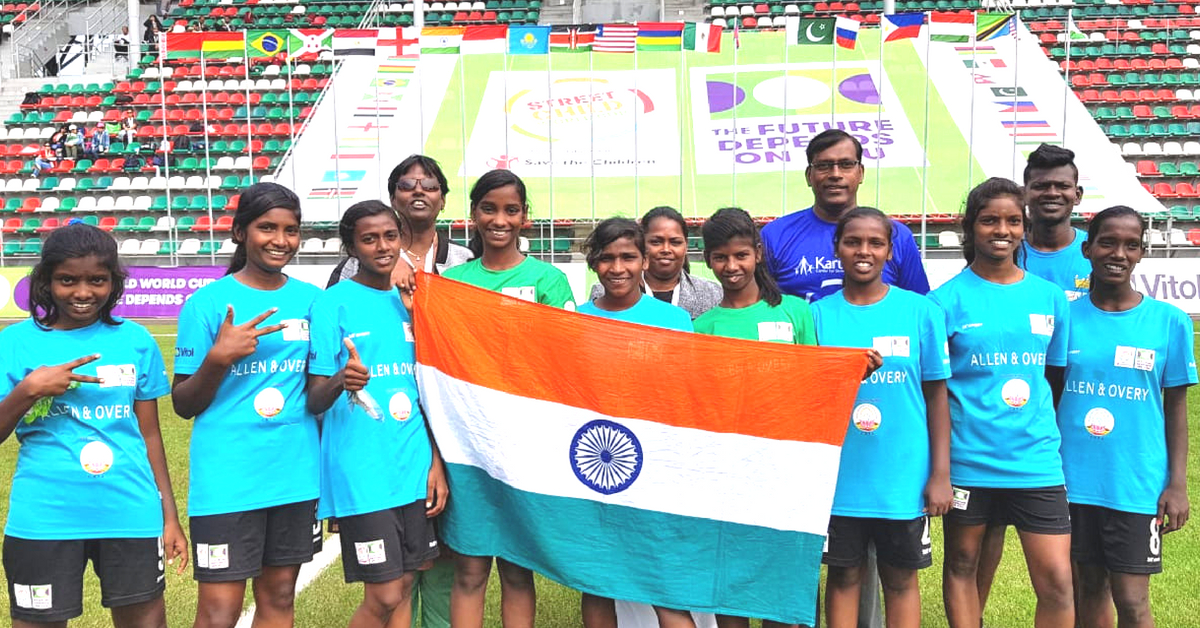 These kids, from Chennai, have put in tremendous effort and beat many odds, to compete in an international sporting event.
According to a World Bank Group and UNICEF report, 'Ending Extreme Poverty: A Focus on Children', India is home to over 30% of approximately 385 million children living in extreme poverty-the highest in South Asia.
To rise above abject poverty, and make a mark in this world is very difficult, yet for these kids in Chennai, battling difficult circumstances isn't new.
Karunalaya Centre for Street & Working Children is a Chennai-based NGO that focuses on rehabilitating street children. Children who have been labourers, faced abuse, and been homeless have been rescued by the Society.
The NGO uses sports as a means to help these kids. Sports infuse discipline and other good traits in children.
The society sent an all-girls football team to participate in the Street Child World Cup, an event held just like its FIFA counterpart.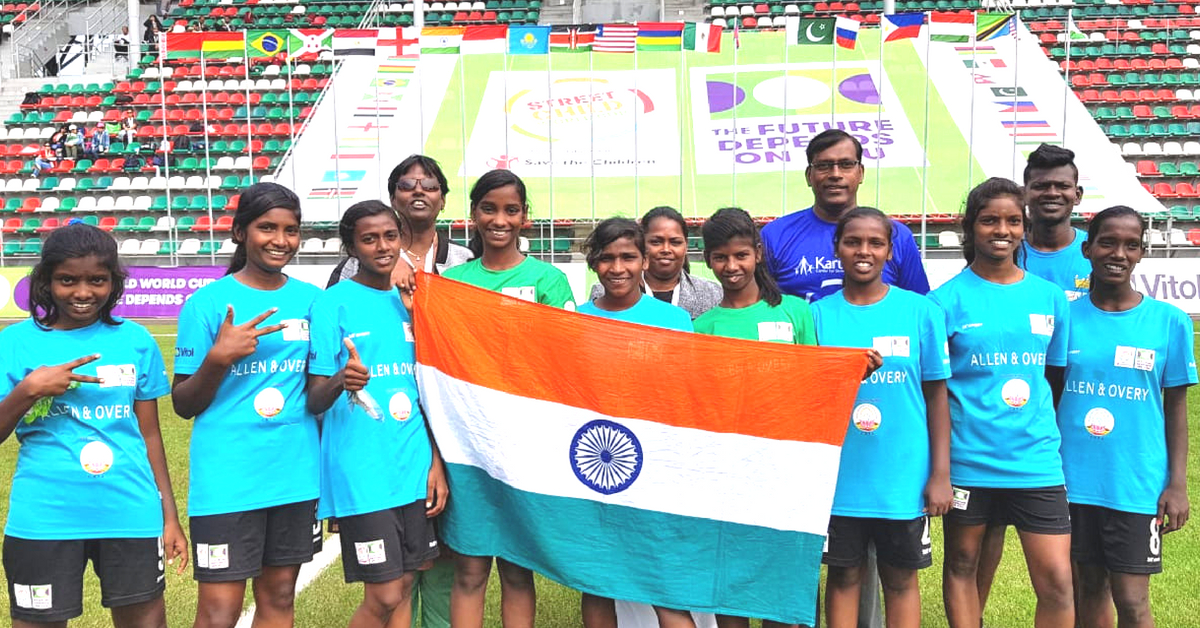 The team was led by 17-year-old Sangeetha, a Class 9 drop-out, who was a child labourer, rescued from a steel factory in 2013.
Due to adverse family circumstances, young Sangeetha had to discontinue her studies. But once she was rescued by the Society, her life turned around. Football is an integral part of her life, and she aspires to become an IAS officer.
Dr. N Paul Sunder Singh is the Founder and Secretary at Karunalaya. He told The Better India about how they are helping kids rise above their past and build a future.
"All the children have disadvantaged backgrounds", he says, explaining the circumstances from which the girls have been rescued. Living on the street with their parents, they lack basic amenities, and day-to-day existence is difficult.

The girls from Chennai formed a team, and trained hard to take part in the event. Image Credit: Karunalaya
He explains that Karunalaya Society uses art, music, theatre and sports, to help the children living there. Participating in the Street Child World Cup for the first time in 2014, Karunayala's team at the time consisted of boys.
It was the first time that girls have gotten the opportunity to shine for their country. And shine, they did! It was a well-fought tournament, Singh says, even though the team didn't win the cup. Along the way, were difficult matches against seemingly superior opponents, like England and Russia. The girls from Karunalaya played extremely competitive football and didn't let anything deter them. Singh is extremely proud of the team and its achievements.
"Education is a very important part of bringing up these kids," Singh says, stressing on the fact that the sports programme is only open to kids who choose to attend school. As a result, many children who were not particularly keen on academics, took up books, in the hope of playing football one day. Singh says that education helps the children become more aware, and gives them a better chance at fighting their adverse circumstances.

For the girls, from Karunalaya, Chennai, playing at an international event in Moscow was an incredible experience. Image Credit: Karunalaya

Singh says, "The children were very happy and very enthusiastic about the tournament," adding that there are certain criteria that a girl must fulfil, before being selected for the team. She must be a resident of the NGO for at least one year. She also must be between 14-17 years old. He explains that it takes about a year to work with them, and the time helps the NGO arrange important documentation required for the girls to travel.

The Chennai squad, from Karunalaya, ready for the Street Child World Cup in Russia. Image Credit: Karunalaya

"It was very difficult, because the girls did not have IDs", Singh says, adding that in order to make any identity proof for a minor, the parent's ID proof is required as well-which is something that is very difficult with these kids, who have lived on the streets with their families.
It took a lot of running to and fro, to get the girls proper documentation and passports so they could travel for their tournaments.
The game of football was far removed from the daily reality that these kids have to face. Take the case of Shalini, a 17-year-old who was saved from child marriage. Or Tamizharasi, the 15-year old mid-off player, who didn't know where her parents were. Or Nirosha, who lives in the shelter after her parents abandoned her as well as her two younger brothers. Today, they all want to make positive impacts on society, to alleviate the lives of children like them.
"It is indeed very fulfilling to see these children rise," Singh shares, talking about the current coach of the football team who had come to Karunalaya and stayed there for years. The coach then decided to stay back to train the girls, and give them tips because giving back is very important!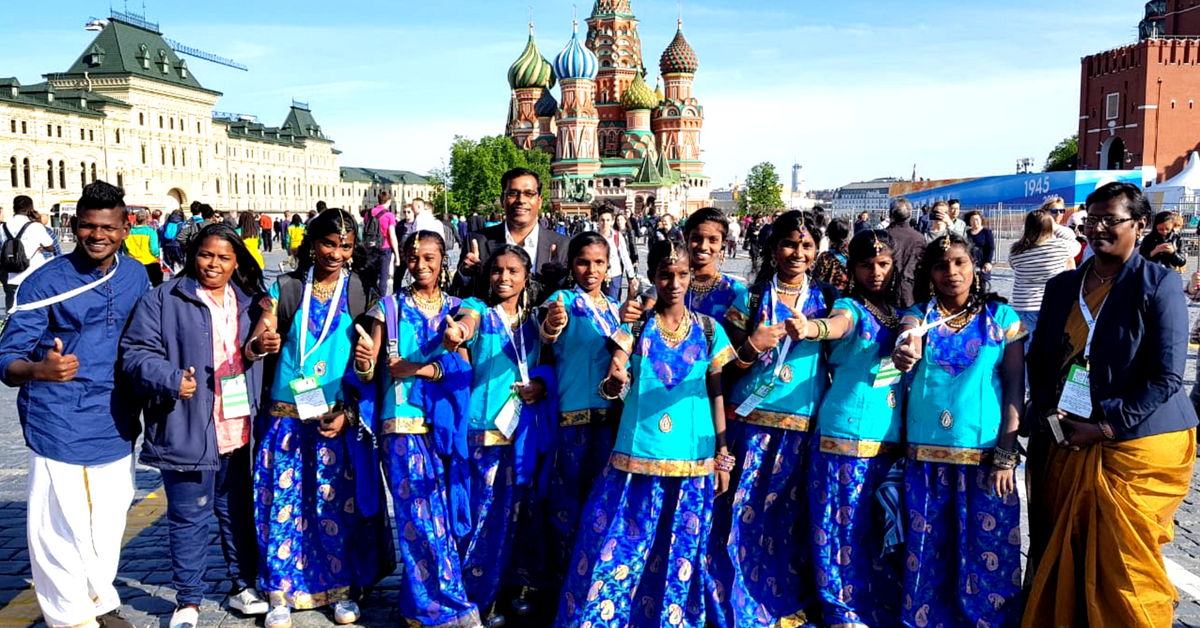 Karunalaya Society continues to pursue the sport, as a means to help kids staying there. "There is a Cricket World Cup for street children, very similar to the football initiative. We aim to get a team ready, and win that tournament," Singh concludes.
---
You may also like:- Team of Five Street Children Make India Proud by Winning Medals at Rio Street Child Games
---
As of now, the children at Karunalaya are basking in the experience of their Moscow trip, which went off very well. What's more, during the event, the children even participated in a cultural initiative, showcasing Indian culture to the rest of the world. Through sports, Karunalaya has managed to help these kids who, given the circumstances they were in, would not have had a future.
(Edited by Shruti Singhal)
Like this story? Or have something to share? Write to us: contact@thebetterindia.com, or connect with us on Facebook and Twitter.
NEW: Click here to get positive news on WhatsApp!